Can you get the answers to all of these Halloween family feud questions? We asked 100 people for answers to these Halloween questions and came up with a Halloween family feud game using those questions! With everything from tips on playing family feud at home to a family feud questions and answers PDF to download, this post has everything you need for one fun DIY family feud game!
Halloween Family Feud Game
Last year I made a Thanksgiving and Christmas family feud game and it was so popular, I thought I'd make Halloween family feud questions too! Other people apparently love Family Feud as much as I do. I mean I've only watched like every episode ever.
That and every episode of minute to win it. What can I say? I'm a gameshow junkie.
I asked my email list as well as my Facebook fans to give their first answer to a number of Halloween family feud questions and the answers were kind of hilarious in some cases and surprising in others!
And I've put together a family feud questions and answers PDF for you to download at the very bottom of the post! If you already know everything there is about family feud, feel free to skip to the bottom of the post just to download the family feud questions and answers!
Play this game (and maybe one of more of these Halloween games), serve the best white chicken chili with some pumpkin crunch cake, add in a few of these Halloween party decorations and enjoy a fantastic night with friends!
2022 Update!
If you've played this before, you're in luck because I just added ten brand new questions for 2022! So now there are a total of 24 questions to choose from for your game!
What is Family Feud?
If you're reading this post, you likely already know what Family Feud is. But if not, let me quickly enlighten you.
Family Feud is one of the best game shows ever. It started forever ago, took a break, and came back. Many of the most recent episodes were celebrity Family Feud episodes, but my favorites are still just the regular people.
The idea behind Family Feud is that you have two teams who are competing to guess the most popular answers to random questions.
In the case of this post, Halloween family feud questions. In the game show, they could be about anything and everything.
The team who scores the most points at the end of the game wins money and the chance to go win even more money in the fast money round.
You can watch the video below to see how we played the family feud game at home for Christmas!
Family Feud Game Supplies
The beauty of family feud is that you really need very little to play. Here's what I recommend, but you could also substitute the buzzer with something like a pumpkin or spoon and just do whoever grabs it first. The buzzer is way more fun though so I recommend getting one of those!
A buzzer (these work great)
Poster board (I like to have poster board on hand so a bulk pack like this works great)
Scotch tape (don't use double-sided)
List of family feud questions (get the PDF at the bottom of this post)
Scorecard (we typically use a dry erase board or another poster board)
Three red X's (just print them out on a piece of white card stock)
People – could be a family or a group of people
How to Setup A DIY Family Feud Game
Playing at home is super easy!
1 – Download the Family Feud questions
The first thing you need to do is download the Halloween family feud questions and answers from the bottom of this post. Make sure that you're the only one who sees this list (or other people who aren't playing).
2 – Choose your Family Feud game format
Once you have the list printed out, decide which questions you're going to use for the game and how you want to set up your game. The way the gameshow typically works is in four different rounds.
Round 1 – One questions worth the regular number of points
Round 2 – One questions, worth the regular number of points
Round 3 – One question, worth double the points
Round 4 – One question, worth triple the points
Fast Money – five questions, only one team plays (see more details below)
You can make the choice whether or not you want to actually double and triple the points for later rounds, totally up to you. We don't, but it's your party.
You can also do more than four rounds of questions – you're not trying to fit this game into a 30 minute TV segment after all. I provided 15 different questions you can choose from and if you have teams of say 6-8 people, then I'd do one question per person playing so everyone gets a chance to do the face-off.
3 – Make your Family Feud questions boards
There are a lot of ways that you can make your question and answer sheets. You could put them up on a big dry erase board, on a chalkboard, or even on a computer screen.
I personally use poster board, marker, construction paper, and tape to make mine.
To make the boards, I just write the question at the top of the poster board then all of the answers below along with their point values. I then cover them up with strips of construction paper, taped to the poster board.
It's super simple, but it works for me. And it's actually pretty fun to take the sheets of construction paper off.
Tip!
If you do it like I do, number your construction paper strips rather than leaving them blank (like I did). I can't tell you how many times we almost pulled off the wrong answer because I couldn't count down from the top of the paper. It's much easier to take off answer #7 if you have a seven written on it.
4 – Setup your face-off area
The first part of each question starts with a face-off of one player from each trying to be the first to buzz in and guess the top answer. We normally put a table or a bar stool at the front of the playing area and put the buzzer in the middle. This makes it easy to hit when people are playing.
5 – Make your teams
While the game is technically called Family Feud and the gameshow is played with families competing against each other, you could totally play Family Feud with groups of people as well.
I recommend teams of 4-8 players, just know that eight players will mean a bit longer of a game if you're going to do eight questions (one for each person).
You can play with teams of age any, but I'd recommend if you're playing with kids that you mix the teams with both adults and kids. There are definitely answers kids will know but also ones that only adults are likely going to get. So either play adults only or mix it up. If you do adults only, these adult games would be perfect to play before or after!
Put together your teams then have one team sit or stand on one side of the room and the other team on the other. You can use chairs, couches, really whatever you want – the team just needs to be close enough to talk about answers quietly if it comes down to that.
And that's it – you're ready to play! So now let's talk about how to play!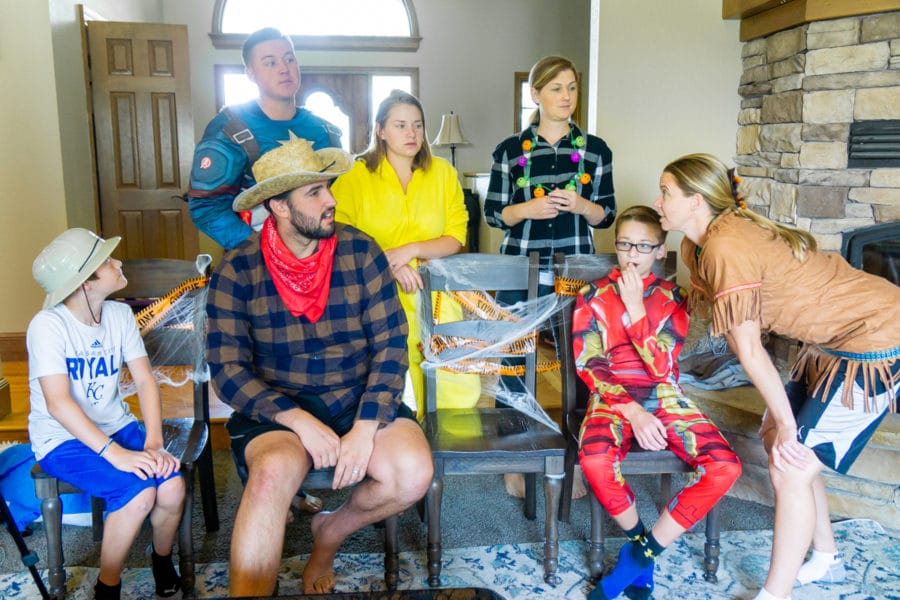 How to Play Halloween Family Feud at Home
If you've ever watched the gameshow, playing at home is pretty much the exact same thing minus the electronic scoreboard and answer sheet.
1 – Start with a face-off
Each round starts with a face-off. Starting with the first player on each team (let's call them team captains), one player from each team comes to the front of the room where the buzzer is. The host of the game reads the question and the first person to hit the buzzer has five seconds to give their answer.
The goal is to get the top answer on the board because if whoever is doing the face-off doesn't, then the other team gets a guess and can try and steal the question by getting an answer higher up on the board. If they do get the top answer, the team can choose whether they want to pass or play the round.
Pass if you don't think you can get all the answers, play if you think you can. If a team passes, the other team has to play the round regardless of if they want to or not.
Change the person who does the face-off each round – just go down the line in the family so everyone gets a turn.
2 – Play the round
Go to the person in line AFTER the person who did the face-off and ask them the same question. They have five seconds to come up with an answer.
If their answer is on the board, remove the construction paper strip from the board and move on to the next person. If it is not on the board, they get a strike.
Keep going down the line and asking players for answers on the board. If a team gets all of the answers uncovered, they win the points for the round. If they get three strikes, the question goes over to the other team.
The other team can all confer as a team and come up with one single answer they think is on the board. If it is, they win the points for the round. If it is not, the points go to the team who originally played the round.
Note: For scoring, the team only gets the number of points actually shown on the board. So if someone steals a question, they only get the points for answers actually uncovered – not all the points every time.
3 – Winning the regular rounds
After your designated number of rounds of play, the team with the most points wins. We typically stop there and skip fast money because you're not really going to be doubling the prize or giving cash anyway but if you want to play fast money, I've included instructions below. And there are plenty of questions to use in the Halloween Family Feud questions PDF!
If you stop there, make sure to have a little prize for the winning team! Everyone likes prizes! I've included a list of fun Halloween related prizes that would be great for playing family feud at home!
If you need some more fun questions to ask, these Halloween truth or dare questions are a great next game!
4- Family Feud Tie Breaker Questions
If you have a tie (very unlikely with the number of points in each question) at the end of the regular rounds, ask the teams to confer together and come up with the answer to one of the questions below. Whoever gets closest wins!
How heavy was the world's heaviest pumpkin? (2,378 pounds)
In what year was the movie Werewolf of London released? (1935)
How many pounds of candy corn are produced each year? (35 million)
How long did it to take to make the movie Halloween? (21 days)
5 – Playing Fast Money
To play the fast money round, a team must choose two players from their team to play. One player goes outside or in another room where they can't hear any of their teammate's answers.
Put 20 seconds on a timer and ask five questions to the first player at rapid speed. They only have 20 seconds to answer so read and answer fast. After the 20 seconds is up, go through their answers (while the other person is still out of the room) and give them points for each answers.
Have the other person come back into the room and do the same thing with that person – only this time they have 30 seconds to answer. If they give the same answer as their teammate, tell them to try again. Once they've gone through all five questions, go through their points as well.
If the two players combined get a total of 200 points, they win the fast money round.
You could always have an extra little bonus prize available if the team wins fast money. It's always fun to see but not as necessary for a family feud game at home.
Halloween Family Feud Prize Ideas
Since you'll likely be getting prizes for one team, I recommend doing either smaller things for everyone or something that the entire team can split and enjoy. Splitting works better if it's an actual family but can totally work with a group of friends as well.
These are some of my favorite Family Feud prizes (since I'm guessing you don't want to hand over cash).
More Halloween Party Games
If you like this Family Feud game, you'll love these other fun Halloween games!
Looking for more Halloween Games?
Halloween Family Feud Questions
Now what you've all been waiting for. Here are the 15 questions I asked people about Halloween.
Other than trick or treating, name one thing you do to celebrate Halloween.
Name a popular Halloween movie.
Name a popular Halloween candy you get trick or treating.
Name a popular Halloween song.
Name a famous vampire.
Name something that if found in your closet, it would make you scream.
Name something you make with pumpkin.
Name one thing you don't want to get while trick or treating.
Name a Halloween monster.
Name a popular Halloween costume.
At what age should someone stop trick or treating?
Name a word that rhymes with bat.
What's the best day of week for Halloween?
What time should people start trick or treating?
Name a black colored food.
Name Dracula's favorite food.
Name a Halloween word that begins with M.
Name a song title with the word witch in it.
Name a famous wizard.
Name something associated with Dracula.
Name one member of the Addam's Family.
Name an adjective that best describes Frankenstein.
Name a Halloween movie that gives people nightmares.
Name something you do at a pumpkin patch.
Download the Family Feud Questions & Answers
Get the answers by downloading the Family Feud questions and answers PDF below. The number next to the answer is the percentage of people who gave that answer (and the number of points the team receives at the end of a round for that answer).
Don't want to provide your email? You can purchase a copy in my shop here!
Simply enter your first name and email address in the box below and you'll receive a copy to your email inbox.
Don't see the box? Click here to get to it.