Need a new baby shower game idea? This fun nursery rhyme emoji game is a great printable baby shower game for all ages! See if you can guess which nursery rhyme is represented by the emojis on each line!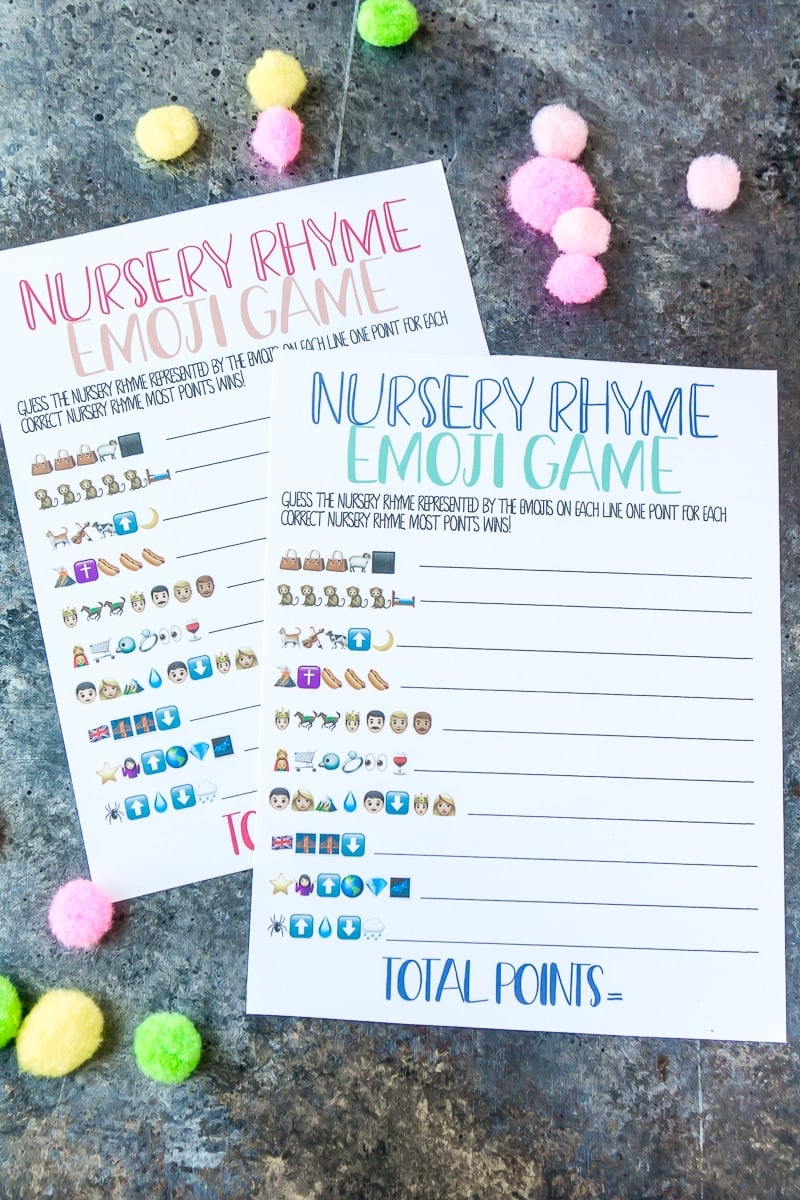 This post contains affiliate links. If you purchase via these links, I may receive a small commission at no additional cost to you.
Baby Shower Emoji Game
As someone who just had a baby (and has two sisters who just had babies), I've been to and hosted my fair share of baby showers. Normally we go with active baby shower games like these ones but sometimes I like printable ones instead, especially if you're having a multi-generation baby shower.
This printable baby shower emoji game is perfect for those times! Or if the emoji game isn't up your alley, you might like this oh baby printable baby shower game instead!
In this baby shower game, you have to look at the emojis on the lines and guess which nursery rhyme the emojis represent.
So for instance, when there are five little monkey emojis plus a bed, the nursery rhyme is five monkeys jumping on a bed.
The person who can guess the most nursery rhymes wins.
This would be perfect for any the book girl baby shower themes from this list!

Nursery Rhyme Emoji Game Supplies
The beauty of this baby shower game is that it really takes very little to play. You just need the printable, some pens, and some prizes.
And maybe some delicious goodies like this strawberry coconut mocktail, this pineapple monkey bread, and these chocolate truffles.
If you need prize ideas, I've put together a great list of baby shower prizes at the bottom of this post!
Or here's a collection of my personal favorite baby shower favors/prize ideas! Or you could always use these free printable baby shower favor tags with your own sweet choice!
How to Play This Baby Shower Emoji Game
This baby shower emoji game is almost as easy to play as it is to setup.
Simply print out the cards, give people a pen, and say go. Okay maybe don't say go – explain the rules and set a timer for 10 minutes and let people fill out their answers.
And the rules are:
Write down the nursery rhyme represented by the emojis
No looking at your phone or getting help from a friend
Pens down once the timer goes off – no filling in the blanks as you're going through the answers
One point per correct answer, most point wins
You could also just set this printable baby shower game on a table and let people fill them out at their leisure, but it's more likely people will not finish them, look at their phones for answers, or get help from others.
If you want the best experience have everyone sit down and play at the same time. Then go over the answers all together.
Person who got the most correct wins. If there's a tie, ask one of the baby shower themed trivia questions and see who gets the closet to choose your winner.
How many babies were born in the United States in 2018? (3,853,472)
How many bones do babies have when they're born? (300)
How old is the oldest woman to have a baby? (66 years)
This emoji game would go perfectly with any of these other printable baby shower games.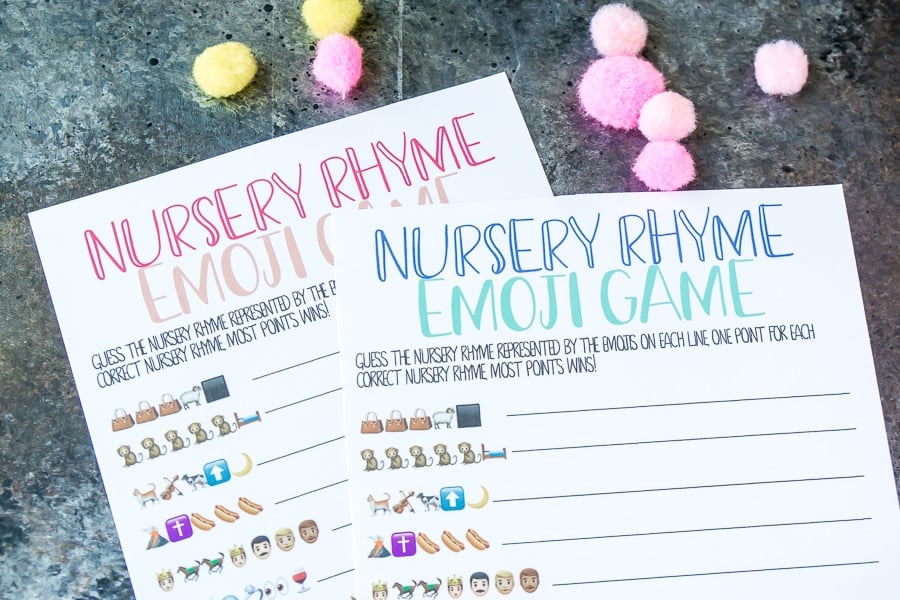 Baby Shower Game Prize Ideas
Here are some great baby shower prize ideas inspired by the nursery rhyme baby shower game! Or if you want something else, any of these would make great prizes too!
Download the Baby Shower Emoji Game
Simply enter your first name and email address in the form below to get your printable PDF file. You will be taken directly to the file and be sent a link in an email!
The file comes with a 3-page PDF:
A full sheet version of the emoji game
A half sheet (two to a page) version of the emoji game
An answer sheet
If you cannot see the form below, click here to get to it.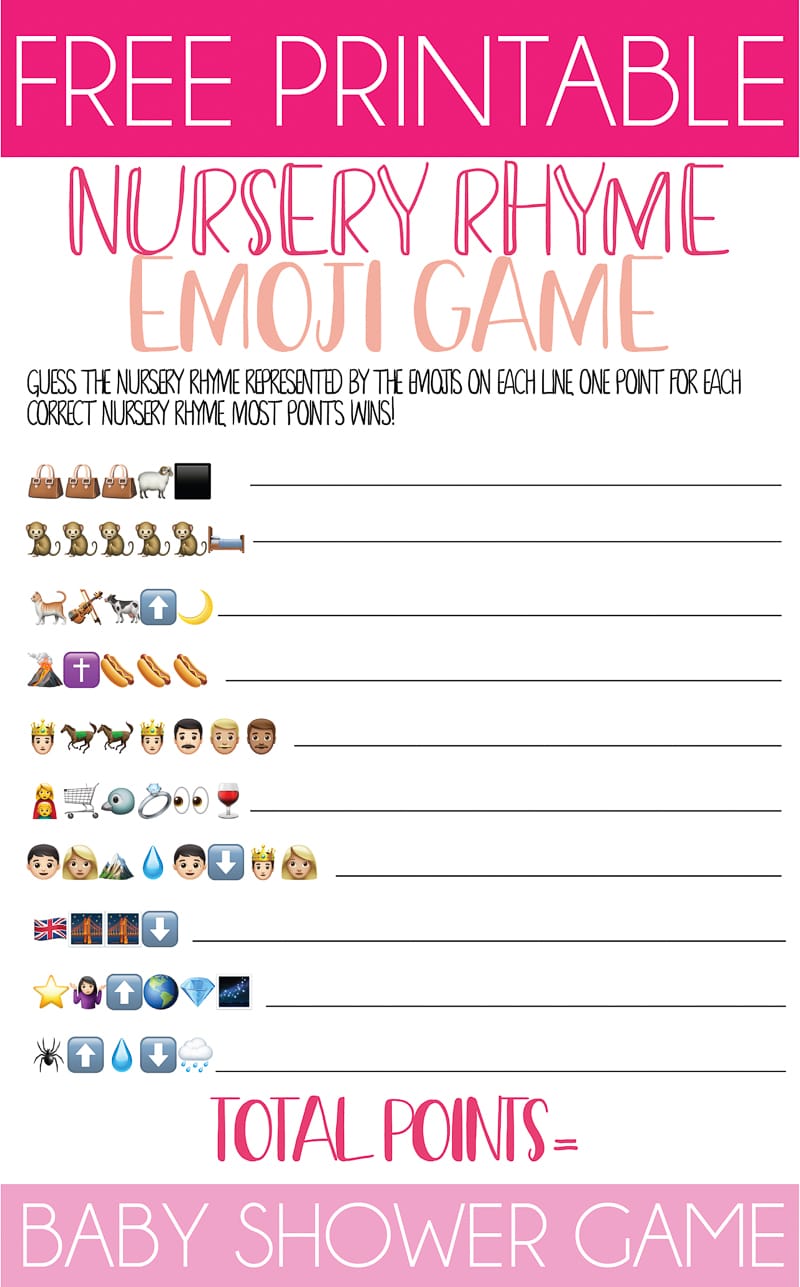 Don't forget to pin this bridal shower guess the emoji game for later!