Three fun St. Patrick's Day games for adults that are perfect for an adults only St. Patrick's Day party! They're easy to learn, fun to play, and a great way to add a bit of magic to an already fun party!
This post contains affiliate links. If you purchase via these links, I may receive a small commission at no additional cost to you.
I love hosting St. Patrick's Day parties and while I've done quite a few for kids (my son loves this pot of gold game), my favorite is to host parties for adults. I mean, it may just be an excuse to play my favorite party games for adults but no matter the reason, it's my favorite.
Unlike a Super Bowl party where you really just want good food and maybe a game of Super Bowl commercial bingo, at a St. Patrick's Day party there's not a game to watch or something distracting people so you need to plan a little entertainment.
These three games are so easy to plan and so much fun! People will leave asking when you're hosting a party next!
St. Patrick's Day Games for Adults
You could technically play these games with teens or even younger if you wanted to, but they're bit complicated to understand, so I recommend at least teens and above.
And you could play all three of these games at your party or just pick one or two of them. The dice game is by far the most time consuming and is an actual activity. Kind of like this Christmas dice game.
The don't get pinched game is more of a mingling, while people are hanging out kind of game. And the shamrock one is again more of a while people are hanging out and mingling.
So really you could play all three if you wanted to. But I definitely recommend the lucky roller one – it's so much fun! So make yourself a big pot of mashed potatoes and some rainbow donuts then enjoy a night full of yummy food and fun!
1 – Lucky Roller St. Patrick's Day Game
This game is played kind of like bunko. Before you start, split your group into pairs.
Supplies:
You will need the following supplies and a surface area (or they can sit on the floor) for each pair.
One six-sided die (a bulk pack like this works great)
Six plastic cups numbered 1, 2, 3, 4, 5, and 6 on both sides (so both players can see them)
Plastic gold coins (or you could use chocolate coins, pennies, M&Ms, poker chips, whatever) – you need a lot so get a big set like this
Bag or cup for each guest to hold their winnings
An index card
Prep:
Once you know how many people you have playing, divide that number by two so you know how many pairs/playing areas you'll need. Number the index cards for each pair (1, 2, 3, 4, 5, 6, 7) if you have fourteen people playing. These will be used as your playing area numbers.
Place one index card, six cups, a bowl full of coins, and a die at playing areas throughout the room. You'll need a separate playing area for each team but they can be as small as a little piece of the kitchen counter – as long as the six cups fits okay.
Once you have the areas setup, give each pair a cup/bowl for their winnings and have them go and find a space. This is where they'll start the game.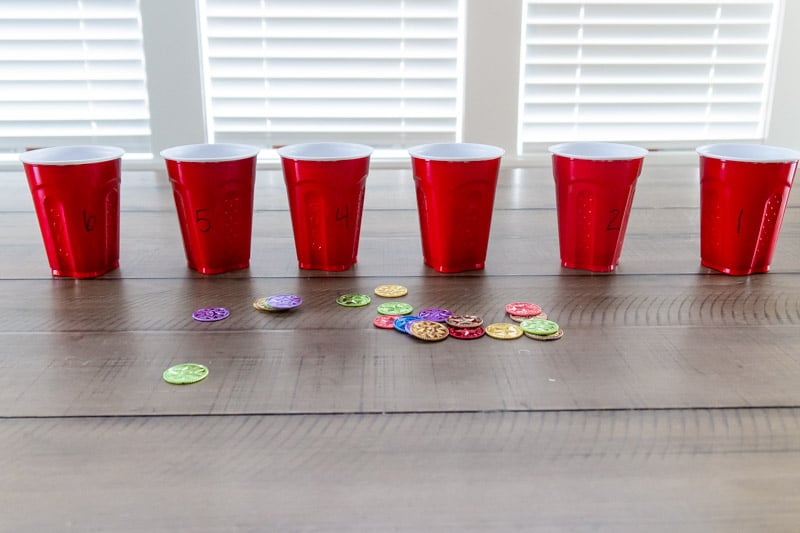 How to Play:
Similar to bunco, this game is played in rounds and after each round you rotate. Here's how each round works.
1 – Fill the cups.
To start the round, players must put gold coins in the cups at the table. These gold coins should come from the bowl on the table, not their own personal winnings. Regardless of how many coins are currently in the cups, they should place the following in the cups at the beginning of every round.
1 coin in cup 1
2 coins in cup 2
3 coins in cup 3
4 coins in cup 4
5 coins in cup 5
6 coins in cup 6
2 – Everyone plays a round at the same time.
Each pair will do this exact same thing every round and everyone will be playing all at once each round. Some pairs might finish earlier than others, but it doesn't matter – every pair has to finish every round before you move on.
On the very first round, the youngest person in the pair should start. Otherwise, the person who moved tables gets to start.
The starting person should roll the die and take the coins from the cup that matches the number they rolled and place the coins in front of them, not in their winning cup. So if they rolled a six, they'd get the six coins from that cup and put them in front of them.
They should also take that cup and place it right next to them to indicate that they rolled that number (you'll see why in a minute).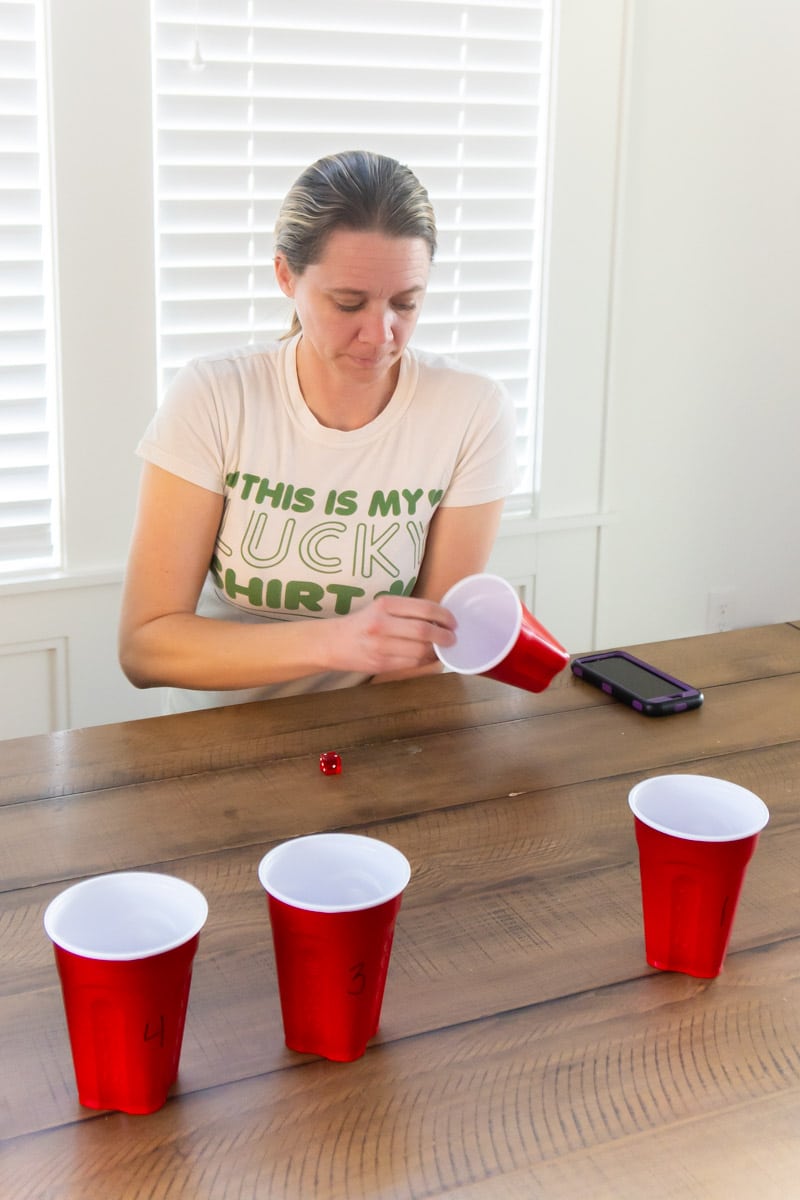 Then they pass the die to the other player. The other player rolls next and this is where the fun starts.
If they roll a number that hasn't been rolled, they do the same as player 1 and place the coins in front of them and take the cup.
If they the roll the same number that the other player already rolled (in the example above, 6), they lose the round and the game is over. If they have collected any coins in this particular round, they would give the other player ALL of their coins from just this round (not all rounds) and Player 1 would add the coins from Player 2 plus the six they collected this round into their winnings cup. Those are their winnings and stay with them forever.
Note: If you roll a number that you personally have already rolled, you just don't win anything but you don't lose the round. It's basically a free pass.
After player 2's turn, the play goes back to player 1 to do the same thing. Continue rolling and playing until one of two things happen and end the round.
Someone rolls someone else's number (losing the round and giving away their coins)
The two players in the pair combined successfully roll all six numbers without overlapping once. If they do this, they win a bonus 10 coins PLUS all of the coins they've collected in the round.
As soon as one of those things happen, stop playing and leave any coins that were in the numbered cups in the numbered cups. These will carry on to the next round and be in the cups in addition to the starting 6, 5, 4, 3, 2, and 1 cups.
3 – Rotate Pairs
After all of the pairs have finished their round (it should be pretty quick), have the person who won the round move up a number (so 3 goes to table 4, 4 goes to table 5, and so on) and the person who lost stay. If they got the bonus, the person who collected the most coins in that round moves.
How to Win:
Set a designated number of rounds that you'll play – say maybe 10. After all 10 rounds are over, whoever has the most coins collected wins. You could also do a biggest loser prize for the least number of coins as well but that's totally up to you!
2 – Don't Get Pinched
This one is much easier than the last and just a fun St. Patrick's Day variation on one of my favorite black and white party games!
Supplies:
Prep:
Print out the St. Patrick's Day words on both a regular white card stock and in large poster format (only costs like $6). Place the buttons in the basket along with the words on a table near the entrance of the party. Hang the poster up on the wall somewhere that everyone can see.
How to Play:
When people enter the party, they should take a button from the basket. Or if you'd rather wait until everyone arrives and start playing all at once you can do that as well. In that case, simply hand out buttons when you're ready to play and explain the instructions below.
Everyone will start with one button. If they say one of the words on the St. Patrick's Day word list and someone hears them, they must give their button to the person who heard them. If someone has collected more than one button and gets caught saying one of the words, they have to hand over all of their buttons.
Continue playing until only one person is left with any buttons and if you never get there, set an ending point and the person with the most buttons at the ending point wins!
Bring it full circle by giving out these cute St. Patrick's Day party favors that double as pinch protectors!
3 – Short Shamrock Straw
This is another round robin and luck of the draw game, but it's a fun one and gets people all sorts of anxious and competitive – in a good way!
Supplies:
Prep:
You'll need one straw per person in this game. Before the first round cut one of the straws so it's a short straw.
How to Play:
This game is played in rounds and each round is super simple. You can either have guests stand in a circle or just play while people are mingling with other guests (but it gets a bit harder if they're all moving around because you won't know who picked a straw and didn't).
Hold the straws in your hand, covering the bottom of the straws, so that they're all even heights – or at least mostly even. You just don't want people to know which one is the cut straw.
Walk around to guests and have them pick one of the straws from your hand. The person who gets the short straw is out and this completes the round.
For the next round, remove one straw (since someone is out) and cut one more straw so it's short. Now there will be two short straws and two people getting out.
Repeat the same thing and two people will get out this round.
Remove two straws and increase the short straws to three (if you want, or you can just stick with two if you have a small group of people and want the game to last longer).
How to Win:
Continue playing until there is only one long straw remaining. Whoever pulls the long straw in the final round wins.
Prizes for St. Patrick's Day Games for Adults
Since all of these games are a bit more skilled than say these St. Patrick's Day games for kids, I recommend doing some sort of fun prizes for the individual who wins! Here are some prizes that gone over really well for me in past years!
One thing to note – since St. Patrick's Day is likely going to be over, I actually recommend doing things related to St. Patrick's Day but not necessarily holiday memorabilia or gear.
Gift card to a local Irish Pub or restaurant
A green gift card like Whole Foods, Amazon, Holiday Inn or Starbucks
$17 green dollar bills
A big bag of Lucky Charm marshmallows (I'd do this with something else but it's a fun one)
An Irish movie night pack including things like Braveheart, popcorn with Kerrygold butter, and more!
More St. Patrick's Day Games
If you're looking for games that work better for kids or teens, these might better fit your bill! Many of these work for adults too!
Don't forget to pin these St. Patrick's Day games for adults for later!