These free Mother's Day coloring pages are a great way to celebrate the amazing moms in the world. These printable coloring pages are designed with simple phrases that work perfectly for kids of all ages and skill levels. Make it a special day with these simple coloring pages that say just the right thing.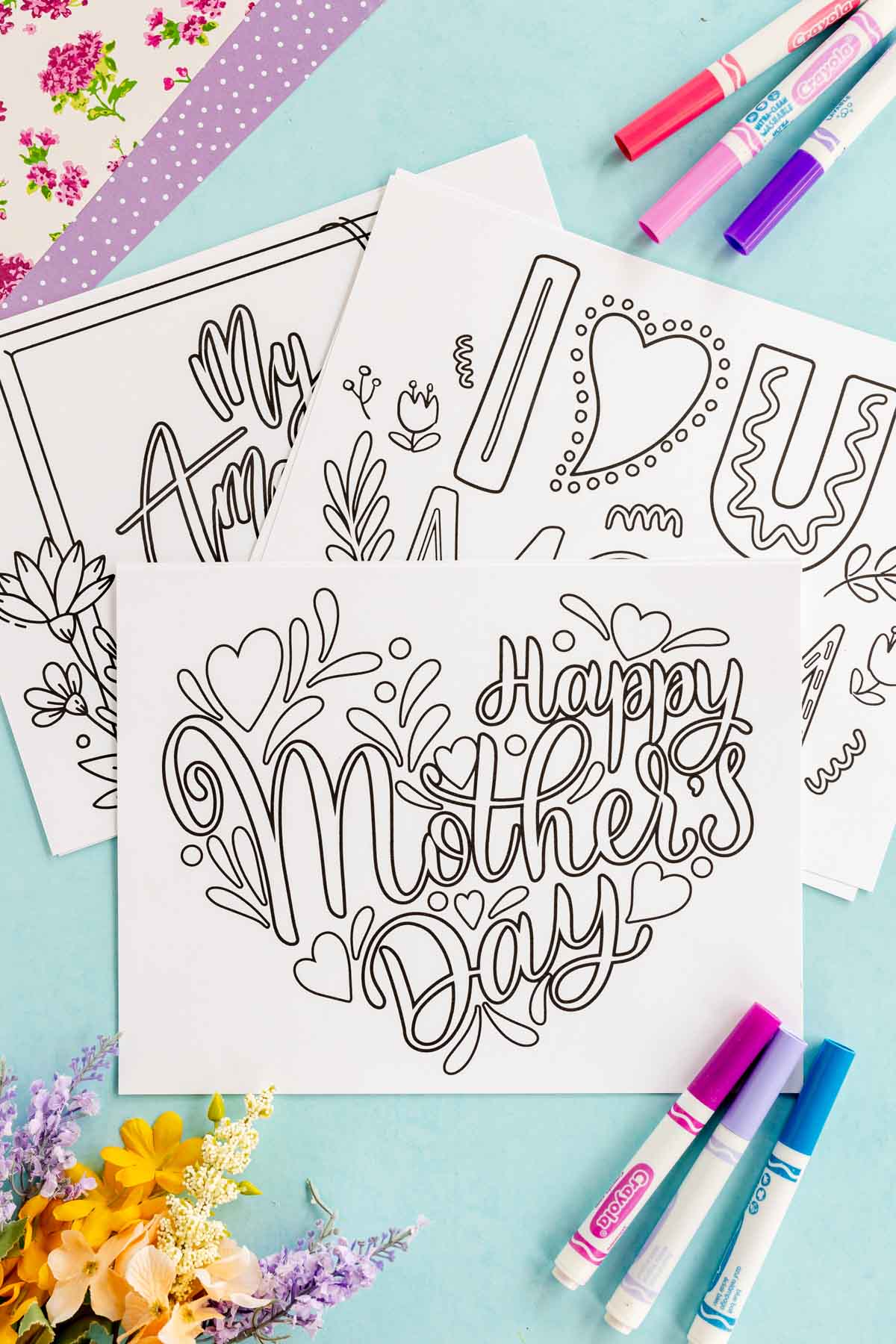 We all have a special mom in our life that deserves to be celebrated. My mom is one of a kind. She is patient, loving, and generous. Growing up she was unconditionally there for me and taught me how to be a good person. I really can't say enough good things about my mom. I am guessing most of us feel that way, if not towards our mom but other mother figures in our lives.
Being a mom myself, I understand how all-encompassing a job it is. I am always thinking about my kiddos. I know I am not the only mom scrolling through photos of her kids when I get a minute to myself. I also learned that it doesn't take much to feel appreciated, often it's the little things that mean the most.
I created these cute coloring pages for Mother's Day this year because I know how long a simple "I love you" can go. Plus, it's really easy to set up. Simply download the free printables you want to use, then color it in with mom's favorite colors, and you've got a special handmade gift, perfect for Mom.
Shrink it down and turn the simple design into a card to pair with another great Mother's Day gift. Or have the little kids color the pages in and add them to a gift basket for mom. Easy way to include young kids in the gift-giving. However you choose to use them, these Mother's Day printables are sure to be a creative way to add a personal touch.
What's In These Coloring Pages
There are ten different Mother's Day coloring sheets that are perfect for this special occasion. Each printable highlights a different sentimental phrase from "I love you" to "Queen of the house."
The lettering itself is beautifully designed with big enough words that it works for children of all ages. Each sheet also has a range of fun details, like a large heart and pretty flowers, that make it engaging for older children.
How To Use These Mother's Day Coloring Pages
All you have to do to prep is download and print the pdf file. Then grab some colored pencils, markers, or crayons then get creative while filling in these fun coloring pages.
Being a mom is hard work and there is no reason to not celebrate them more than once a year. Some of the designs would make the most sense on Mother's Day, but a few work as special gifts any time of year.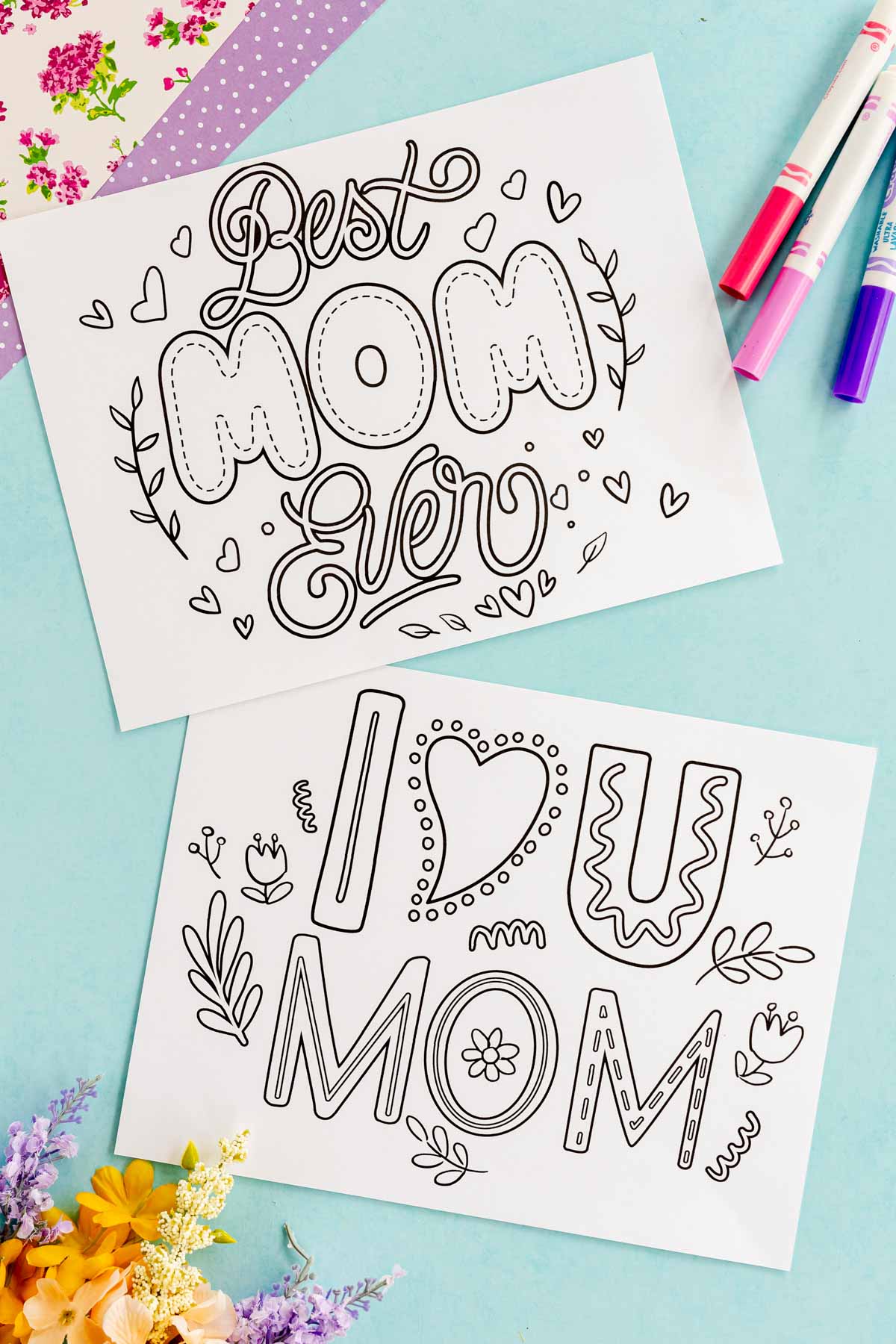 These easy coloring pages pair seamlessly with any type of beautiful gift. Arrange them on the sheet when you print it so that they can fold into a DIY card. Or get it printed onto a large canvas that the kids can paint and mom can hang in a special place. I can say with confidence, moms will love getting these designs in any form on her special day.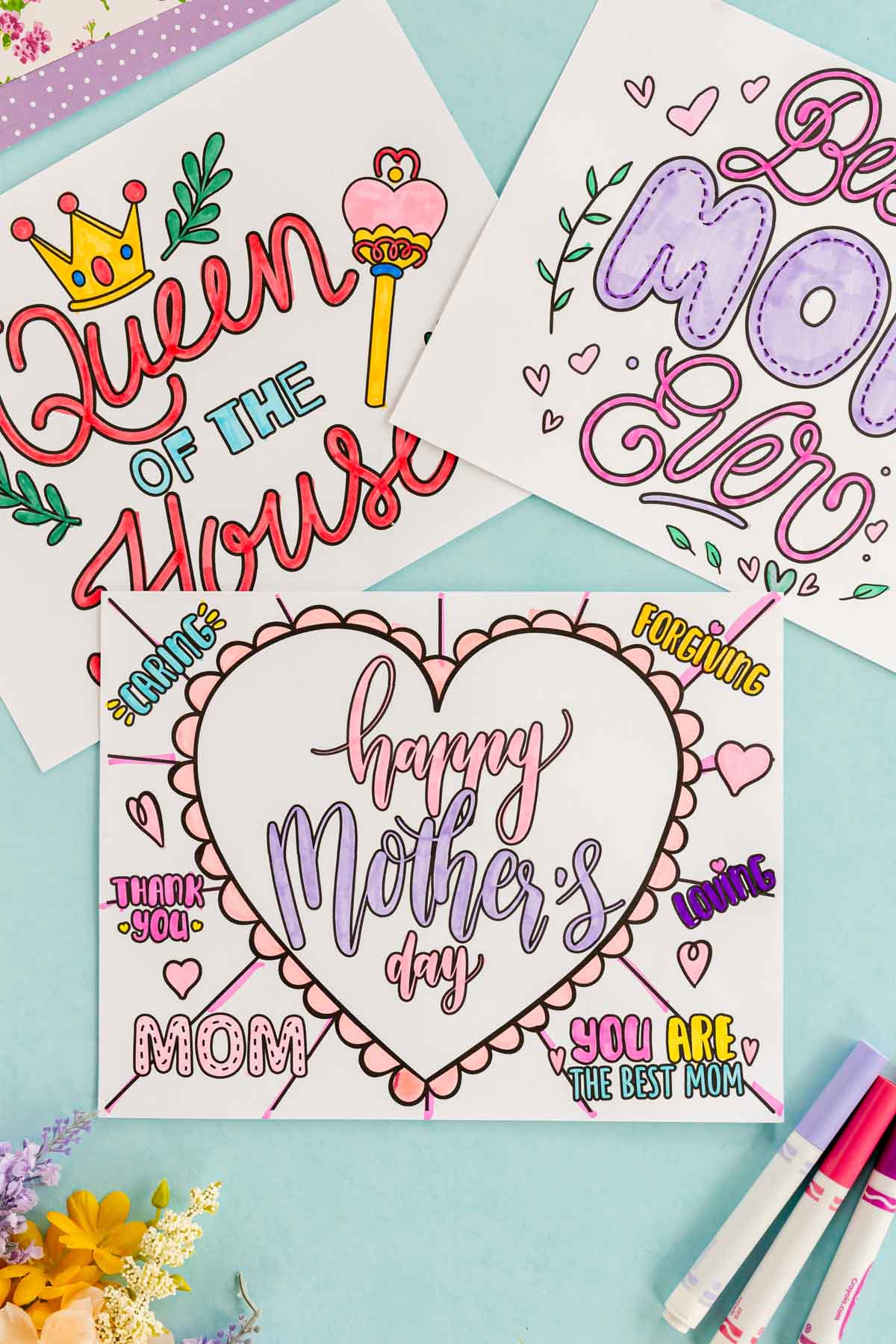 More Fun Mother's Day Ideas
If you are looking for more great ways to celebrate your mom, check out these fun ideas.
Mother's Day mugs – funny mugs that make the perfect Mother's Day gifts!
Mother's Day party ideas – you'll find everything you need to throw a great party from food to games to decor. Everyone will have so much fun celebrating Mom with these great ideas.
Mother's Day gift tags – another simple way to personalize your Mother's Day gift ideas.
All About Mom worksheet – this is perfect for kids to let them say how much they love about mom!
Download The Coloring Pages
Enter your first name and email address in the form below to get the printable PDF.
You will receive a link to download the PDF to your email within minutes.
If you would prefer to not provide your email, you can also purchase a copy of the coloring pages in my shop here.
If you do not see the form, click here to get to it.
If you do not see the email immediately after you fill out the form, make sure to check your promotions, spam, and junk folders! Also, all files are for personal use only, not commercial gain.
As a reminder, the 10 page PDF will include:
Ten black and white Mother's Day coloring pages featuring various phrases about Mom.
Licensing information – these coloring pages are for personal use only