These unique Mother's Day gifts are great for moms who are shop for, moms who won't buy anything for themselves, and really just any moms who want to be pampered this Mother's Day! Everything from luxury gifts for mom to inexpensive Mother's Day gifts and more!
I was provided with free samples to try out for many of the products in this post. I was also provided with free samples of many items that did not make it into this post. This post is only the things that I personally love and recommend whether they were provided for free or not! The opinions are 100% honest and my own.
I already shared the best Mother's Day gift ever with these Mother's Day baskets (along with a day off) but if that's not enough for you, here are some totally unique and amazing Mother's Day gifts!
I personally have all of these things and recommend them wholeheartedly because I love them so much! And I'm a mom so my opinion counts!
So whether you're looking to buy for mom, looking for your wife (and mother of your kids), a mother-in-law, or even a mom-to-be, these are all unique gifts I think they'll love! Many of them also make great favors for a Mother's Day party!
Wrap them up in some Mother's Day wrapping paper and sit back and watch the smile on your mom's face!
Luxury Gifts for Mom
If you want to give mom something a little bit extra, these are your gifts. They're not necessarily expensive, but they're luxury in that moms don't necessarily "need" them and probably wouldn't buy them for themselves. These are the perfect gifts to give!
Cozy Earth Pajamas
I have a set of Cozy Earth pajamas and if I could, I would wear them every single day. They only come in a couple of neutral colors though so I think my neighbors might get a little suspicious, but they are really that comfortable.
I have their bamboo jogger pants and top and they are just amazing. They're the most comfortable pair of pajamas I've ever owned – there's a reason they were on the list of Oprah's Favorite Things 2020!
Plus if you shop via this link and use the code PLAYPARTYPLAN50 you can get 50% off your entire Cozy Earth purchase. I may just have to order myself another set of pajamas while I'm on the website!
Cozy Earth also has amazing bamboo sheets. They're soft, temperature regulating, hypoallergenic, and did I mention made out of bamboo? I think it's time for me to put on my bamboo pajamas and slip back into those bamboo sheets for a nap!
NewAir Nugget Ice Maker
Nugget ice is the best, period. This NewAir Nugget ice maker makes nugget ice on your very own countertop in minutes. We have one and it's phenomenal.
I had no idea that this strawberry mocktail could be better but apparently nugget ice makes everything better.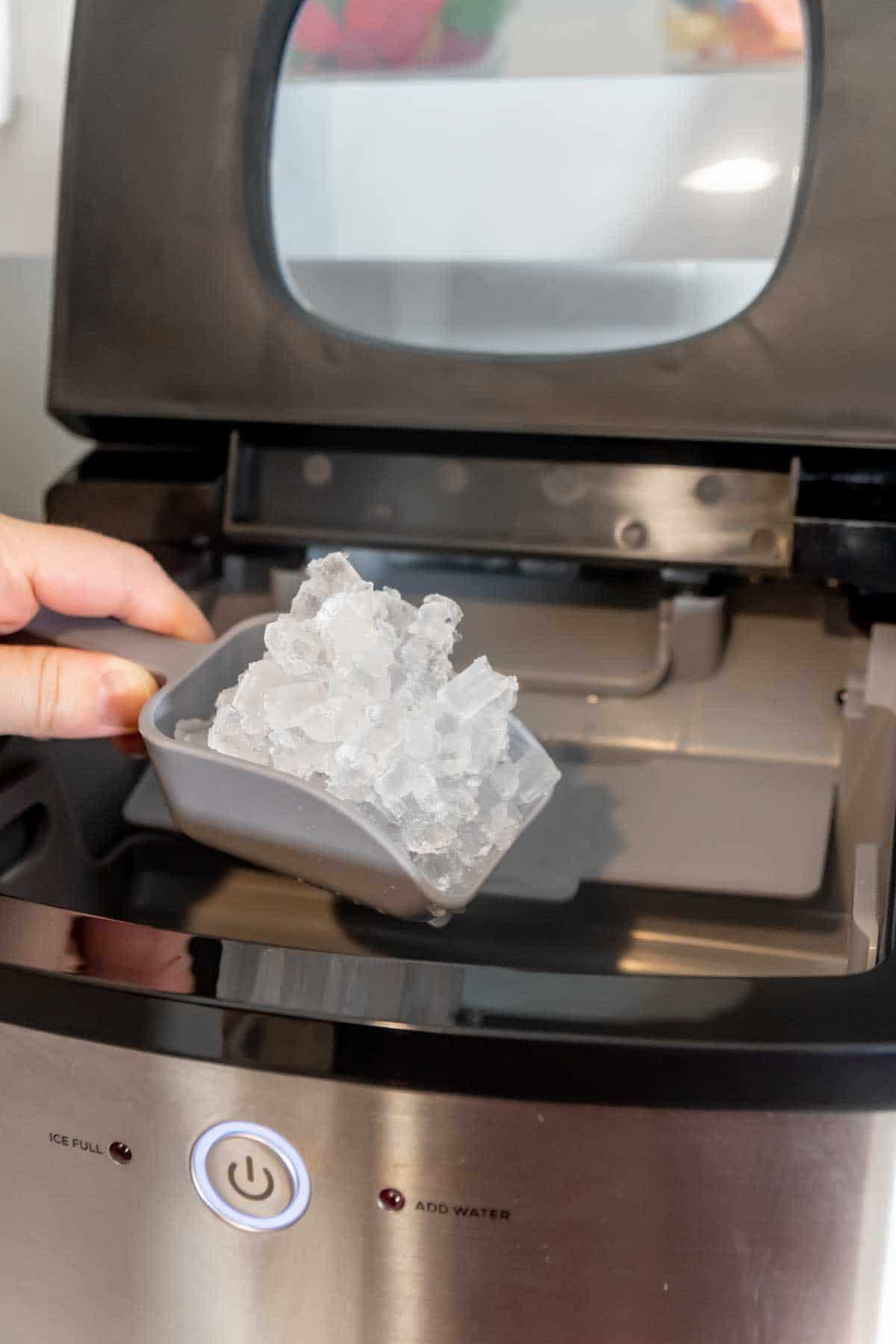 Cricut Machine
Okay so I've talked about my love for Cricut forever on my blog so I won't really hash it out in great detail but I will say if you are buying for a crafty mom, a Cricut always makes a great gift!
I personally LOVE my Cricut Maker, but I know it's a bit more expensive than the others. Cricut is running a huge promotion on the Cricut Explore Air 3 right now selling it for $50 off – perfect for Mother's Day!
If you're not sure what mom can make with it, you can check out all of these great Cricut Explore projects first!
The answer is so many things! The Cricut EasyPress is also having a huge sale (a great option if mom already has a Cricut machine and has been eyeing an EasyPress).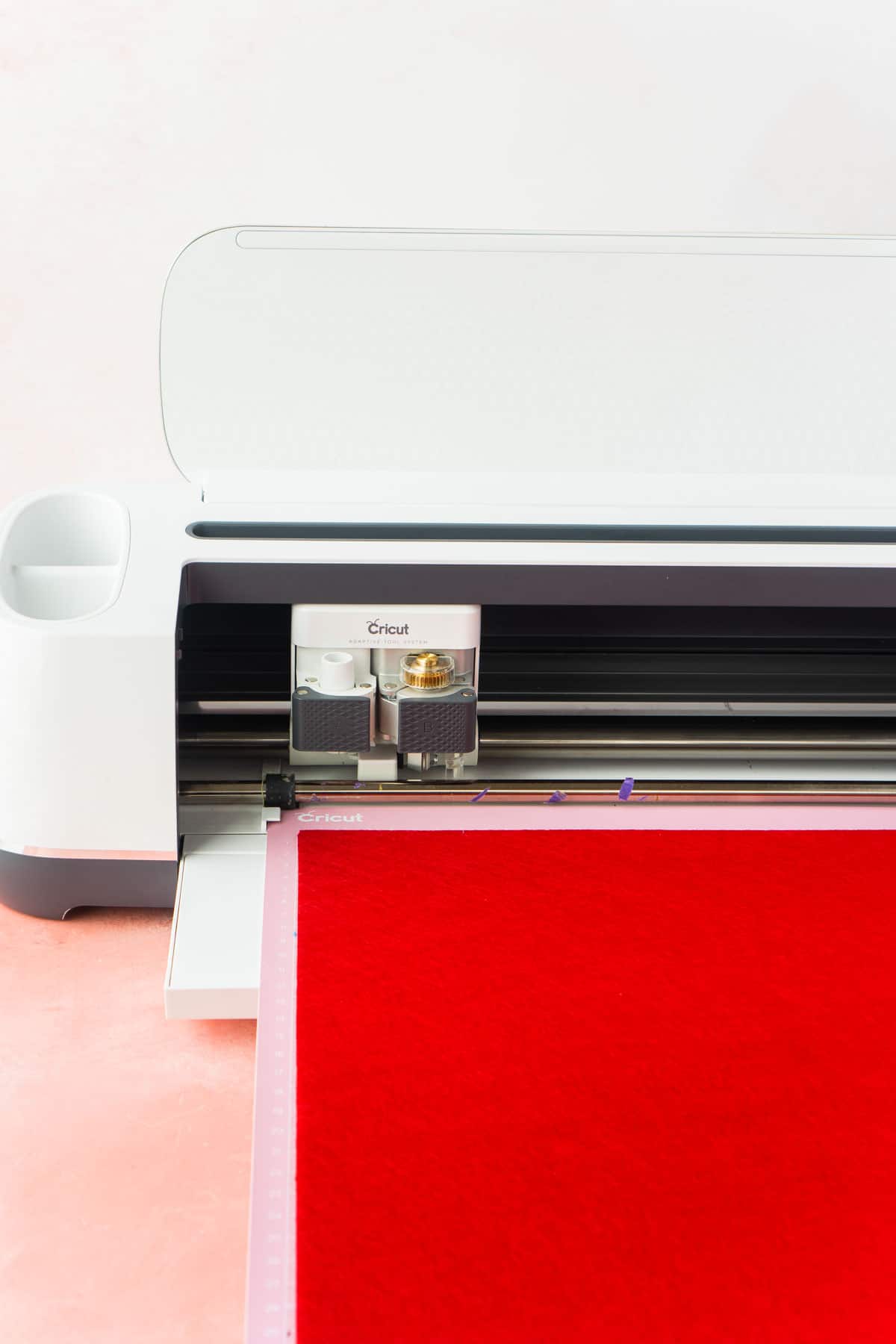 Fab Slabs Grazing Platter
If you are buying for a mom who likes to entertain or likes food, my Fab Slab grazing platter is my favorite thing ever.
They're grazing platters (perfect for DIY dessert boards and charcuterie boards) that are made from on single slab of wood, they're 100% Australian made (they even have that eucalyptus smell), and each board is totally unique! They come in five different lengths so get whatever you think your mom will use most often!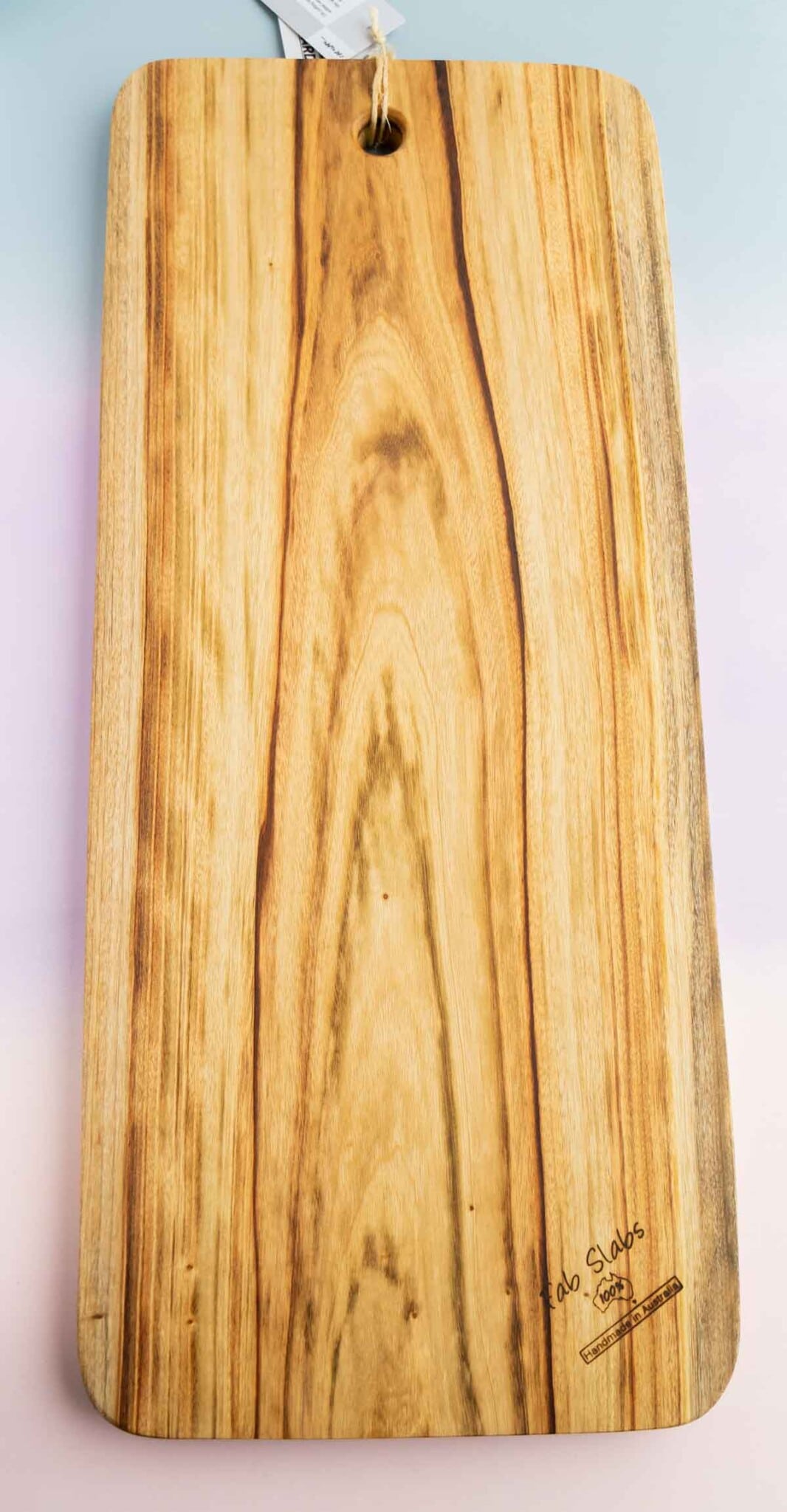 Just look at this beautiful charcuterie board I created with all my favorite Christmas appetizers!
RosePops
If you really want to get flowers for Mother's Day, I recommend RosePops because they last forever. Okay, maybe not forever, but they last a really long time! They're preserved roses so they look and smell good for an entire year – way better than the week or so regular roses last.
I personally got a set last year and they're still blooming pretty in my office. There's something about having roses always in view that keeps me in a good mood.
Plus, even the packaging is fun! Open the box, pull the ribbon, and the roses literally pop up.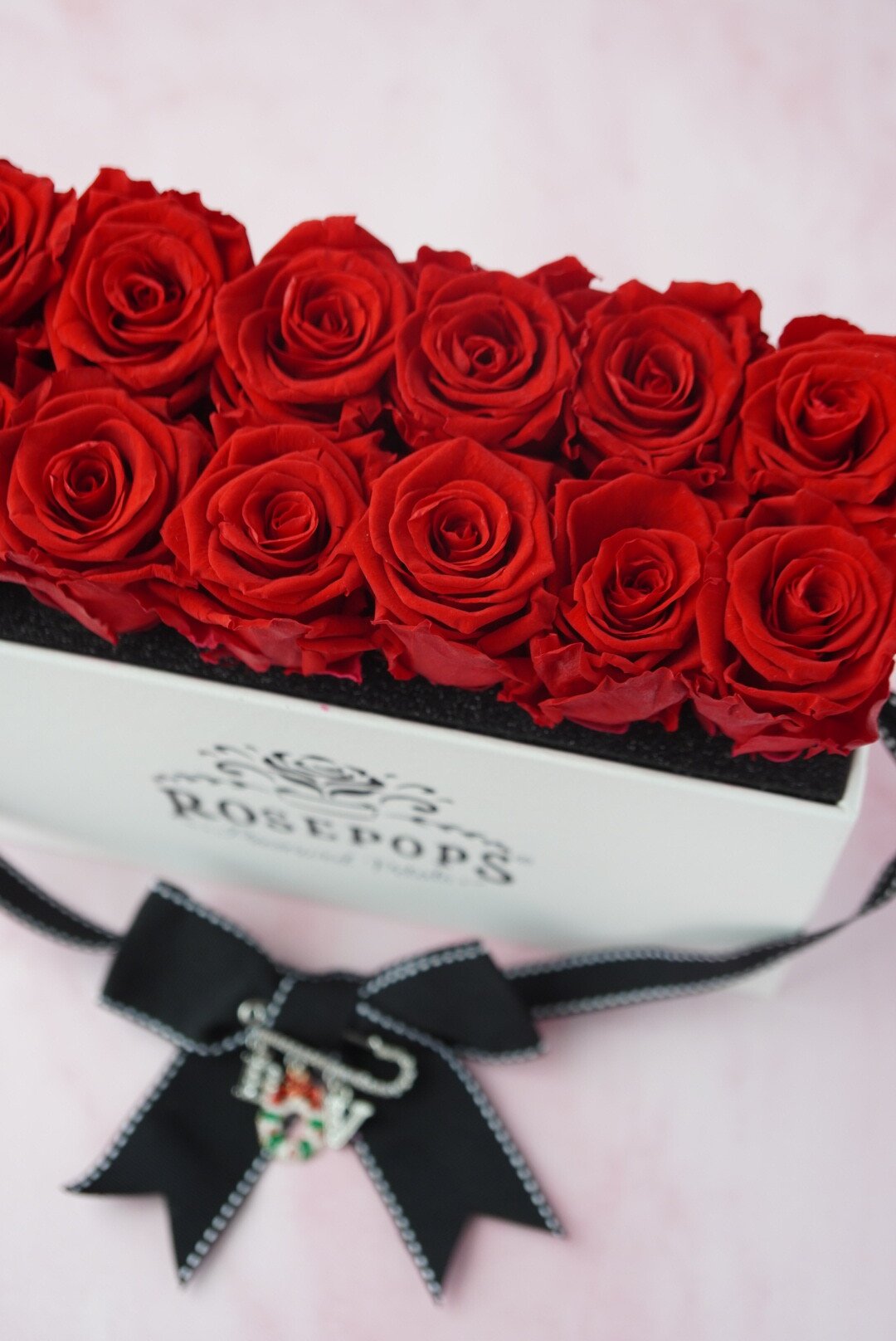 Meeschell Gift Card
If you want to give mom something truly unique, get her a gift card to Meeschell – a marketplace full of eco-friendly luxury gifts created by women. The site is full of amazing options with new products being added weekly!
I personally tried out the lavender bath soak and these mini masks and they were perfect for a little spa experience at home! I've also been totally eyeing this magnesium oil wellness spray to use after half-marathon training!
You could always just grab a couple of the items from the site for mom as well, but I'd go the gift card route if I was you! There are just so many great things to choose from – you may want to let mom make this decision on her own!
Kachula Blanket
Let mom relax in style with a stylish and completely functional Kachula Adventure Blanket. Not only are the colors gorgeous, the blanket is made from recycled fabric and super durable so it's great for taking outdoors for picnics, beach days, and more! I'm definitely adding it to our next beach packing list!
Kachula also sells hammocks, adventure packs, and more – all would make a great gift if you have a mom that's a little on the more adventurous side!
Ready Festive Box
If your mom likes to add a special decorative touch to her home for every holiday, Ready Festive would make a great gift! It's a subscription box with holiday and seasonal decorations customized just for you!
You take surveys to provide them with details about your decorating style, what you want and don't want, etc. Then they send you a box full of beautiful items to decorate your home.
I did it for six months, and it's just a super fun way to add some simple decorative elements to your home. They offer gift options where you can either gift a subscription or just provide details on your mom's style and they'll curate the perfect box!
I used a bunch of the items in my summer box below to come up with fun summer party ideas!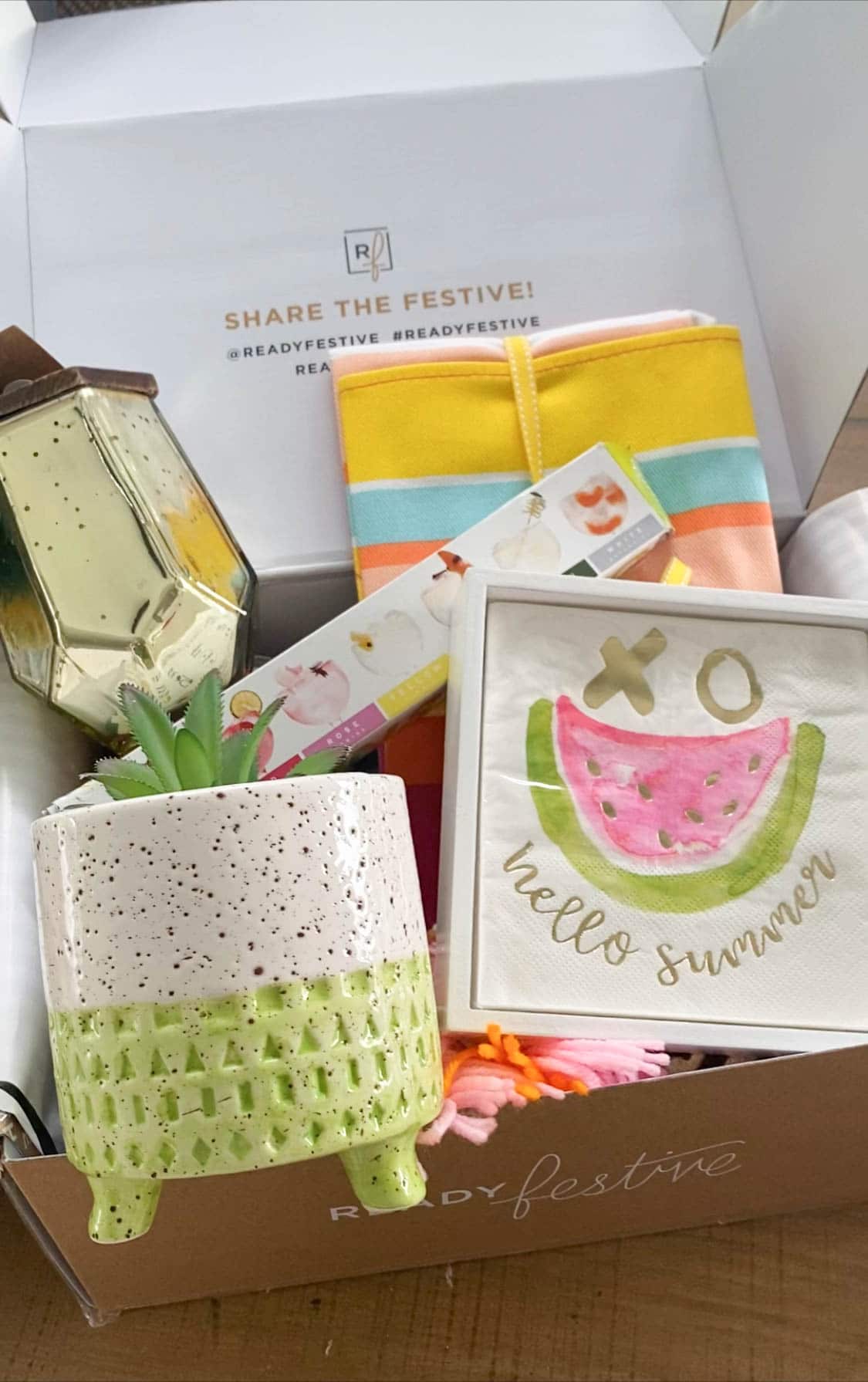 Inexpensive Gifts for Mom
Notice that I didn't say cheap gifts for mom. No one wants a cheap gift but inexpensive gifts (under $50) that are still well thought out and meaningful are great. These are all inexpensive gifts that I would love to receive from my husband and kids!
The Adventure Challenge
How about giving mom more time with her family this year? Okay well on Mother's Day give her a day off but also give her an Adventure Challenge Book – Family Edition – for a book full of family fun all together!
The Adventure Challenge is a book full of what they call "scratch off adventures." You pick a challenge from the book based on a few small details (e.g., indoor/outdoor, amount of time, amount of money) and then you scratch it off, and then you do it.
It's that simple. The scratch off element makes every adventure a surprise and just that more fun.
My family has done a couple of the challenges so far including creating our own domino track and had a total blast! If you're getting bored of the same summer bucket list, this is a great way to mix things up with mom!
Hadron Epoch Planner & Notebooks
Okay so I might be a bit biased because I'm obsessed with lists and writing things down, but I absolutely adore these Hadron Epoch notebooks and think they'd make a great gift for any other list obsessed mom out there.
Whether you go with an actual planner or any of these darling notebooks or checklists, you really can't go wrong! The designs are modern, chic, and totally functional (the most important part).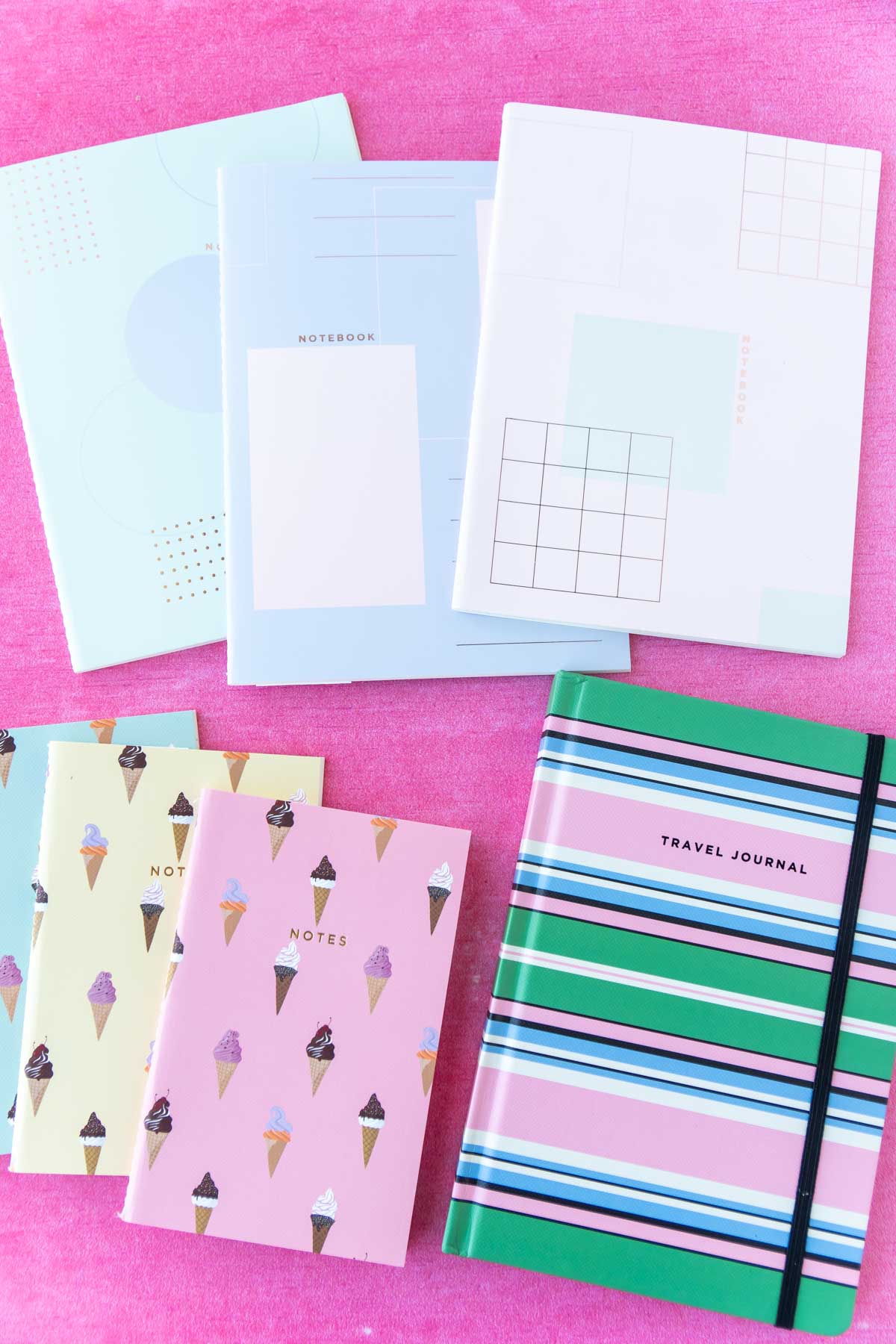 Buddha Board
If there's something all moms need this year, it's a bit of a stress reliever. I tried out Buddha Boards last year and can tell you that the physical movement of painting melted my stress away immediately.
Buddha Boards come in three different sizes including a mini version that would be great for travel! You basically paint on the boards using water and the included paintbrush and then when it dries, you can use it again and again.
They're total stress relievers and a great way to really enjoy a little quiet and mindfulness this year.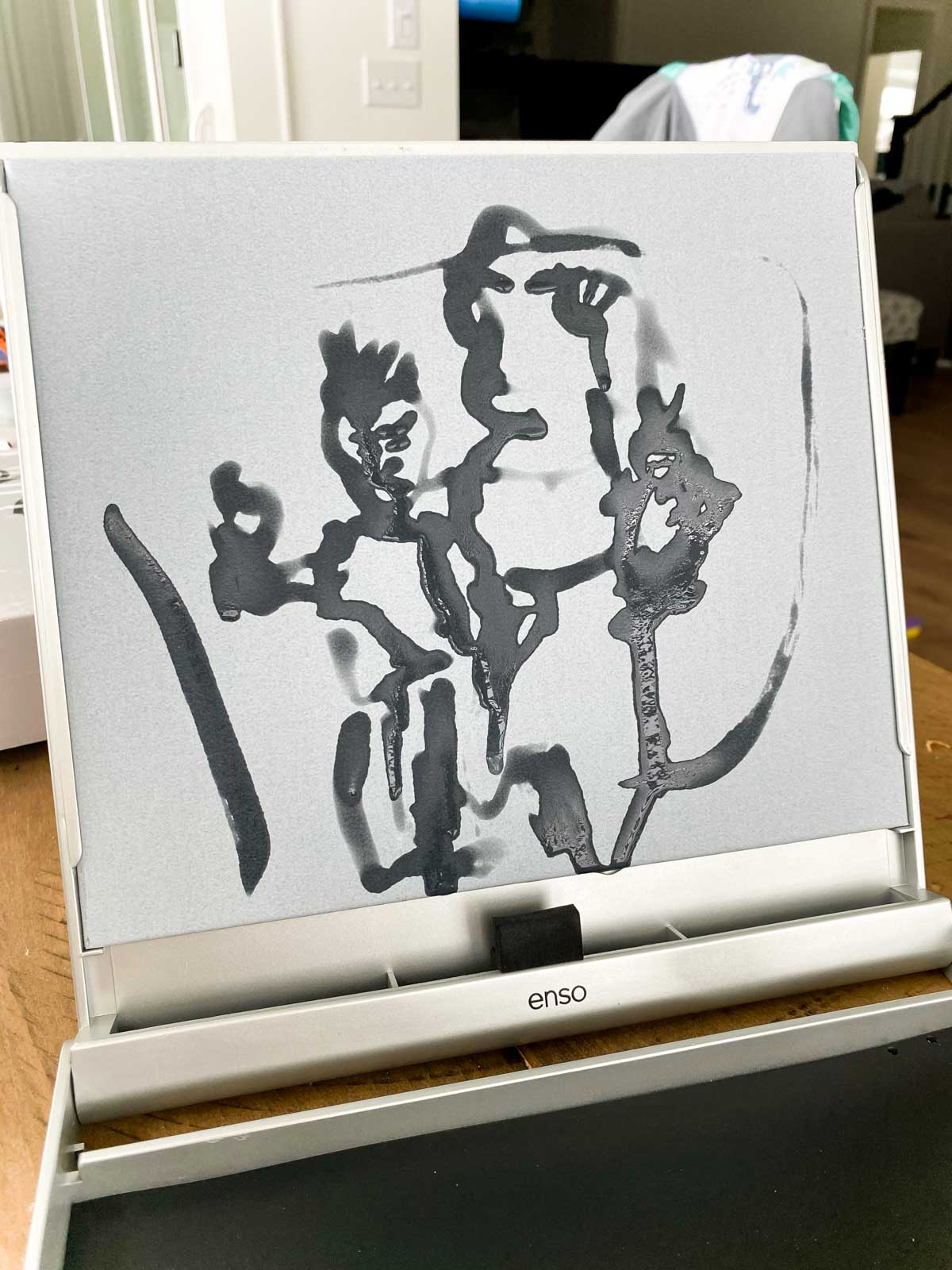 Spa Subscription Boxes
Last summer I decided to try out a handful of different spa/bath subscription boxes to see which ones I liked best! I highly recommend my two favorites – Bath Blessing Box and TheraBox for moms who like to pamper themselves a bit at home.
Bath Blessing Box is just what it sounds like – a subscription box full of items to enjoy luxurious baths. Bubble bath, bath bombs, bath salts, and more fill these boxes! You can either setup a subscription or just purchase one of their speciality boxes.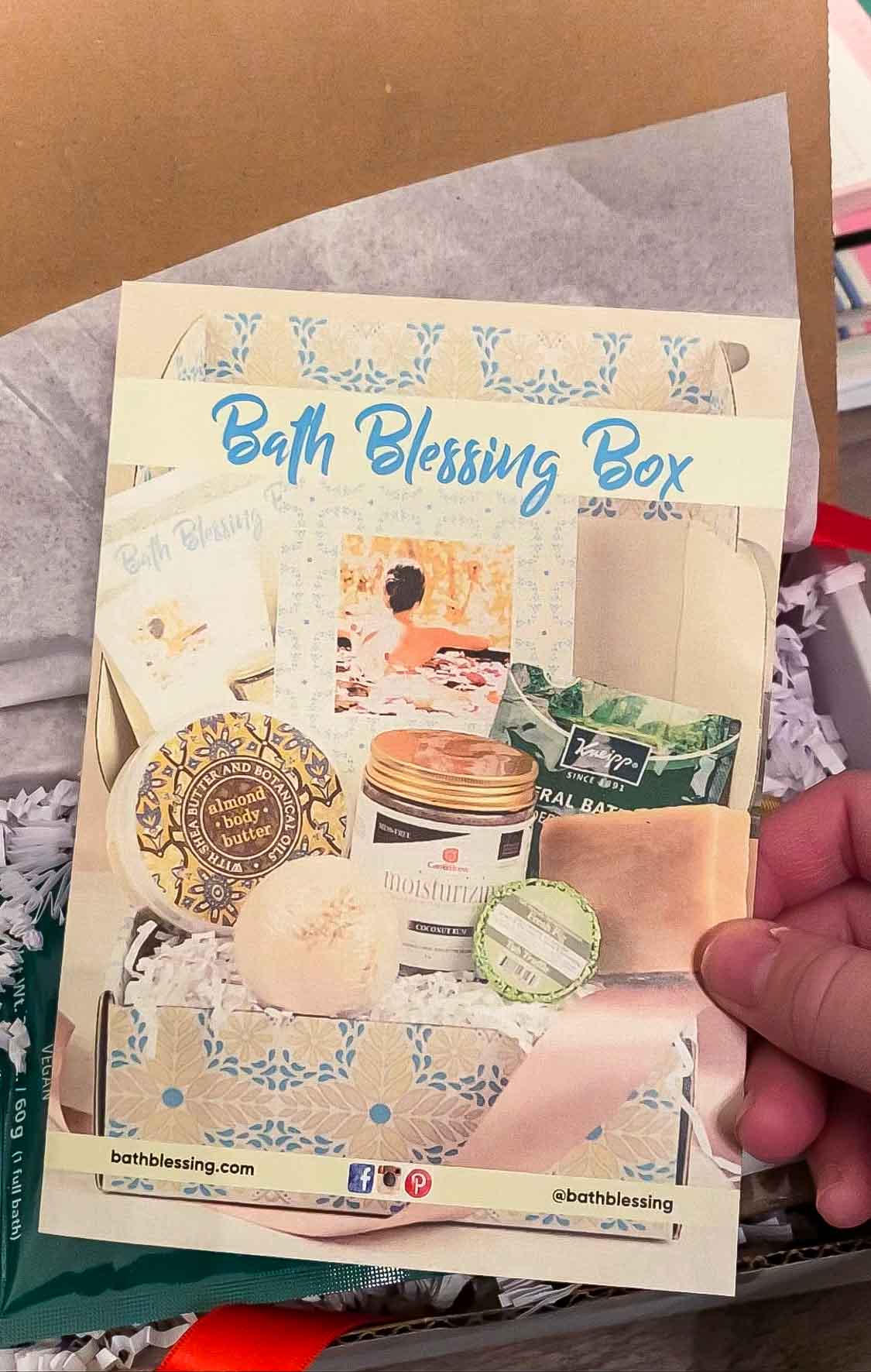 TheraBox has a bit more variety in their boxes and include things for bath time enjoyment but also for just basic pampering. My last box had collagen eye pads, a face mask, and mini aromatherapy balms. This is a better option if you have a mom who wants something more than just bath goods.
They offer both a monthly subscription box as well as a la carte shopping in their happy shop! They're also always running sales including a Mother's Day one for 20% off right now!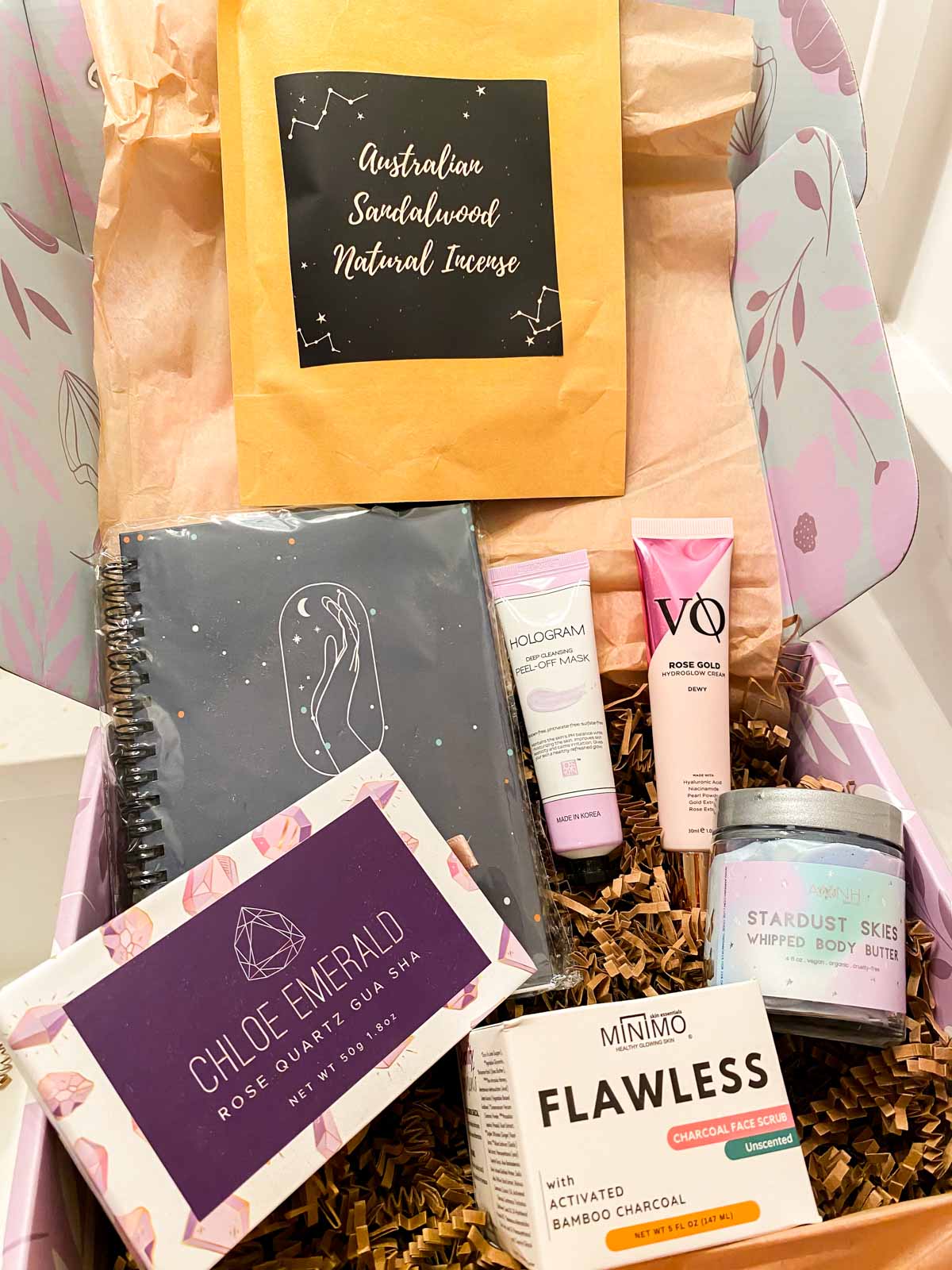 Edible Gifts for Mom
Want something small to give with mom that she can enjoy on her own? These are some of my favorite gourmet food gifts that I know most moms would enjoy!
Sugarwish
Want to send mom a gift from a far? Send her a Sugarwish! When she opens the gift, it will have a link for her to choose her own favorite goodies online from a huge variety then order her own custom sweets box!
I did this for my kiddo for his birthday and for my father-in-law for his birthday and only wish (ha!) someone had done this for me! It's a great way to send a variety of treats without breaking the bank! You can order all sorts of sizes of Sugarwishes here.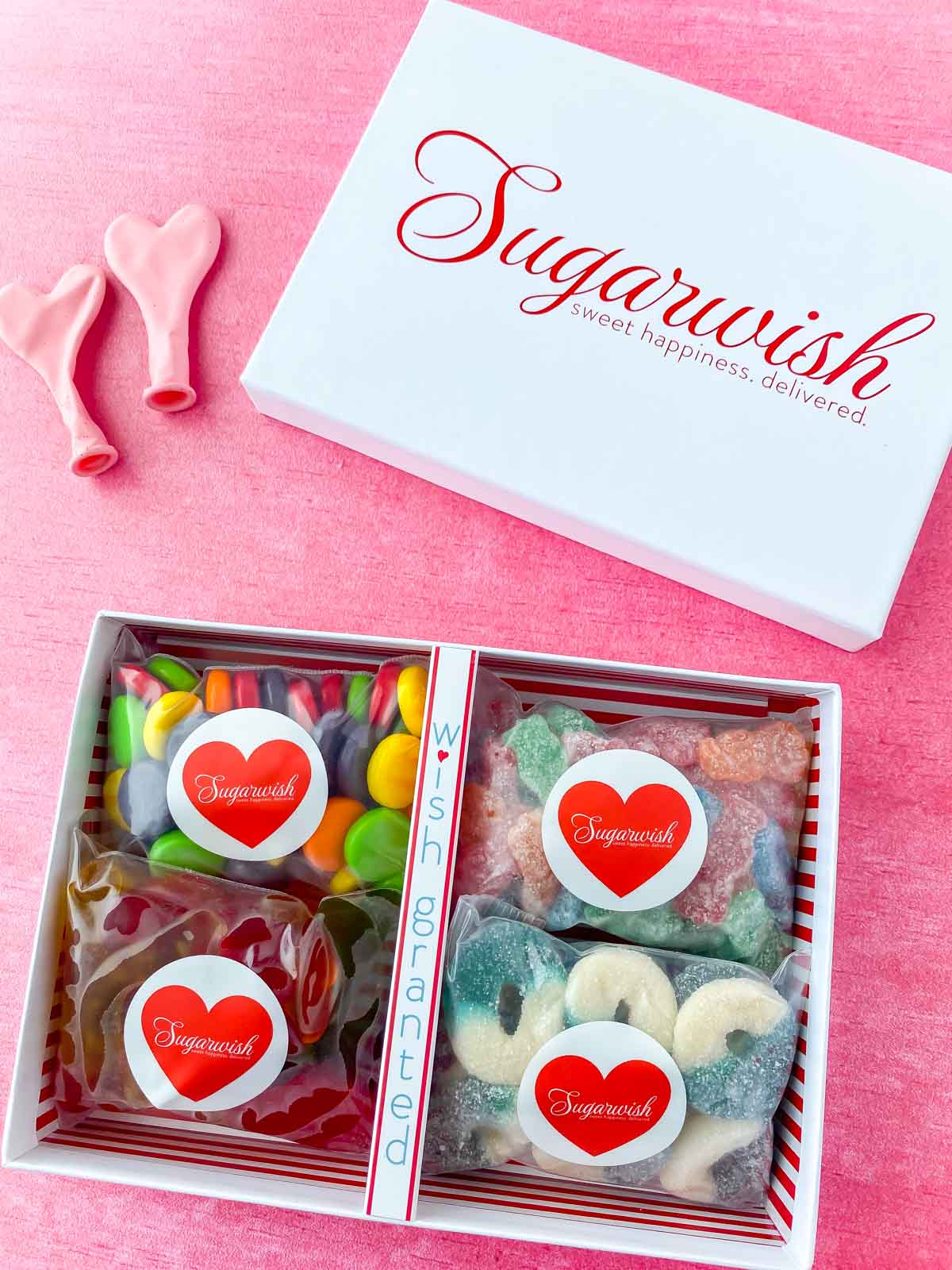 Wildgrain Box
If you want to give the gourmet food gift that keeps on giving, Wildgrain is the first ever bake from frozen subscription box. Each box comes loaded with clean carbs – sourdough breads, fresh pastas, pastries, and more!
I received a box with cranberry orange scones, sourdough, pasta, and more. After baked, you would never even know they were frozen to start with! The bread was crunchy on the outside and super soft on the inside. And the scones, oh my yummy! You don't even need to thaw the items – just bake from frozen!
That's way easier than making homemade cranberry orange bread or cranberry orange muffins!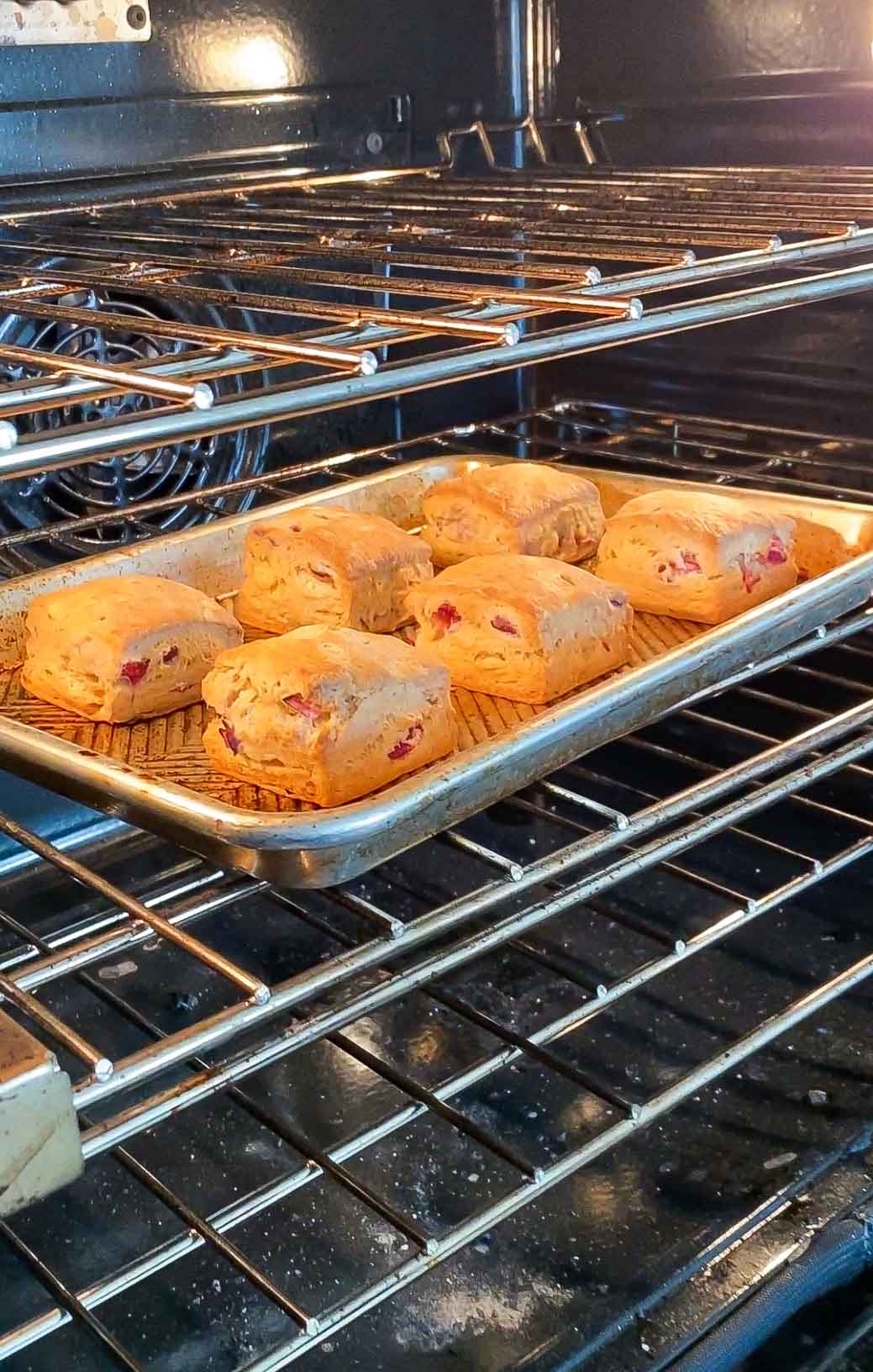 You can setup a subscription for your carb loving mom here or just order one box to try it out. Either way, use this link to get $10 off your first box PLUS a free loaf of sourdough in every box for the life of the subscription.
Simple Goodness Sisters
If your mom is a fan of mocktails and juice mixes, Simple Goodness Sisters makes delicious farm to bottle simple syrups that up the ante on any drink! I have them in our fridge in our DIY basement dry bar downstairs and our fridge upstairs.
My favorite flavors that we've tried so far include the rhubarb vanilla bean and lemon herb syrup!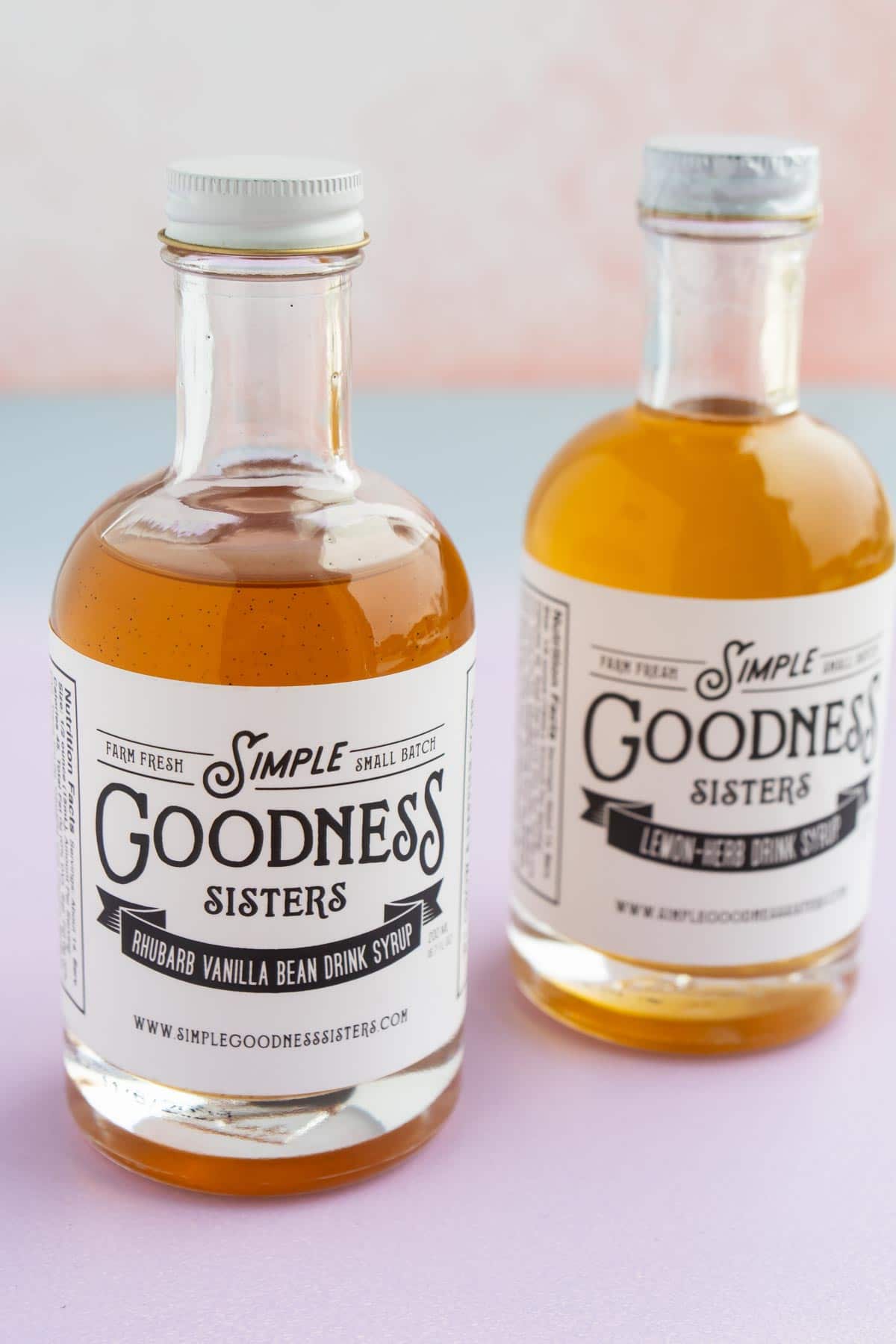 California Gummy Bears
Forget the gummy bears you can buy in the grocery store and give mom these gourmet California gummy bears instead. They're not only delicious (best gummy bears I've ever had), they're made in small batches with all natural flavors and coloring – meaning they're made using their natural fruit rather than a bunch of artifical flavorings.
And you can totally taste the difference! Plus, they're shaped like actual California bears and pretty cute too! They come in ten different fruity flavors. My personal favorite are the strawberry and mango!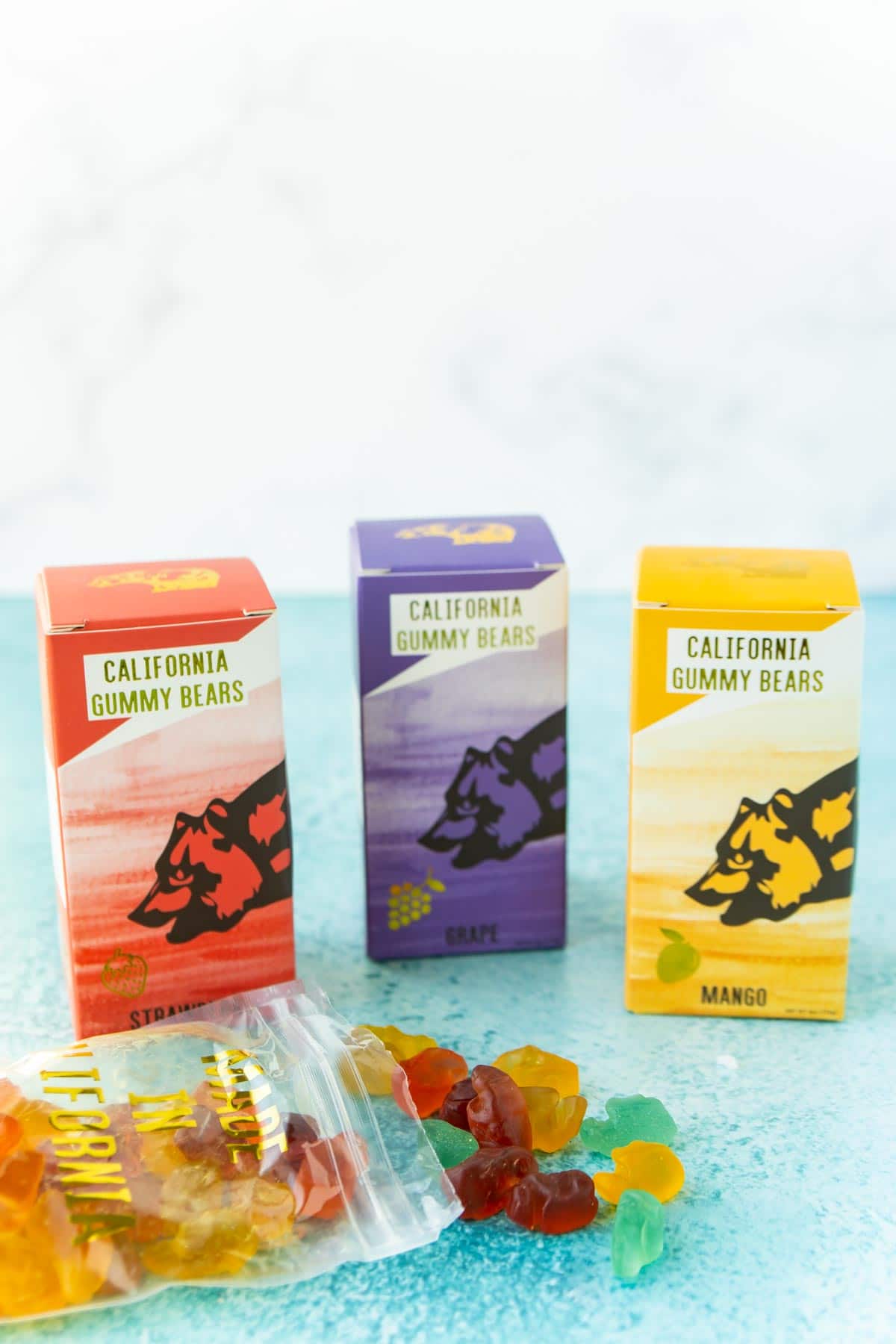 Clarkson Avenue Crumb Cake
If mom likes cake, she'll love getting a delivery of one of these delicious classic crumb cakes from Clarkson Avenue Crumb Cake. Or forget the classic and go with one of their more gourmet flavors like my personal favorite, the raspberry crumb cake!
They come ready to eat right out of the box and would make a great treat for mom on Mother's Day! Plus, you can also order a set of the Crumbkins (mini crumb cakes) for you and the kids to enjoy as well!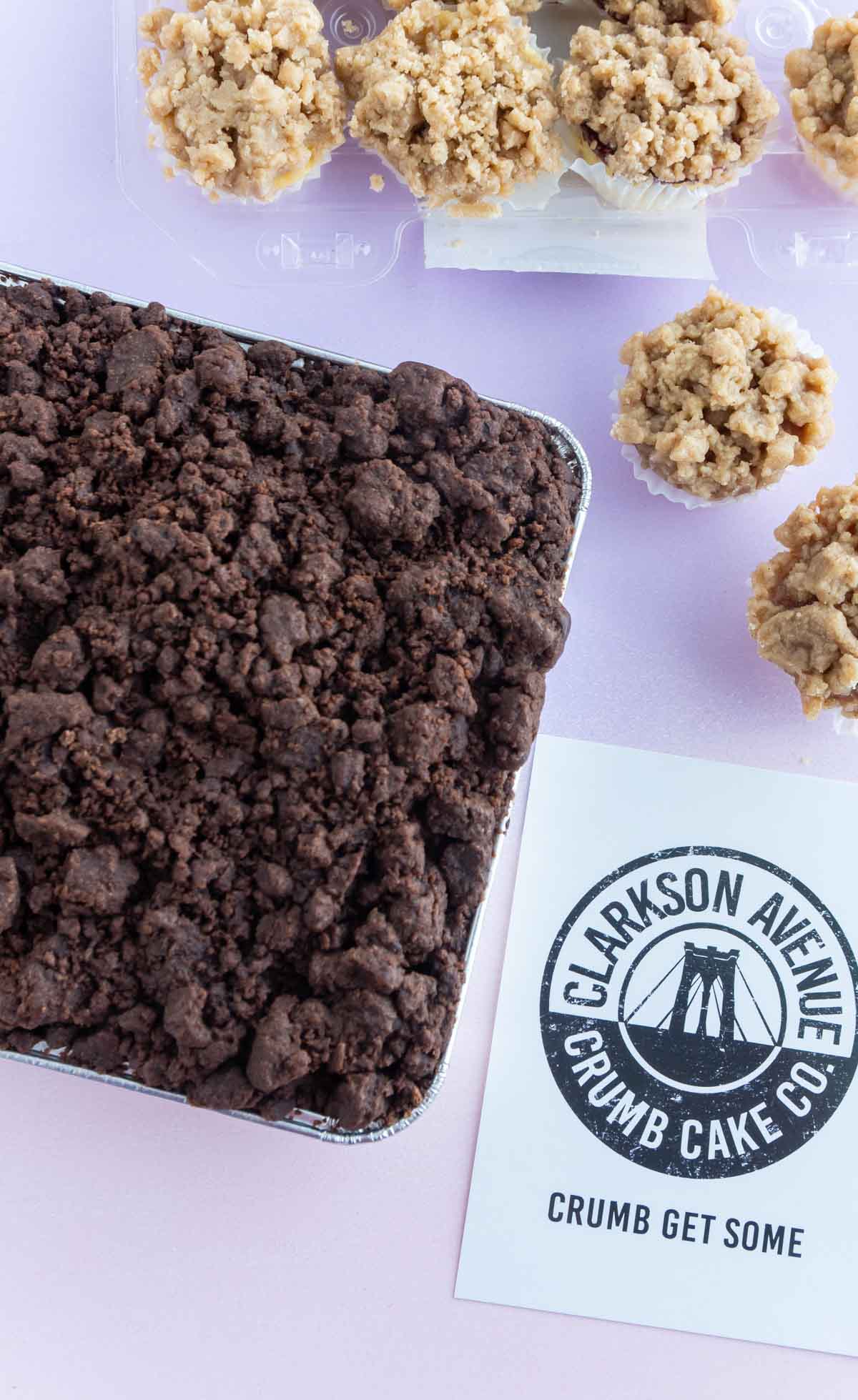 More Great Gift Ideas