Add a personal touch to a Mother's Day gift with these free printable Mother's Day tags! These free Mother's Day printables are the perfect way to make a special gift for mom even better! And with eight different designs, these free printable tags can be used for pretty much any type of gift, any type of mom, and any type of Mother's Day occasion!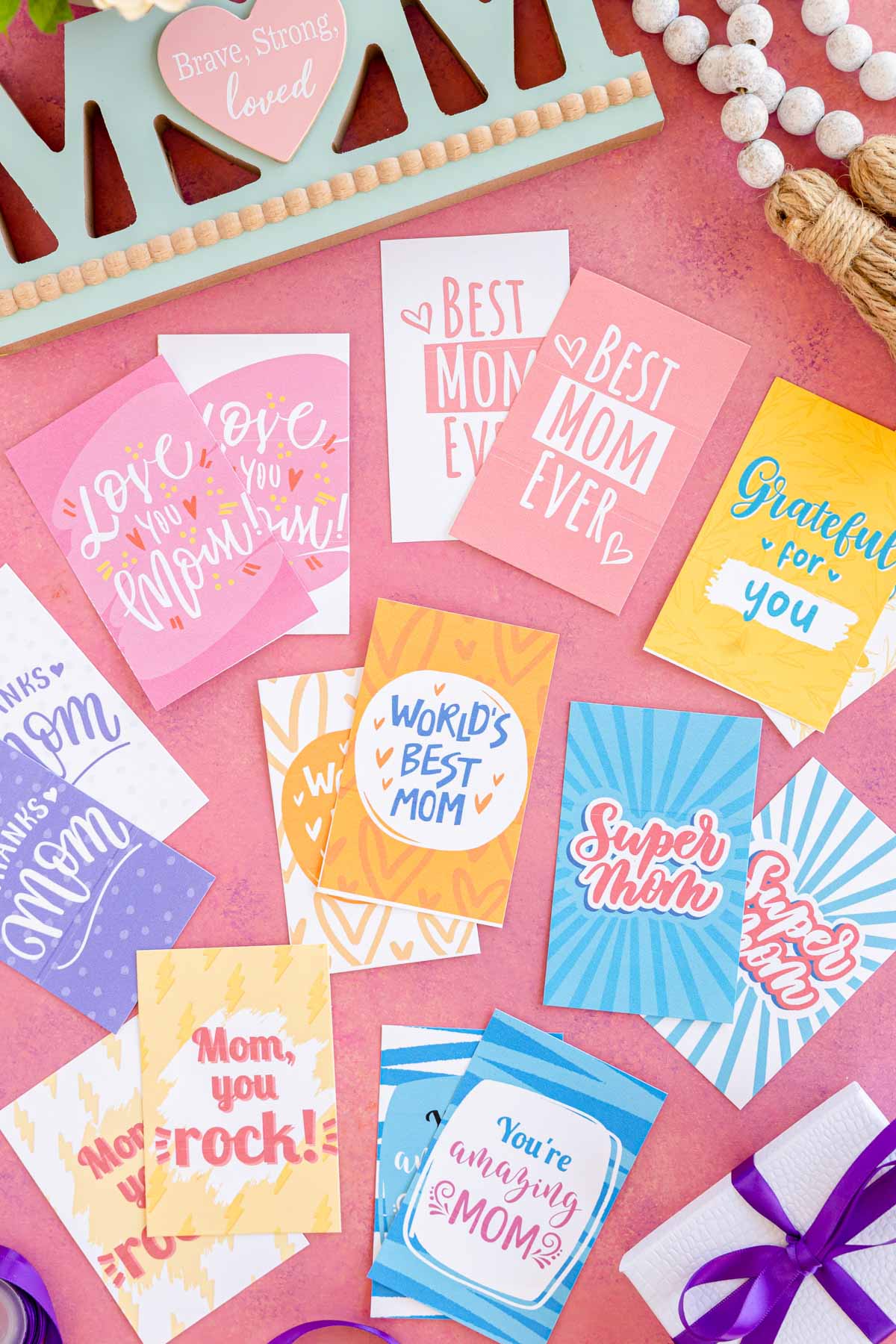 Happy Mother's Day this weekend to all of the moms, mom figures, and everyone else who serves a role as a mom in some way. These free printable Mother's Day cards gift tags are the perfect thing to add to handmade gifts, store-bought gifts, or even something that's a hybrid of both like these Mother's Day gift baskets!
These printable cards make the perfect addition without spending a bunch of additional money on a card. Plus, the backs are blank, so you can easily still make the Mother's Day gift tag extra special with a personal note on the back!
What's On the Different Tags
There are eight different sayings included in the Mother's Day gift tags file and each of those different sayings has both a colored and a white version (like you can see below).
I know some people like color, and I know some people like saving money on ink – so I went for both!
I did not do different sizes, but I feel like the size of the tags is pretty universal, so they should work okay for whatever you're doing!
Tip!
If you need something smaller, many of the colored free printables could be cut down to just take the text with a little border instead of the entire card as well. You could even use a large circle punch to punch out a circle tag instead of the rectangles.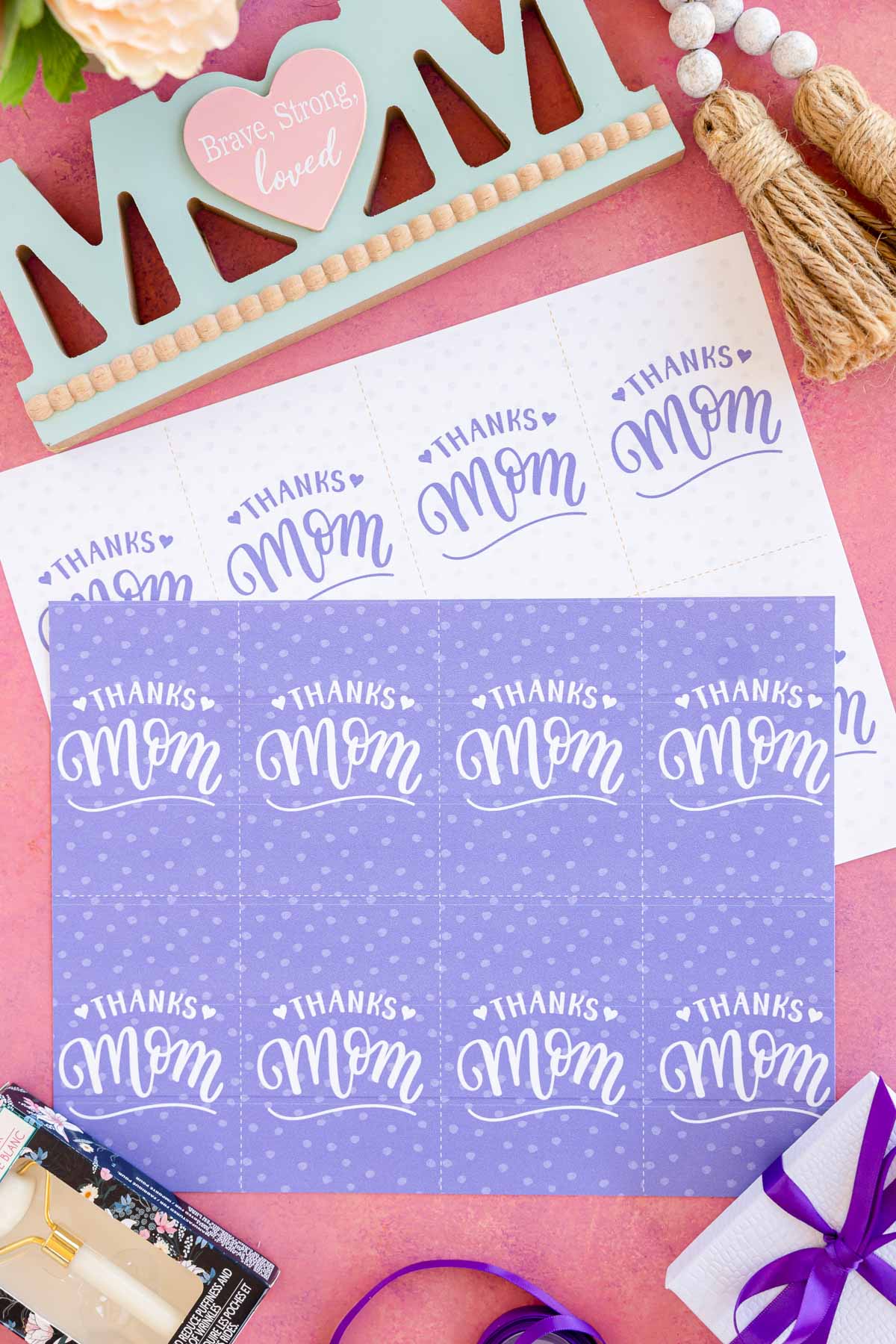 Mother's Day Gift tag Sayings
As I mentioned above, there are eight different sayings on these free printable Mother's Day gift tags. I tried to include both generic sayings that would work for anything as well some more creative ideas for celebrating the special day!
Best Mom Ever
Thanks Mom
Mom, you rock
Super Mom
You're amazing Mom
Love you Mom
World's Best Mom
Grateful for you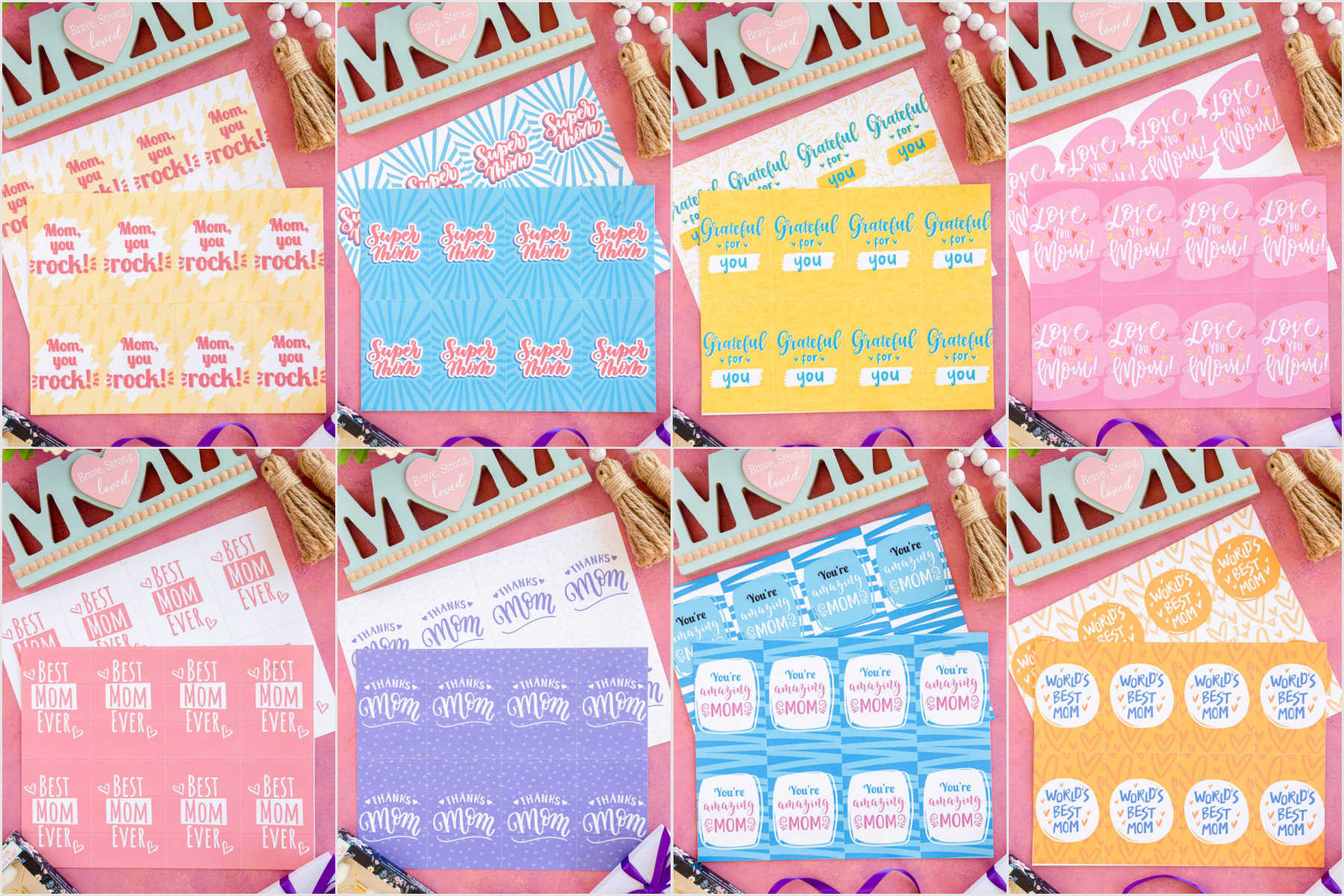 How to Use the Mother's Day Gift Tag
While these free printable gift tags are the perfect way to finish the perfect gift, they're just a finisher. I still recommend picking out some of gift for that great mother in your life.
A gift could be a sweet treat (these brownie balls would be great), a unique Mother's Day gift off this list, a funny Mother's Day mug, gift card for something she'd love to do, a coupon book, or even just a heartfelt message on one of these printable cards.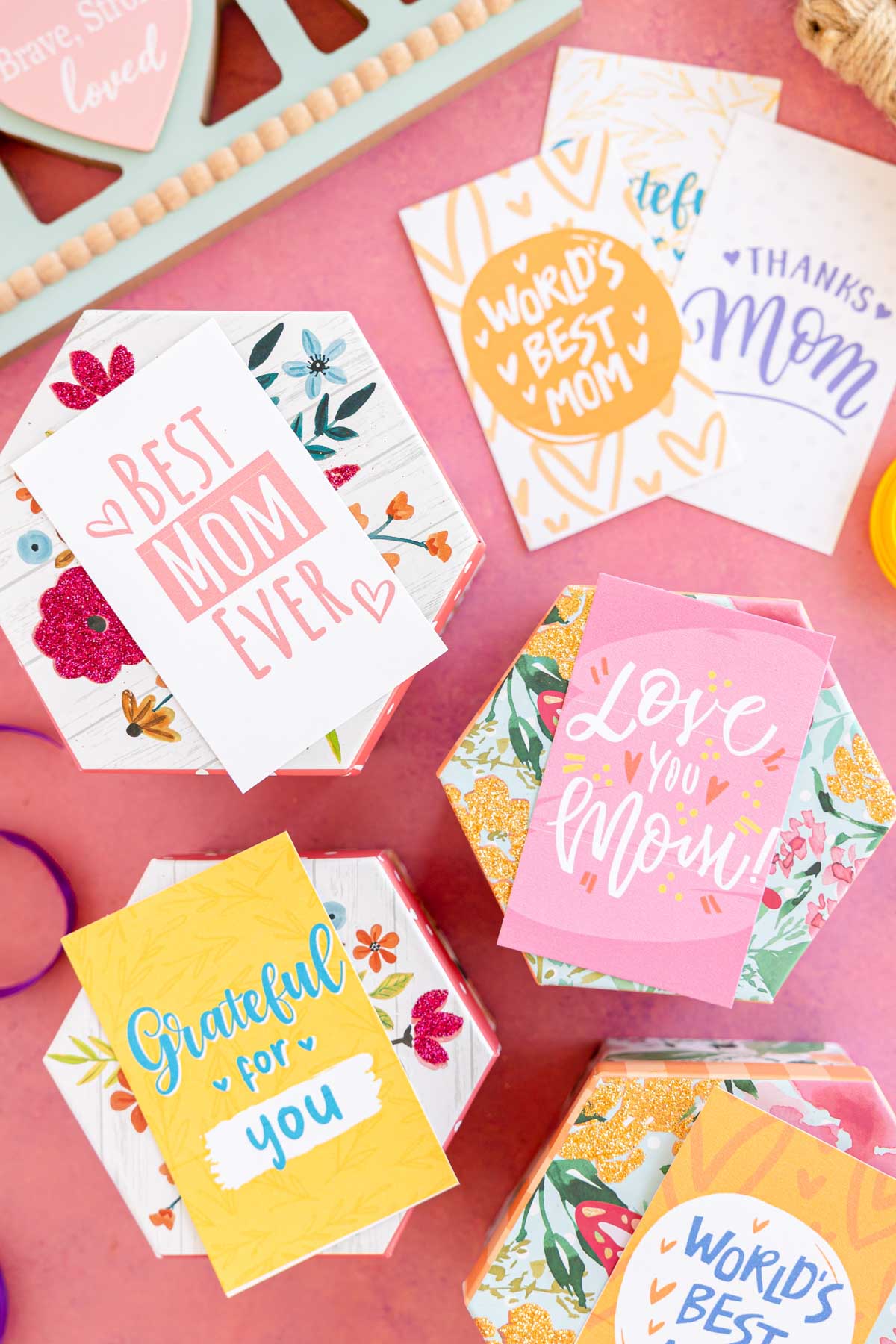 The most important thing about a Mother's Day gift is the intent behind it. Oh, and these printable gift tags don't hurt either!
Once you've picked out the perfect gift, wrap it up (or box it up), add a pretty ribbon and one of these printable tags for a special touch and you're done!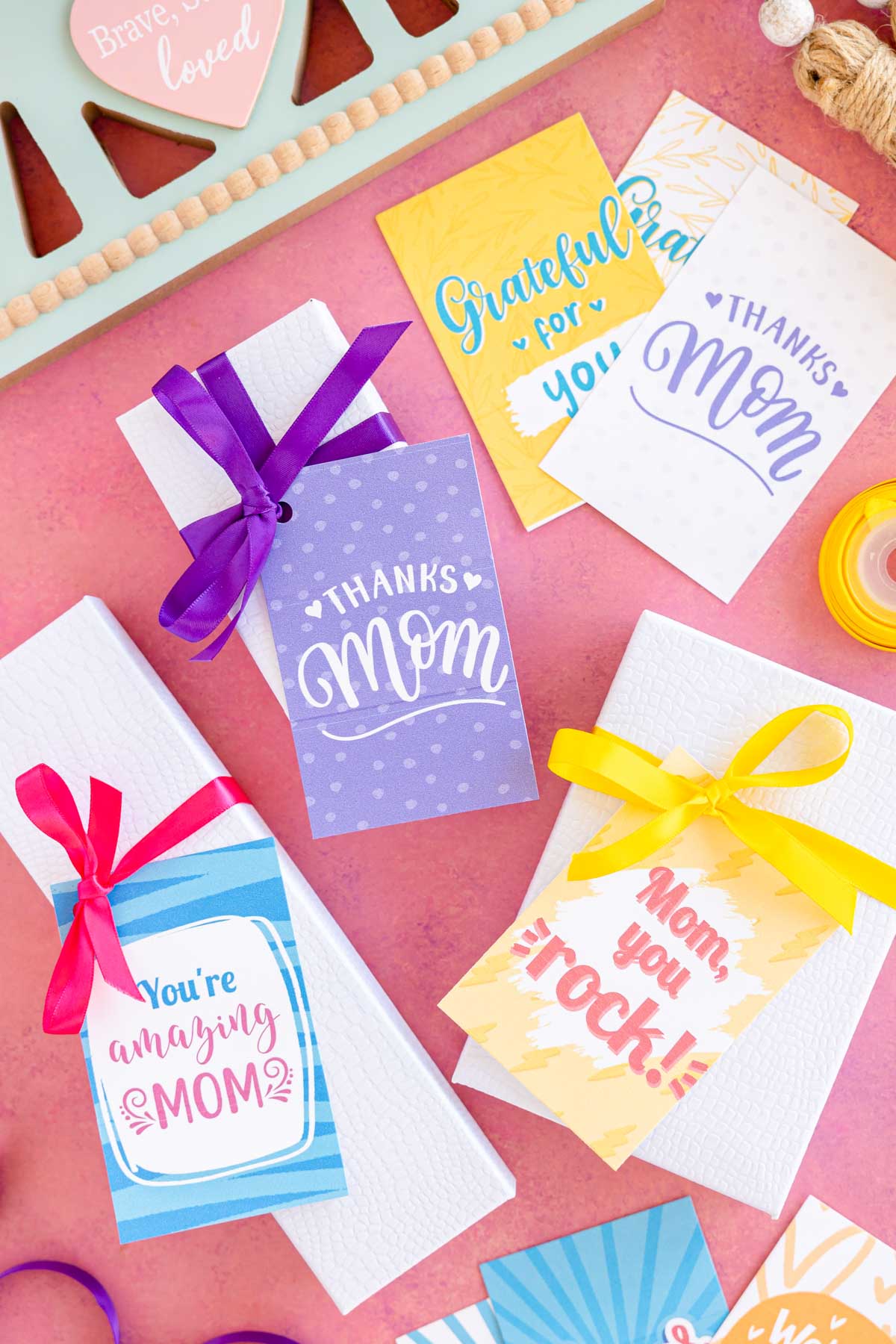 It's so easy that you could do them for all of the important women in your life, not just your actual mom. And let me tell you, I know most women appreciate any sort of gift, note, or recognition! Or a gift card to their favorite store!
Most of the cards in the set of Mother gift tags are specifically designed for mom but there are a couple that would work for women as well such as the grateful for you tag!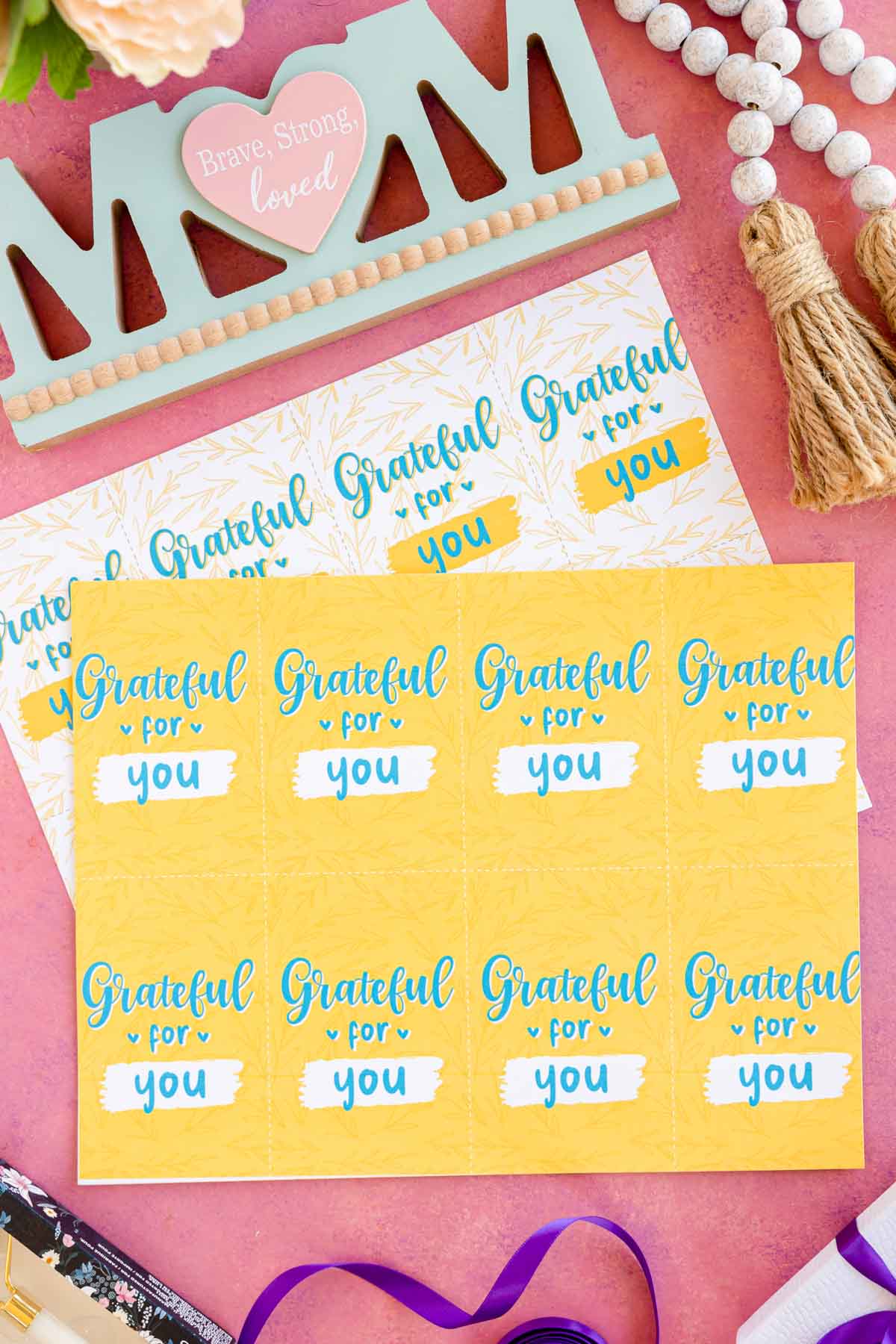 More Printable Gift Tags
If you're looking for more free gift tags, I have a ton of options! These would work well if you do want to give out gifts to the other women in your life as well!
Download and print the Printable Tags
Enter your first name and email address in the form below to get the printable PDF.
You will receive a link to the free download in your email within minutes.
If you'd prefer to not provide your email address and would rather purchase a copy, you can get them in my shop here.
If you do not see the form, click here to get to it.
If you do not see the email immediately after you fill out the form, make sure to check your promotions, spam, and junk folders!
As a reminder, the 17 page PDF will include:
Instructions and licensing – these are for personal use only, not for commercial use
Eight different sayings in two different designs
I highly recommend printing on white card stock for the best results. This will give a beautiful card that is also sturdy and has a bit more weight than regular copy paper.
If you're going to print out a bunch of these, you can send them to a copy shop as well instead of using your home printer to save ink and keep them as high-quality as possible!