This fun Christmas mug exchange idea is the perfect alternative to a gift exchange or yankee swap for your next holiday party! Have everyone bring a new mug and play a game or draw names to switch mugs!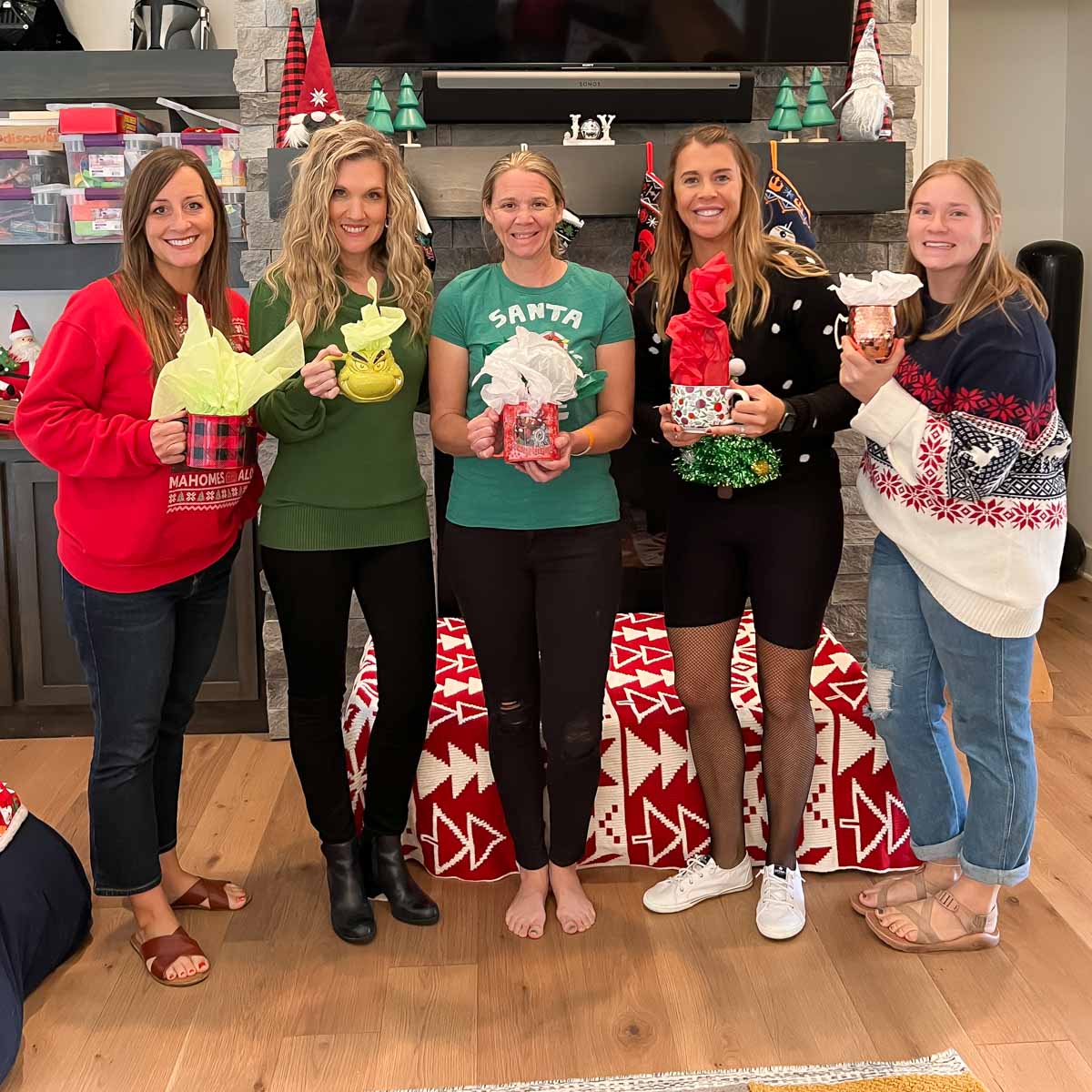 This past week we did a Christmas mug exchange, and it was so much fun that I had to share it with all of you! You know I love gift exchange games, and I just loved the idea of doing it with a mug theme!
We did this as a girls night, but it would be perfect for pretty much any holiday or Christmas party for adults (since most kids don't use mugs that often).
You could even use mugs as your entire Christmas party theme and serve up mug cakes, homemade hot chocolate or crockpot wassail. Or even setup an entire hot chocolate bar and let people use their mugs (after you wash them of course) to make their hot cocoa!
This could also just be a part of your party along with some of these fun Christmas party games, totally up to you!
What is a Mug Exchange?
A mug exchange is a different type of gift exchange where everyone brings mugs to exchange instead of typical gifts. There are a lot of different ways you can do it, and I've outlined a handful of different ones in this post!
A holiday mug exchange works great for a Christmas party, work party, girls night, or really any other time you just want to add some sort of exchanging of gifts or items!
You can either do empty mugs and just let people exchange or use my tips below to turn it into a gift exchange that just uses a cute mug as the gift box!
How to do a christmas mug exchange
The first thing you need to do is figure out which type of mug exchange you'd like to do. This will totally depend on how much you want people to spend, what kind of exchange you want to do (a game, just swapping, Secret Santa, etc.), as well as how many people will be participating.
I've outlined three different types that would work well, just choose the one that makes the most sense for your group and event!
1 – Mug Gift Exchange Game
Choose a budget (aka price limit) for the gift. I like to do a $25 limit but you keep it real simple or go extravagant if you prefer!
Then have everyone bring a mug filled with small gifts or treats that fit into the mug, keeping the total of the entire gift to under the budget (including the mug). The only guideline is to make sure everything fits into the mug and make sure the gifts are covered with tissue paper or some other method to keep them hidden from people.
The idea is that you want people to be able to see the mug but not the wrapped gift that's actually in it.
Then choose one of these gift exchange ideas – we did ours with this right left game poem – and just use the mugs instead of gifts for any of those games. I personally recommend doing a game that's random compared to one where people steal gifts for this because people tend to put a lot of thought into the mug contents.
If you want the right left poem we used, you can download it at the bottom of this post.
For our mug exchange, everyone brought a mug, then sat down in a circle. I passed out the mugs randomly to people, and then we did the right left game I mentioned before.
Once the poem was over, everyone opened their mugs to see what fun gifts were inside! Some people did items that matched the theme of their mug (like Grinch items) and others did just random things. It was so fun to see what people made, plus, you were able to keep the mug as well!
2 – Guess the Mug
We didn't do this second version, but I really want to because I think it just sounds like a lot of fun to both fill the mug and guess the mugs!
Have everyone buy a mug that represents themselves in some way, ideally a way that people might know about. Like for instance, I have a friend who loves the Grinch so she bought a Grinch mug. Have them bring it to the party in grocery bag (or gift bag, but that's money) so people can't see it.
If you want to make it even more fun, you can also have people fill their mug similar to the first gift exchange game idea, also with things that go along with their theme, making sure to keep the gifts wrapped in tissue paper or otherwise covered.
Tip!
If you're going to have people bring mugs filled with gifts, I recommend keeping them wrapped until the person has been guessed so that people are not holding onto their guesses (aka not guessing) because they don't want the gifts the person put into the mug and are waiting for something better to come along. Adding the element of mystery with not knowing what you're getting also adds to the fun!
Have everyone bring the bag with their mug and put it on a table. When you're ready to for the mug exchange, you pick a bag, pull out the mug, and show it to everyone. The first person to guess whose mug it is (because it represents someone) gets that mug! If there are gifts inside, they can open the gifts and show them off!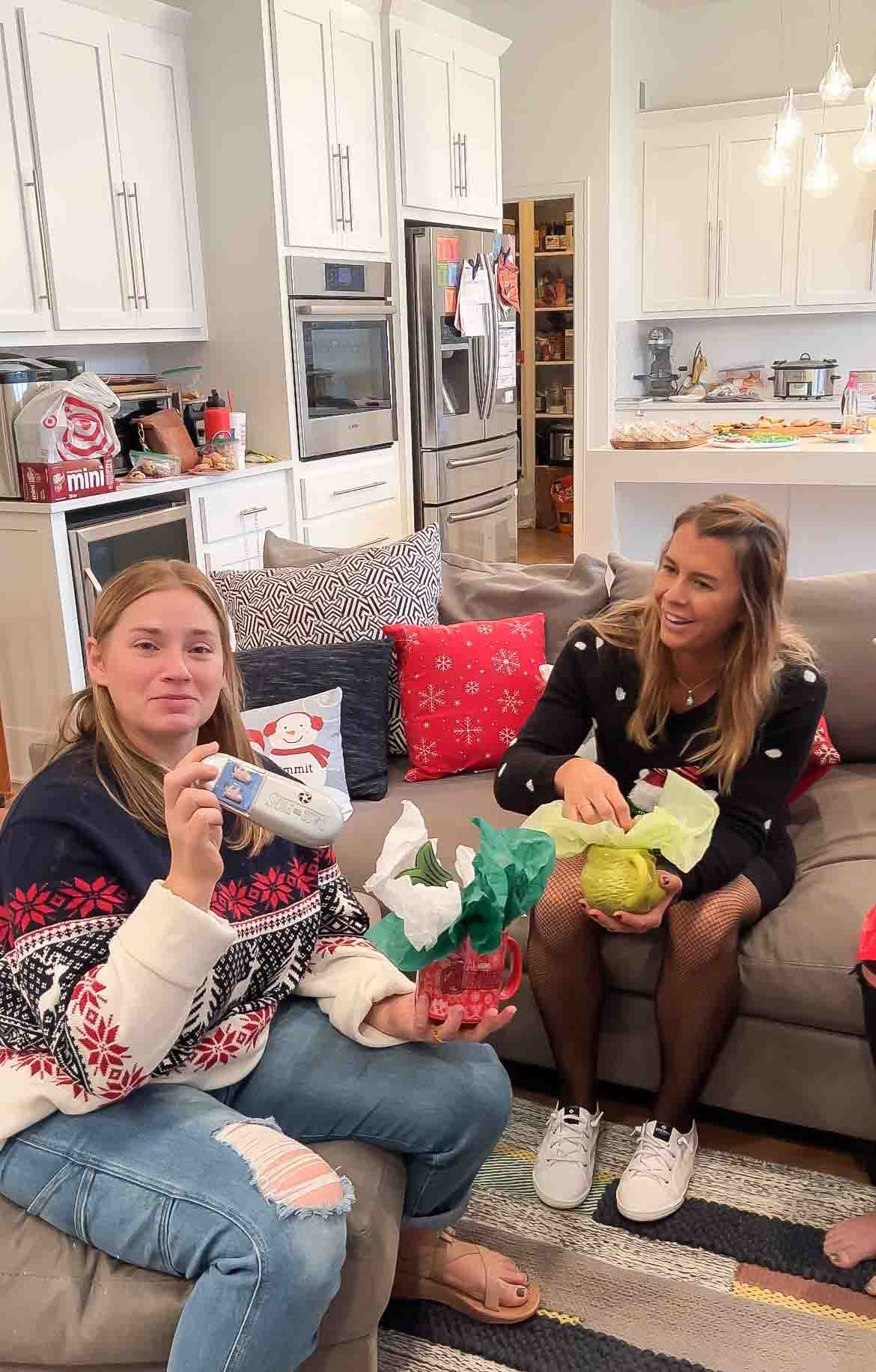 The person who guessed then goes up to the table and opens a bag, pulls out the mug, and shows it to the group who tries to guess the selected person's name. Then the next person to guess (and win the mug) chooses the next mug to showcase.
Keep going until all of the mugs have been guessed and passed out. Once someone wins a mug, they can still watch and listen to see who brought what mugs, but they're out of the actual guessing once they have their mug.
Change it up
Make this a getting to know you activity as well by having people explain why they chose the mug (and gifts inside) they did and how it represents them before it goes to the guesser!
3 – Just a Mug Swap
If you want to keep it as simple as possible, have everyone bring a cute mug. Then when people arrive, give each of the mugs a number and write a corresponding number (aka if the Grinch mug is 1, write down the #1) on a piece of paper, fold it up, and put it in a mug.
Once everyone arrives, it's time for the exchange! Choose someone to go first and they get to choose a number out of the mug, and they get the mug that has the same matching number. The last person gets whichever mug matches the remaining number!
Everyone brings a cute mug, everyone goes home with a cute mug. This is great for a Christmas party where you don't have a lot of time, a work party where a lot of people use mugs, or a girls night when you want a simple activity of some sort but don't want to put in a lot of effort.
2022 Update!
If you'd rather not make everyone go out and buy a mug, you can ask people to provide a small donation instead and you can go out and buy enough mugs for everyone to participate in the gift exchange. This works well if you have a group that has more money than time, but you still want to do a mug exchange!
Tips for a Mug Exchange
Decide whether or not you want people to fill the mugs with other items or if you want it to be solely a mug exchange and make that clear. You don't want some people showing up with filled mugs and others to not.
Choose a budget if you're doing one of the options that includes filling the mug with items and make sure people know the budget and that the mug is included in the budget. More expensive mug means less expensive gifts and less expensive mug means more budget leftover for fun gifts inside!
Save the stealing for when you're doing a gift exchange with funny white elephant gifts instead of ones that people put actual thought into like this mug exchange. Go for a game or exchange that is either random (choosing numbers, passing them around, etc.) so that people's feelings aren't hurt when no one chooses their mug.
Let people switch mugs at the end of the game if they want, especially if you're dealing with adults. There's nothing wrong with mutual trading if two people want to swap for mugs they like more!
Make a decision and make sure people know whether or not gift cards are allowed in the mugs. We personally said no gifts cards, certificates, or cash allowed so that it wasn't just a fancier way of doing a gift card exchange. I think it's more fun without but I'd make a decision and announce it one way or another.
Make sure people know it's not necessarily a coffee mug exchange. Any kind of "mug" goes, and they can get creative with things like a camping mug, a classic mug, or even a mug without a handle!
Have people fill it with edible treats if you want to fill the mugs without doing a higher price limit. This is a fun way to still do filled mugs without breaking the bank!
Mug Exchange FAQs
Why mugs?
Mugs make the perfect gift because they can be personal, sentimental, but also functional. I know more than a handful of people who also have mug collections! Plus, they actually make great holders for all sorts of small gifts!
What should you fill the mug with?
If you're participating in a mug exchange (or filling up your own to participate), just fill it with your favorite things or small things that you think would be universally liked. Chapstick, beauty products, gloves, fuzzy socks, gourmet candies, and other small things are always a big hit.
Get the Printable Left-Right Game Poems
Enter your first name and email address below copies of two fun left right poems – one that's more universal and one that's Disney (aka kid-friendly) themed.
You'll be immediately taken to the PDF to download and receive a copy with the download link to your email shortly after.
If you can't see the form below, click here to get to the form to enter your info to get the gift game.
If you'd rather not fill out the form, click here to get a copy in my shop.
The PDF will include:
Instructions
One-page Sarah & Mr. Right poem (this one is best for adults)
Two page Mickey Mouse shops story (this one is best for little kids)
Use policy – everything is only available for personal use, not commercial use.