Here are unique Christmas party themes that you can use to throw an awesome Christmas party! We've got theme ideas for kids, adults, families, and even elegant party themes. So no matter what kind of party you want to throw, you'll find a Christmas party theme here for you!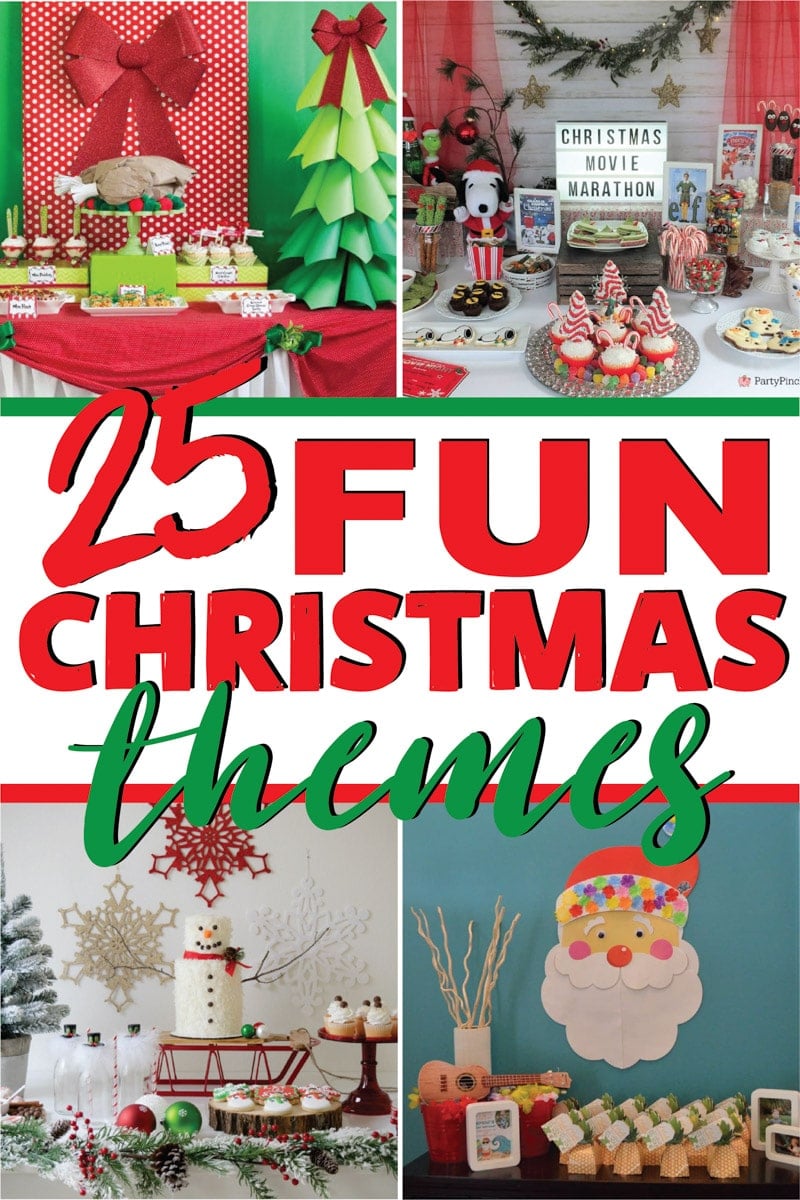 The Best Christmas Party Themes
I love Christmas and all of the fun Christmas parties we get to attend! It's always fun to see other's Christmas decor and Christmas cookies while catching up with family and friends over the holidays.
We've been to our fair share of ugly Christmas sweater parties and gingerbread house making parties. And while those, and gift exchange games, are classics and always a blast, I wanted to think of some new Christmas party themes this year.
So this year I'm focusing on unique Christmas party themes filled with super fun Christmas party ideas!
And if you want to make sure you throw the best Christmas party ever, make sure and check out my tips!
Christmas Party Themes for Adults
Leave the kids at home and throw an adult-only Christmas party! These party themes are perfect for getting the grown ups together and letting loose!
12 Days of Christmas Party
See how we turned a popular Christmas carol into a party theme with this 12 Days of Christmas party ideas!
If you're looking for a unique theme, this is it. This party includes the 12 days of Christmas game, free printables, and plenty of other unique ideas for your adult Christmas party. And of course – five golden things!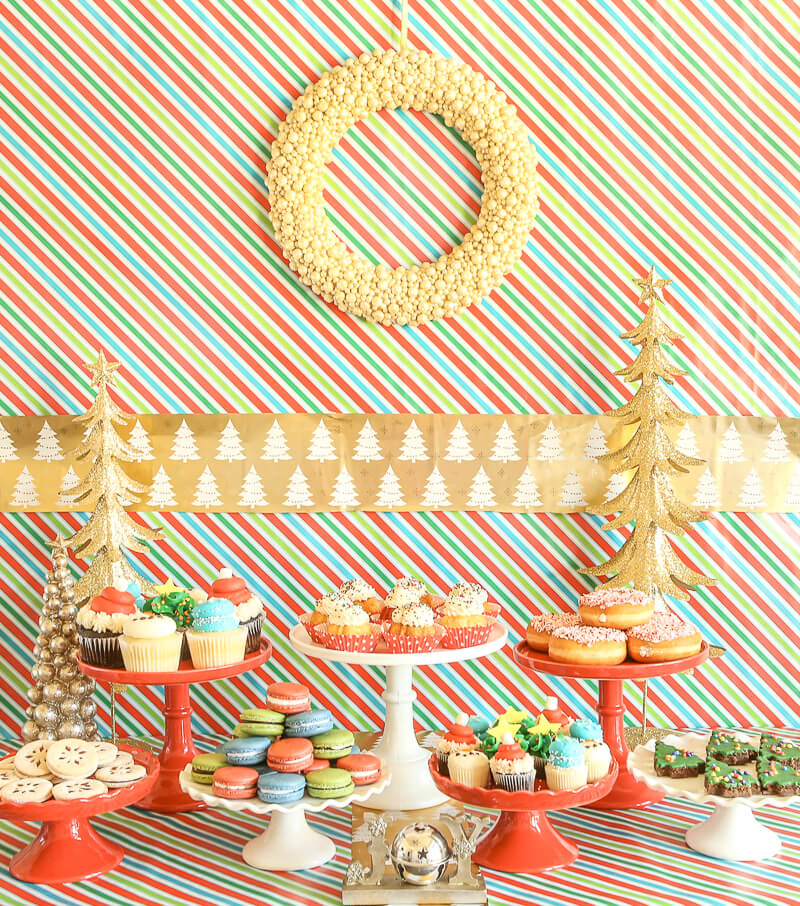 Jingle & Mingle Party
The theme of this party is to mingle and get to know one another! Serve up some of your favorite holiday treats (like this cranberry orange bread), one of these Christmas appetizers, decorate with beautiful Christmas forestry, and enjoy mingling all night long.
Get all the party ideas from Love the Day here.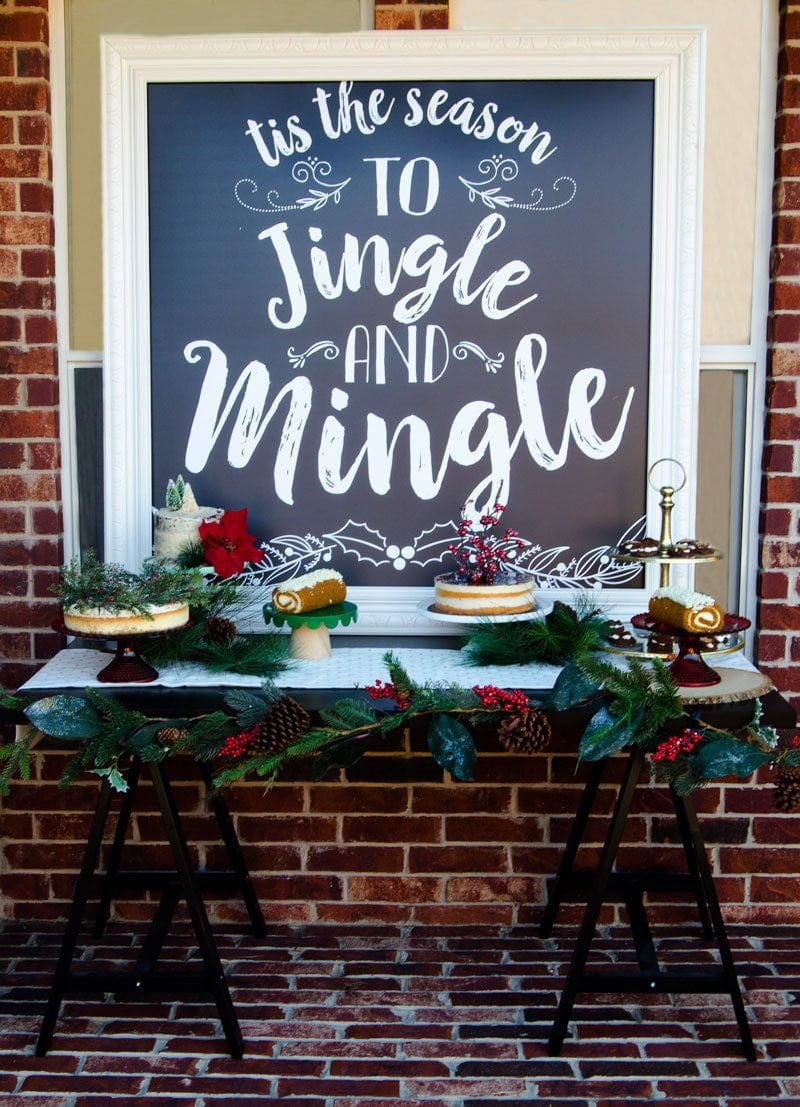 Gift Wrapping Party
Grab your besties for a productive girl's night in. Pink Peppermint Design shares her B.Y.O.B (ow) gift wrapping party where friends gather to wrap gifts (use these printable gift tags), address Christmas cards, and enjoy treats and one another.
This is a perfect party for the busy season since you get to wrap and chat at the same time!
Countdown to Christmas Party
This Christmas party is just for adults and filled with crafts, cocktails, and tons of fun Christmas details! Get all the fun ideas from Happiness is Homemade here.
It'd be really fun to add something like this DIY advent calendar as a countdown during the party!
Ornament Making Party
Gather some crafty friends and some supplies for a Christmas ornament making party. Jen T By Design has several ideas for ornaments you can make using your Cricut machine at this DIY themed party. If you need some ideas, here are tons of DIY Christmas ornaments to get you started!
Or you could make any of these personalized gifts for kids too!
Christmas Wreath Making Party
Already have enough DIY ornaments? Invite your gal pals over for lunch and a Christmas wreath making party instead.
This fun and festive Christmas party theme lets everyone go home with a beautifully made Christmas wreath!
Christmas Party Themes for Kids
I love seeing the magic of Christmas through a child's eyes. These adorable party themes for kids will give them that twinkle in their eye.
Christmas Morning Party
The best part of Christmas is Christmas morning. Recreate that magic with a Christmas morning theme Christmas party.
Gift Christmas pajamas, serve breakfast foods like this sausage and breakfast casserole or these chocolate chip muffins and play Christmas games while kids play and enjoy the day. They'll love having Christmas morning more than once!
Elf on the Shelf Party
Host an Elf on the Shelf party to welcome or say farewell to your Elf friend!
Play elf Christmas party games and serve the main elf food groups like candy and candy canes! Get free printables including a goodbye letter to send with your elf as you wish him farewell.
Grinchmas Party
Bring everyone's favorite Grinch movie to life with a Kids grinchmas party. Create your own Whoville with lots of DIY ideas from Frog Prince Paperie.
Play this fun (and viral!) Grinch Christmas punch game.
Serve Grinch brownies, Grinch cupcakes, Grinch cookies, and even a little Who pudding to wash it all down!
Family Christmas Party Themes
Host a family get together with these fun Christmas party themes. After all, Christmas is about spending time with the ones we love the most!
Christmas Game Night
Host a party all about playing games! Try out one of these awesome board games or one of these hilarious Christmas party games.
And don't forget the best game of all, this saran wrap ball game! It's a night all about games and just having fun together!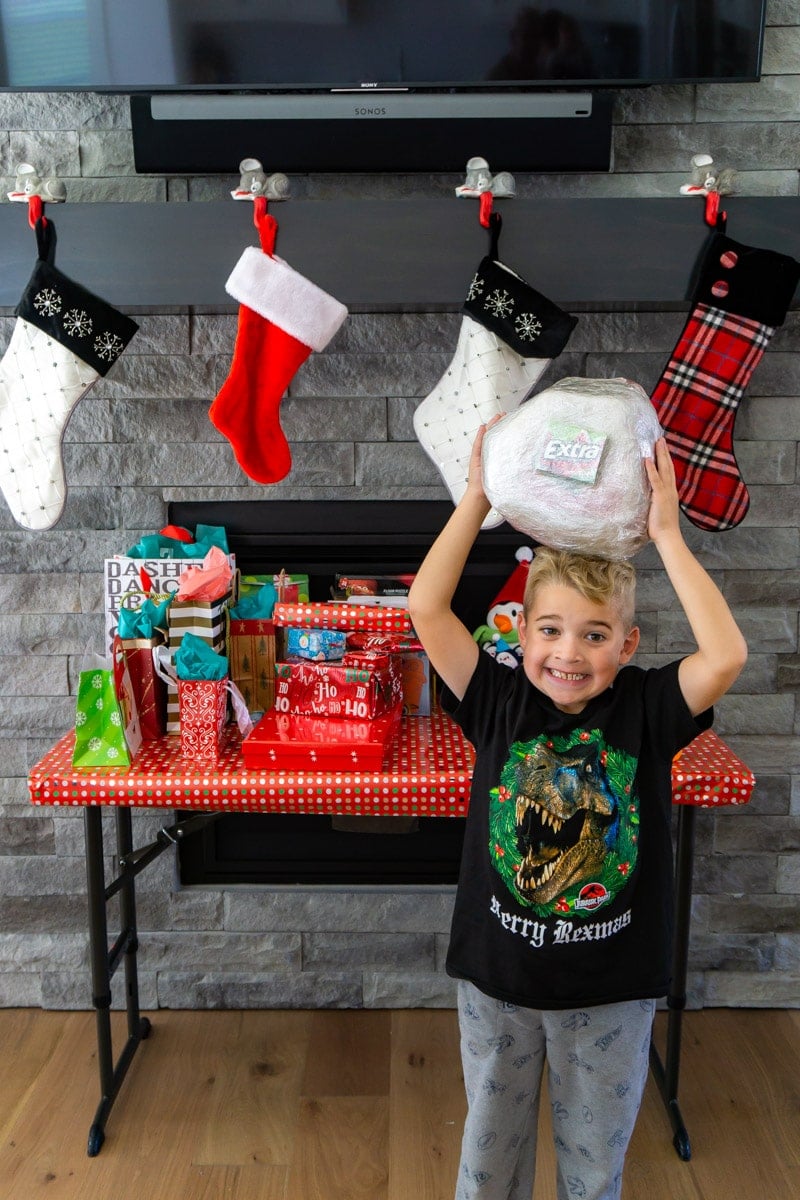 Cookies & Cocoa Party
Plan an easy cookies & cocoa party to celebrate with family. Make some healthy hot chocolate, cherry cheesecake cookies and put on a Christmas movie as you watch together and snuggle.
Christmas Movie Marathon
Host a Christmas movie marathon party, inspired by favorite Christmas movies. Party Pinching has all the details, including movie-inspired food and more.
Add my free printable Christmas movie bingo cards to this party theme for a blockbuster hit! Or play this Christmas emoji game for your cinematic celebration!
Finish it all with these fun Christmas movie trivia games to see who knows their movies the best!
Perfectly Plaid Party
Get cozy with a perfectly plaid Christmas party from Kara's Party Ideas. Grab hot cocoa from the bar and catch up with family in this adorable rustic theme.
Polar Express Night
Host a Polar Express movie night for those lazy winter days. Perfect to do in between all the other holiday events so you can unwind and enjoy the season with one another.
These gingerbread cupcakes or a little homemade hot chocolate would be a perfect addition to this party!
Christmas Luau Party
Put a spin on the classic Christmas decor with a Christmas luau party. We love the surfboard photo booth that Journey of Parenthood incorporated into her party.
You could serve these Hawaiian pork kebabs, pineapple monkey bread, and coconut chicken tenders for lunch! And don't forget the homemade fruit punch or you could go more festive with this Christmas punch instead.
Elegant Christmas Party Themes
Want to throw a classy party with dreamy details? Guests will love these classy and beautiful ideas from your elegant party theme!
Snow What Fun
There's nothing more elegant than a bunch of white snow, glitter, and snowflake everywhere! Host a snow what fun party filled with a beautiful snow themed tablescape, snow ice cream, and a game of snowy Christmas charades!
Finish off the table with this gorgeous "snow frosted" red velvet cake along with frosted sugared cranberries.
Winter Wonderland
Who says kid parties can't be full of elegance and class? Pop of Gold's winter wonderland party theme is so pretty and full of great ideas. You can use these ideas to throw your own glimmer-y gala, for kids or adults.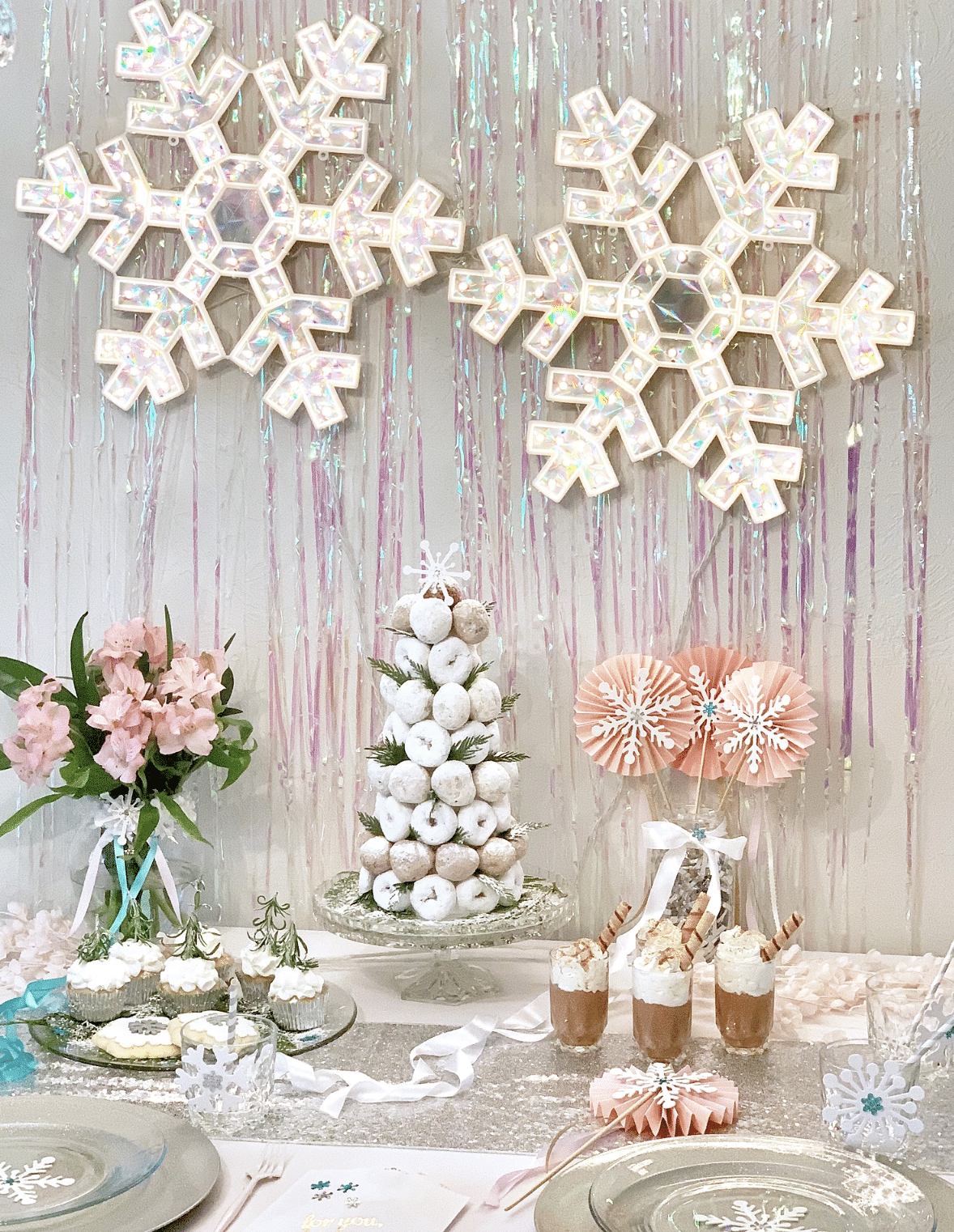 Lumberjack Party
While you may not think of a lumberjack as elegant, this lumberjack party from Printable Crush is full of elegant details and printable designs. It's the perfect winter theme and when combined with Christmas elements, it makes one beautiful holiday party!
Since it's kind of a woody theme, these s'mores cookies or these s'mores bars would make a great dessert!
Black and White Christmas Party
They aren't your typical Christmas colors, but a black and white party theme make for beautiful Christmas party decor (or a New Year's Eve party). Grab ideas for black and white party decorations that are classic and elegant.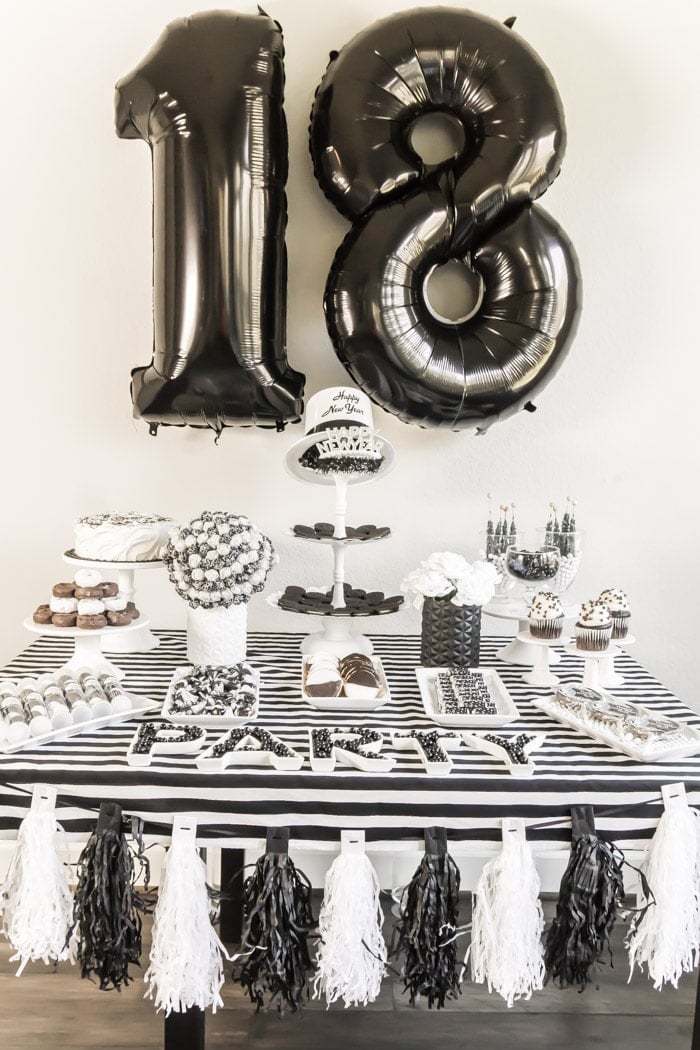 Holiday Fiesta
I love non-traditional parties and this holiday fiesta with Mexican party food is classy and creative! With glitter and gold sprinkled throughout the party decor, this is one glitzy Christmas bash!
Make your favorite homemade taco meat and setup a taco (or nacho bar) for the perfect party food!
Let It Snow Party
Dreaming of a White Christmas? Throw a let it snow holiday party, complete with snowy decor and yummy treats. I love Twinkle Twinkle Little Party's spin on a charcuterie plate for sweets!
Don't forget to serve a little homemade spiced apple cider to warm everyone up!
Funny Christmas Party Themes
Looking to do something a little less serious? Throw a funny Christmas party! Add some jolly to your Christmas party with these funny themes!
National Lampoon's Christmas Party
Everyone's favorite Christmas movie is turned into a hilarious party with this idea from Seeded at the Table Have guests dress in their best Griswold-inspired costumes for this National lampoons Christmas vacation party.
Reindeer Games Party
You can host this fun reindeer games party from Giggles Galore at home or in the classroom. She has plenty of activities to keep busy kids entertained as well as adorable treats to enjoy.
A Christmas Story Party
This party inspired by the classic movie A Christmas Story will have everyone laughing as you serve up Oh Fudge brownies, lamp leg treats, and more! Get all the ideas and recipes for this fun party here.
Christmas Carol-Oke Night
Do you love singing Christmas carols or are you dubbed the karaoke queen? Then the Christmas Carol-oke is the perfect Christmas theme for you!
Grab this Christmas songs list and invite guests over for Christmas karaoke fun. You'll laugh all night as you belt out classic Christmas tunes.
And don't forget to play this Christmas carol mixup game – perfect for this party theme!
Other Christmas Party Ideas
If you like these Christmas party themes, make sure to check out some of these other fun Christmas ideas!