Make this Christmas season the most magical ever with this free printable letter to Santa template with versions for younger children, older kids, and even envelope templates to tuck that letter in to send to Santa! These free Santa letter templates makes it simple for kids to write their own letter even if they can't actually write yet!
One of our favorite traditions to do as a family during the holiday season is to write dear Santa letters filled with Christmas wishes and wants (assuming the kids make it on the nice list of course).
In the past, I've just encouraged my kids to start with a blank letter but somehow they always got writer's block and couldn't come up with anything to write.
So I thought I'd help them out a bit and made these free printables that are full of prompts to help make writing to Santa asking for their Christmas wish list a bit easier!
Whether they want to write a simple letter asking for just a thing or two or if they're a little more robust like my youngest, these Santa printables will help make this fun activity just a little easier!
Free Santa Letter Templates
The package includes two different designs that you can use for your child's letter depending on their age and how much effort they want to put into this.
1 – Empty Letter Template
The first is a blank letter with just dear Santa at the top and some blank lines that kids can fill out with their list of gifts and then a space for the child's name at the bottom. It's great for older children who can write their own letter!
It's also a great way to practice letter writing skills or just letter writing in general (since we do that so seldom these days). If older kids don't want to use this blank Santa letter template, you can always give them the other design to use as well!
2 – Free Letter with Prompts
The second free letter template is designed to be used with younger kids and again has the Dear Santa Claus at the top of the page but then it also has a bunch of specific prompts for kids to fill in.
And if you're doing this with really young children who can't write at all, you can ask them the questions and fill in the blanks for them!
The questions are things like:
Some of the things I did this year
Things I want to do next year
Things they're grateful for
Christmas wish list
I tried to make it not just a list of nice things they wanted for Christmas but also nice things they did this year, things they're grateful for, etc. This makes this activity a wonderful way to also reflect on the year without doing something more obvious like making a time capsule.
Free Christmas Printable Envelope Template
In addition to the blank Santa letter templates, I've also included a free printable envelope template that's pre-addressed to Father Christmas himself with a North Pole address! Kids of all ages will love folding these envelopes together and stuffing their carefully written letter in there!
All you have to do is tape it together and add a return address and stamp. Please read my important message below regarding actually sending the letter using this envelope!
important!
The address on the envelope is the address for the USPS Operation Santa where you can send letters by December 12th, those letters will be posted online (without personal information), and people can adopt the people who wrote those letters and send them gifts. I did this purposely so that if there are kids in need that this program would be a good fit for, you can actually send the letters in the mailbox to this program.
If your family is doing okay and you'll be able to provide plenty for your family for Christmas this year, please do not actually send the letters or just don't send them to this address. Save the adopting and gift giving for kids who have had a hard time and really need some Christmas magic this year. Maybe even show your kids the website and let them help adopt other kids to send gifts to!
Christmas Letter Tips
A couple of things to keep in mind when doing this activity during your holiday celebrations. While this is a great exercise and can be a really fun tradition, it can quickly become a painful one for everyone involved if you don't think it through beforehand!
Let kids do their own thing. Don't try to force them to write this or that or anything in between. This is their letter to Santa, not yours. You can give them a little help or prompting, but I'd just let them write the personalized letter they want.
Make sure that kids know that just because they wrote something on their letter to the big guy that they aren't necessarily going to receive it on Christmas morning. Santa is magical, but he doesn't always bring everything on your Christmas list.
Make this a longer activity by printing out a Santa coloring page (like from this set of Christmas coloring pages) and letting kids color a picture for Santa to add to the envelope too!
If you want your child to receive a return letter from Santa in the United States, the US Post Office has a fun program that will allow you to send in the letter and then receive a return letter (that you as a parent write) with a North Pole postage mark! You can get details on this program here. It takes a little more effort for the parent but can you imagine the child's face when they get a letter back from the North Pole wishing them a Merry Christmas!
If you're in Canada, they have a fun program through the Canada post office that will allow you to send in letters before December 7th and get a reply letter back! You can get more details here.
Don't wait until Christmas Eve to write letters to Santa! We did ours on December 1st last year and during Thanksgiving break the previous year, and it was a great way to find out what things they really wanted (and one of the best gratitude activities we did). It also gave us a great start to our Christmas bucket list!
FAQs
When should you write your letter to Santa?
If you're actually sending the letter to the post office, they recommend that you send it between November 2nd and December 1st. This will give you the best chances of getting the return letter with the North Pole postmark!
What should I write in a letter to Santa?
Write to Santa about how the year has gone, nice things you've done this year (to stay on the nice list), things you'd like for Christmas, and any other special wishes for other people you may have.
more Christmas Printables
If you liked this free download, make sure to check out these other fun printables for Christmas time!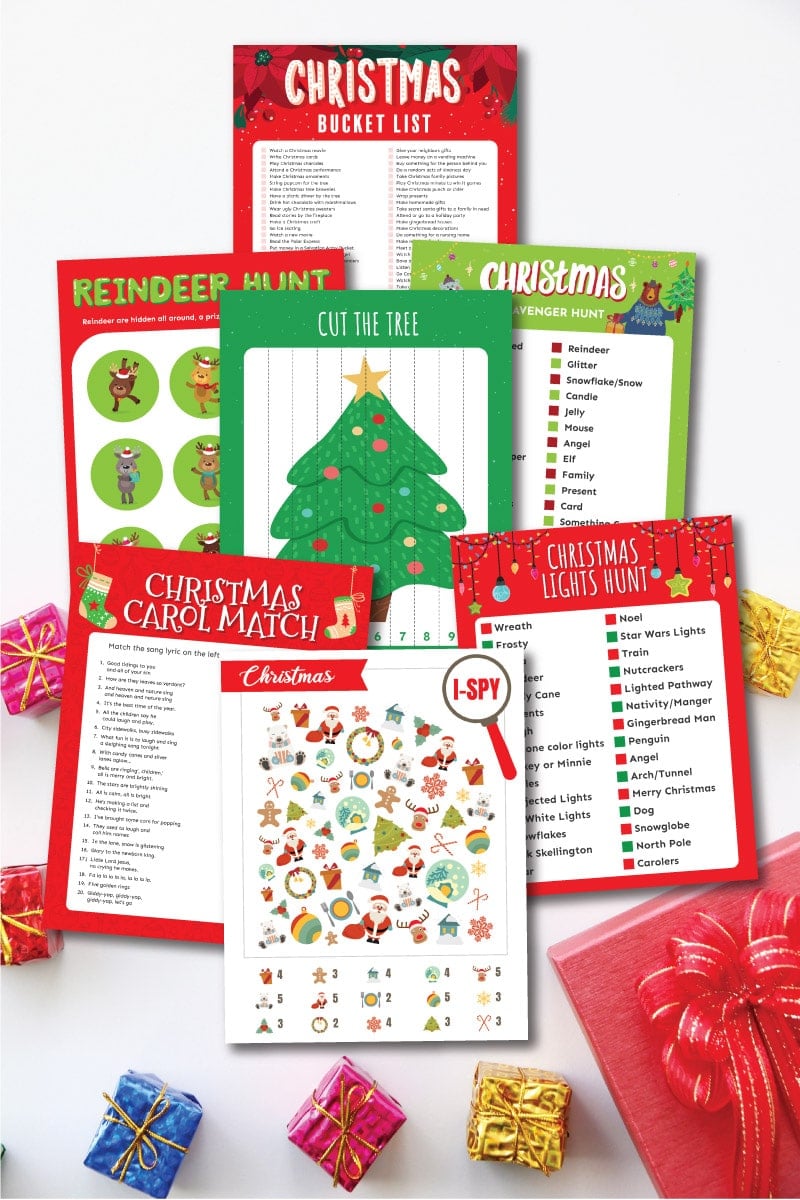 want more fun kids activities?
Download the Santa Template Printables
Enter your first name and email address in the form below to get the printable PDF free download with all of the printable templates and envelope included. You will receive a link to download the PDF to your email within minutes.
If you'd rather not provide your email address, you can purchase a copy in my shop here.
If you do not see the form, click here to get to it.
If you do not see the email immediately after you fill out the form, make sure to check your promotions, spam, and junk folders.
The file will come with:
Blank template
Prompt template for younger writers
North Pole addressed envelope for your child's letter
Use policy – all files are for personal, non commercial use, only