Instead of a traditional white elephant gift exchange, this year try out one of the these fun unwrap the gift style gift exchange games! It's not as much a big group gift exchange game but more of a surprise someone with a fun gift game! Everyone will love the surprise and suspense to see who ends up with the final gift!
This post contains affiliate links to products for your convenience. If you purchase via my links, I may receive a small commission at no additional cost to you.
Lucky Last Line Gift Exchange Game
A couple of years ago I tried out a fun gift exchange game at one of our Christmas parties that I like to call "lucky last line." It was one of the most fun gift exchange game ideas I'd ever tried! The basic idea is that you wrap up a gift a whole bunch of times and in between each layer, you put one stanza from the poem below. The gift gets passed around, unwrapped, and finally opened by one lucky person!
I typically wrap up a gift someone would actually want, but you could definitely do one of these hilarious white elephant gift ideas instead!
It's still one of my favorite ways to gift out a surprise gift at parties or even just another creative gift exchange game idea, but you can't use the same poem every single year, so this year I created two brand new poems that have the same idea but are a little more universal with the people they're passing to. So rather than passing to someone whose blond, you pass the gift to someone who is standing near a wall (just in case there aren't any blonds at your party).
How to Play this Gift Exchange Game
Start the game off by giving the gift to someone in the room. That person reads what's on outside of the gift and passes the gift along to the next person who unwraps a layer. Once they unwrapped the layer, they then read what's on their poem stanza and follow the instructions. The gift continues being passed around the room until someone unwraps the gift and finds a gift inside instead of another layer of wrapping paper.
Make sure before you start playing that you announce to the group one rule – a gift can be passed to the same person more than once during the game, but it cannot just be passed back and forth between players. No pass backs to the person who gave it to you. And to keep things fun, people really should be passing the gift around to different people each time as much as possible.
And if you're looking for more fun creative gift exchange ideas, this is just one out of over 10 different gift exchange games on my site, check out all the others here!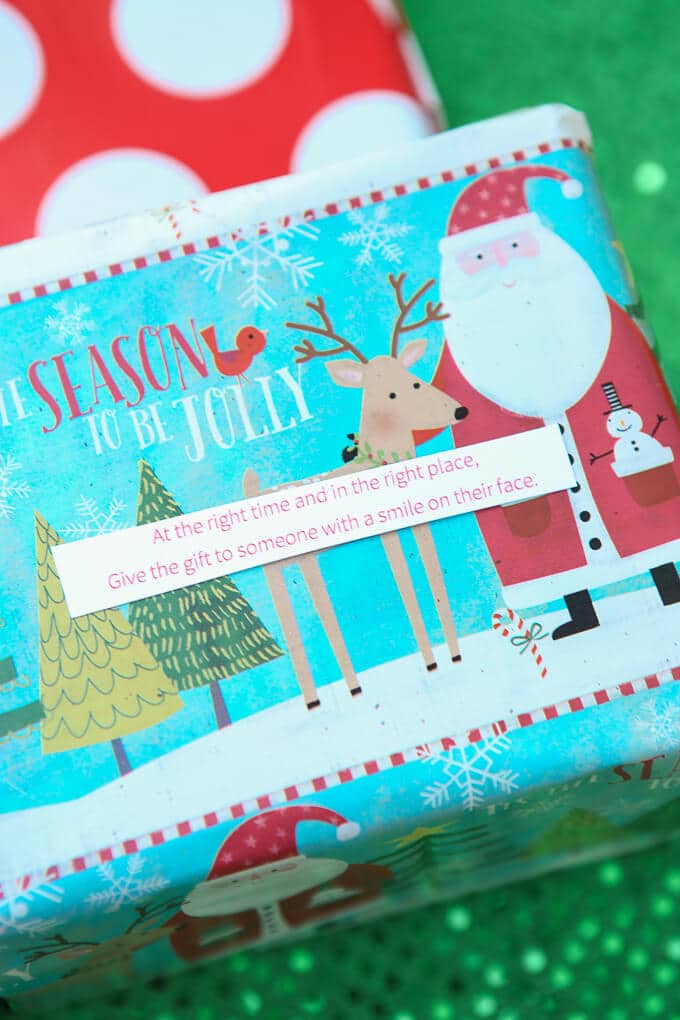 Print Out This Gift Exchange Game
I've created four different lucky last line gift exchange poems. You can print all four different versions by entering your name and email address in the form below. If you've already tried all of these and want more versions or need something specific, email me and I'll try my best to help you out!
If the form is not showing up immediately below this, click here to get to the form to download and print the files.
<<Download the Lucky Last Line Gift Exchange printable>>
Want more gift exchange game ideas?
Get the ultimate gift exchange game bundle! The best gift exchange games all in one printable PDF – instructions, printable cheat sheets, printable playing cards, and more! Click on the image below to check it out.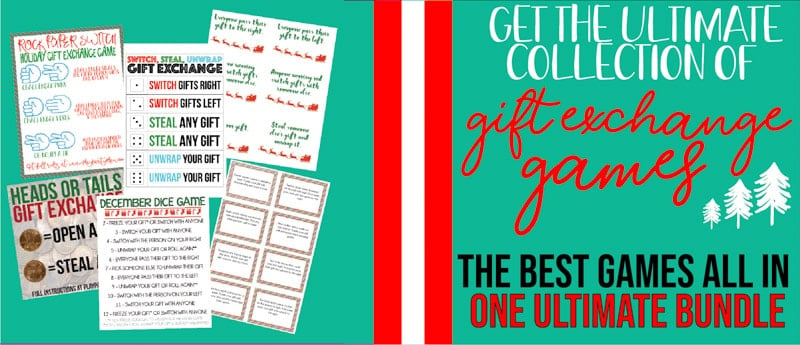 Don't forget to pin this fun gift exchange game for later!