Try out these lucky last line gift exchange ideas for a fun twist on a traditional white elephant gift exchange!
This post contains affiliate links for your convenience. Thanks for supporting Play. Party. Pin!
A couple of years ago I tried out a fun gift exchange game at one of our Christmas parties that I like to call "lucky last line." You can read more about the party and how fun the original game was in this post but the basic idea is that you wrap up a gift a whole bunch of times and in between each layer, you put one stanza from the poem below. Start the gift off with one person and have them unwrap it. They read what's on their stanza and pass the gift along to the next person who unwraps and repeats until someone finally gets to unwrap the final layer keeps and gift.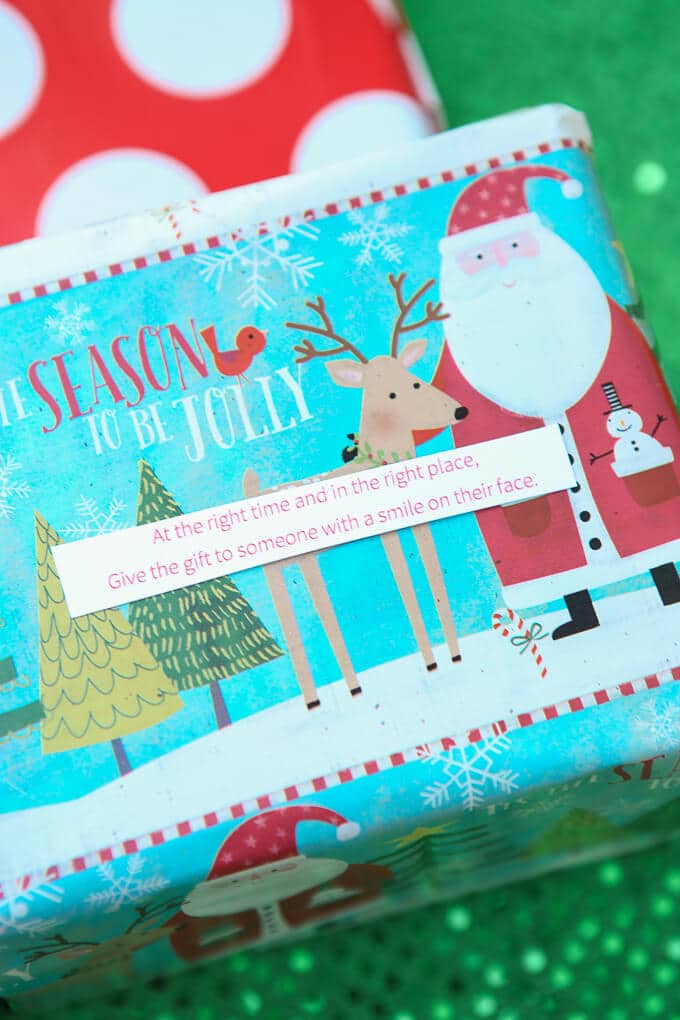 It's still one of my favorite ways to gift out a surprise gift at parties or even just another creative gift exchange game idea, but you can't use the same poem every single year, so this year I created two brand new poems that have the same idea but are a little more universal with the people they're passing to. So rather than passing to someone whose blond, you pass the gift to someone who is standing near a wall (just in case there aren't any blonds at your party).
So here you go, two brand new lucky last line gift exchange poems. You can print these two (and the original from my old party post) out by clicking on the image below or clicking here to download. Enjoy!
And if you're looking for more fun creative gift exchange ideas, make sure to check out these unique ones – three of the most fun ones I've ever played! And don't forget to bring one of these 10 hilarious white elephant gift exchange games to the party, they're sure to be the gift everyone wants to steal!
Other Great Gift Exchange Games
White Elephant Gift Exchange Deck of Cards
Has Santa Left the Right Gift Poem
Wacky White Elephant Gift Exchange Game
Gift Trap


Need more holiday party ideas? Check out some of these other fun ideas – everything from minute to win it games to Christmas card Balderdash!