Want to create a perfect outdoor entertaining area? Make sure to include these six items for a space that people will want to gather in all year long!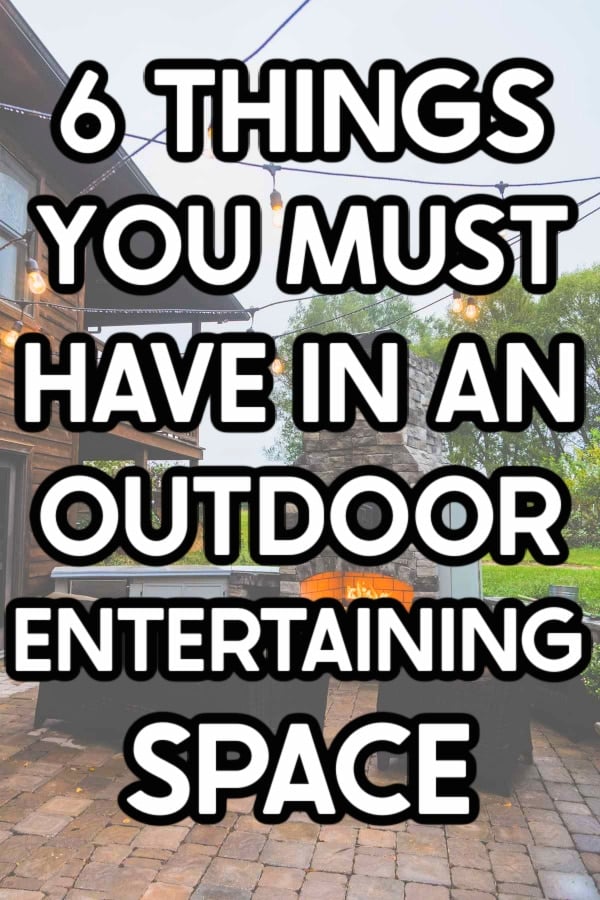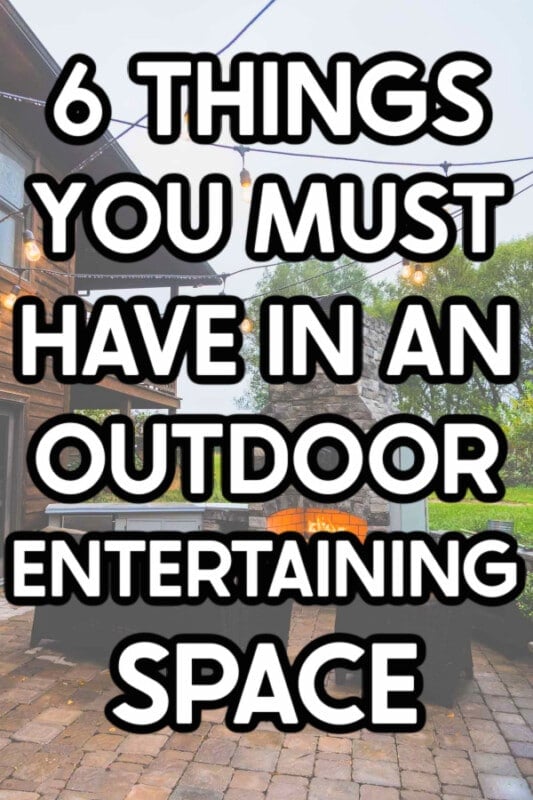 This post is part of an ongoing partnership with Round Grove. All opinions and ideas are 100% honest and my own.
Earlier this year we installed an outdoor brick oven in my parent's back patio area, and it's been a total game-changer for the space. We've made brick oven pepperoni rolls, apple crisp, chicken, and so many more delicious brick oven meals.
But that brick oven was looking a little lonely on the back patio, so we decided it was time to create an actual outdoor entertaining area to go with it.
It took a few months with everything going on, but I'm happy to finally be able to share the backyard entertaining space my family created. And some tips from our experience!
I am going to keep those tips easy and break it down into a list – six things every outdoor entertaining area should have!
1 – Outdoor Cooking
If you want the perfect outdoor entertaining space, you're going to want to have ways to cook outdoors so you don't have to go back inside for the food.
I mentioned it before, but we added a Round Grove Brick Oven as the focal point of our outdoor space. It's been an amazing addition to the space because it means that we can cook pretty much anything from pizzas to steak right outside where everything is happening.
If you're not sure what you could cook in a brick oven, Brick Oven Lifestyle has tons of great recipes and cooking ideas!
Plus Round Grove products all come ready to install and start using within hours, so it's an easy way to add that outdoor cooking element without doing a ton of DIY work.
And the food – the brick oven food is so yummy! Even if you do nothing else in the space, friends and family will leave happy because of the delicious brick oven food.
We also installed some countertops and a beverage fridge (that I talked about more with these summer party ideas) to make outdoor cooking easier for everyone involved! Keep it easy and convenient!
2 – A Place to Eat
Okay so you've cooked all that delicious food – now what? You need somewhere to eat.
My parents bought a huge outdoor table that seats 10 and is perfect for our outdoor space. You may not need something quite that big but you do want somewhere people can actually sit and enjoy the food you make.
A table or other place to eat also does a few other things for your outdoor entertaining area.
It fills in empty space (if you have a large space to fill) with something that's practical and useful rather than just more decorative pieces.
It's a great way to bring in extra color, texture, and decorative elements with table settings and decor. You can see how I did that with the fall table setup I created for a fun little family birthday celebration this weekend.
It gives people a place to eat. This is a no-brainer but you'd be amazed how many spaces I've seen where people are expected to eat with food on their laps or standing up at cocktail tables. I'm a sit down and eat kind of girl, so I appreciate having an actual table for eating.
It encourages conversation. People love to chat and eat. Having a place they can sit and do that rather than totally spread out around a space helps make conversations easier.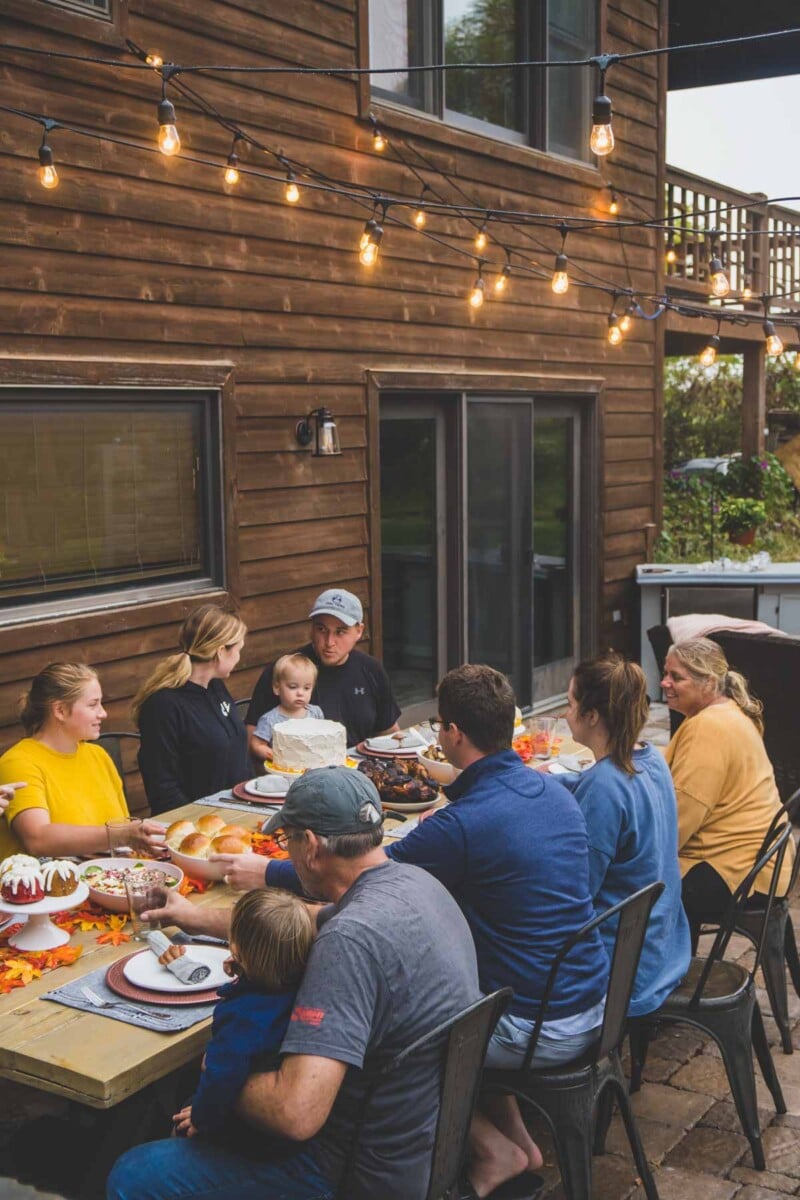 It saves your furniture. If you have a place for people to actually eat, it's less likely they'll be eating pizza loaf with red pizza sauce or drinking fruit punch on your outdoor furniture. Less mess = less possibility of spills and stains.
3 – Lights
The final thing we added to our outdoor entertaining area was bistro lights hanging above the space.
I wish I could show you the difference it made in the space, but I don't have a before (with everything else done) photo, so you'll have to take my word for it.
Lights are everything, especially if you're planning on doing any evening entertaining. They are kind of like adding icing to a cake – they just finish everything off and bring it all together.
There are a ton of ways you can add lights, but we just strung sets of these bistro lights back and forth from the house to poles we bought at a home improvement store.
4 – A Place to Sit
This is another no-brainer but you need somewhere for people to sit – ideally, a good amount of sitting. Whether it be couches, ottomans, or even benches, people are going to want to sit down at some point.
As you're envisioning the space and purchasing furniture, just keep in mind that you also want to have things spaced out enough that people can get around the seating easily.
Keep an aisle of sorts for walking around since people tend to do that more often outdoors than they do indoors at a dinner party.
I personally prefer neutral seating combined with colored pillows, blankets, rugs, etc. that you can switch out for different seasons. I added fall themed elements to celebrate fall and will likely switch those out with more of the greens and reds for the holiday season.
Since the chairs we have are a neutral color, pretty much any decor will work to go with it!
5 – A Fire
When we were choosing our Round Grove brick oven, we knew that in addition to the brick oven that we wanted a fireplace to go with it. Luckily, they sell a number of different combo options that come with a brick oven and fireplace already together, so it was easy to choose one that worked with our space.
Round Grove also offers just fireplace units you can buy that are completely ready to go. Or build your own fire pit, add a moveable fire pit, or something else that allows your guests another place to gather, interact, and enjoy the warmth a fire provides.
And if you're planning on fires often or a brick oven, you'll want to grab a wood box like one of these to hold all your firewood! You can see ours to the left of the brick oven in the photo below.
The fireplace gives us a place to gather after dinner to enjoy s'mores, getting cozy by the fire (on cooler evenings), and another focal point to add light and color to our space.
And I mean who doesn't love s'mores? We set up this DIY s'mores bar last summer and pretty sure we're going to have to do it again soon with the fireplace instead of the campfire.
Plus, toddlers with s'mores are just plain cute. Just don't forget to bring a pack of wet wipes or something to wash off faces and fingers!
6 – Food
Okay fine this one doesn't necessarily have anything to do with an outdoor entertaining area, but it's still important because food and drinks are essential to any entertaining!
Serve food that makes sense for the kind of entertaining you're doing. Grab and go snacks like mini calzones or homemade chex mix for parties where people might be playing outdoor games or moving around a lot.
Or set up a full lunch or dinner like I did for our recent birthday celebration with themed dishes. I went with a fall harvest salad, fall colored bundt cakes, homemade rolls, brick oven chicken, and brick oven potatoes.
And of course, cake. It's not a birthday party without cake! My sister made a white cake that I surrounded with fall colored jewels to create a centerpiece for our dinner table.
There you go – my six essential elements to any outdoor entertaining area:
Outdoor cooking
Place to eat
Lights
Place to sit
Fire
Food
What would you add to my list for the perfect outdoor entertaining area?