There's nothing better than a summer party when done right! With these summer entertaining tips and summer bingo cards, you can be the perfect summer party host whether you're hosting a small group of family and friends or the entire neighborhood!
I received NewAir products in exchange for this post. All opinions are 100% honest and my own.
Summer is one of my favorite times to throw parties because summer means kids are out of school, lots of color, and more often than not – water!
Over the past ten years, I've hosted a summer birthday party, neighborhood block parties just to play water games, and of course – 4th of July parties!
I know some people hate them because it's hot out, but I love summer parties! And hopefully with these simple tips and free summer bingo cards, you will too!
1 – Nice Cold Drinks
Ditch the ice that's going to melt anyway and invest in an outdoor beverage fridge that can keep drinks cold even at hot summer temperatures.
That way people don't have to worry about drinks getting watered down when the ice melts – that'd totally ruin this strawberry mocktail!
Plus, it means you don't have to worry about making sure there's always enough fresh ice. Just check the fridge every once in a while and you're golden.
We just added a NewAir 24″ Weatherproof Outdoor Beverage Fridge to our outdoor patio space (a perfect complement to our new brick oven), and it's amazing.
Why We Love It
It keeps things cold during intense heat – perfect for summer
It's weatherproof and can withstand the ice, snow, and crazy weather we get here in Kansas
The shelves are adjustable so while it's technically a beverage fridge, you could shift the shelves around to chill things like appetizers or this strawberry poke cake. I wouldn't recommend freezing things (so don't try to store this beach cake in it) but chilling works great!
It comes with casters if you want to move it around outdoors
The doors are auto-closing, so it never gets left open (so important with kids!)
The shelves pull out for easy access to cans and bottles even if in the very back of the fridge
It's more of an investment than say the fridge you had in your college dorm, but the value has definitely been worth it for us!
Plus, right now if you buy one here and use the code PARTYPLAN, you'll get 20% off!
2 – Bright and Bold Colors
Spring is for pastels. Falls is for neutrals. Winter is for jewel tones and holiday palettes.
And summer? Summer is for color!
Use bright colors that play on the colors of summer – pinks, blues, yellows, and oranges. They'll add a nice contrast to all the green that's the normal backdrop of an outdoor party. You could even serve up a summer charcuterie board with bright colors!
Try adding color with:
Accent pillows and pieces with outdoor furniture
Fresh plants and flowers
Fresh fruits and veggies
Bowls and dishes
Napkins, paper goods, and silverware
Drinks
3 – Mixed Materials
You've probably heard of mixed metal art right? Well one of my favorite ways to decorate a summer party is with mixed materials.
Forget using just white plates or sticking to all metal. Try picking 2-3 different materials like I did with the plastic and glass in this setup and balance them throughout the party decor.
4 – Unplanned Fun
Okay so I know that I'm a big advocate for party games. I love them.
But even I know that when you're outside and people are hot and sweaty, the last thing some people want to do is play organized games.
So instead of planning actual games, I recommend buying a few of my favorite outdoor games and having them set up around the party for people to play at their leisure.
Or do what I did and add some entertainment to your party table with bubbles, this colorful checkers in a jar set, or other simple activities.
These options are also great for playing together while still keeping your distance!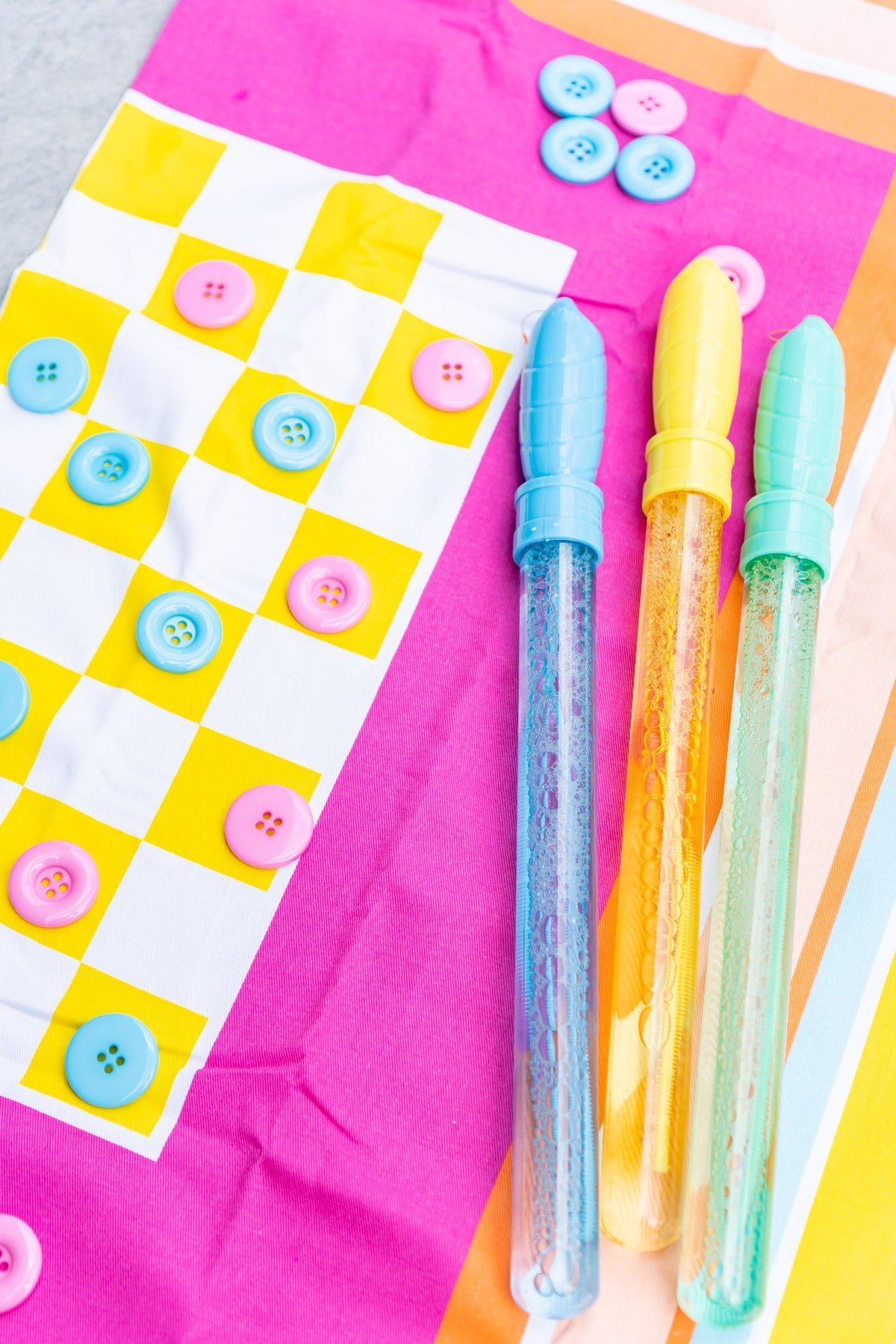 Summer Bingo
If you just can't go without planned games, I've put together some fun summer bingo cards you can download, print, and play as a group. Everyone loves winning things and bonus – you can sit down and sip on a nice cold drink while you play.
The set comes with 20 unique summer bingo cards perfect for any summer themed get together whether you're just with family or a few more friends!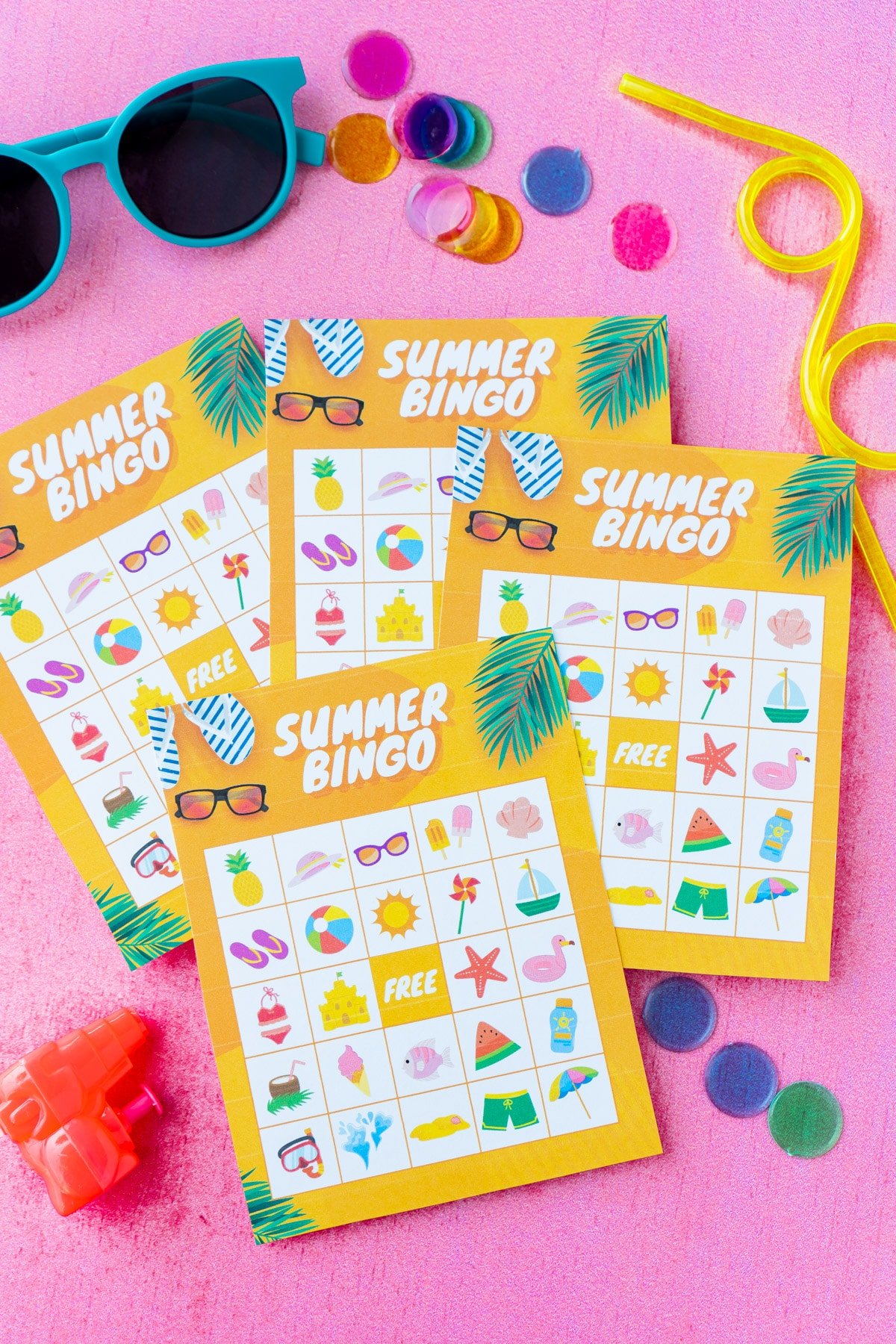 Bingo is one of my favorite games because it's as easy as giving people cards, pulling out images (or numbers), and seeing who can get five in a row!
Get the free printable cards at the bottom of this post!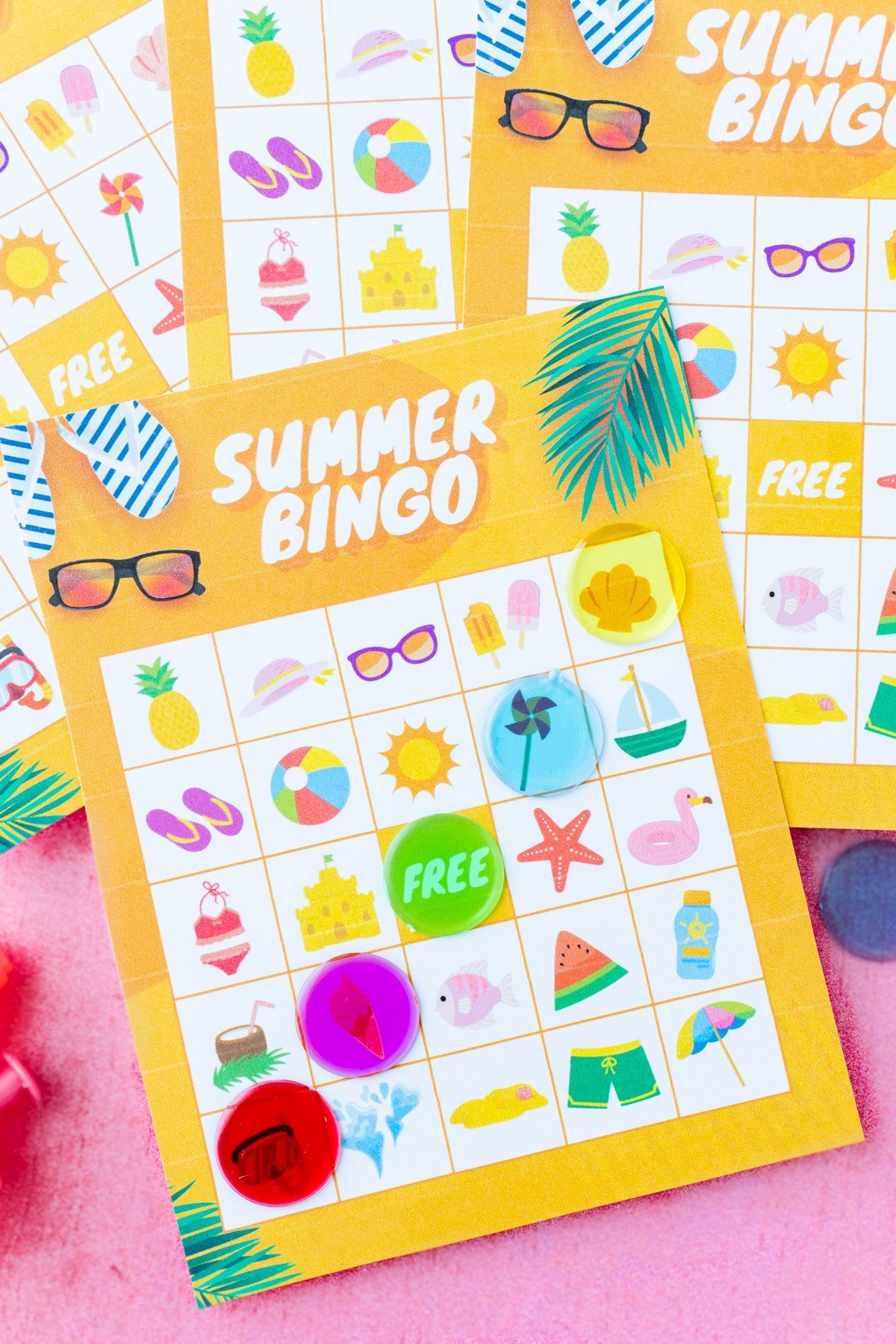 5 – Finger Food
My husband and I were talking about this the other day, trying to figure out why my family didn't eat as much of my strawberry poke cake as they did of my sister's fruit pizza.
It's not that the fruit pizza was better (it was delicious!), it's that people didn't want to have to get a plate and walk around with a fork, plate, and an actual plated dessert. People love finger food, especially when they're outside playing games and mingling with people in a large space.
You can do something plated for the main dish if you're serving a meal then go with finger foods for the rest.
Great Finger Foods
6 – For Now Favors
Instead of giving out party favors when people are leaving the party, instead have them available for people to grab and use during the party.
I put out flower leis, crazy straws, and little bags with cooling towels for people to use during the party then take home and keep!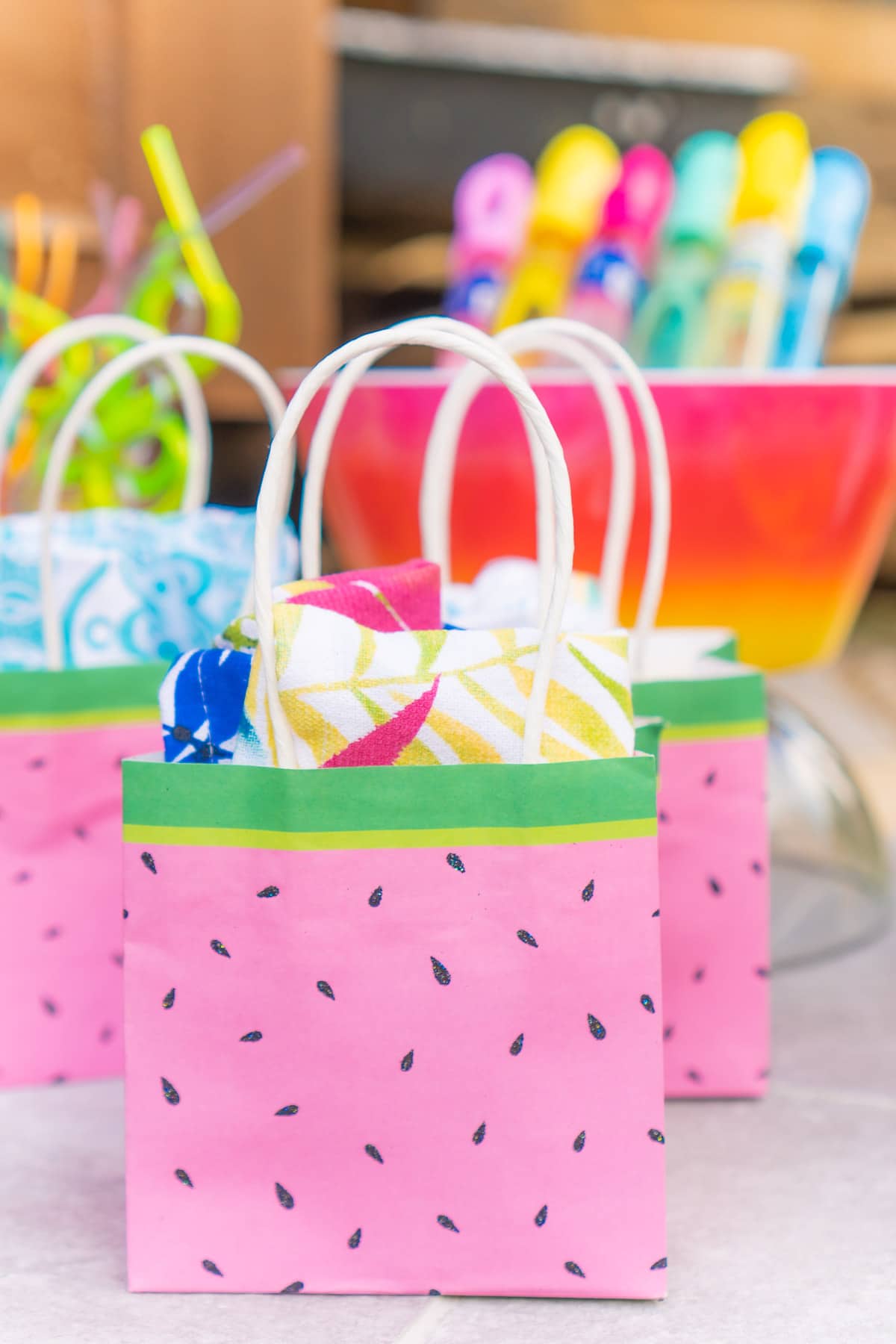 Just a few other easy ideas:
Sunglasses
Inflatable beach balls
Sun hats
Small bottles of sunscreen
Fans
Masks
7 – Cool Down Time
This tip is a two-for-one! Plan your party is a cooler part of the day whether you do a brunch in the morning or an evening party at dusk or later.
Avoid the hotter parts of the day during the afternoon, unless of course you're planning a pool party (try these swimming pool games!) or some other sort of wet fun!
Speaking of wet fun – if you have to do a party during the hot time of day, include at least one element to cool people down. A water balloon fight, lemonade popsicles (that you store inside until it's time to eat), or even just mister fans you play strategically around the place.
And one last tip – if you're doing something where people might get wet, make sure to let them know ahead of time so people can pack appropriately!
8 – Bug Off
One of the worst parts of summer parties is the bugs, especially if you're doing something in the evening time when mosquitos are out.
Plan for bugs by having bug spray on hand and strategically placing bug candles throughout the event where guests might be sitting.
More Fun Summer Ideas
Download the Files
Enter your first name and email address to download the free files. Or if you'd prefer, you can purchase a set in my shop here.
Once you've submitted the form, you'll receive an email with a link to download the PDF. If you do not receive it, please check your spam, promotions, and junk folders!
If you do not see the form below, click here to get to it.