Combine this free bunny tail printable with treats for a fun Easter favor or gift idea! All you need to do is print, fold, and add to a bag of bunny inspired treats for a darling Easter themed treat! They're just about as sweet as the Easter bunny himself!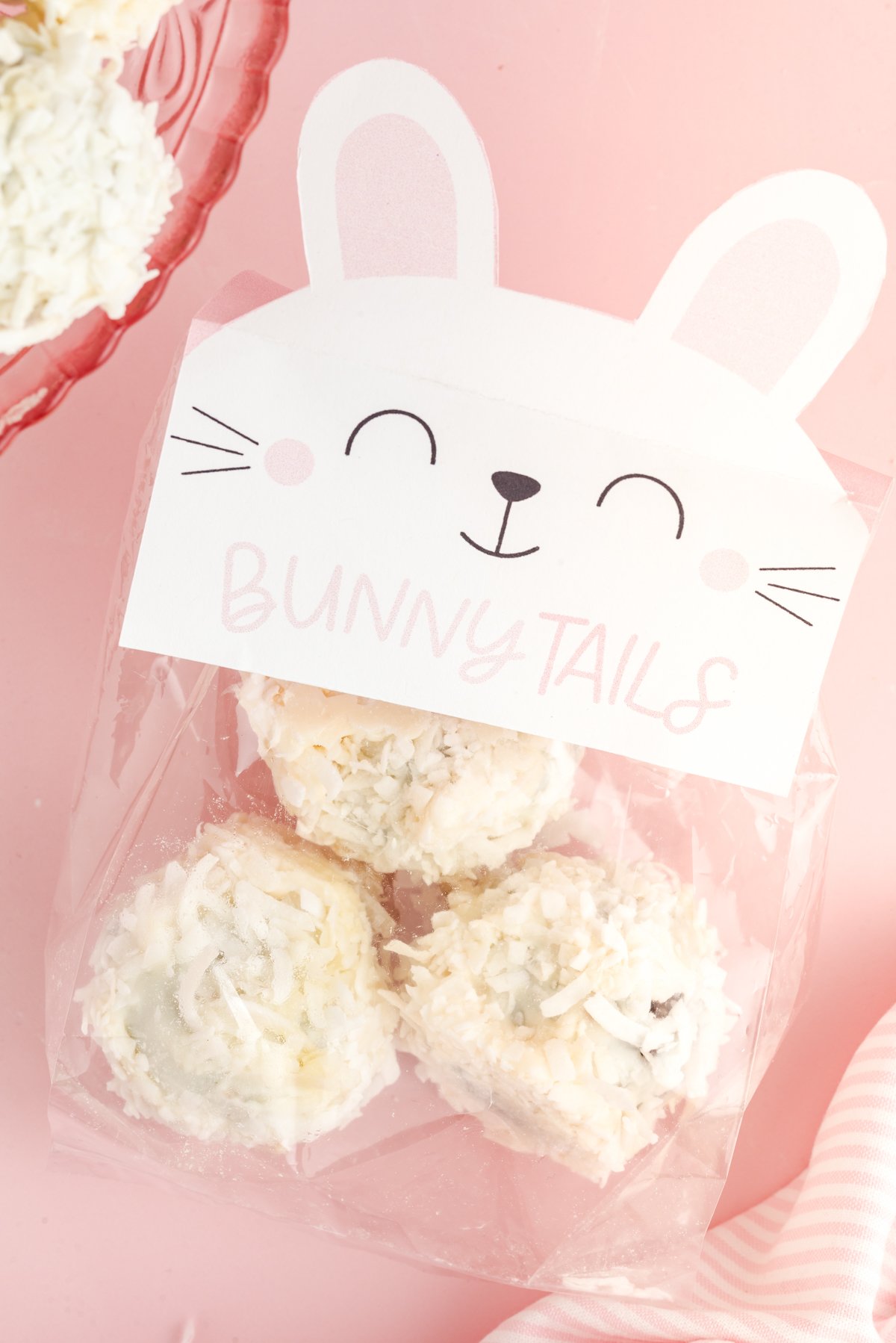 Easter is one of those holidays that we almost always get together with family, whether it's just my siblings or my entire extended family, it's a family holiday!
We typically do Easter egg hunts, play some Easter games, and of course eat glazed ham, crescent rolls, and strawberry fluff salad. Those are negotiable in our house.
This year since we're not hosting and not really planning much of it, I thought it'd be fun to take some take home treats for everyone as my contribution. Kind of like Easter party favors but cuter.
I made these carrot cake balls a couple of weeks ago and froze a bunch of them just for the occasion! They're the perfect addition to this bunny tail printable because they look like cute fluffy bunny tails when they're dipped in white chocolate and shredded coconut!
Supplies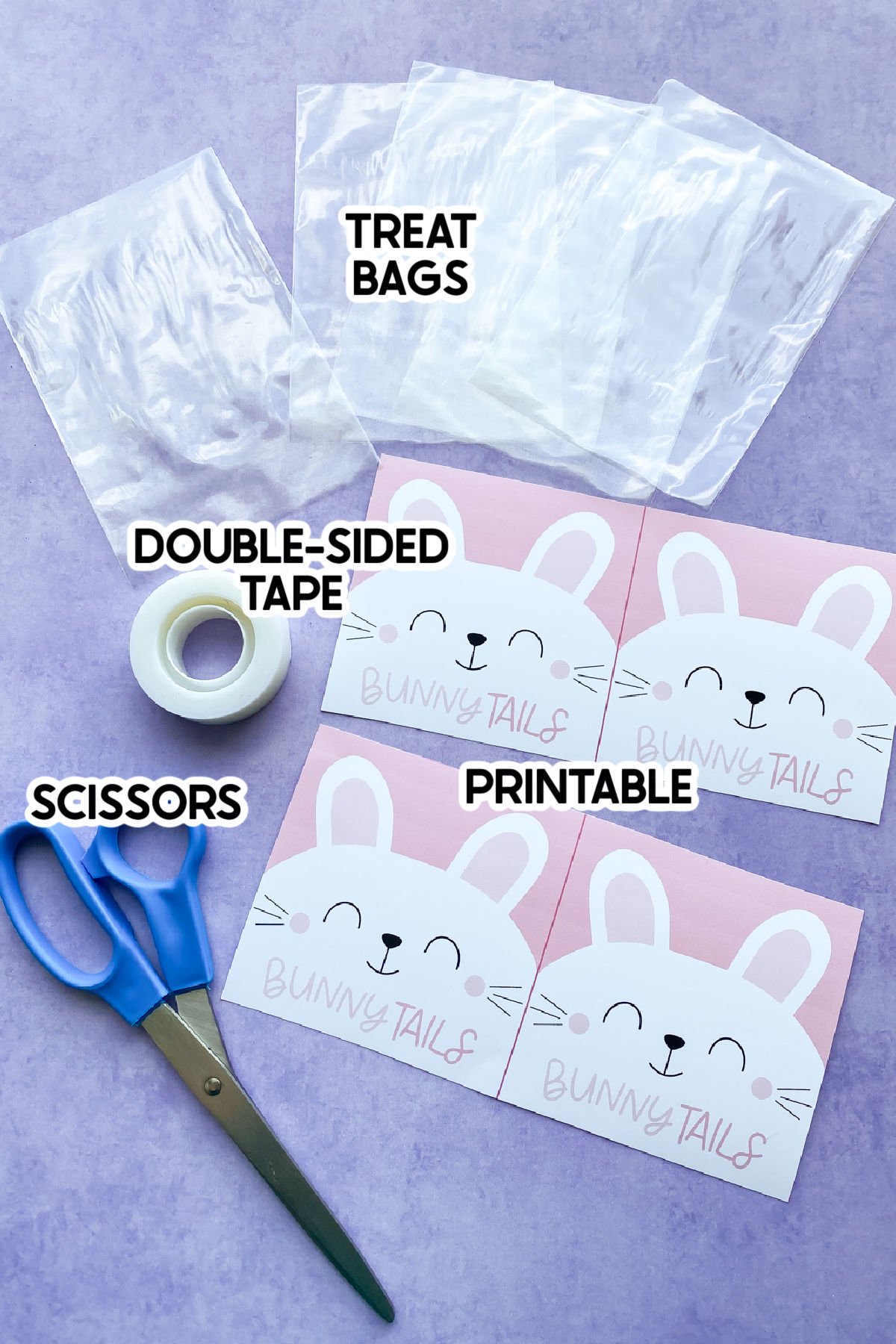 supply notes
Bunny Tail Printable – you can get the printable at the bottom of this post! Each one comes with four to a page!
Double-sided tape – I recommend using double-sided tape for the cleanest look possible, but you can also use regular tape or a stapler.
Treat bags – I recommend using 4×9 inch bags since the printables are 4 inches wide and will fit those perfectly. You can also use 4×6 inches bags but they'll only hold two of the carrot cake balls, not three like you'll see in this post.
Carrot cake balls – you can either use carrot cake balls or use some other coconut covered treat or even something like white chocolate (or pink chocolate) malt balls or gum balls for these. I just like the carrot cake balls myself!
How to Use the Bunny Tail Printable
These bunny tail printables are super easy to use to turn into cute Easter favors!
The first thing you need to do is print out the printables. I highly recommend printing onto white card stock so that they have some thickness to them when you fold them over the treat bags.
1 – Cut the Printables
Once they're printed, cut out the printables.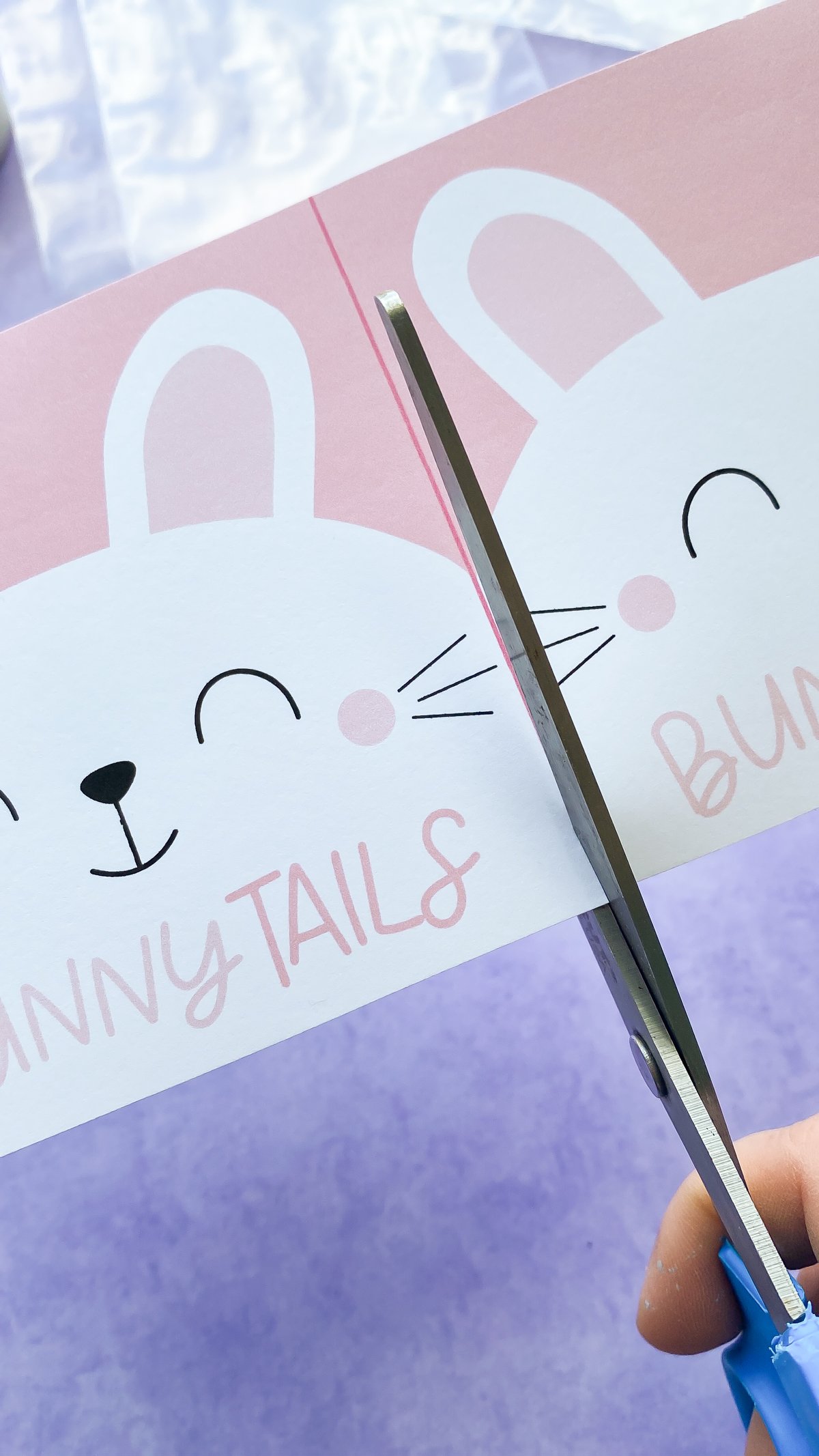 You can do this in one of two ways depending on the look you're going for:
Cut out the ears completely and just get rid of the pink background all together. If you do this, you'll be taping (or stapling) the bag together rather than using the back of the printable to fold over the treat bag.
Cut out the ears only, meaning use the scissors to cut just around the ears, not all the way through the pink background. This will give you the look you see in the photos where you have the pink background folded over the bag and the ears popped out. If you do this, you'll use the back of the folded printable to close the treat bag.
You can choose whichever way you want to cut these, that's totally up to you. Either way you'll still get the cute look of the Easter bunny ears popping up off the bag of treats.
2 – Put the Printables Together
To put the printables together, place 2-3 of the carrot cake balls into each of your treat bags. The number of cake balls that will fit will depend on how large you made them and how big of bags you are using.
Then finish them off by taping the bunny tail printable to the top of the bags and seal the bags either by using double-sided tape, a stapler, or just regular tape.
If you cut out just the ears and left the pink background, you'll fold just the pink background over and tape both the front and the back sides down to the bag to seal the bag.
And that's it! You're done making your cute bunny tail printable favors and aren't they adorable? Almost as cute as an actual bunny with its fluffy tail!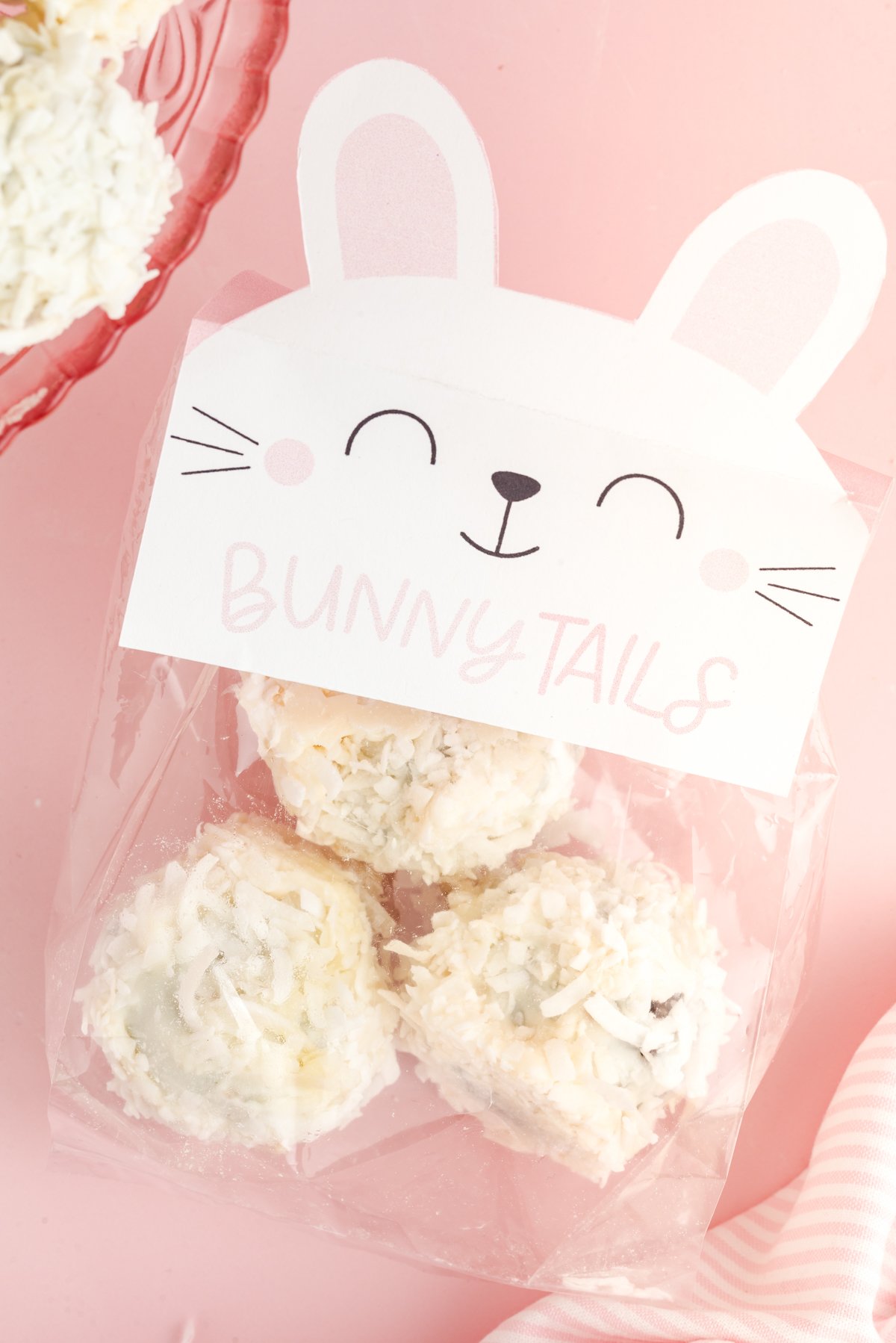 Expert Tips
Use an exacto knife or sharp scissors to cut out the bunny ears if you're leaving the pink backing on. It's much easier to get a clean cut using something designed to cut individual shapes like that.
Carrot cake balls can be stored at room temperature (don't put in the sun or the coating can get a little soft) and enjoy for up to five days, so you can make these ahead of time! I recommend giving them out the day you make them or the day after at the latest though so people have time to enjoy!
Printable FAQs
Where can I get the bunny tail printable?
You can download it for free at the bottom of this post by providing your email address or you can purchase a copy in my shop here.
More Easter Printables
If you like this bunny tail printable, make sure to check out these cute Easter printables too!
Download the Bunny Tail Printable
Click the button below to get your bunny tail printable PDF or you can purchase a copy in my shop here.
If you can't see the button, click here to get to it.
The file will come with:
Instructions
One page of bunny tail printables (four to a page)