Queso fundido combines homemade chorizo with tons of shredded cheese for one of the most delicious Mexican party foods ever! This easy queso fundido will have this amazing dip on your table in minutes!
This post is sponsored by Perdue Farms. All ideas and opinions are 100% honest and my own. You can learn more about my Perdue Farms partnership here. This post also contains affiliate links. If you purchase anything via these links, I may receive a small commission at no additional cost to you.
What is Queso Fundido
Earlier this week I posted a buffalo chicken dip recipe (our family's favorite), and I swore it was one of the easiest dips ever.
Well, this queso fundido is actually even easier. Spend your time prepping some of these party games instead of slaving away in the kitchen cooking all day!
And unlike buffalo chicken dip, you may not have even tried this one before. But I guarantee you'll try it again!
Not sure what queso fundido is? It's basically chorizo topped with cheese. Not basically, that's what it is. And if you like cheese, it's amazing!
Serve it alongside a few other dips (like this spinach artichoke dip, this fruit dip, or this fruit salsa) for a delicious party spread! Or even on a Mexican charcuterie board!
Queso Fundido Ingredients
There are a number of ingredients in this recipe but really it's just three things – ground pork, spices, and cheese. The spices used in this recipe are similar to ones in this Cincinnati chili recipe, minus the chocolate of course.
Chocolate goes in chili, not in queso fundido.
1 – Homemade Chorizo
One of the key ingredients is chorizo but instead of buying it in the store (where they often use the salivating glands to make it), make it at home with ground pork and spices instead.
Speaking of ground pork, our favorite is this Niman Ranch ground pork. Like all Perdue Farms brands, Niman Ranch pork is all natural, no antibiotics ever, fed a 100% vegetarian diet, and made from animals raised by family farmers in certified humane environments.
You can read more about Niman Ranch's Raised with Care policy here.
And their meat is just delicious so there's that too.
You can either buy the ground pork locally or get it delivered directly to your home by ordering on the Perdue Farms website. Use this link and you'll receive 15% off plus a free pack of diced chicken breasts (perfect for these teriyaki chicken bowls) with your order!
Combine the pork with the spices listed out in the recipe card to quickly make your very own homemade chorizo, perfect for this dip.
2 – Cheese
A queso isn't a queso without cheese. This dip is best with a combination of shredded Mexican melting cheeses. You can totally use a store-bought Mexican blend or make your own blend of cheeses such as Monterrey Jack, Asadaero, oaxaca.
Or just mozzarella or even white cheddar works as well.
We actually combined a layer of white cheddar and a layer of Mexican blend in this recipe and it turned out amazing.
The perfect amount of cheesy gooeyness that you're looking for in a queso fundido recipe.
3 – Dippers
This dip is so good you can really dip anything into it but our personal favorites are tortilla chips and bread. You could eat it with fresh veggies or crackers as well but definitely make sure to have chips!
How to Make Queso Fundido
The most challenging part (and it's not challenging at all) of making this queso fundido is making the chorizo. Once you've done that, it's literally just layering meat and cheese and baking.
I've included step by step instructions here but make sure to read the recipe at the bottom of this post for all the specific details!
1 – Make your chorizo.
Combine the spices, garlic, and apple cider vinegar in a bowl and combine together to make a paste. Then use your hands to combine the meat in with the spices.
If you're going to make the queso fundido right away, move on to the next step. If you want to make the chorizo ahead of time, move the meat into a colander, place the colander in a bowl, and put plastic wrap over the bowl.
You can keep refrigerated for up to 3 days – the more time in the refrigerator, the more time for the spices to sink in.
2 – Cook the chorizo.
When you're ready to make the queso fundido, pull out the chorizo and let it come to room temperature. Discard any of the liquid that drained into the bowl through the colander.
Cook the chorizo until browned and crumbled and drain any excess fat if the pork is fatty (the Niman Ranch ground pork wasn't).
Reserve 1/4 cup of the chorizo for garnishing the top of the dip then split the chorizo in half.
3 – Layer the chorizo and cheese.
Add half the chorizo to an oven safe baking dish (we used a cast iron pan) and spread evenly so it covers the bottom of the dish.
Add half your shredded cheese on top of the chorizo, spreading evenly.
Add the other half of the chorizo then another layer of the shredded cheese on top of that.
4 – Bake the queso fundido.
Bake at 350 degrees until the cheese is melted and bubbly, about 10-12 minutes. Make sure to not overcook the cheese so it doesn't get chewy and tough.
5 – Garnish and serve hot.
Remove the dish from the oven and top with the reserved chorizo and any other garnishes you'd like – cilantro, diced tomatoes, etc.
Serve hot with tortilla chips, bread, or warm tortillas.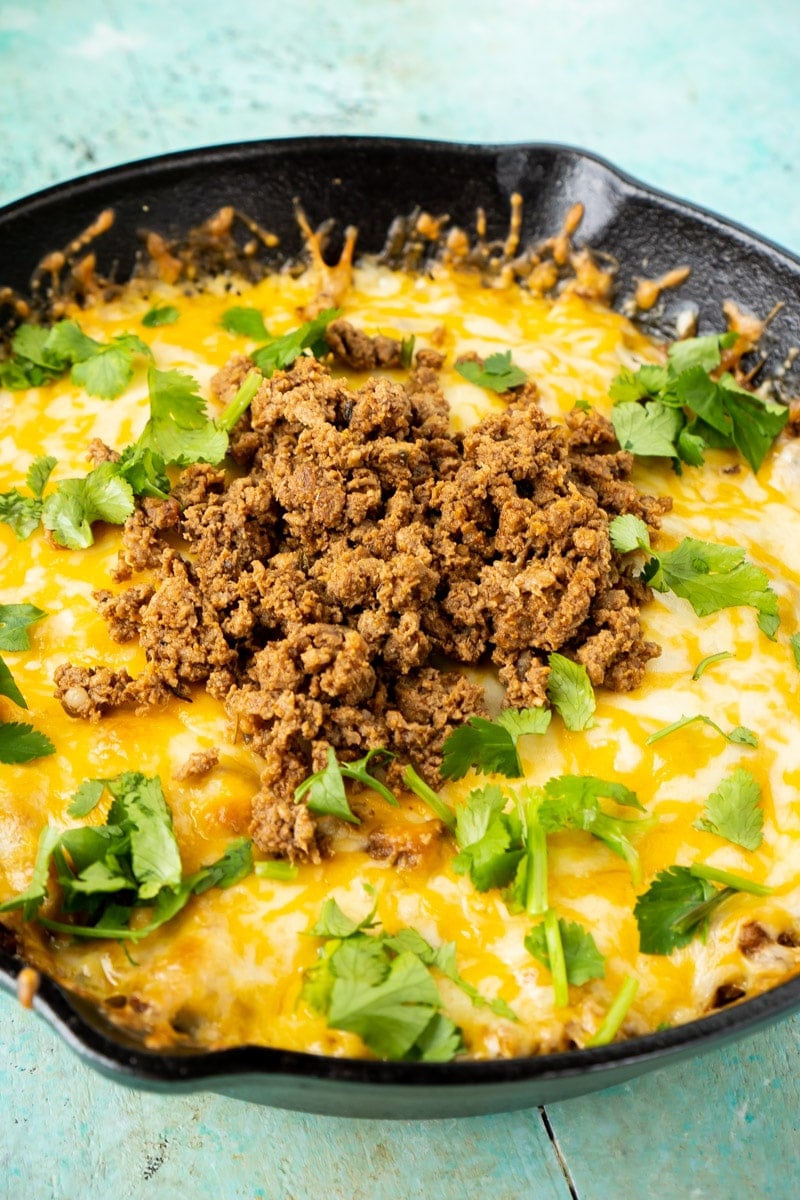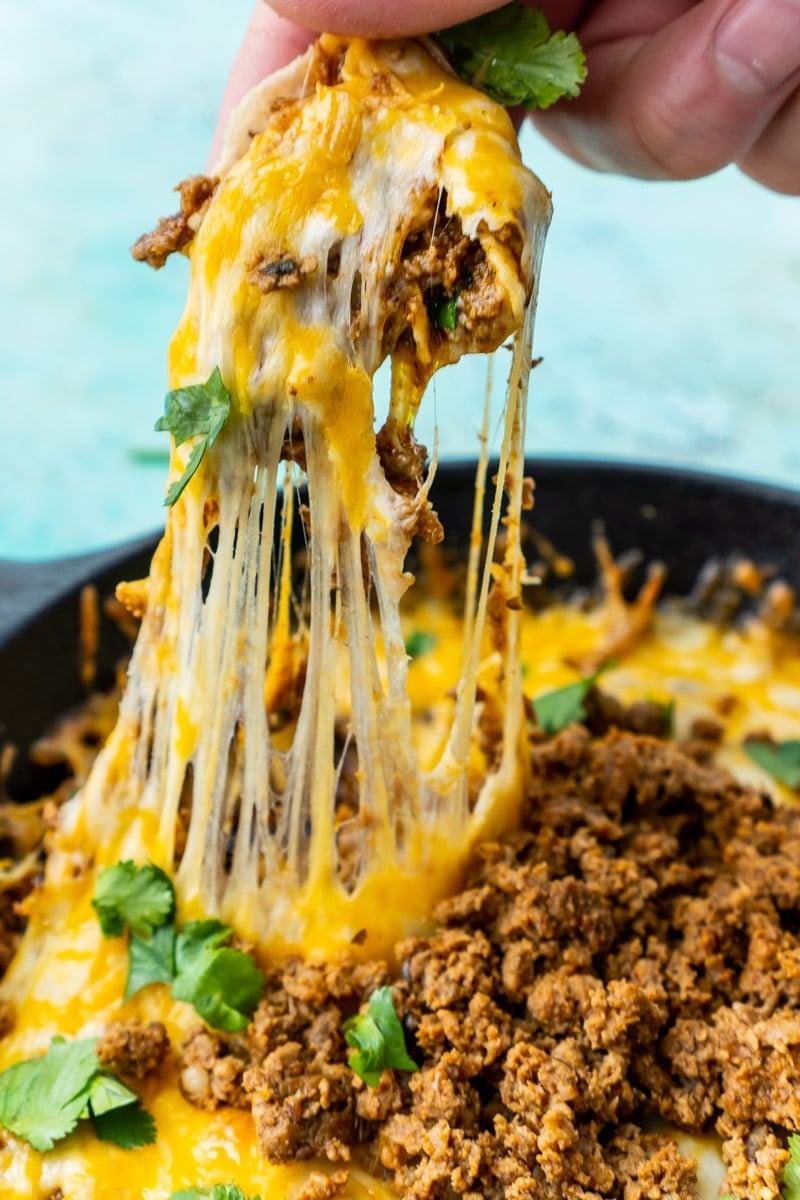 Queso Fundido FAQs
Here are answers to some of the questions I get about this queso fundido recipe most. Have more questions? Leave a comment, and I'll do my best to answer!
Can you make queso fundido ahead of time?
I don't recommend making the actual dip itself ahead of time but you can totally (and I recommend) making the chorizo up to three days ahead. Then all you have to do is brown the chorizo, top it with cheese, and pop it in the oven.
How to reheat queso fundido?
You likely won't have leftovers but if you do, you can reheat the queso fundido by just putting it back in the oven and letting the cheese get melty again. You could also add more cheese to the top to get more of that ooey gooey flavor back if the top layer has been devoured!
Easy Queso Fundido
This queso fundido recipe combines homemade pork chorizo with delicious spices and ooey gooey cheese for one amazing dip! Perfect for parties and Mexican night!
Ingredients
For the Chorizo
1 TBS ancho chile powder see notes section
1 TBS smoked paprika
1 ½ tsp salt
1 tsp dried oregano
½ tsp ground cumin
½ tsp coriander
¼ tsp ground black pepper
¼ tsp ground cinnamon
⅛ tsp ground cloves
3 garlic cloves minced
¼ cup apple cider vinegar
1 lb ground pork
For the Dip
1 lb homemade chorizo
4 cups shredded Mexican melting cheese
Instructions
For the Chorizo
Add the spices, garlic, and apple cider vinegar to a large bowl and stir together to form a paste.

Add the ground pork and use your hands to thoroughly combine with the meat with the spices.

Move the meat mixture to a colander, place the colander in the bowl you used to mix the meat, cover the bowl with a lid or plastic wrap, and refrigerate for up to 3 days. The more time you let the chorizo sit in the fridge, the more the flavors will marry together.
For the Dip
When you are ready to make the queso fundido, pull the chorizo out and let it come to room temperature; discard any liquid that drained into the bowl.

Preheat oven to 350 degrees F.

Heat an ovenproof skillet (or have ready an oven safe dish that you will use to serve the queso fundido) over medium heat.

Cook the chorizo for about 8-10 minutes over medium heat until well browned and finely crumbled. Once cooked, remove skillet from heat. Drain excess fat if pork was fatty.

Reserve ¼ cup of chorizo for garnish and divide the remaining chorizo in half.

Add half of the chorizo to your oven safe dish or skillet and spread evenly.

Cover evenly with 2 cups of shredded cheese.

Add the other half of the chorizo and spread evenly.

Add the final 2 cups of shredded cheese and spread evenly.

Bake until the cheese is melted and bubbly, about 10-12 minutes. Don't overcook the cheese to avoid it getting too chewy and hard.

Remove the dish from the oven and top with the reserved chorizo and whatever other garnishes you desire – cilantro, pico de gallo, tomatoes, green chiles, salsa.

Serve immediately with tortilla chips or warm sturdy tortillas.
Tips & Notes:
For the ancho chile powder – this recipe is written for medium heat chorizo. Use 2 TBS instead of one for hot chorizo and use 1 tsp instead of 1 TBS for mild chorizo. For the cheese – You can totally use a pre-shredded mexican blend here, which will usually have some mix of cheddar, Monterrey Jack, and sometimes asadero or queso quesadilla cheeses; or you could shred your own mix of authentic mexican melting cheeses, such as Asadaero, queso quesadilla, chihuahua, or oaxaca cheese; can't find any of those, plain old mozzarella will also work well
Nutrition Info
Calories: 360kcal, Carbohydrates: 3g, Protein: 23g, Fat: 28g, Saturated Fat: 14g, Cholesterol: 94mg, Sodium: 875mg, Potassium: 260mg, Fiber: 1g, Sugar: 1g, Vitamin A: 1097IU, Vitamin C: 1mg, Calcium: 388mg, Iron: 1mg
More Mexican Party Food
Don't forget to pin this queso fundido recipe for later!