This school bingo game is perfect for celebrating the first day of school, doing a countdown to back to school, or simply just playing bingo anytime during the school year!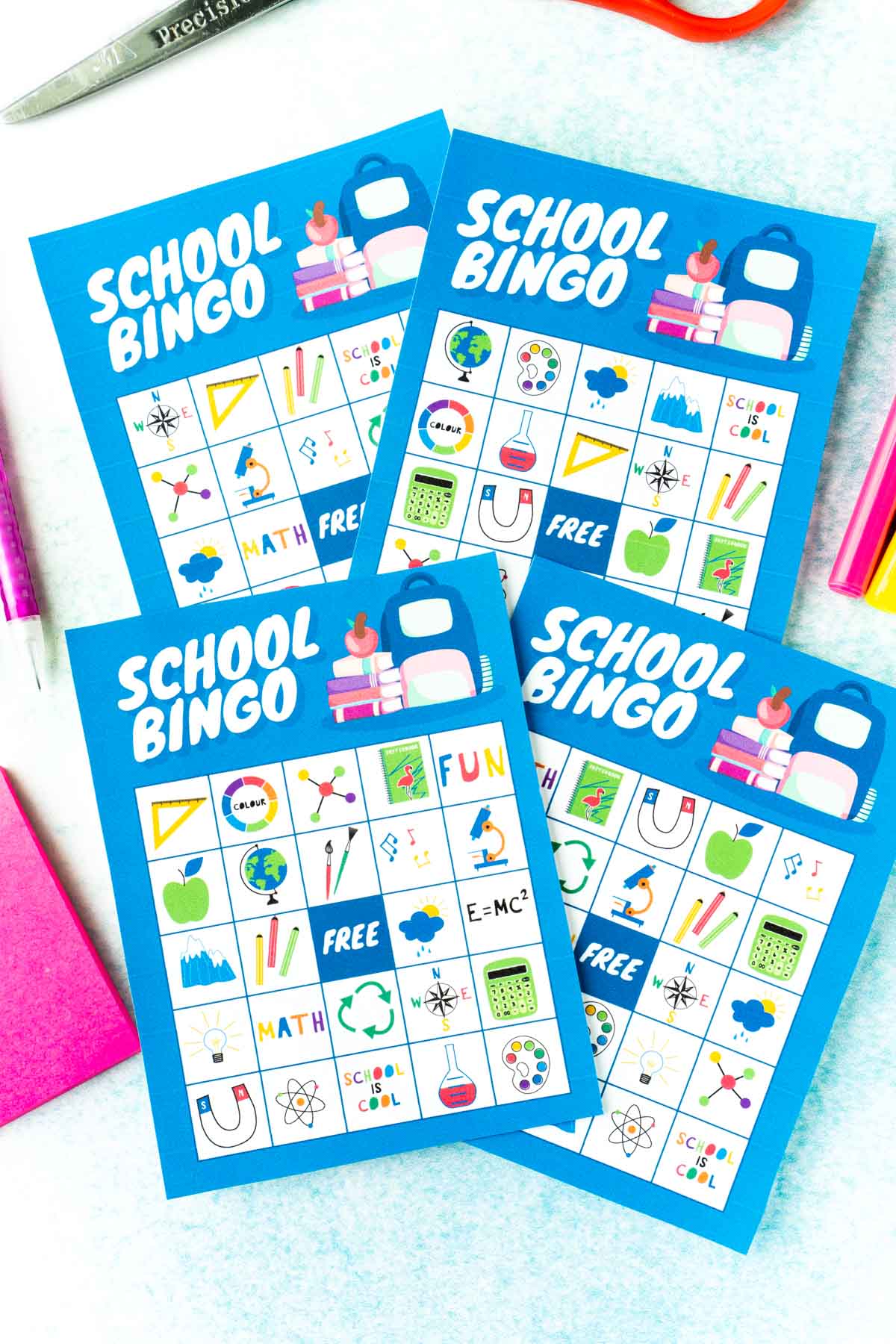 School Fun
While things are still up in the air here about what's going on with school, I thought it would be fun to share these school bingo cards that you can use whether kids are going to virtual school, in-person school, or even homeschooling.
If you send cards out to students, you could even play this over a virtual zoom class call! Bingo is one of my favorite virtual games, second only to this virtual scavenger hunt.
Kids love games and this is a fun one! Plus there are twenty unique cards and a colored and a white design depending on how much ink you want to use! Combine these with a little back to school printable word search for a fun start to the year!
Supplies
You don't need much to play bingo. All you'll need are:
Bingo cards – download the ones at the bottom of this post to print
Scissors – use them to cut out the bingo cards and calling images
Bingo markers – I have these ones that I use all the time or you can totally use things like dry cereal, candy, or dried beans.
Bowl/bag – use this to put the calling images into so you can't see them
Prizes – these are technically optional but not sure bingo is bingo without a prize for the winner. I've included some prize ideas at the bottom of this post.
If you want to use these again and again, I recommend printing on white card stock then laminating. I have this laminator and these laminating pouches that I use all the time. They're super easy to use and work great!
How to Play
There are a couple of different ways you can use these bingo cards.
Game #1 – Traditional Bingo
Use these school bingo cards to play a traditional bingo game.
Everyone gets a bingo card and some bingo markers. Everyone should start by covering the free space.
Next, pick out one of the images from the bag and announce what you chose. Then place the image on the calling sheet to help keep track.
Everyone who has that image on the card covers it with a bingo marker. Keep pulling and calling out images until someone has five in a row, or a bingo, on their card.
First person to get five in a row – horizontally, vertically, or diagonally wins. Either clear cards or keep playing until someone else, or a number of other people win.
Note: These cards are not good for playing blackout as they all use the same images. So if you play blackout, everyone would get a blackout at the same time.
Game #2 – Earn It Bingo
One of my other favorite ways to use these school bingo cards is as a reward card, kind of like I did with these chore charts for kids.
Give everyone a card at the beginning of the month, week, day – whatever. When they complete a task, do something nice, and whatever else you want to use – let them randomly pick one of the images from the bag and cover up the space on their bingo card.
When they get a bingo, they get to choose a larger reward of some kind. If it's in the classroom, maybe you give them something out of a treasure chest or a coupon to skip homework for a day.
If you're playing at home, we like to do things like an ice cream date, a movie night, ordering pizza for dinner, or something else that we typically save for special occasions.
Prizes
Since you'll likely be playing this with kids, here are a handful of smaller prize idea that would work and still be on the reasonable price side!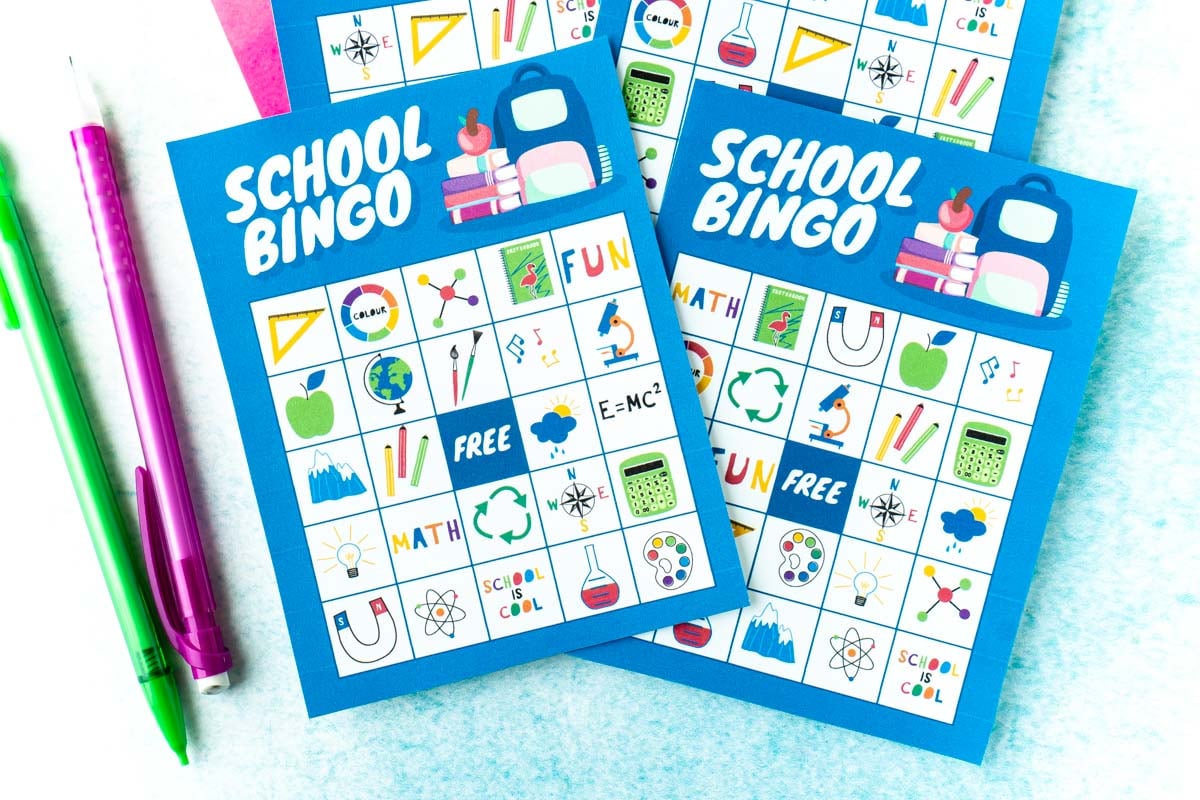 Expert Tips
Play virtually by sending a card to each of the students or people playing first. Then call out the answers on zoom or some other video chat service and let people mark off their cards at home!
Laminate the bingo cards if you think you'll play more than once with different people, different classes, or at different times of the year!
Laminate the calling card even if you don't laminate the bingo cards. Use a wet erase marker to mark off the calling card as images are picked instead of just covering them with images. Then you don't have to worry about things getting knocked off!
Game FAQs
Can I play this with a large group?
Yes – there are twenty unique cards included in the printable here. So you can play with as few as one person and as many as 20!
Can I play blackout with these cards?
Unfortunately no, the cards all have the same images on them. Bingo works great because the images are mixed up but everyone would get a blackout at the same time.
Do you have cards that don't take so much ink?
Yes! In the PDF pack of cards, there are blue colored cards and white cards that still have images and a design but not a colored background.
More Bingo Games
If you like this school bingo game, you'll love these other bingo games!
Download the Printable
Enter your first name and email address in the form below to get the printable PDF. You will receive a email with a link to download the PDF within minutes.
The PDF will include:
A set of instructions
20 blue colored bingo cards
20 white colored bingo cards – design shown below, same cards as the blue ones, just white background instead of blue
Calling sheet with all of the images
If you do not immediately receive the email, make sure to check your promotions, spam, and junk folders!
If you do not see the form below, click here to get to it.