This is a sponsored conversation written by me for compensation by Bayer. The opinions and text are all mine.
Looking for the perfect chore chart for kids? This blank printable chore chart is perfect for creating a family routine full of chores, healthy activities like taking daily vitamins, and more! It's perfect for any family just looking to get started with a children's chore chart!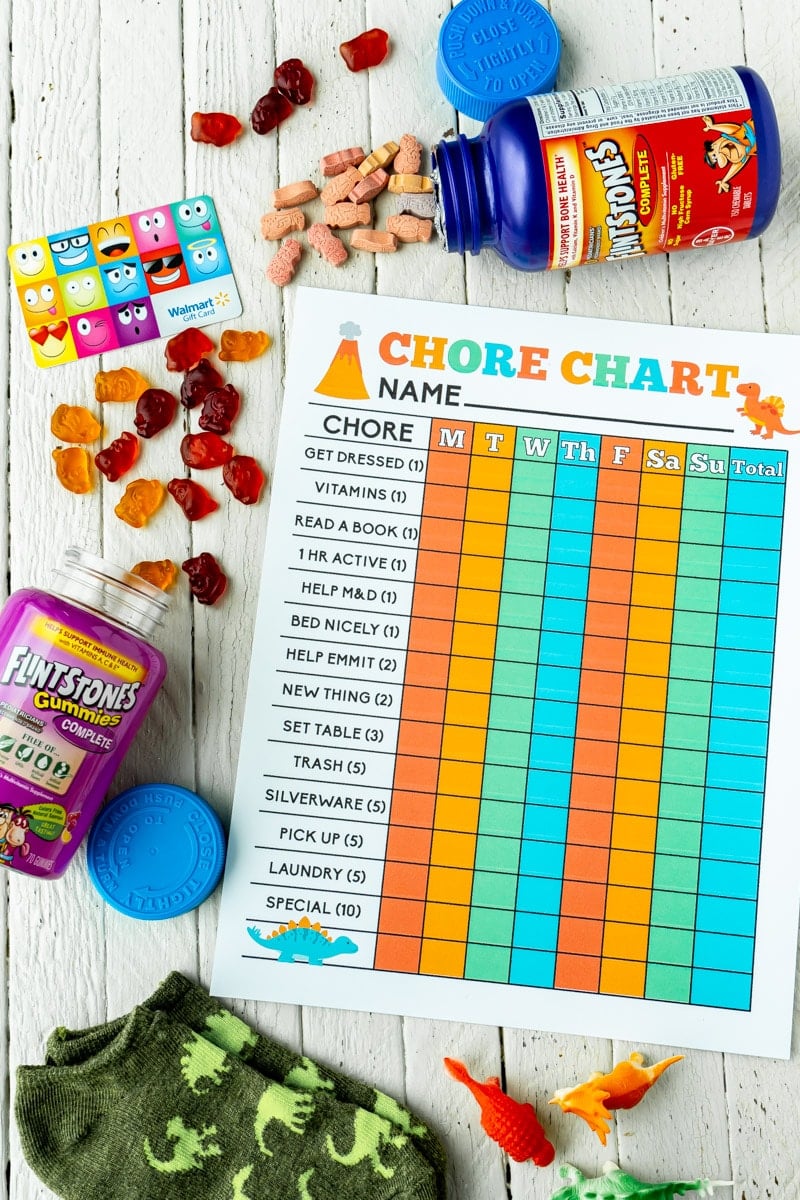 Creating a Routine with a Chore Chart
I'll be the first to admit that having just one child for so long meant that we were a little lazy about creating a routine in our house. Let's be honest – creating a routine when you're traveling at least a week every month is tough.
We tried a couple of different times then fell off the wagon the next time went on a trip. Pretty sure it was our trip to Lake Lure that blew it last time. Or maybe our trip to Daytona Beach.
Now that baby E has joined the family and my oldest is in school full-time, we're finally at the point where we can stick to a routine. Or try at least.
This past weekend we sat down as a family and created these chore charts for kids that are filled with not just traditional chores (taking out the trash, unloading the dishwasher) but also habits that we want to be part of our routine but that we've struggled sticking with in the past.
Things like taking our daily vitamins, getting daily activity, and drinking enough water. It may not be half marathon training, but it's better than nothing!
When summer comes back around, we'll use these summer chore charts!
All of those things that tend to go out the window when you're traveling or rushing out the door in the morning to make it to school.
By putting them on K's chore chart, we're making them a priority. That kid will do anything for a reward. He's definitely my kid.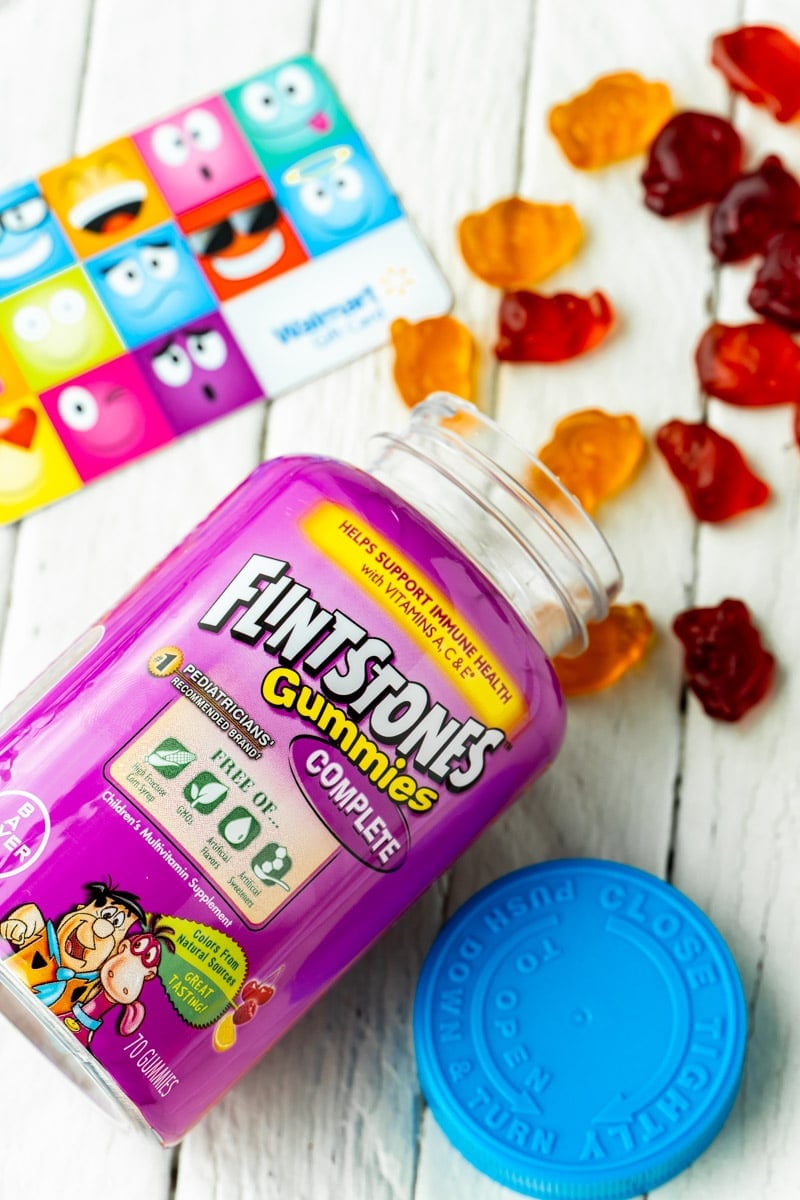 Getting Started with Our Family Chore Chart
I specifically worked with K on adding things to his chore chart. I wanted to make sure that it included things that I wanted him to do and things that he thought made good "chores" as well.
Doing it together is a key to getting things to stick around here.
To help get ready for our new routine, we took a quick trip to Walmart to pick up some much needed supplies.
Fresh fruits and veggies
Flintstones™ Complete Gummies (we like to alternate gummies and tablets so he can get used to something not gummy)
One A Day® Women's VitaCraves® (I do the same thing with alternating)
New water bottles
A stroller (for taking E on walks and getting in our activity)
Laundry baskets
And I picked up a couple of Walmart gift cards while we were at it to use for my own chore chart rewards!
I normally use Walmart Online Grocery Pickup and Delivery Services (best thing ever!) but wanted to get out of the house after a weekend of rainy days. You can see if grocery pickup or delivery is available in your area.
After our shopping trip, we sat down and made our chore charts together. I say our because we didn't make one just for K, we made one for me too! I need even more help than he does!
We started with our family chore chart last week and so far, total success! If nothing else, it's getting us to eat breakfast together each morning!
K likes it because he gets to have "gummies" at breakfast. And I like it because it reminds me to take my own multivitamin and we're getting key nutrients that we don't get enough of from food alone during our busy days.
While vitamins don't replace food and good nutrition, they can help fill the nutrient gaps with vitamins like Vitamin A, C, D, and E. We like to take our vitamins with filling meals like this sausage breakfast casserole or these berry smoothie bowls.
What's On the Chore Chart?
Since this is the first time that we're making a weekly chore chart, we added a mix of actual chores as well as things that aren't necessarily chores but are good for our health and wellness.
Here's a picture so you can see what's on our 6 year old's chore chart. Here are some ideas if you need a toddler chore chart instead. And there's a picture of mine too because well you know adults need chore charts too!
These are obviously specific to our family, but you can use the blank printable chore chart at the bottom of this post to make it specific to your family instead.
Each item also has a number indicating how many points it's worth. Things that are super easy like getting dressed and taking vitamins are worth one point while taking out the trash is worth more.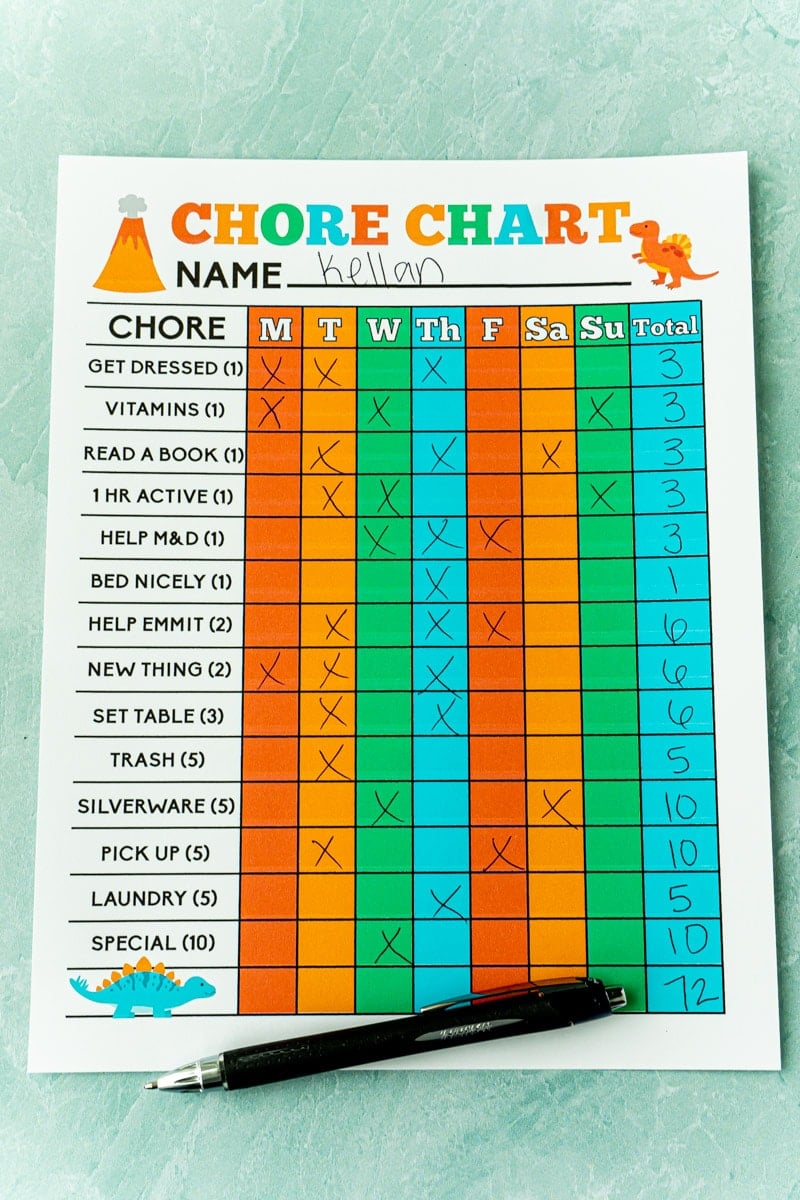 Our Chore Chart System
Having a children's chore chart is one thing but actually using it for allowance/rewards/etc. is a different animal altogether.
We've decided to implement a two-part allowance and reward system.
Points and Allowance Chore Chart Rewards
At the end of the week, we'll total up the number of points that K has earned on his chore chart and based on the number of points he earns, he'll earn a dollar amount that goes with it.
K can earn a total of up to 175 points a week (or $6) if he's perfect and does everything every day. His points = dollars scale looks like this. We did $6 a week because he's $6, but it's unlikely he'll actually make that much each week.
150-175 points = $6
100-149 points = $5
75-99 points = $4
50-74 points = $3
25-49 points = $2
1-24 points = $1
Chore Chart Bingo
In addition to earning dollars each week for his points, I also created a little bonus chore chart bingo where K can earn additional activities or prizes of his choice.
The idea is that for every 24 points a week he earns, he gets to pull a bingo card and mark it off on his chore chart bingo game. It'll be totally random, just like bingo, so sometimes it may take him just a week or two to earn the bonus (if he gets lucky and pulls cards in a row) and sometimes it may take a little longer.
Once he gets a bingo, he gets to do one of these activities (a list we created together) that are a little pricier.
I tried hard to not put any actual monetary prizes on here and go with experiences instead – if he wants to buy something, he'll have to use his allowance money (or other money he earns) to buy them. These will be more experiences and activities he gets rewarded with, not money.
Date night out with mom
Going to the local arcade
Trampoline park afternoon with dad
Pick out a new book at the bookstore
Get a cupcake or cookie at the local bakery
Miniature golf adventure
Family game night
Escape room (or we could get an Escape room board game instead)
Day at the local museum or science center
Go and paint pottery
Hiking or day in nature with the whole family
Movie night (with snacks)
Science experiment
Kids craft night
Going to see a show (movie, theater, etc.)
One of these scavenger hunts with little prizes along the way
A set of these printable coupons for rewards throughout the month
Something to help him with a skill (new soccer ball, swim goggles, etc.)
Video game day
New game/app on the iPad
We also did a couple of blackout options if he wants to wait it out for some bigger rewards. These are obviously pricier than the ones above but if he wants to wait for it, we'll reward him. He's six – I'm guessing he's going to take the marshmallow offered to him immediately rather than wait for two an hour later.
Staycation at the local waterpark hotel
Annual educational subscription box (he already has one that he loves)
Amusement park (indoor or outdoor)
Day trip full of activities in a nearby city
Choose your own adventure day – something similar to this choose your own date night idea
Dry Erase Chore Chart
Rather than have to print out a chore chart each week, I decided to turn mine into a dry erase chore chart (and bingo card) to hang up on the fridge. Bonus – the fridge is right next to the drawer where we keep our vitamins!
Turning the chore chart into a dry erase chore chart is super easy. Simply laminate both the chore chart and the bingo card and voila – it's dry erase.
I actually prefer using wet erase markers instead of dry erase so things don't accidentally get wiped off when the chart is being updated. If you don't know the difference – wet erase means they can only be erased with liquid!
At the end of the week instead of printing out a new chart, simply wipe it clean and start again!
How to Download the Printable Chore Charts
Since I'm sure there are other families out there in our situation, I've created a blank printable chore chart for kids, two actually – one that's dinosaur (boy) themed and one that's mermaid (girl) themed.
Enter your first name and email address in the pink form below to get the blank printable children's chore chart. The PDF file will come with:
Dinosaur chore chart
Dinosaur bingo card (print out two copies and cut out one to use as markers)
Mermaid chore chart
Mermaid bingo card
Blank chore chart (no design)
I recommend printing on white card stock and laminating to make it sturdier, but at least print on card stock!
If you do not see the form below, click here to get to it.
Other Free Printables for Kids
Other Ways to Help with a Routine
Don't forget to print this chore chart for kids for later!