The best gift you can give yourself is the gift of self care. All of these great self care gifts are perfect for just that – taking care of yourself! It's the ultimate list of gifts to buy yourself this year!
Note: I received some of the products in this post for free for consideration for this post. All opinions are 100% honest and my own.
The Gift of Self Care
Tis the season of gift giving, random acts of kindness, service themed Christmas activities, and thinking about others.
But let's be real for a second – for most women, what I just described is all year long, not just during the holiday season.
Our lives are centered around taking care of others – whether it be physically driving kids to soccer practice and making cut out sugar cookies for kids to decorate or mentally trying to figure out the best gifts for grandparents all the while trying to balance the emotional explosions of your little ones.
Or both.
What about if this holiday season instead of focusing all of your time on finding the perfect gifts or those around you – whether it be or a Christmas angel or your own kids – why not spend some time trying to pick out the perfect gift for yourself?
After spending this past year dealing with all sorts of family changes – a little me time and self-care is at the top of my priority list going into the new decade. It's been long enough since I put myself first.
Okay, still being real – I still won't put myself first, but it's time to put myself at least somewhere on my list.
I know you're probably reading this and saying I don't have time for me. I don't even have time for the things already on my list – but here's the deal. If you don't take care of yourself, you can't take care of anyone else.
It's the whole put your mask on first if the plane crashes idea so you have oxygen to take care of the other families.
I know you're busy – I am too. I've used the I don't have time excuse for a really long time. So instead of telling you to take an hour or two hours each day to take care of yourself – here are self-care ideas that should fit into a busy schedule.
And some gifts you can buy yourself this holiday season to help you along the way!
Help Your Health Self Care Gifts
If there's one thing that goes first when you're taking care of others, it's your health. These gifts make it easy to take care of yourself and your health!
Good Shoes
I absolutely adore my Sanuks (the best travel shoes ever) and they're one of the few things I've splurged on. Splurged is the wrong word because they're not expensive – I just have about ten pairs.
It's amazing what a difference it makes to the rest of your body when your feet are comfortable. I love the yoga slings (made with a yoga mat bottom) but also have and wear the Donnas, Pair O Dice, boots that they don't sell anymore, and just basic flip flops.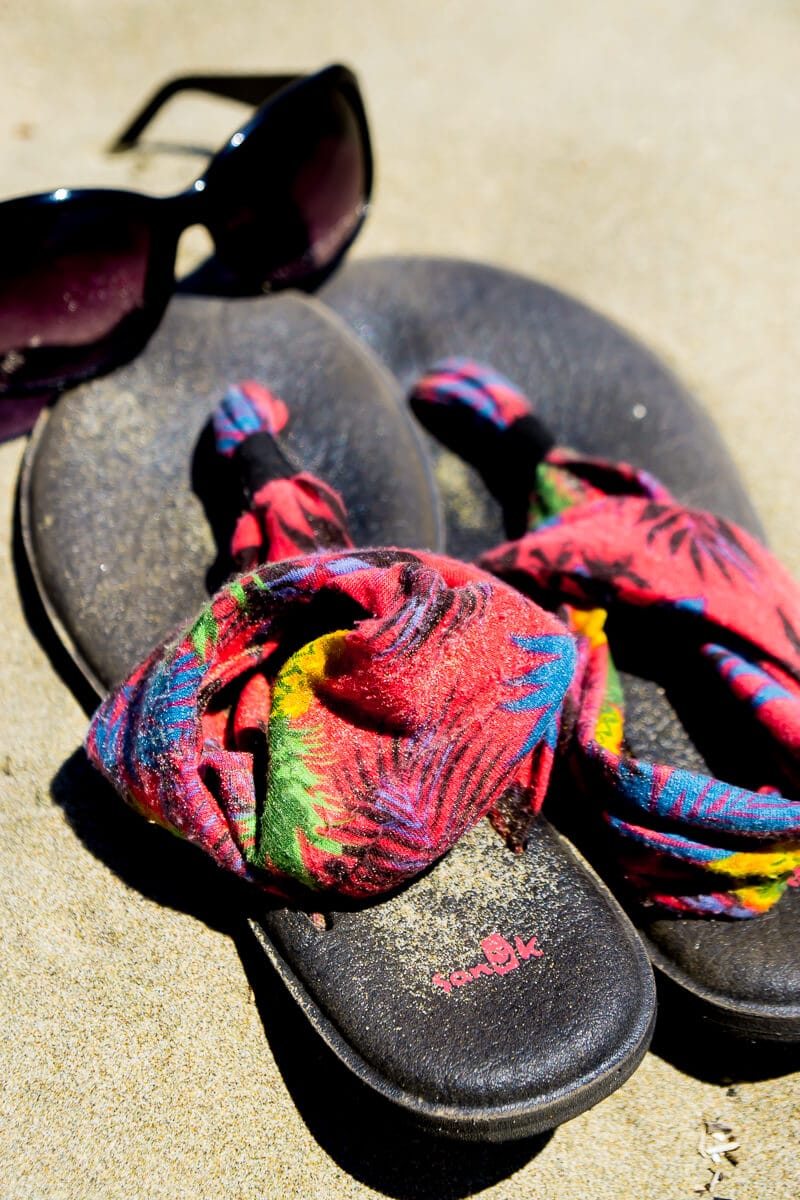 Hip Hook
I don't know what I did before I got a Hip Hook. This little piece of magic was designed by a physical therapist to help relax the hard to reach iliacus muscle (not sure what that is, you can read more – I had no idea).
It looks and feels a bit awkward at first but it helped release the tension in my hips from so much boot camp and running almost immediately.
It's done wonders for the tightness in my hips from sitting at a desk all day, and I'm recommending it to all my other blogger friends who I know sit around too much.
Get it here, on sale right now for the holidays. It'd also make a great gift for runners!
A Good Chair
If you sit around and work a lot like I do (and like a lot of people do these days), get yourself a comfortable and supportive new chair to save your back and neck from a lot of pain in the future.
I just bought myself this SecretLab chair (recommended by a lot of other bloggers and gamers), and I absolutely love it. It's not only comfortable, it's supportive. I can sit for hours at a time (not recommended) and not have any issues with my back!
You could do any chair as long as it has good support. I recommend talking to people who spend a lot of time in chairs or even your doctor or chiropractor (if you have one).
Another great idea (even if you have a good chair) is to invest in a standing desk if you work from home. Balance standing with sitting throughout the day, even if it's just to keep the blood flowing to your legs.
We have this FlexiSpot standing desk and it has an electric switch to raise and lower the desk quickly and quietly. It's also the perfect size for having a large computer screen plus extras so that you have space to actually work (unlike some of the super small standing desks I've seen out there).
We got one with white metal legs and a wood top, but they have a variety of colors and choices to choose from if you're picky! See all the varieties here.
Pampering & Beauty Gift Ideas for Yourself
Every single time I take time to blow dry my hair, put on a little makeup, and actually get dressed for the day I feel so much better. It's one of the most basic self-care ideas but take a few minutes to put yourself together, whether you're leaving the house or staying home.
These gifts are all ones that can help you pamper yourself so that you feel and look your best!
Beauty Appointment
I'd typically say a gift card if you were getting this for someone else but since it's for yourself, you can just setup and keep a Drybar appointment. If you've never done DryBar before, you go and they wash, dry, and style your hair.
While they're doing it, you sip a drink and watch chick flicks. It's the ultimate in self-care and something I love to do before a big night out (like when I went to the Thor red carpet premiere), family photos, or just a fun date night.
Or if you don't want to do Drybar (or don't have one) another good choice would be a pedicure, eyelashes, or really any other chance to do a fun beauty treatment for no reason other than because you want to.
Bath Bean
If you like baths and have a big bathtub, you need a Bath Bean. Well unless you're over six feet tall and hanging out of the bathtub. I digress.
The Bath Bean is a silicone thing shaped like a bean with suction cups on the bottom that you put on the bottom of your bathtub before you get in. And then when you sit in the bathtub, it keeps you from slip sliding all over the tub.
No more trying to wedge towels under your feet (or is that just me) or figuring out how to keep yourself from slipping down. The Bath Bean is easily one of my favorite new things I've tried this year and pretty sure I've already bought one for a family member for Christmas.
Revlon One-Step
This magic beauty tool not only looks like a magic wand, it works like one too. It dries, blows out, and slightly curls (the ends) of your hair all at once. It's like getting back 30 minutes of your time because it does everything all at once.
Plus, my hair has never been as soft and shiny as when I use this, seriously. It's also not that expensive so even if you just use it a couple of times (you'll use it more, I guarantee), it's worth it!
Relaxation Subscription Box
Whether you like to take baths or showers, there is a relaxation subscription box for you. I tried out about ten different ones last year because I'm a bit obsessed with relaxing in the bath after a long day.
My two personal favorites after trying so many were Bath Blessing Box and TheraBox.
Bath Blessing was great because you could customize whether you wanted just bath items or bath and shower. It came with things like bubble bath, bath salts, and bath bombs (I did the bath box), and they were always high-quality .
TheraBox on the other hand was more about self-care in general, not just a bath subscription box. Some months it came with uplifting quotes like a gratitude challenge, a sleep mask, and rejuvenating fragrances. Every month had a theme and I used most of what was sent.
Dress-Up Gifts for Yourself
A simple way to take care of yourself? Get dressed. Put on some jewelry and grab a nice bag (not a diaper bag). These gifts can help!
Simple Jewelry
I can't even begin to tell you how much better I feel about myself when I toss on some jewelry. It's a simple way to make everything just feel more put together even when I don't feel that way inside.
My friend Mandy sells TONS of cute jewelry in her store here for $5 that ships fast. I just bought a bunch of items in bright colors plus some simple necklaces like this heart one that I can wear with everything.
And at only $5 a set (necklaces all come with earrings!!!), it's an expensive way to provide a little self care. Shop SugarBeeBling here.
Clothing Subscription Box
If you like new clothes but don't like to shop, try out one of the many clothing subscription boxes out there. Stitch Fix is a popular one (it never worked for me, but I know people that love it), Trunk Club is another, and even Amazon is getting in on the fun with their Prime Wardrobe Personal Shopper option.
One of the best things about a subscription box is that you just pay a little per month, not everything all up front. And you get new surprises each month – who doesn't like surprises!?!
Makeover
Want to start the new year fresh? Book a makeup appointment at one of the beauty stores that does makeup consultations and let them do your makeup.
But don't just get your makeup done, budget in some new makeup for yourself after your consultation. It's amazing what a refresh of eyeshadow colors or upgrading your mascara can do for date night.
I did this a couple of years ago and it changed the way I do makeup (and the way I look with makeup on). I try to do it every year or two simply because there are always new ideas and concepts coming out to refresh your look!
If you're not up for dressing up yourself, how about an upgrade for your home instead. Ready Festive offers curated boxes for each season and holiday with fun new items to add to your home decor and entertainment cabinet.
This would be the perfect gift for entertainers but is also a really fun thing to gift yourself. You can choose the boxes you get (it's not a typical monthly subscription box) based on what holidays you want most, and the items I received the few months I did it were high-quality and fun!
They always send out surveys for each season to gauge your interest for particular colors, patterns, etc. so that what you receive vibes with your style.
Uplifting Gift Ideas
One of my favorite things to do is constantly surround myself with uplifting things that just make me smile. When I'm having a bad day, it helps to see them to remind me it's not really that bad.
These gifts are all inspired by that idea – things to improve your mood on a rainy day or really any day.
Inspiring Quotes & Messages
I use a lot of notebooks and love to buy ones with fun quotes and message on them. I love to order pretty designed Erin Condren ones with my favorite uplifting quotes. Then every time I use a notebook, it's just like an immediate boost to my day.
You could do something similar with a calendar (like this Happy Notes 2022 calendar), notepads, or even artwork for your favorite space.
Magical Subscription Box
Figure out something that you love and that makes you happy and then look into subscription boxes that will send you little things to make your happy month after month.
Disney makes me happy so I've already put this monthly Bibbidi Box on my list. It's a surprise box with any sort of Disney goodie inside delivered righto your door monthly.
It doesn't have to be Disney, just find something that makes you happy whether that's cozy socks, a new headband (my friend April has an amazing headband company), or a new board game. Then treat yourself.
Books
If you like to read, pick up a new book or two that can help you escape the stresses of life at the end (or beginning) of the day. I like uplifting books like this Hometown Boy series by my friend Audrey – it's light reading but just a happy story that makes you smile.
If you have a Kindle, you could even get yourself a Kindle Unlimited subscription for the year so you have tons of new books at your fingertips (Audrey's books are free on Kindle Unlimited!!). If you need some books to get started, these are the best books on Kindle Unlimited!
Or you could join something like Book of the Month Club that delivers brand new books to your doorstep every month. I did it for a year or two then things got so busy that I couldn't keep up with the books, but the book selection was always fantastic!
Favorite Show Merchandise
There's nothing more that gets me out of a bad mood than watching an episode of Friends, The Office, or Schitt's Creek. There's just something about the shows that makes me laugh every single time.
I've started channeling that into things that I use on a daily basis – instead of watching a show – I have random things around my house with quotes and images that remind me of my favorite shows. It's an immediate mood booster.
Like this Schitt's Creek tumbler someone bought me this year. I'm obsessed and it makes me happy to drink out of it every time.
Experience Gifts to Buy Yourself
If you don't really want to buy yourself things, try an experience instead. Sometimes I find that doing things makes me feel less guilty than spending money on things for myself. Or forget the guilt and just do both!
Try something new like sky diving or do something you've always wanted to do like doing a hot air balloon ride. Or try to knock something off your bucket list with a gift!
Pretty sure most of the experience gifts for kids on this list would work for you too!
Gifts to Simply Your Life
Looking to make things a little simpler? These are all simple gifts that can give you your time back, help you be more productive, and just feel less stressed.
Other ways to simplify your life:
Combine all your calendars and to-do lists into one place like in an Erin Condren planner (I love mine!)
Create a weekly schedule and assign tasks to each day each week (e.g., Monday is for errands, Tuesday you go through the mail)
Drop an activity or commitment
Hire out something you don't want to do (cleaning, meals, laundry, childcare) and spend that time doing something you do want to do.
Other Gift Guides
If none of these is a good fit for you, maybe try one of these other more specific gift guides!