This St. Patrick's Day charades game is a fun one for the whole family! See who can act out of any of these St. Patricks' Day charades words before the timer runs out! Perfect to get everyone moving and laughing after hunting for leprechauns and trying to avoid being pinched!
This post contains affiliate links to products. If you purchase via these links, I may receive a small commission at no additional cost to you.
St. Patrick's Day Charades
I love a good game of charades whether it's regular charades or reverse charades! I just think it's great for a good laugh and honestly nobody is really that good so it puts everyone on a level playing field!
Plus it's fun for all ages – kids through grandparents!
This St. Patrick's Day charades game would be super fun to play with kids in a classroom, as a silly activity at home with the family, or even at an adult St. Patrick's Day party!
Try it with one of these other St. Patrick's Day games, serve these St. Patrick's Day cupcakes (or these rainbow donuts!) after, and enjoy one magical night!
St. Patrick's Day Charades Supplies
The best thing about charades is that you really don't need much to play. For this charades game I recommend:
Printable St. Patrick's Day charades words – get the free download at the bottom of this post
A cup or a bowl – You'll put the charades words in this
One minute timer – You can either use a sand timer or an actual electronic timer like this one
Paper or poster board – This will be used to keep score, best to have a big poster board if you want people to always know what the score is
Sharpie – To write the score on the poster board
How to Play St. Patrick's Day Charades
One thing I love most about charades is that, like this printable roll a rainbow game, it's a game you can seriously just decide to play last minute and be ready to play five minutes later. Having these St. Patrick's Day charades topics ready for you makes it even easier.
I've included instructions on how to play traditional charades game below. I love mixing things up and if you're the same, try one of these other unique charades games as well! Here's a quick video showing how some of these are played – just use St. Patrick's Day words instead of Halloween!
1 – Print and cut out your St. Patrick's Day words.
The printable PDF at the bottom of this post has different words you can use for St. Patrick's Day charades! Print out the page, cut out the words, and put them in a bucket!
Want to keep them with your other favorite board games, laminate the words first before you cut them and keep them in a ziploc bag.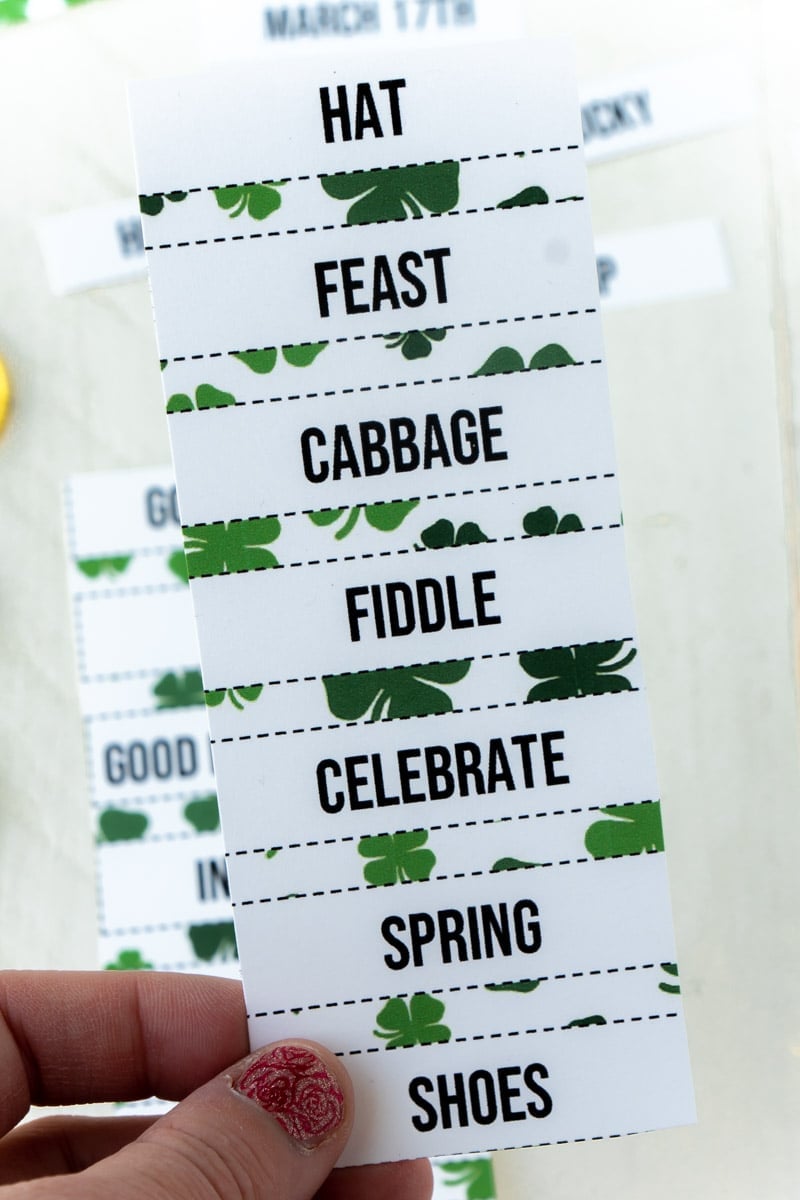 2 – Split into teams.
Split your group into two teams. You can split however you want as long as the teams have the same number of people. And you probably don't want all young kids versus adults but a team of kids + teens versus adults would be perfectly fine!
3 – Have one team start.
Pick one of the two teams to start and that team should pick one person from their team to start the acting.
Flip the timer, then they must act out the word on the card without using any words or sounds. If you want to use words, I recommend trying one of these fun party games for adults instead!
Have that person act out the card until someone on their team guesses the word or the timer runs out. Or you can play that they can act out as many words as they can before the time runs out – totally up to you!
Since there aren't that many St. Patrick's Day words, I recommend doing just one per each person's turn. If you want to do more, buy a charades card deck like this and go wild!
If they get the word within the time limit, they win a point.
4 – Switch teams. And repeat.
Once one team finishes their turn, move to the other team and let them have a turn.
Continue playing and switching teams until everyone has had at least one turn to act. There should be enough words for a decent size group to each get a turn!
The team with the most points at the end of all the words (or a designated amount of time) wins.
Download the Free Printable St. Patrick's Day Charades Topics
Enter your first name and email address in the form below to get a PDF of St. Patrick's Day charades words. Once you fill in the form, you'll immediately be taken to a PDF to print/download and receive a copy to your email inbox as well.
If you cannot see the form below, click here to get to it.
More Fun St. Patrick's Day Ideas
Don't forget to pin this St. Patrick's Day charades game for later!