Try out one of these fun 4th of July games for the most epic fourth of July celebration ever! With tons of patriotic party games that are perfect for the whole family, there's something for every outdoor blowout and even smaller indoor shindigs!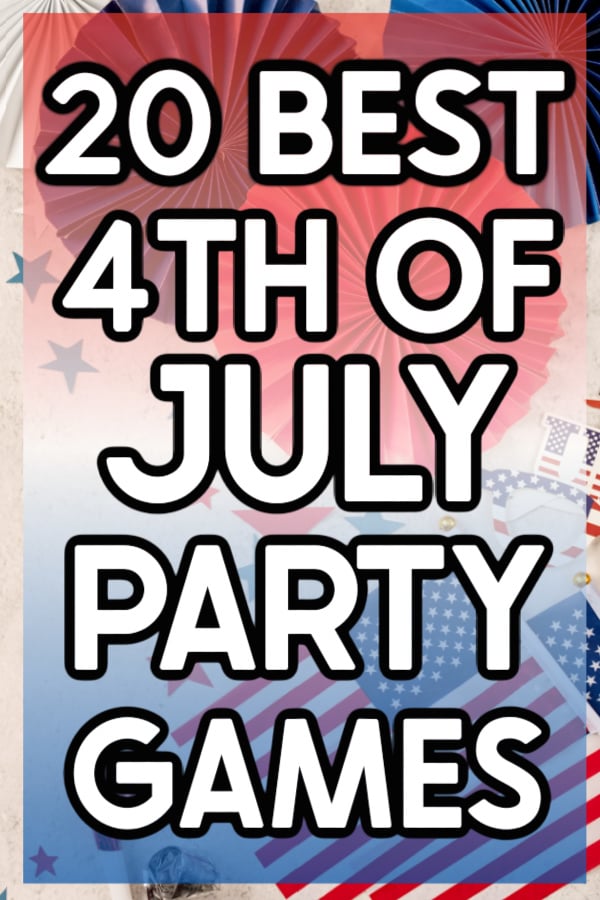 Everyone knows that fourth of July is a great time to celebrate with family and friends. It's also a great time to play some hilarious fourth of July games at your backyard barbecue with the whole family!
I've put together a list of the best games for July 4th celebrations I could find, including some of my own that I came up with just to add to my 4th of July party ideas post a while back! They're my personal favorite, but all of the games on this list are fun ideas for your party!
So make a 4th of July charcuterie board and some strawberry lemonade for refreshments and get to it! These games aren't going to play themselves!
4th of July Minute to Win It Games
SInce most 4th of July parties are outside and a little chaotic, these games are perfect because they're meant to be simple and played in under a minute. You can either split into teams or have individuals play and compete against one another.
And if you've never played games in this style, start with my minute to win it games post here!
Let Freedom Ring
Supplies:
Little Dixie Cups
Small Christmas bells
Water
Prep:
Fill Dixie Cups half full with water then freeze.
Place bell in cup on top of frozen water. Fill the rest of the cup (with the bell inside) almost to the top.
Freeze again so the bell is frozen in the middle of the cup.
Play:
Players must do whatever they can to get the bell out of the frozen cup of water and ring it. The only caveat is that they cannot throw the ice on the ground to just break it open.
First person to get their bell out wins. This game is best played outside since the ice will likely be melting all over the place! You could do this with anything if you don't have bells, like I did with these Frozen party games, but the bell makes it more fun!
There's a H-E-R-O
Supplies:
Soup size bowls
Jello
Edible letters H-E-R-O – you can use gummy, chocolate, or even those little cupcake topper letters
Spoons (don't use plastic ones, use real ones)
Paper plates or bowls
Prep:
Make jello according to package instructions and split into bowls. I did two different bowls per small Jello package and four bowls for the larger packages.
Place H-E-R-O letters inside of the jello (while still liquid).
Put bowls of Jello with letters inside in the fridge and allow to chill for 3-4 hours.
Play:
Give each player a bowl of Jello, a spoon, and a paper plate. Players must place the spoon in their mouth and using the spoon dig out all four letters and put those letters on the plate and put them in order to spell out HERO. The catch is don't tell them what they are spelling – they must figure it out on their own!
First person to get their letters out and put them in order on the plate wins.
Home of the Brave
Supplies:
Plastic cups or paper plates
Gross but edible foods – tofu, blue cheese, seaweed, etc. If you're doing this with kids, do "gross" foods like peeled grapes, gummy octopuses, and peas.
Blindfolds
Prep:
Put together one plate of "bites of food" per person playing. So if you had four people playing, you would put together four plates (or cups) of food that have one of each food item on them. I typically like to do 4-5 different types of food. This is a great one to make ahead and store on a tray in the garage fridge overnight.
Blindfold your guests who are going to play.
Put a plate/cup full of food in front of them.
Play:
When you say go, players must eat the food in front of them – one at a time (so no just dumping the cup of food in their mouth) blindfolded so they don't know what they're eating. First player to finish all of their food and show you an empty mouth wins. This one is similar to my guess the food Halloween game but more of a race!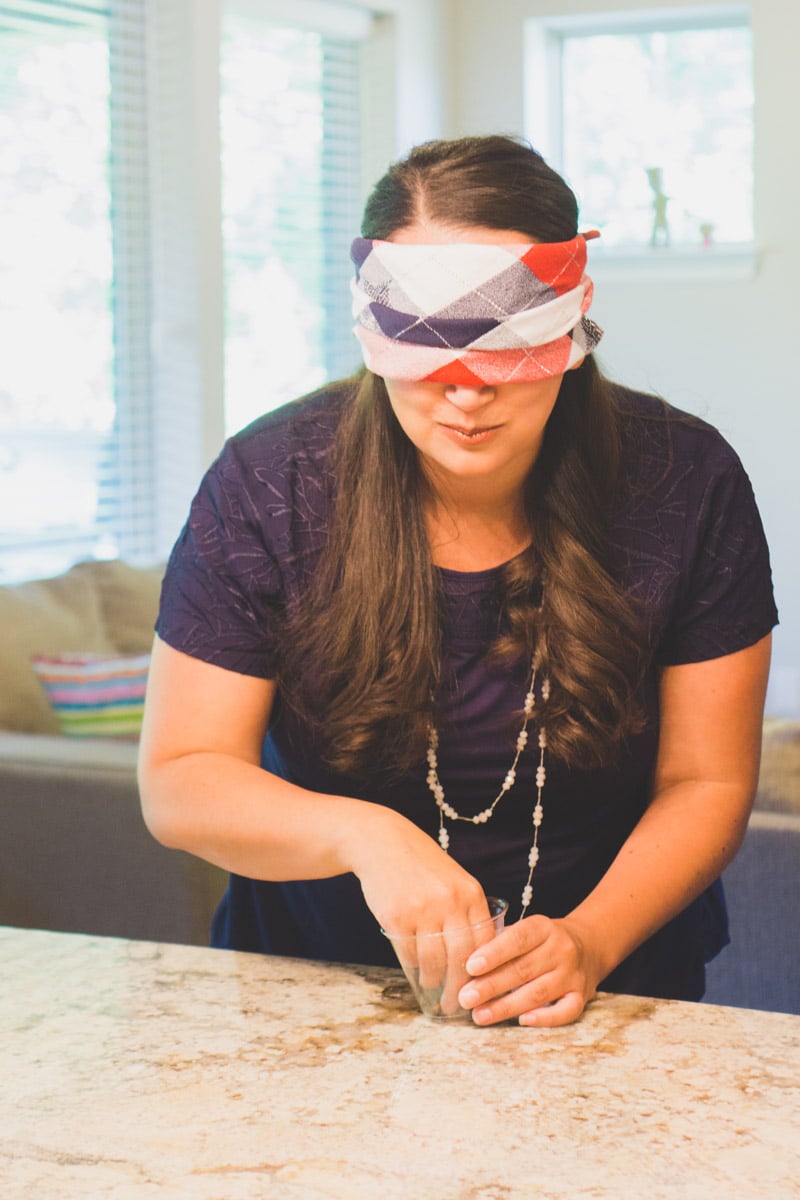 Grand Old Flag
Supplies:
Red, white, and blue jelly beans
Plastic bags
Prep:
Put together bags of jelly beans for each players with nine blue jelly beans, 22 red jelly beans, and 18 white jelly beans. Each bag needs exactly that.
Play:
Give each player a bag of jelly beans and when you say go, they must use the jelly beans in the bag to create a flag. Don't give them any instructions – just the bag.
They must come up with what the American flag looks like (nine blue jelly beans, red stripe on top and bottom) and use every jelly bean in their bag for the flag!
First player to successfully create the flag using all of the jelly beans wins.
Red, White, Balloon
Supplies:
Red, white, and blue balloons blown up with helium
Sharpie marker
Balloon strings
Balloon weights, colored sodas, or drinks
Anything you can throw at the balloons – mini footballs, mini Captain America shields, water balls, etc.
Tape
Prep:
Fill three balloons with helium and tie them to a balloon weight or colored drink.
Write 25 on one balloon, 50 on another, and 100 on the last.
Tape a line on the ground and place a bucket of balls/throwing items in it.
Place the balloons at least 10 feet from the line with the 25 one being closest to the line, the 50 being further away, and the 100 being the furthest away.
Play:
Players must stand behind the line and toss the balls to try and hit the balloons. If they hit a balloon, they get that many points. Give players three throws to see how many points they can earn. If they hit all three balloons, they get the jackpot – 500 points! Player who scores the most points wins OR anyone who gets points wins a small prize. This is one of our favorite outdoor games.
Catch the Confetti
Supplies:
Prep:
Create one of the confetti poppers for each team playing and cut out a bucket full of extra confetti for the game.
Play:
Split into teams of two. When you say go, one person on the team has to use the confetti popper to pop out as much confetti as possible and the other teammate has to catch it in their cup. The first teammate then refills the confetti popper and shoots it again.
Keep going until the minute is up and whichever team has caught the most confetti wins.
DIY 4th of July Games
If you want to make some fun outdoor games for the 4th of July, here are a few simple ones you can make! I didn't do any water ones but if you want patriotic lawn games that get you wet, try these water games – there are plenty of games with water balloons and buckets to get you wet!
DIY Ring Toss
Grab some old bottles, a little paint, and some rings to make this fun All-American DIY ring toss game! It's simple to make and simple to play. Uncle Sam would definitely approve!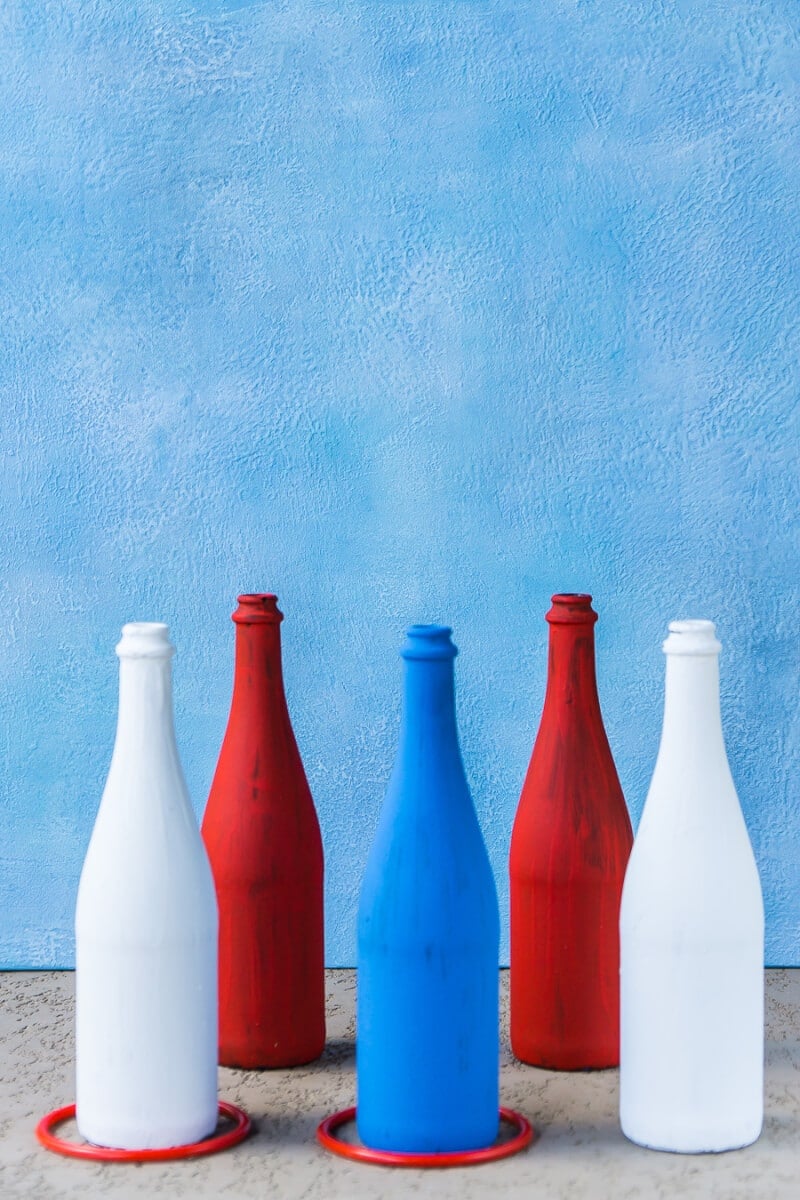 Balloon Pop Game
This fun DIY carnival game becomes one of the best 4th of July activities when you use red, white, and blue balloons! You could even do it so that it looks like a flag design like this 4th of July balloon dart game!
Fill the balloons with patriotic prizes like small flags, 4th of July tattoos, and glowsticks to give this game a patriotic spin!
4th of July Punch Game
Grab a big piece of foam board (or piece of cardboard), some tissue paper, and some cups to make a punch game in a flag design. The picture below is a ghost design that I made for my Halloween punch game but you could easily use red, white, and blue tissue paper to turn it into a flag!
This one is fun for kids, teens, and adults depending on what you fill it with! It's the perfect 4th of July game for all ages!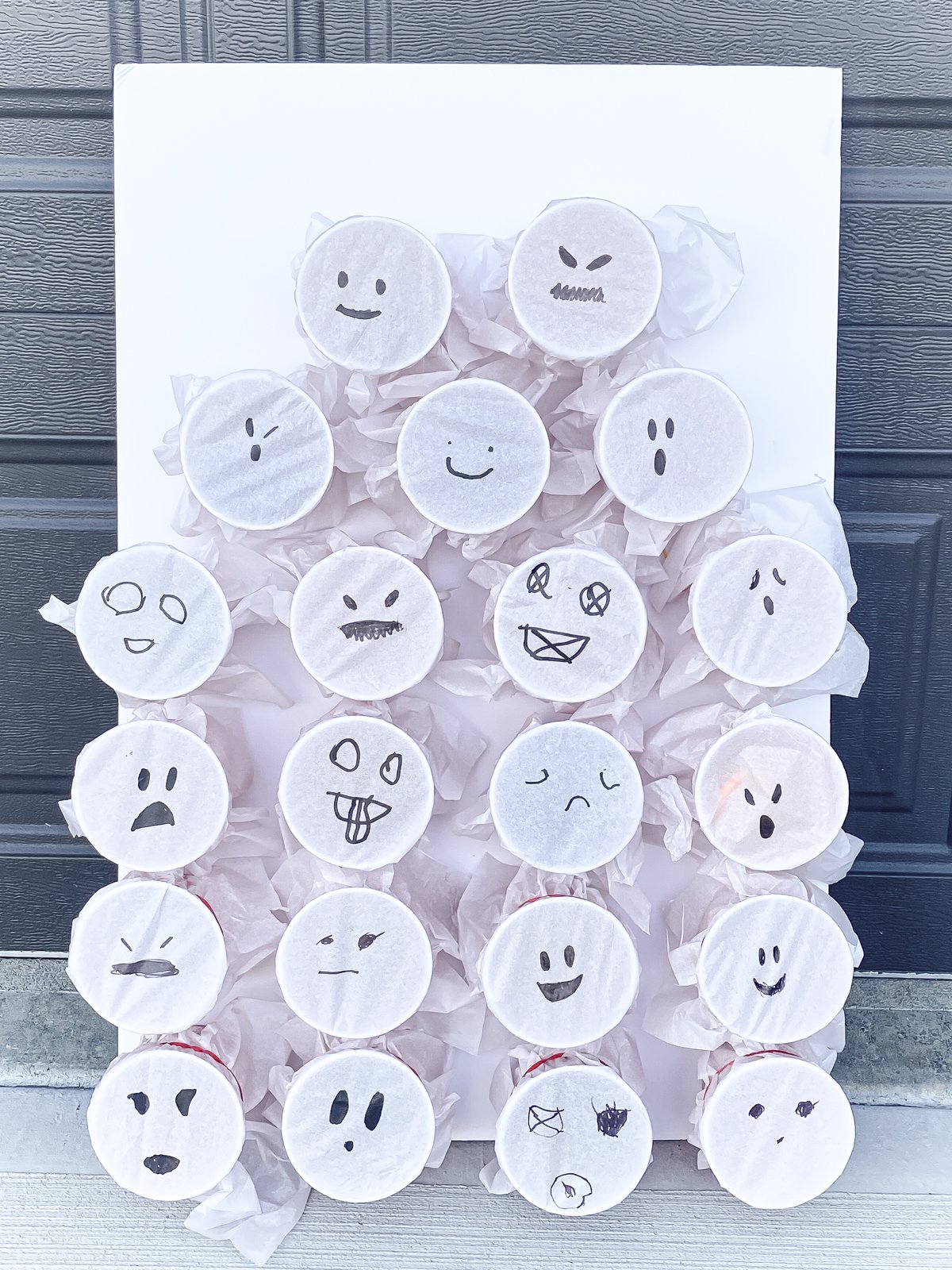 Pinata Balloons
Fill 4th of July balloons with a small object (with a patriotic theme) then let players pop them to win in this fun balloon pinata game!
Homemade Kerplunk
This super easy homemade kerplunk game is made with items from the dollar store and super easy to play! Use red, white, and blue items to make it a great way to celebrate America's Independence Day!
4th of July Bean Bag Toss
This simple DIY bean bag toss game has players scoring points for making bean bags in buckets. It'd be really fun if you use 4th of July bean bags like these ones!
Patriotic Bucket Ball
Grab some red and blue buckets from the dollar store, glue them onto a pallet (better if painted white), and let kids and adults alike toss the balls and try to get them to land in the buckets! And the best part of this game? It's so inexpensive to make!
Printable 4th of July games
If you're looking for something easy, something you can just print out to celebrate the patriotic holidays, these are perfect! Print the printable game on card stock, construction paper, or regular paper and play!
These are also great options if you're looking for the best 4th of July party games for people who may not be able to do do all the crazy things some of the more active games entail.
Patriotic Bingo
A 4th of July version of this classic game is a great activity to play while you eat or just if you want something a bit calmer before the chaos begins. Print out the free 4th of July bingo cards from Play Party Plan here.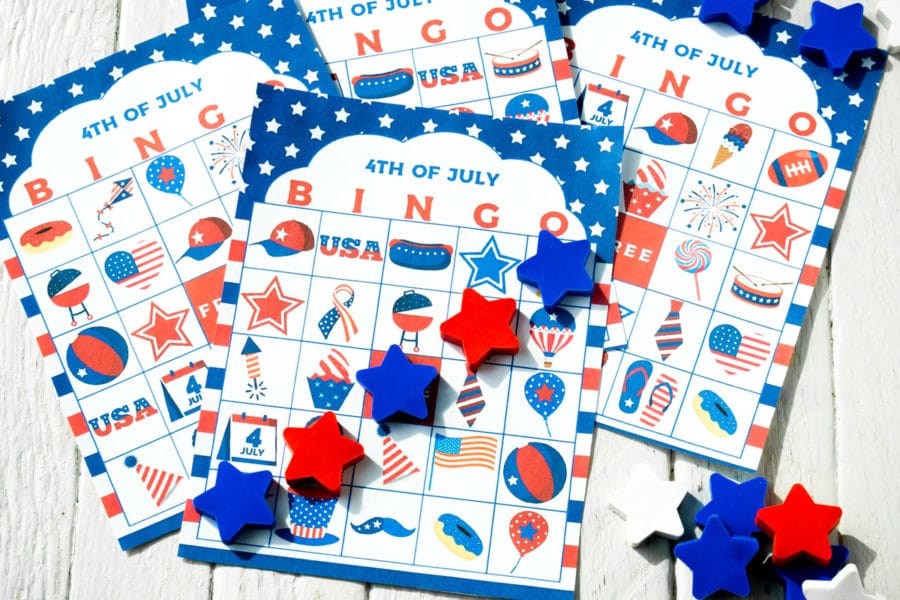 Red, White, and blue hunt
This fun red, white, and blue scavenger hunt will have kids or teams trying to be the first one to find all of the patriotic ideas and objects on their list. This is a good educational game that's also actually really fun! It's a great activity for older children to partner with younger children who may not be able to read yet!
4th of July Scavenger Hunt
This fun 4th of July scavenger hunt is full of patriotic phrases and lyrics from patriotic songs, making it the perfect way to give out fun 4th of July surprises! We love to put a bucket or treasure chest full of glow sticks, 4th of July trinkets, and more at the end.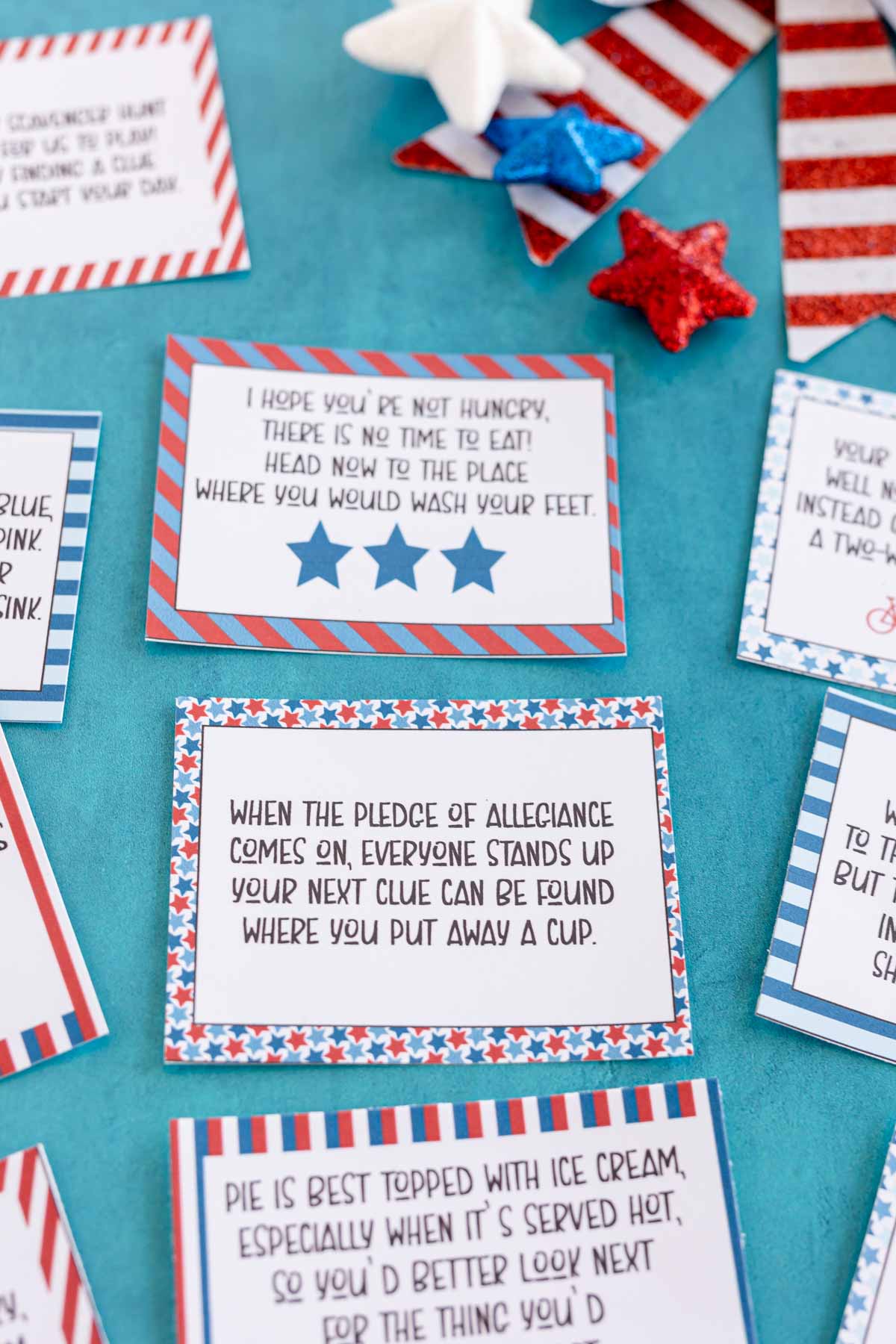 4th of July Word Search
While not technically a 4th of July game, this printable 4th of July word search is a good idea when you need a little break from doing games that require extra energy. This printable game is simple – just try to find all of the words. The free printable even comes with the correct answers in case you can't find them all!
And if the word search isn't enough, you could couple it with this 4th of July i-spy sheet for the younger kids! You could even make little bins with printable activities and games to entertain kids when they get bored at the all-day festivity!
4th of July Trivia
This simple 4th of July trivia game is full of questions about American history! It's a great way to get the entire family involved and one of the easiest ways to remind everyone why we're celebrating, in a fun way!
4th of July Family Feud
My Christmas family feud game is one of the most popular games on my site, so I can guarantee that people would love playing this 4th of July family feud! There are questions and answers already put together for you!
American Music Game
This great American music game has you matched popular American music like God Bless the USA with the artist who made it famous! Name that tune is a favorite party game in our house, and I like that this is kind of a printable version of that!
More 4th of July games
If you want something simple that you can just order instead of make (perfect for last minute parties), these are some of the best 4th of July games I could find! There's everything from an American board game to red, white, and blue dice (perfect for playing these dice games).
Patriotic Yard Dice – comes with tons of game options to play with the dice
American Flag Giant Jenga – you've probably seen Giant Jenga before, but my guess if you've never seen this one that looks like an American flag!
American flag cornhole – cornhole sets that are painted to look like American flags! These would be good for 4th of July, Memorial Day, or any time you're feeling patriotic!
Patriotic Bean Bag Toss – this inexpensive game is great for your Independence Day celebration because it's made out of polyester and can roll up to use next year! Just hang and start tossing!
FAQs
How many games should you play at a 4th of July party?
This totally depends on how long you're having your party. Typically most 4th of July parties include some sort of eating and some sort of show or entertainment, which doesn't leave a ton of time in between. I typically like to plan one activity per hour of my parties when they're for the entire family. An activity could be eating, watching fireworks, or playing a game.
What are some good 4th of July game prizes?
Many of the games in this list are perfect for just having fun but some of them would be best if you had prizes for the winners (aka trivia). Instead of listing a bunch of things out, here's a huge list of 4th of July prizes you can get right now!
More 4th of July Ideas
Once the games are planned, it's time to move onto the menu and these are some of the best red, white, and blue desserts to be found!
Red, white, and blue cake – this gorgeous layer cake is easier to make than it looks! Plus, it's delicious!
4th of July pinwheel cookie recipe – three colors of sugar cookies layered and swirled together makes these not only a fun but yummy cookie too!
Flag cake – this gorgeous cake is full of swirled red, white, and blue colors inside then topped with fruit and frosting to make a flag design!
Cheesecake fluff – cheesecake filling and fresh red and blue berries make this a standout dessert salad option for your outdoor party!
M&M cookies – these M&M studded cookies are a fun way to celebrate the 4th with just a little effort!