So many amazing Whole 30 recipes in this Whole 30 meal plan for week 2! Keep at it with this variety of Whole 30 lunches, Whole 30 dinners, Whole 30 breakfasts, and more! And don't forget the free printable Whole 30 shopping list to make these Whole 30 recipes!
This post contains affiliate links to products for your convenience. If you purchase via my links, I may receive a small commission at no additional cost to you.
What is Whole 30?
This meal plan is based on what we ate for week 2 of our Whole 30 program. If you don't know anything about Whole 30, head to this post to read more about doing a Whole 30 first! And pick up the book It Starts with Food for the inner workings of why I did this!
You can check out my family's Whole 30 results (4 adults) here. The results were eye-opening and life-changing!
I already shared week 1 of my meal plan, so it only made sense to share week 2 as well! For week 2, I tried my best to mix things up to prevent food boredom (the reason a lot of people quit Whole 30), and it worked. These were some of the best recipes I tried the entire 30 days!
I included a breakfast, lunch, and dinner for each day in my menu. And I've been cooking for four so we typically don't have leftovers. If you do have leftovers, feel free to eat leftovers during the week and skip out on some of these meals. That makes it way easier, just don't let your taste buds get too bored!
Whole 30 Meal Plan: Week 2
Monday Whole 30 Recipes
Breakfast – Paleo sweet potato hash with fried eggs
Lunch – Spaghetti squash with Cinncinati chili (use leftover chili from previous week's menu)
Dinner – Homemade zuppa toscana soup (use coconut cream instead of cream, chicken bone broth instead of the broth, and omit the parmesan)
Tuesday Whole 30 Recipes
Breakfast – Monkey Salad (make sure your almond butter is compliant)
Lunch – Chicken lettuce wraps with almond butter dressing (double the almond butter dressing!)
Dinner – Lettuce wrapped burgers, grilled asparagus, and roasted potato wedges
Wednesday Whole 30 Recipes
Breakfast – Twice baked breakfast sweet potatoes (bake sweet potatoes the night before)
Lunch – Grilled chicken and apple sausage with baby carrots and a cup of fruit
Dinner – Balsamic chicken with pre-packaged kale and brussels sprouts salad with your own balsamic vinaigrette and mashed potatoes
Thursday Whole 30 Recipes
Breakfast – Spiralized sweet potatoes, chorizo, and scrambled egg breakfast tacos in jicama taco shells
Lunch – Roasted butternut squash soup with chili roasted pumpkin seeds + add a protein

Dinner – Cauliflower rice jambalaya (use Whole 30 compliant smoked sausage, use cauliflower instead of rice, and omit the chicken broth)
Friday Whole 30 Recipes
Breakfast – Skillet sweet potatoes with hard boiled eggs with and fresh fruit
Lunch -Taco salad using this taco meat recipe, romaine lettuce, and tons of veggies
Dinner – Sweet potato turkey burgers with fresh watermelon and green beans with almonds. I could've eaten these for days!
Saturday Whole 30 Recipes
Breakfast – Turkey and egg breakfast casserole (eat leftovers during week 3)
Lunch – Sausage, shrimp, and veggie skillet meal. I like to use Aidell's or Pederson's sausage.

Dinner – Grilled chicken thighs with this roasted cauliflower side dish (use chicken bone broth instead of sparkling grape juice and half the dates)
Sunday Whole 30 Recipes
Breakfast – Sweet potato and apple breakfast bake (with tons of eggs)
Lunch – Shrimp cauliflower fried rice (cook up the shrimp in the wok first then add it back in again to heat at the very end)
Dinner – Almond chicken with cauliflower puree and roasted carrots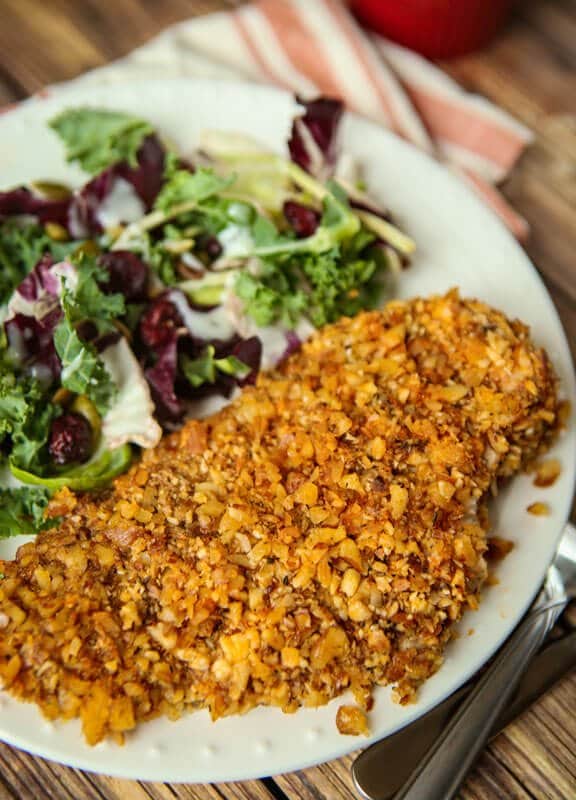 Whole 30 Shopping List
I put together this printable shopping list of everything you will need to make all of these meals. I didn't put measurements because honestly the measurements will be totally dependent on how many people you're cooking for, what size portions you eat, etc. But this should give you a good start when you're hitting the grocery store! Enter your first name and email address in the form below to get the printable. If the form isn't showing up below, click here to get to the form to download the printable files.
Don't forget to pin these Whole 30 recipes for later.