Southwestern chicken salad with creamy cilantro lime dressing is full of flavor and tastes better than any restaurant version you could buy! It's easy to make, absolutely delicious, and perfect for to feed the entire family!
During the summer all I want to do are eat salads. Salads and anything grilled (like these amazing eggplant rolls). And ice cream. I could totally go for some of this lemon ice cream right now!
This southwestern chicken salad is perfect for the summer because it combines both of my summer favorites – salad and grilled chicken.
Pair it with a refreshingly cool cilantro lime dressing for the ultimate summer dinner for the entire family.
This salad makes it way onto our weekly meal planner on a regular basis, and I hope you love it as much as we do!
Southwestern Chicken Salad Ingredients
There are three main parts to this salad – the chicken, the salad itself, and the dressing.
This list includes everything for the salad, chicken marinade, and dressing. Make sure to check out the full recipe at the bottom of this post so you know what goes where!
Romaine lettuce – you can really use any kind of greens you want but romaine gives this salad a nice crunch
Red pepper – cut into strips
Tomato – diced
Cabbage – purple or red works here, you can either buy pre-cut cabbage or just cut it yourself
Tortilla strips – I just used a bag of pre-made tortilla strips
Crumbled feta cheese – you can also substitute this with a Mexican cheese like cotija cheese
Avocado – cut into large cubes
Boneless skinless chicken breasts
Salt
Olive oil
Lime juice
Cumin
Chili powder
Garlic cloves
Oregano
Smoked paprika
Cilantro
Plan Greek yogurt
White vinegar
Something else that would be really yummy is this salad is the caramelized corn that we use in this white chicken chili recipe. It's super easy and the flavor would be an amazing addition to this!
How to Make Southwestern Chicken Salad
This salad is super easy to make and tastes way better than what you can get at your favorite restaurant.
1 – Marinate the southwestern chicken
Mix all of the ingredients for the marinade in a large plastic zipper bag then place the chicken breasts in the bag with the marinade.
Allow the chicken to marinade for at least 30 minutes.
2 – Prep your salad
While the chicken is marinating, cut all of your veggies and toppings (other than the avocado, which you'll want to cut right before you toss the salad)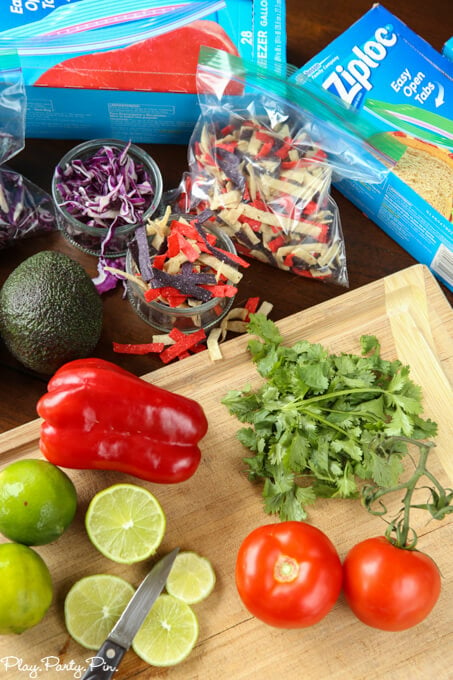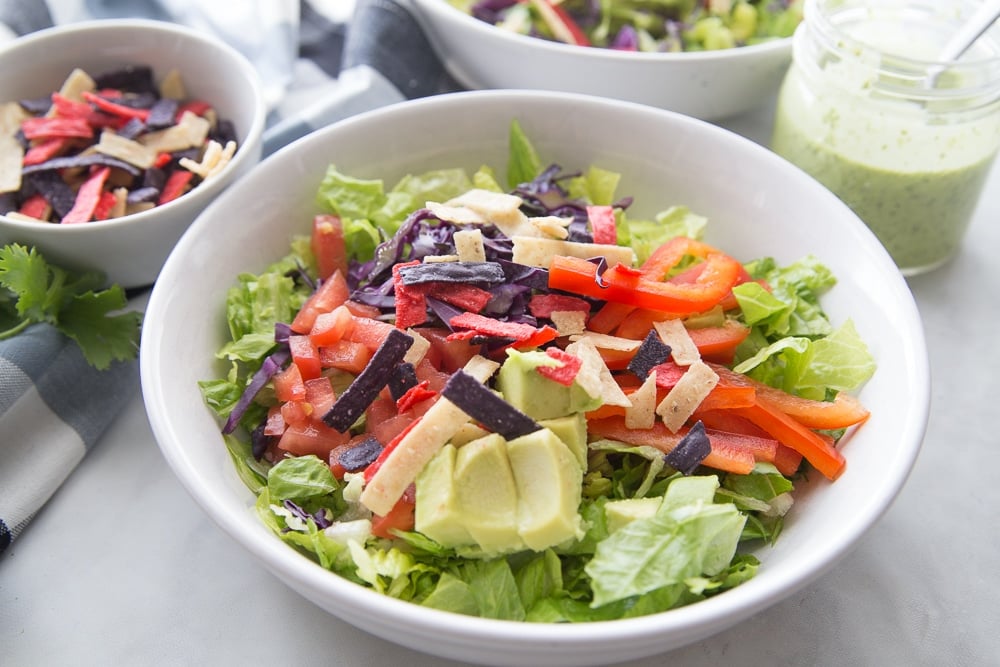 3 – Make the dressing
Make your dressing by blending all of the ingredients together on low. Once it reaches your desired consistency, put it in the fridge to allow the flavors to set and cool before serving.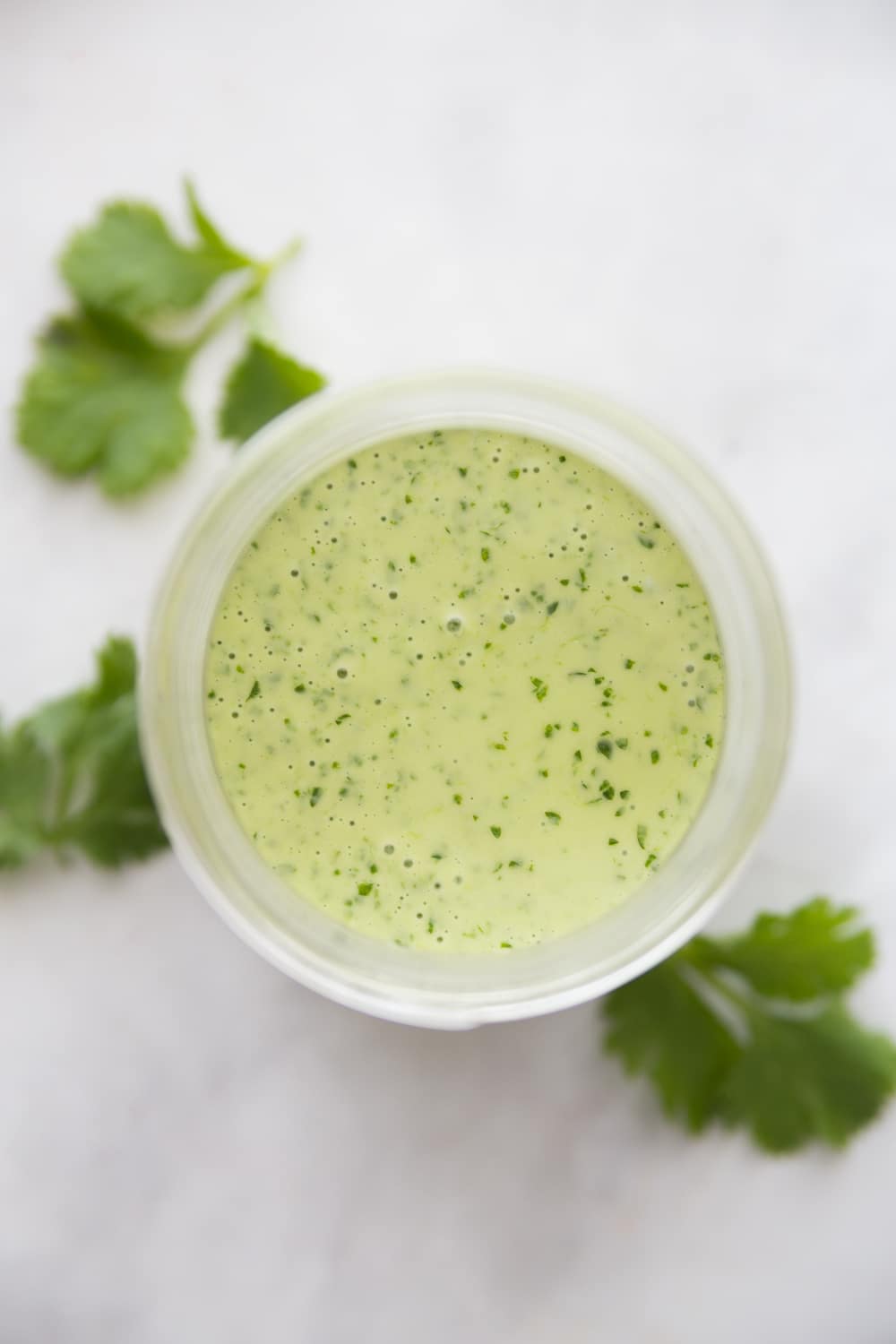 4 – Grill the chicken
Once your chicken has marinated for 30 minutes, it's time to grill it! Grill the chicken either using a regular grill or on a grill-an at medium high heat.
Once cooked all the way through, slice up the grilled chicken and you're ready to make the salad!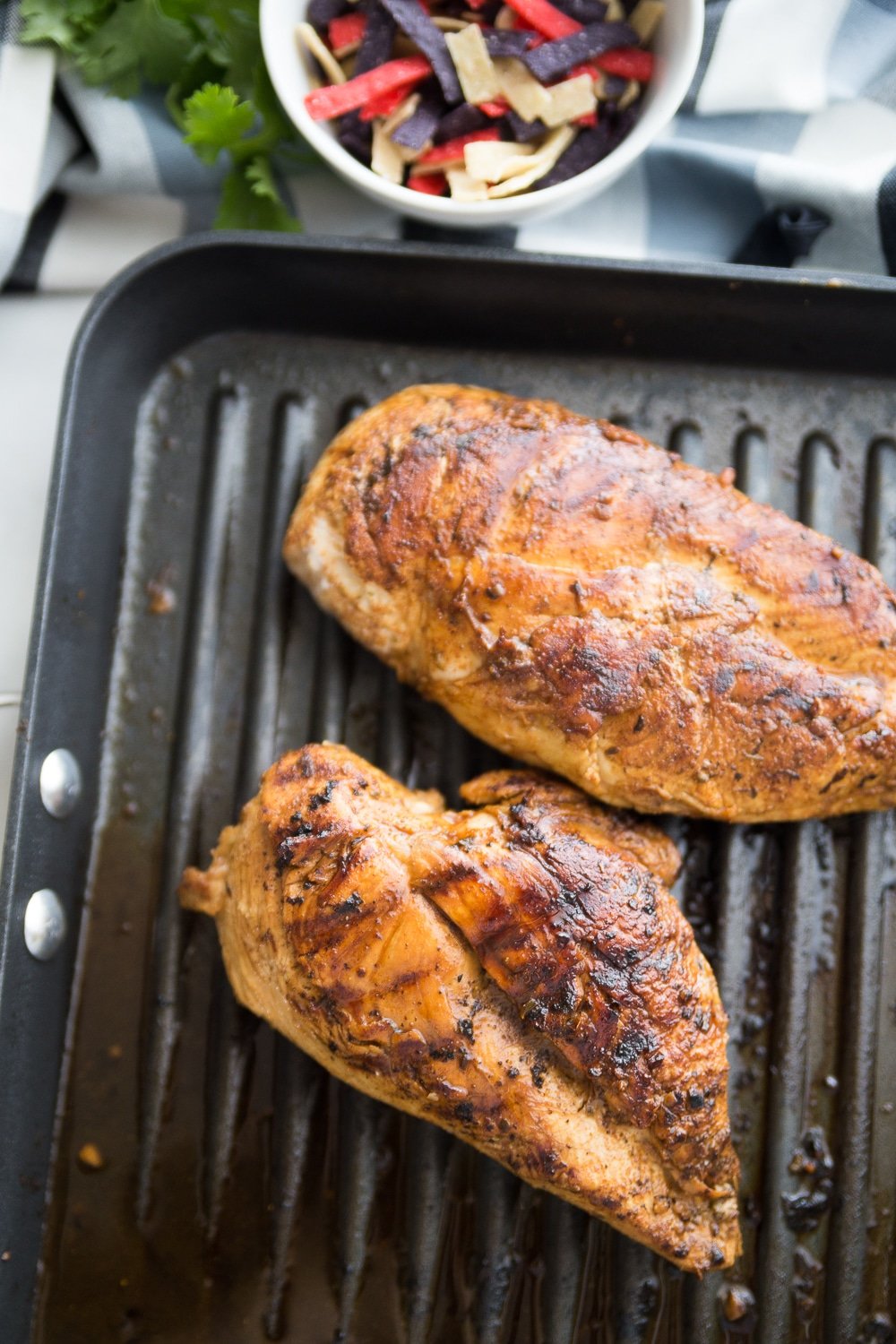 5 – Make your southwestern chicken salad
Combine the lettuce and chopped veggies in a large bowl. Top with avocado, grilled chicken, cheese crumbles, cilantro lime dressing, and finally the tortilla strips.
And there you have it – a delicious southwestern chicken salad ready for lunch, dinner, or eating all week long.
If you do want to use this all week long, I recommend putting the veggies all in separate bags as well as the chicken. Then just combine the ingredients for a salad whenever you're hungry!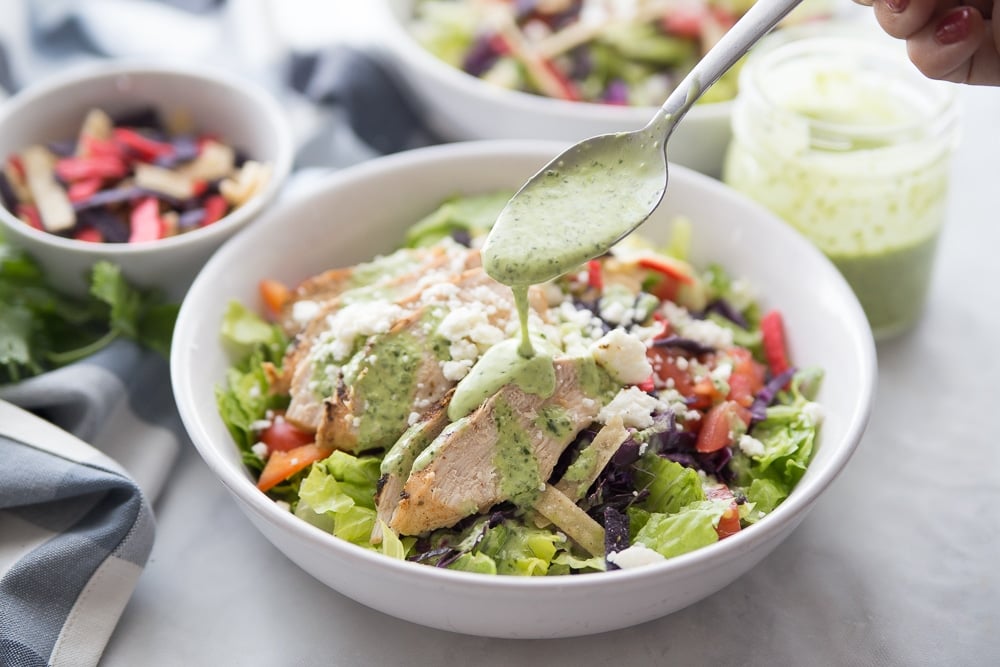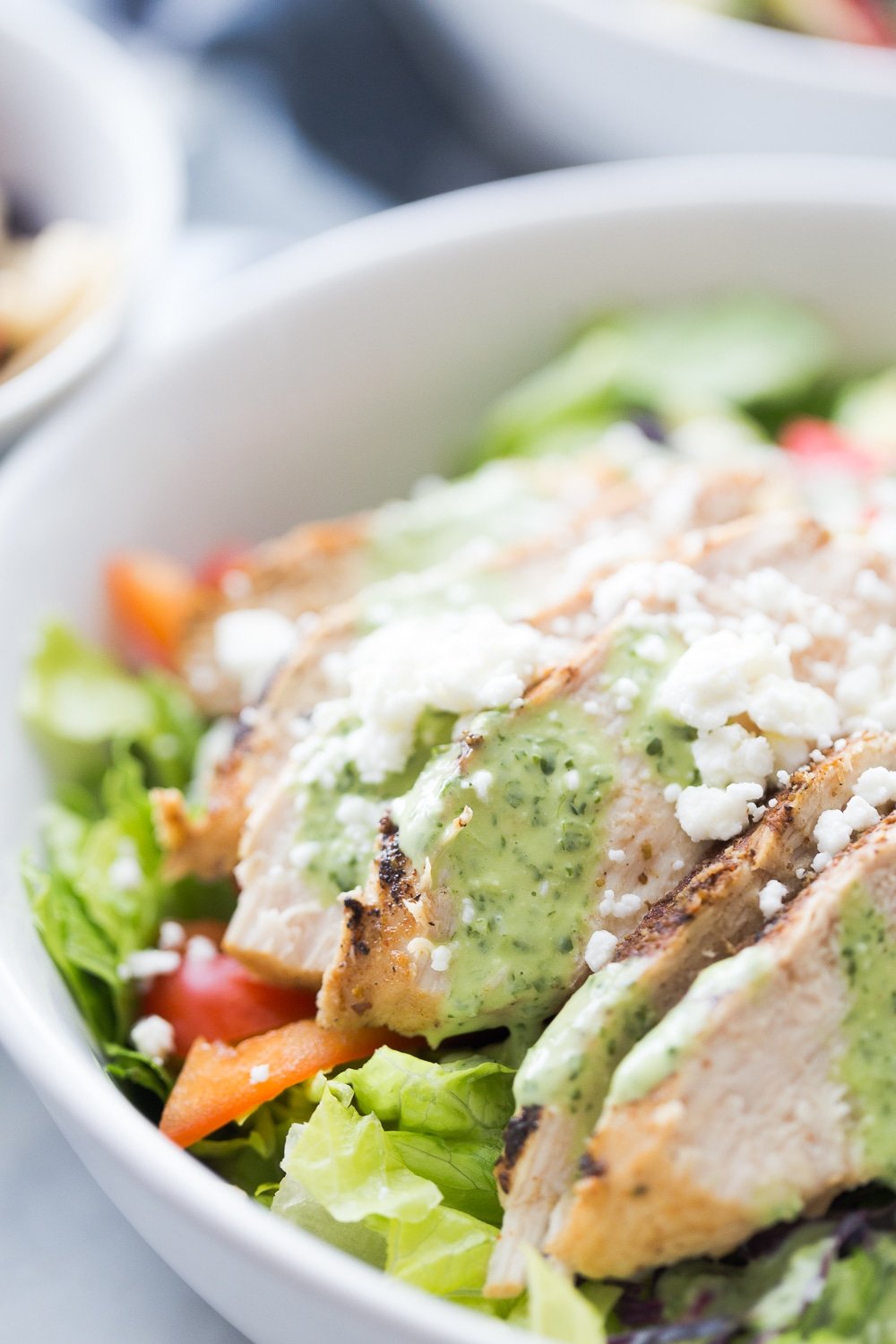 Southwestern Chicken Salad with Cilantro Lime Dressing
Southwestern chicken salad with creamy cilantro lime dressing is full of flavor and tastes better than any restaurant version you could buy! It's easy to make, absolutely delicious, and perfect for to feed the entire family!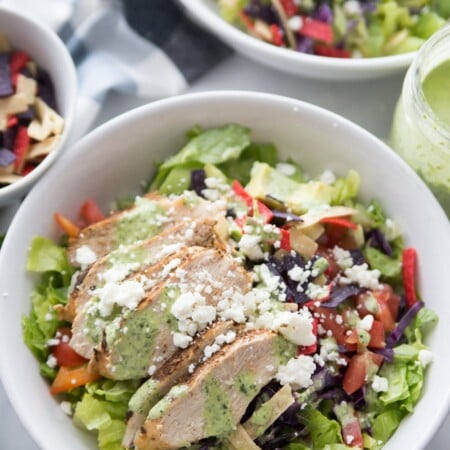 Ingredients
1 head romaine lettuce chopped
2 red peppers cut into strips
2 tomatoes diced
1 red cabbage shredded
1 cup tortilla strips
¼ cup crumbled feta cheese
1 avocado cut into slices
For the Chicken
2 boneless skinless chicken breasts
salt
1 Tbs olive oil
2 Tbs lime juice
2 Tbs water
1 tsp cumin
1 tsp chili powder
2 garlic cloves minced
½ tsp oregano
½ tsp smoked paprika
For the Dressing
1 bunch cilantro
1 garlic clove smashed
⅓ cup olive oil
⅓ cup plain Greek yogurt
1 TBS lime juice
1 TBS white vinegar
½ tsp salt
Instructions
For the Salad
Cut all veggies and mix together into a salad.

Top with cheese, avocado, tortilla strips, and chicken.

Drizzle with cilantro lime dressing.
For the Chicken
Salt both sides of your chicken.

Mix all ingredients together in gallon size plastic zipper bag.

Add chicken and allow to marinate in fridge for at least 30 minutes.

Grill on medium-high heat until cooked throughly. Slice into thin slices.
For the Dressing
Put all of the dressing ingredients into a blender.

Blend on low or medium low until dressing reaches the desired consistency. Make sure not to blend too high or you'll lose the flavor of the cilantro.

Check flavor and add salt to taste.
Tips & Notes:
Feel free to add more or less of any of the salad ingredients depending on your taste preferences. Some other toppings that go well with this include black beans, caramelized corn, and fresh cilantro.
Nutrition Info
Calories: 532kcal, Carbohydrates: 38g, Protein: 23g, Fat: 35g, Saturated Fat: 6g, Cholesterol: 45mg, Sodium: 584mg, Potassium: 1676mg, Fiber: 13g, Sugar: 16g, Vitamin A: 18935IU, Vitamin C: 220mg, Calcium: 237mg, Iron: 5mg
More Delicious Chicken Recipes
Don't forget to pin this southwestern chicken salad for later!