This homemade ham fried rice recipe is made by combining leftover rice, diced ham, veggies, and special seasonings for one delicious meal that's on the table in under 20 minutes!
While this post is sponsored by Perdue Farms, all ideas and opinions are 100% honest and my own. This post also contains affiliate links. If you purchase via these links, I may receive a small commission at no additional cost to you.
Homemade Ham Fried Rice Recipe
I love a good fried rice whether it's at a Japanese Teppanyaki restaurant or at home from my own stovetop.
I think the thing I love most about fried rice is that it's so easy to make. And it's a great way to use up leftovers in your fridge.
Ordered teriyaki chicken takeout and it came with rice? Use the leftover rice in this fried chicken!
Have leftover baby carrots or veggies that are going to go bad? Use them in this fried rice!
Made ham for Easter or Christmas? Use the leftover ham in this delicious ham fried rice. Because no one ever actually eats an entire ham for the holidays – we always have leftover ham!
Ham Fried Rice Ingredients
This fried rice calls for specific ingredients, but I've included a note below where you can totally substitute other ingredients you may have at home!
Also, I've written out this recipe as a using leftover recipe that'll make two servings or feed two people for lunch. You can totally double or triple it if you have more people to feed!
Honestly, you may want to double or triple after you've tried it once because I personally think it's the best ham fried rice recipe I've ever tried!
2 tablespoons salted butter – we typically use grass-fed but anything is fine, just make sure it's salted
2 eggs – whisk them up before you start cooking
1 cup frozen peas and carrots – this is where you can get creative, we used frozen peas and carrots but really you could use any veggies you want. The one thing to make sure of is that you need to dice them small so they cook fast and work well with the size of the ham and rice.
1/2 cup diced ham – we used this Niman Ranch Applewood Smoked Ham, and it was absolutely delicious in this ham fried rice!
2 cups cooked rice – you really want the rice to be cold leftover rice but if you don't have leftover rice, you can cook some rice just for this dish.
1 tsp garlic granules – garlic granules or garlic powder work fine
1/2 tsp granulated ginger – I recommend the granulated ginger, not fresh ginger
2 tablespoons coconut aminos – we fell in love with coconut aminos when we did Whole 30 a few years back. If you don't have coconut aminos, soy sauce works as a substitute.
1/2 tsp toasted sesame oil – this gives the fried rice its incredible flavor but out of all of the flavorings above, this is the one you can skip if you just can't find it
The most important ingredient in this ham fried rice is the diced ham, so you want to make sure it's good quality (and delicious) ham.
I love Niman Ranch ham (and their other meats) because like all of the Perdue Farms brands, their meats are always:
No antibiotics or added hormones ever
Certified humane
Fed 100% vegetarian diets
Raised by multi-generation farmers
You can order many of Niman Ranch's meats plus other high-quality meats on the Perdue Farms website to be delivered straight to your door. Use this link and you'll receive an extra 15% off any order PLUS free shipping on any orders over $119!
It's a great way to extend the amount of time you can stay home without having to shop at the grocery store right now.
And unlike many of the cardboard box deliveries you're probably getting right now, Perdue Farms has really thought about protecting the environment and sustainability with their home delivery program!
Every package includes:
A donation from Perdue Farms to the Arbor Day foundation
A reusable and recycleable grocery bag
A pollinator seed packet
A box made out of 100 percent recyclable cardboard
Plus a really fun science experiment for kids! The box insulation is made with Greek Cell Foam that totally disintegrates in water! I gave it to my 1st grader and told him to put it under water, and he had a blast dissolving it all down the sink!
It's a great way to talk to your kids about the environment while doing something fun. You can see how it dissolves in the video below.
How to Make Ham Fried Rice
Like I mentioned before, making fried rice is super easy and almost foolproof (as long as you don't burn it). Here's a quick overview but make sure to check out the recipe card below to get exact measurements, times, and details!
If you're more a visual person, there's a video below to show you how easy this is to make!
1 – Scramble your eggs.
Add the butter to a hot saute pan or wok to coat the pan. Scramble your eggs in the hot butter then remove and set aside.
2 – Cook your veggies and ham.
Add the veggies and ham to the hot pan and cook for a few minutes, until warmed.
3 – Add the rice.
Push everything to the sides of the pan and make a well in the middle then add your rice. And some more butter.
Have you ever noticed those huge slabs of butter they use at Japanese steakhouses? Yep, butter makes fried rice amazing!
4 – Mix the ham fried rice together.
Mix the rice into the veggies and stir it all together until everything is evenly divided and the rice is hot and fried.
5 – Add the seasonings to the fried rice.
Add the ginger and garlic and stir to combine. Since this is such a fast dish, make sure to stir continuously throughout this process – that whole no burning thing.
6 – Finish it off.
Finish it off by adding in the scrambled eggs and coconut aminos (or soy sauce). Mix it all together so the eggs can evenly combine into the rice.
Remove from the heat and mix in the toasted sesame oil to finish it off. Then serve hot!
Ham Fried Rice FAQs
I get a lot of the same questions about this ham fried rice recipe. I've answered the most popular ones here but if you have other questions, leave me a comment and I'll do my best to answer!
What goes well with ham fried rice?
Honestly you don't need to serve anything with ham fried rice if you're using it as your main dish. And that's the goal – when you include the ham, it's meant to be a main dish!
But if you just want it as a little side, it would be great with this orange chicken or these baked turkey meatballs!
Can you freeze ham fried rice?
It's so quick and easy to make that I don't recommend freezing the fried rice; I recommend just making a new batch instead.
How long will fried rice last in the fridge?
This fried rice can be stored in the fridge in an airtight container for up to five days then I'd throw it out and just make a new batch. I wrote this recipe specifically to make a small amount so hopefully you don't have too many leftovers to store!
Can fried rice be made with fresh rice?
Yes, but the rice won't fry up quite the same, so I recommend using leftover rice so it doesn't stick together as much as fresh rice will. It could be rice you made for these teriyaki chicken bowls or even something like this coconut rice.
Easy Ham Fried Rice Recipe
This easy ham fried rice recipe is made by combining leftover rice, diced ham, veggies, and special seasonings for one delicious meal that's on the table in under 20 minutes!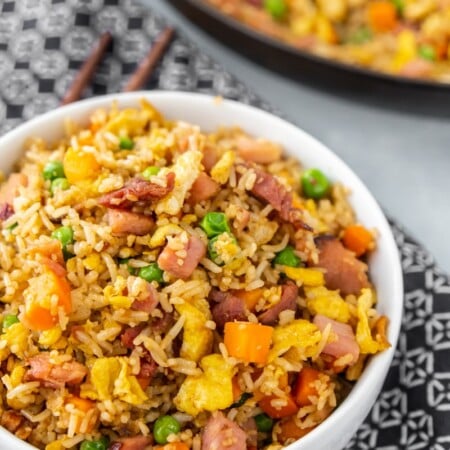 Ingredients
2 TBS salted butter
2 eggs whisked
1 cup frozen peas and carrots thawed
½ cup ham diced
2 cups leftover cooked rice
1 tsp garlic granules
½ tsp ginger powder
2 TBS coconut aminos
½ tsp toasted seasame oil
Instructions
Heat 1 TBS of the butter in a large saute pan or wok over medium-high heat. As the butter melts, swirl it around the pan to coat the entire surface of the pan.

Immediately after the butter melts, add the whisked eggs and cook until scrambled, about 2-3 minutes. Remove the egg and set aside.

Add the peas and carrots and ham to the hot pan and cook for 2-3 minutes, until warmed.

Make a well in the middle of the pan by pushing all of the ham and vegetables to the side. Add the last tablespoon of butter in the middle of the well and stir until melted.

Immediately add the rice and stir into the melted butter for 1 minute.

Stir ham and vegetables into the rice and continue stirring for 3 minutes until the rice is hot and fried.

Sprinkle the garlic and ginger over the fried rice and stir continuously for one more minute.

Add the egg and coconut aminos and stir for one more minute.

Remove the pan from heat and stir in the sesame oil until combined.

Taste and season with extra coconut aminos as needed. Serve immediately.
Tips & Notes:
Can substitute any of the following ingredients:
Soy sauce for coconut aminos
Garlic powder for garlic granules
Other frozen veggies for the peas + carrots (make sure they're diced small)
Nutrition Info
Calories: 521kcal, Carbohydrates: 57g, Protein: 20g, Fat: 23g, Saturated Fat: 11g, Cholesterol: 215mg, Sodium: 975mg, Potassium: 370mg, Fiber: 3g, Sugar: 1g, Vitamin A: 7235IU, Vitamin C: 8mg, Calcium: 59mg, Iron: 2mg
More Easy Dinner Recipes
Don't forget to pin the best ham fried rice recipe for later!