It's almost time for the most galactic day of the year – Star Wars Day! It's almost May the 4th and this list of May the Fourth be with you activities is perfect for celebrating all day long!
What is May the Fourth Be With You Day?
I honestly have no idea where it started – probably as soon as the first Star Wars movie came out back in the day. Or maybe someone just decided a few years ago that May the Fourth would be Star Wars Day – but now it is!
I mean you get it right – May the Fourth, may the force be with you? It's a day to celebrate all things Star Wars.
From doing a Star Wars scavenger hunt to making star shaped pizzas, there's a whole lot of fun to be had on May the Fourth day!
Ways to Celebrate Star Wars Day
Whether you're looking for May the fourth be with you recipes, games, or crafts – this list has it all. There's something for every hour of the day and more!
You could also try to recreate some of the best Disneyland food from Star Wars: A Galaxy's Edge since we can't actually go there right now!
And if you need more ideas, I've got an entire list of Star Wars party games that would be fun to play too!
Or you know what else would be awesome? Star Wars trivia all day and the winners get one of these Star Wars gifts!
If nothing else, make sure to watch one of these Star Wars movies (or all of them in a huge movie marathon) on May the Fourth! Now onto the list!
May the Fourth Be With You Activities
Let's start out with things to do – games, activities, science projects, and more! Many of these are designed for kids but would totally work for adults as well!
Start the day off with these Star Wars Jedi training activities from Play Party Plan, inspired by the ones kids do at Hollywood Studios!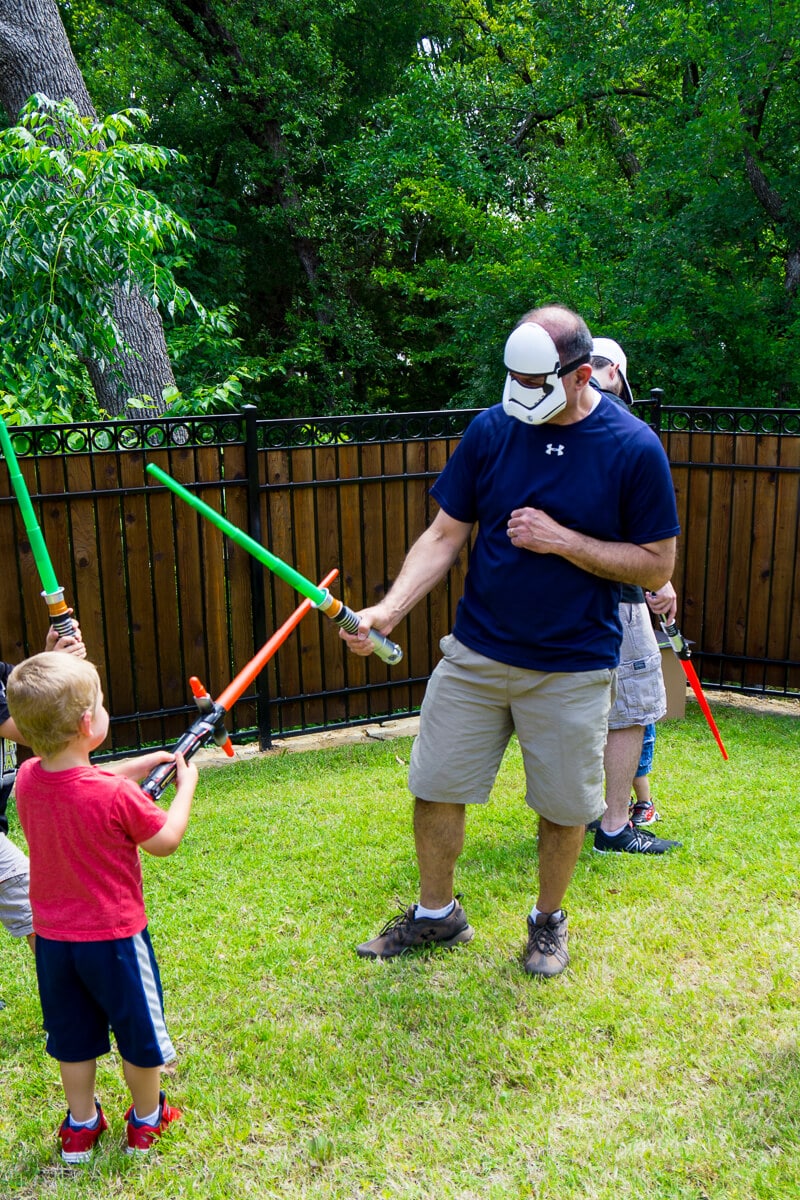 Send kids (or adults!) on this Star Wars scavenger hunt full of clues using popular Star Wars movie quotes. It's one of a kind and awesome!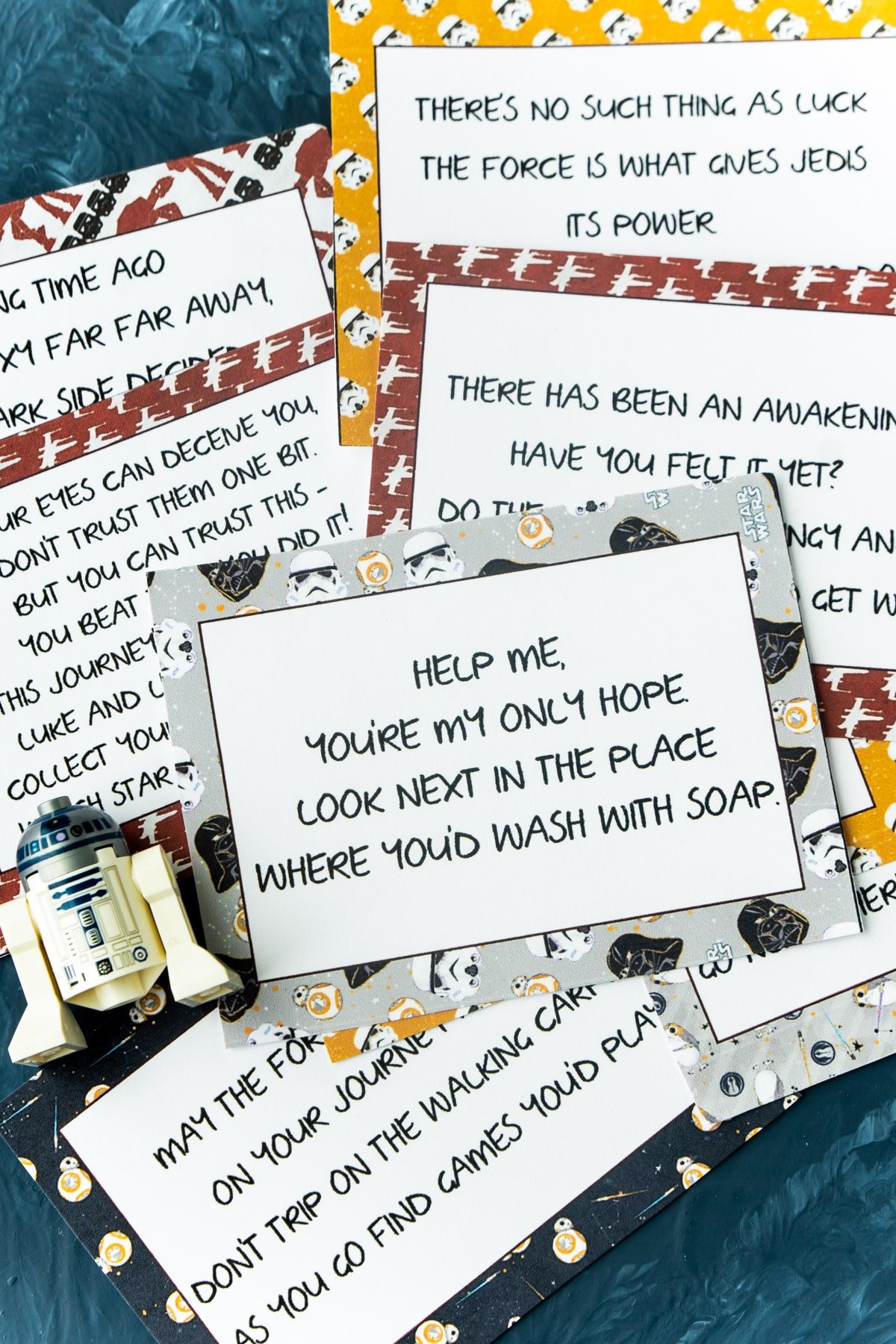 Take a break from all the activity and sit down with these Star Wars coloring pages – perfect for colorers of all ages!
Or step it up a notch with these fun Star Wars Color by number pages – perfect for some a fun break from all of the Jedi challenges!
See if people would rather fly the Millennium Falcon or a pod racer with these Star Wars would you rather questions!
Have an epic Star Wars game night with any of these Star Wars board games – there's everything from kid games to ones that'll be fun for even the most skilled game player!
Have a Star Wars themed trivia night or just test your knowledge with these fun Star Wars trivia questions from Play Party Plan. There are kid-friendly questions, easy questions, and more challenging one for the true Star Wars buffs!
Or how about another form of fun Star Wars trivia in this printable Star Wars two truths and a lie game from Play Party Plan? Show how well you know your favorite Star Wars characters as you try to figure out which two are true and which ones a lie!
Make this Star Wars Slime from The Farm Girl Gabs with plenty of sparkle for hours of fun!
Watch a few of the movies then try your hand at decoding Star Wars quotes in these decoding worksheets from 3 Boys and a Dog.
I'm not sure it gets better than this Star Wars Lego Science experiment from Fun A Day! You have to use science to rescue Lego figures from their demise!
If you want something for younger kids, this Star Wars Printable I Spy from Simple Everyday Mom fits the bill. I know my boys would love it!
Create this DIY Star Wars Sarlacc Sand Pit using instructions from Joy in the Work for an entire day full of not so sandy fun!
Make education more fun with these fun Star Wars Addition Mats from Royal Baloo. The kids will never know they're learning!
Make your own paper jet fliers with these DIY tutorials from Klutz.
Use these DIY instructions from Frugal Fun 4 Boys to build your own Lego Mini Star Wars Ships all from regular Lego pieces you probably have around the house – if you're family is anything like ours!
Or go a little more high-tech and make one of these mechanical droids instead. We did this with my kiddo and he loved driving around his own R2D2!
Another one for smaller kids – these Star Wars Cutting Practice Worksheets from Simple Everyday Mom are perfect for practicing cutting in a fun way!
Print out this free printable Build a Droid Activity from Pickle Bums and let kids and adults create their very own paper droid.
This Star Wars erupting death star science project from Little Bins for Little Hands looks fun even for adults!
Play Star Wars bingo and give the winners any of these inexpensive Star Wars gifts!
Finish off the day by writing down all of the fun things you did in these printable Star Wars journals from Natural Beach Living! Better yet, use one page for this year, one page for next year, and so on.
You'll have an entire series of May the Fourth be with you fun to look back year after year!
Star Wars Day Crafts
While crafting can be considered an activity and could fit into the list above – this list is full of things you can make for fun. Yes, I said make for fun! So if you'd rather spend your time making cute things, then this list is for you.
Tons of great Star Wars Day craft ideas!
Pretty sure everyone would be happy busting into this Death Star piñata from Mom Endeavors for some movie snacks!
Get out some rocks and make your own Star Wars inspired painted rocks like this Chewbacca one from Twin Dragonfly Designs.
These DIY Cyber Krystal Necklaces from Creative Green Living might be one of my favorite May the Fourth Be With You crafts ever!
Forget the regular planet mobile and make this DIY Star Wars Planet Mobile from Mad in Crafts instead!
This Stained Glass BB 8 Craft from Raising Whasians is easy enough for kids but could also be perfect for adults who want to get a little messy!
Forget the kids and try your own hand at embroidery with this awesome Star Wars embroidery template from Hodge Podge Craft!
Crochet up your very own Chewbacca (he's so cute) with this pattern from On Poki.
These Star Wars resistance charms from As the Bunny Hops are way easier to make than they look – and they look amazing!
Make these Star Wars light up cards from Left Brain Craft Brain then give them to friends with Star Wars themed treats!
These Yoda puppets from Coffee Cups and Crayons are so easy to make and so cute! No mess required!
Somehow Crafts by Amanda has made ewoks even cuter with these Cardboard Tube Ewoks.
Have more toilet paper rolls left over? Use these instructions from The Mama Workshop to make this Star Wars X-Wing Craft.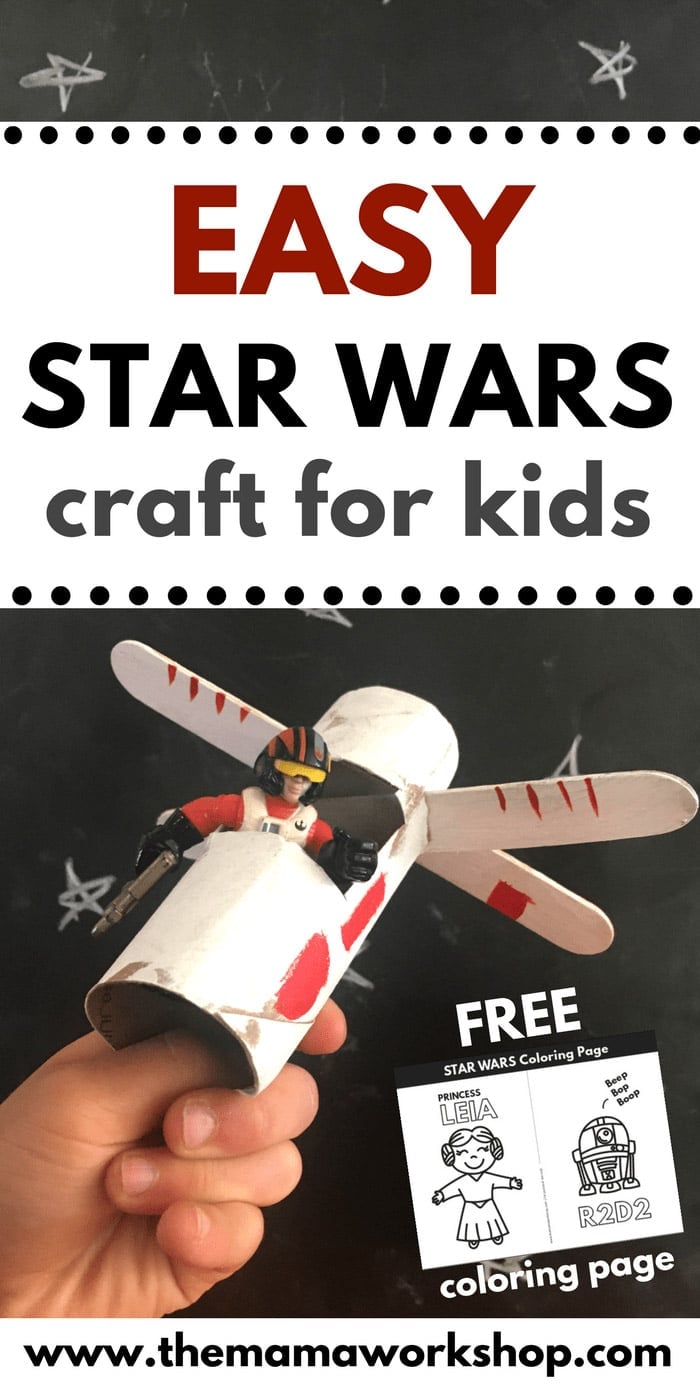 Star Wars Day Recipes
We all know how important food is right? While we may not be able to get into A Galaxy's Edge for some of the blue milk to celebrate May the Fourth, we can make our own Star Wars recipes at home.
Because is there really a better way to celebrate May the Fourth than with Star Wars chocolates.
These DIY Star Wars candies from Stress Baking are not only delicious, they're fun to make!
If Star Wars Day is ever on a weekday, I know a few kids would love to get this Star Wars Bento Box from Tara's Multicultural Table for their lunch!
You can't forget the light sabers! These cookies from Kim & Carrie include decorated cookies and sweet light saber toppers!
Make the best dessert even better with these Star Wars inspired rice krispy treats from Cupcake Novelties.
Dip Oreos in white chocolate and finish off with some colored icing in these R2D2 inspired cookies from A Sparkle of Genius.
These Darth Vader cupcakes from Dancing Through the Rain take a little bit of work but man, they're amazing!
Or go a bit simpler and jump to the light side and make these Princess Leia cupcakes from Totally The Bomb instead!
This Star Wars snack mix from The Decorated Cookie would be perfect for a movie marathon!
Turn Ding-Dongs into Stormtrooper treats with this easy tutorial from Whisky N Sunshine!
And while my chocolate-hating son probably wouldn't like these, I think these chocolate Chewbacca donuts from My Joy Filled Life look divine!
Last but not least, you can't forget the drinks! This R2D2 punch from This Mommy Saves Money looks out of this world!
If this still isn't enough, here's a book with over 200+ more Star Wars activities for May the Fourth be with you day!