Play this dicey words game at any holiday party when you need something fast, fun, and full of laughter! All you need to play are some dice, markers, and cups making it one you can plan out last minute when you just need something fun to do!
It makes one of the best Halloween games, Christmas games, or even Thanksgiving games to play before everyone starts gobbling down the turkey! Just switch out the words you use and you're good to go!
Fun Holiday Party Game
I personally love games that you can play over and over throughout the year just with a holiday spin. It makes games go so much further when you can repeat them for any holiday or occasion!
This dice word game is just that – we played it at our latest Halloween party, but you could easily turn it into one of the most fun birthday party games, Christmas party games, or even Valentine's Day games with just a switch of the words you use!
The goal of the game is simple – be the first one to get all of your letters rolled and unscramble your word. But like with any dice game, the winner is all in the luck of the dice!
Whether you're planning a youth group activity, a classroom party, or a family holiday party – this one is a great addition to any occasion!
Why You'll Love This Game
Educational – this game requires just the right amount of brain power mixed with a bit of luck. It makes it a great choice for classroom parties as long as the kids are old enough to unscramble words.
Easy to make – you can make this entire game in less than five minutes. It doesn't get better than that.
Great for all ages – with so many versions of this game, both kids and adults will enjoy it.
Supplies
Supply Notes
Blank dice – I highly recommend buying these blank dice to save time. However, if you have a ton of random dice lying around and want to take the time to tape over the numbers so you can write on the blank tape there's no reason you can't. I like to buy blank dice in bulk to use for all sorts of things!
Buckets – use whatever you have on hand, cups work just as well.
Sharpie – so I wrote a black Sharpie here because that's what we used, but you could also use a colored Sharpie if you want to match your holiday theme (orange for Halloween, green for Christmas, etc.). Also, see my note below about switching up the Sharpie for a wet-erase marker to add playability to your game!
Make it Reusable
If you want to be able to play this game multiple times with different words on the dice OR if you want to play this for multiple holidays, there are two ways you can do this.
Write individual words in specific colors. If you want each set of dice to have six different words, write all of the letters for one word all in orange, all the letters for a second word all in purple, etc. Then instead of just having to roll letters, you have to roll the right color letters.
Write individual holidays in specific colors. Do the same thing I mentioned in #1 but color-coordinate for different holidays. So one set of dice might have the word costume in orange, the word reindeer in green, and the word bouquets in red.
Use wet erase markers instead of permanent markers. Wet erase markers won't get wiped off when people are rolling the dice but will when you add water to wipe them off. I didn't recommend this as the main option because most people don't have these lying around.
Use tape marked with letters on top of the dice (you could also do this on top of regular dice) and just remove the pieces of tape when you're done.
How To Make The Dice Game
This game should take you less than five minutes to make. Just pay attention to what game you want to play below so you know what to write on each dice. Here's everything you need to know to prep the game in two simple steps.
1 – Choose Your Game
Below you will find several ways to play the game with various words you can write on the dice. Once you know what version you want to play you are ready to write on the dice.
Once you've figured out your game style, pick your words. You'll need one word per player or one word per team if you're splitting into teams.
Tip!
Choose words that will work for the age of your players. If you're playing this with elementary students, stick with shorter simpler words like ghost for Halloween and Santa for Christmas. If you're playing with teens or adults, you can get into the larger words like gratitude for Thanksgiving and valentine for Valentine's Day.
If you're doing this for a birthday party, it would be fun to make the words all characteristics or things about the guest of honor. For example, if it was my husband I might put the word cowboys because he loves the Dallas Cowboys! Or gourmet because he likes gourmet food!
2 – Write On The Dice
Once you have picked your game and the words you want to use, grab a blank dice.
Using a Sharpie, write the first letter of one of the selected words on one of the blank spaces of the dice. For example, if your word is costume you will write a C on the first blank dice.
Pick up a second dice and write the second letter of the same word (in the example above, you'd write the letter O) on the second dice. Continue writing the word with one letter going on its own dice until the word is finished.
Write the remaining words onto the blank dice with one letter per dice, making sure there is one set of dice per player or per team if you're going to play in teams.
That's it! Now you are ready to start playing.
Tip!
Write in all capital letters and write as legibly as possible. Numerous people are going to have to read the dice and capital letters are more universally easy to read! You definitely want to avoid cursive letters!
How to Play This Dice Game
I have come up with three fun versions of this dice game that I know you are going to love. I've also included a list of words that work well for these games for the main holidays you might want to play for!
For each version of the game, you will have to write on the blank dice before you are ready to play.
Option 1: Unscramble
To start this game, you are going to need to pick words that have the same amount of letters in them. You will want one word per player, so if you have six players you will want six different words.
Once your words have been picked, write them on the dice as directed and place each jumbled word into its own bucket or cup.
To start the game, give each player their own bucket.
Then when you say go, players roll the dice out of the bucket onto the table or a flat surface. Any dice that are rolled with the letter facing up can get set aside as good to go, all other dice get put back into the bucket for the next roll.
Then the players will immediately roll all of the dice that were put back in the cup again. Any that land letter side up are moved to the area with the previous dice that already landed on the letter.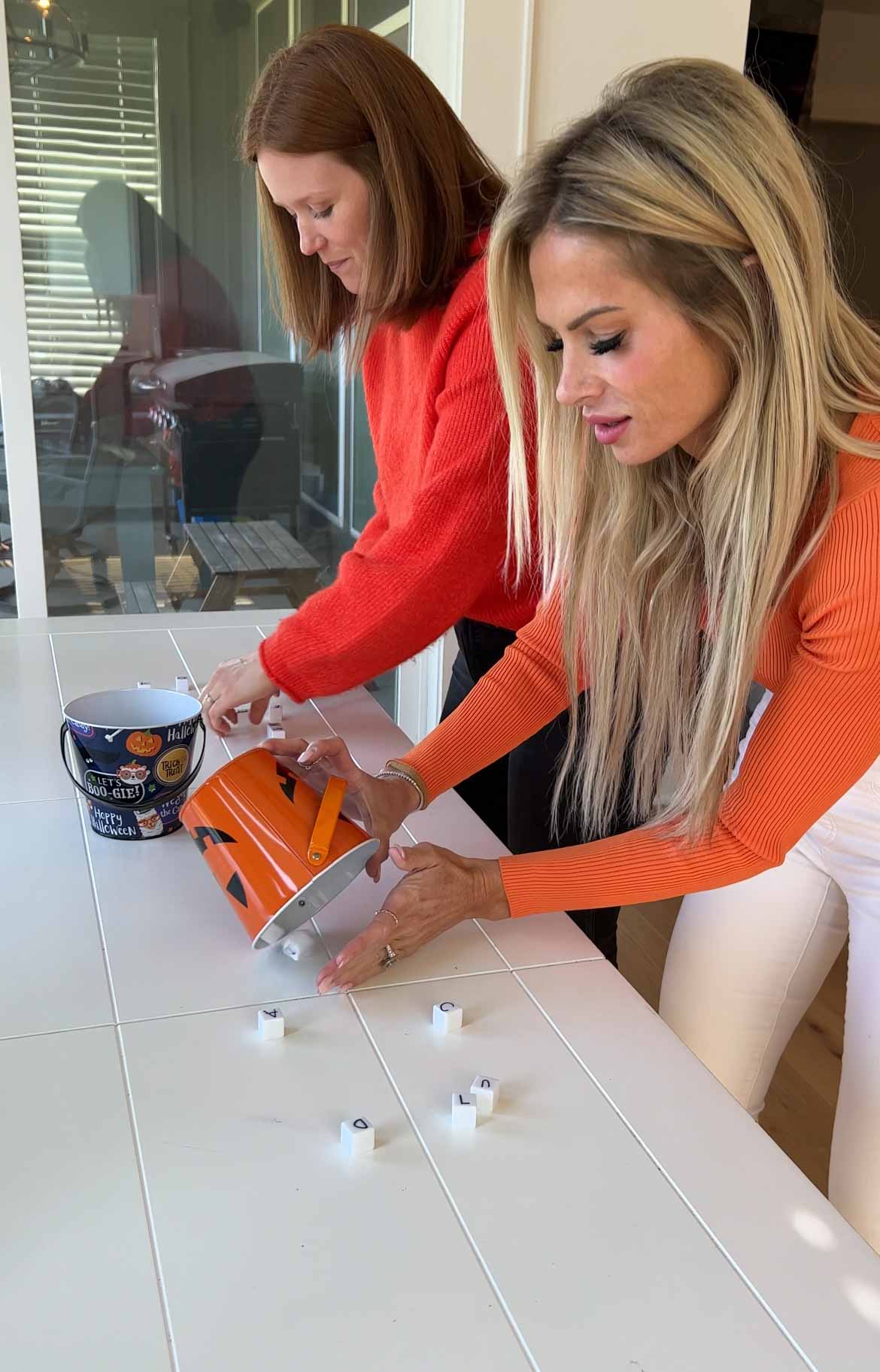 Continue this process with all players rolling continuously and simultaneously until all of dice land with a letter face up.
Then the race is on to unscramble the letters to figure out their word. The first player to roll all of their dice letter side up, unscramble their word, and show you their word is the winner!
Downgrade for Young Kids
Write all of the words onto a board or large piece of paper that kids can reference for unscrambling the words. This makes it much easier than having to pull a holiday word like sleigh out of thin air.
Option 2: Guess The Word
This game is played in mostly the same way as the unscramble option but the goal is to guess the word with the least number of letters rolled possible, not to roll and get the entire word unscrambled first.
Players still are given a set of dice with letters spelling out a word and a cup. This time, however, instead of rolling all of the dice at once, players will choose one dice from the bucket to roll. If it lands letter side up, they can either choose to guess the word or roll another die.
Keep going, rolling one die at a time, until the player is confident in guessing the word on their dice. They should guess their word quietly so others don't hear the dice, just the person in charge who knows the words.
If they're incorrect, they lose one of their remaining dice permanently (it can't be rolled).
If it's correct, they earn one point for each dice they used to get the answer. So if it took them five letters to get it correct, they would earn five points.
Once everyone has guessed their word and earned points, switch the sets of dice and do two more rounds with each person having three different words.
The lowest number of points total over three rounds wins.
Or if you only want to play one round, the win goes to whoever has the least amount of points after one round OR the person who did it the quickest in the case of a tie.
Option 3: Speed Rolling
For this, you will need at least two packs of dice possibly three depending on how many players you have. Write as many five-letter words as you can on your dice. Don't worry about keeping the words separated for this game. Or if you'd rather not do words, you could also just do random letters including all of the most popular wheel of fortune letters and vowels!
Place all the letters in a container in the center. This can be a bucket, cauldron, large bowl, or whatever you have on hand.
Have each player pull out six dice without looking. At the same time, players will start to roll one die at a time. If they roll a blank space they roll again until they get the letter face up.
Once they have all of those six letters face up they can start to create a word. If they don't have enough letters to create a word they pick one die to put back into the bucket then will pick up a new die from the middle bucket and roll until they get the letter face up.
Once one word is completed the player may grab five new die and try to complete a new word using the new six letters.
Players are only allowed six letters at one time. They must always discard one into the bucket before they can grab a new one from the bucket and continue.
Continue playing until one person has been able to spell out two five letter words to win the game!
Option 4: Team Game
Instead of playing any of the games above with just one person per set of dice, split your group into teams and let teams roll together.
One person rolls first and moves all of their letter side up dice aside then passes the cup with remaining dice to their teammate. Continue rolling and passing the cup until all of the dice are letter side up.
Then unscramble or guess the word together as a team
Bonus Game!
If you want to do something similar to this game with preschoolers or kids who are still learning how to read, try playing with stickers instead. Add stickers to one side of dice and kids have to roll until they get all of the stickers face up!
Of if they know their numbers, you could just have them roll until they get a 1, 2, 3, 4, 5, and 6 and have to put it in order!
Holiday Words
It can hard to be come up with longer words that would work for games like this so don't worry because I've done it for you! I've created a printable sheet with common words for all of the major holidays you might play this game for!
You can download the printable list here!
Easy Prize Ideas
This game can be played on its own or grouped with other party games. If you are looking for prizes to give out after each game I suggest using something small like candy or holiday trinkets.
If you are planning to play this game with others and plan on having an ultimate winner at the end here are some great bigger prizes. I specifically went with Halloween prizes since we played this for our Halloween party, but you could interchange any of these for any holiday you want!
More Party Games
If you're looking for more awesome party games, these are some of our more popular ones that work for any occasion!