These fun free printable Halloween gift tags are perfect for adding to Halloween gifts, boo baskets, Halloween favors, and more! With eight different designs, there's something for every spooky season event and festival!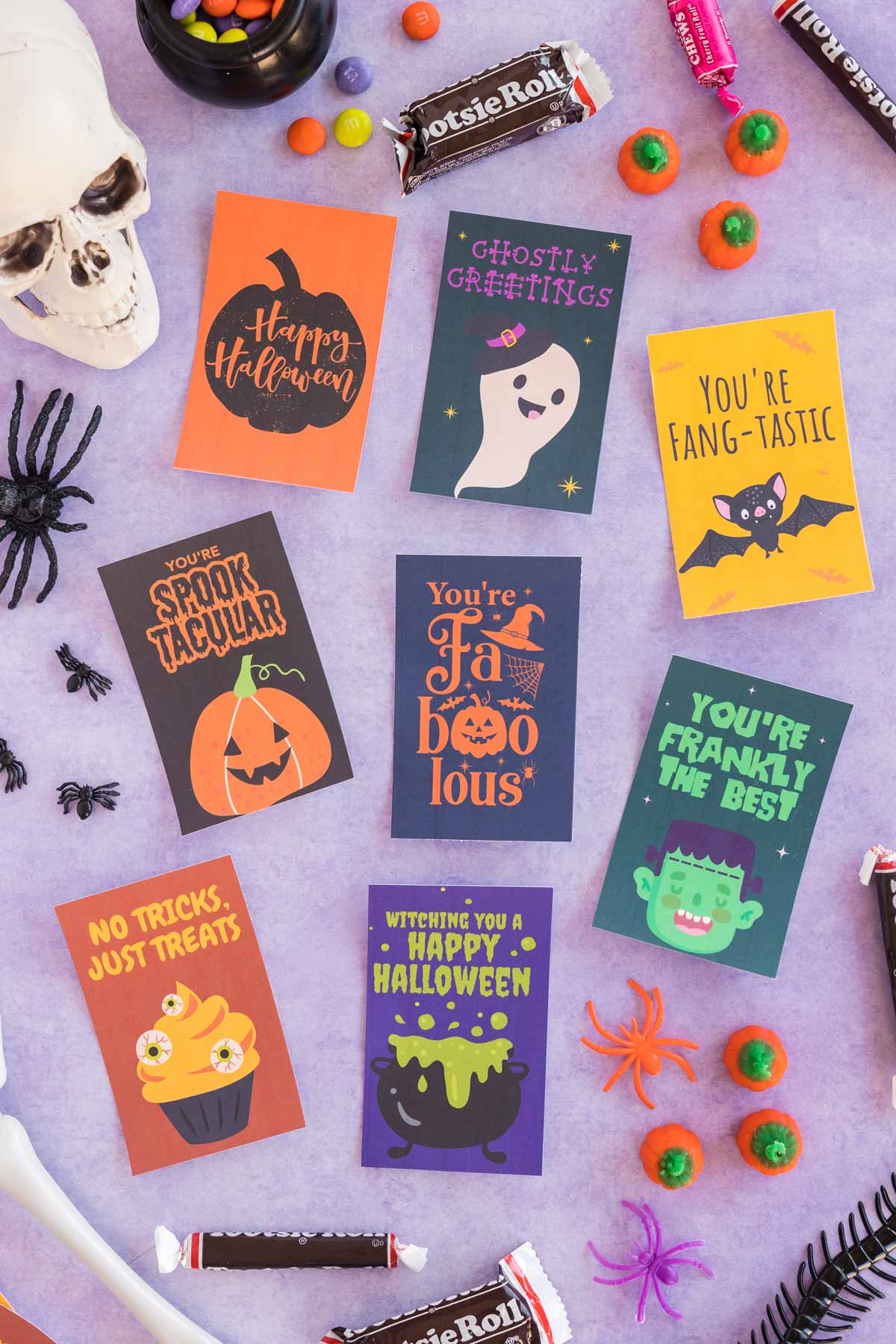 I'm a big fan of corny sayings and cute printable gift tags in case you couldn't tell from the Christmas gift tags that I shared last year!
This year I made this fun set of Halloween gift tags using popular Halloween sayings, Halloween characters, and Halloween icons like black cats and pumpkins!
They're perfect for adding to bags of Halloween treats for school, giving out with Halloween party favors, or even just using in little picture frames for Halloween parties!
There are so many ways you can use them during the Halloween season, but I'm going to show you just a few of my personal favorites!
Pick out the ones you like the most, add them to whatever you want, and it's the perfect way to add personal touch without any extra cost!
Add to Party Favors
The easiest way to use these is to add the printable gift tags to party favors for kids (or adults) to take home on their way out.
I have a couple of examples below of how I've used the free printable Halloween gift tags along with a gift or favor! For these ones, I just used a little baking twine, a fancy clothespin, and taped the Happy Halloween tags to the goodie bags.
This was much cheaper than buying printed goodie bags and way cuter too. I mean the cute gift tag really makes these bags pop even though they're literally just brown paper bags.
There are a ton of ways you can do this by simply changing out the color and tag. And all eight of the Halloween greeting options on the tags would work well for this!
Add to Spooky Treats
There are a number of the free Halloween tags that could work well with Halloween treats like in the examples below. Just bag up or wrap up some homemade Halloween goodies or store-bought ones like a candy bar or fill a bucket or mason jar full of Halloween candy.
Add one of the printable gift tags to the treats for the perfect finishing touch! The no tricks just treats tag was perfect for bag full of our chewy monster cookies! And if you don't want to do homemade cookies, grocery store cookies are great too!
If you need some Halloween treat ideas that would work well to give to people, I've got you covered! These are some of our favorite treats that would work well with the different designs included with these spooky Halloween gift tags!
Add to Boo Buckets
If you're planning a little you've been booed fun, these would make a great addition to any of those boo buckets you are passing out!
Make a ghost themed boo bucket and use the ghost tag. Or a bucket for one of your girlfriends and use the fab-boo-lous tag! There are so many different personalized tag options to choose from, there's really something for any neighbor or friend you might boo!
Add to Goody Bags
Okay so I know that goodie bags and party favors are technically the same thing but as someone who is currently planning a classroom Halloween party, I see party favors as more gifts or a small gift (like the book we did at the end of my son's Pajama party) at the end of a party and goody bags as a bag full of treats and small prizes to hand out.
And these printable tags are perfect for those end of the party treat bags too!
Fill up bags of candy or other treats, tie them off, and add a tag to the top for a cute student gift idea to take home! I swear the cute tags make the candy taste even better and if not, they're still cuter to post on social media!
Give out as thank yous
Speaking of Halloween classroom parties, you could use these tags to give little gifts with Happy Halloween gift tags to the parents who do all the hard work planning and executing the parties. Or give them to teachers with a little sweet treat (or gift card) inside!
I know I'd appreciate getting one of these that reminds me that I'm spooktacular!
Add to kid's lunch boxes
If you're the kind of person who adds lunch box notes or lunch box jokes, these would be fun to add for Halloween week! There are a couple of options that are cute and would give kids a good laugh!
You could even add them in with some Halloween candy for a sweet surprise!
Hand out to neighbors and friends
Let kids take some of these and hand them out to their neighbors and friends with a personalized message on the back! I know we talk about doing random acts of kindness during the holiday season but it's never too early to start!
How to Print the Favor Tags
With so many different types of Halloween gift tags, I decided to make full sheets of each of the individual tags. I recommend downloading the PDF (get it below), printing on white card stock, and then cutting them out individually.
You can then either hole punch a corner to tie them onto your gift or favor bags or just tape them on as they are!
More Free Halloween Printable Ideas
If you're looking for more fun Halloween printables, these are all free and ready to download!
Download the Halloween Gift tags
Enter your first name and email address in the form below to get the printable PDF.
You will receive a link to download the PDF to your email within minutes. If you do not see the form, click here to get to it.
If you'd prefer to not provide your email, you can purchase a copy of the gift tags in my shop here.
If you do not see the email immediately after you fill out the form, make sure to check your promotions, spam, and junk folders.
Please note that you will be downloading a digital file – no physical products will be mailed to you. Also, these are not editable Halloween gift tags – they are free to download as you see them in this post.
The file will come with:
Use policy (personal use only)
Eight pages of Halloween gift tags in PDF format