Considering a trip to Disney World right now? Everything you need to know about visiting Disney World during a pandemic from safety precautions to cost to tips for making the most of your visit.
I love all things Disney so when our schools were pushed back a month giving us a free week before school starts, I jumped at the chance to take to my family to Disney World for a week.
I had a number of people ask me about our experience since you know we're in the middle of a pandemic and everything.
So this post is for all of you who are considering going to Disney World but a little nervous about whether it'll be safe enough for your family.
Bear with me, it's long, but I tried to give people as much information as possible to make an informed decision before booking a trip. Lots of helpful photos, tips, and tricks!
This post will address questions like:
What kind of safety precautions does Disney have in place?
How well did people actually follow said precautions?
Was it crowded or easy to physically distance from others?
How it is wearing a mask in the heat?
What were the lines like?
What's different now from previous visits?
Do you still get to see characters?
Did you really have to wear your masks all day?
Did our family feel safe?
Is it still magic?
And everything else that I personally would've wanted to know before we went on our trip.
Things it won't address:
What to pack, but only because I have the ultimate Disney packing list here already and it's updated for 2020!
Is it safe to go to Disney World right now? This is a personal decision and I'm not getting into the debate with anyone.
Epcot's Food and Wine Festival – but again only because I have a full post on the 2020 Epcot Food and Wine Festival here!
What's open and closed right now – things are changing so fast that I personally just can't keep up.
So let's get started!
Disney World Safety Precautions
The biggest question I've heard from people wanting to know about our trip is what precautions Disney World has put in place for people visiting.
You can see the full list of actual precautions and policies but it's different to hear from someone who has actually been there.
I do highly recommend you read that list though because things are constantly changing and something I experienced may be different now than when I went.
Health Screenings
Before you can even get into Disney World, you're required to have your temperature taken. Anyone with a temperature of 100.4F or above will not be allowed entry nor will their party.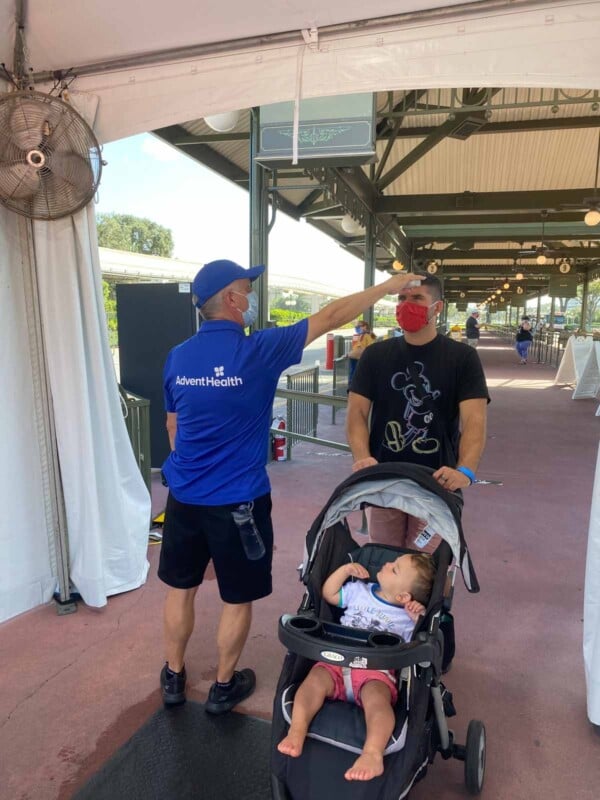 There's a reason I recommend adding a thermometer to any theme park packing list! Check temps before heading to the park to avoid heartbreak.
And also, if you're feeling sick at all – don't chance it. Just stay home and visit again when you're feeling better.
Physical Distancing
I've been to Disney World probably ten different times in the past three years. We've done it during the most crowded spring break weeks and during some less busy weeks.
I've never seen Disney World as empty as I did during our visit. Granted we went the week before Labor Day, which is normally pretty quiet. But Disney is requiring reservations prior to going to the parks and limiting occupancy so the parks can never get that full.
But there were times that I felt like we were there on a private media event, not a public day. Here are a few photos to show you how much space we had around us at times, in the middle of Fantasyland. That never happens.
That being said – there were still people. Disney did a great job of placing lines, stickers, etc. throughout the park encouraging physical distancing. There was also a recording constantly reminding people to stay spaced out and to keep masks on.
In general, I'd say people mostly stuck to it except at Epcot for the food and wine festival. We went on Saturday and things were a bit crowded and not as spaced out as the rest of the week.
Disney also made alterations to many of the rides to physically distance people in the ride cars that needed it. They skipped rows of seats, only put one party in cars, skipped boats all together, and did whatever necessary to keep that essential six feet of distance from guests.
They were also limiting the number of people using transportation. One party to Skyliner cars, only seating about 1/2 the seats (if not less) in busses, and not even using parking lot trams. We rented a car, and I still recommend renting a car at Disney World.
Lastly, they were limiting the number of people who could be in stores at a time so often there were lines, especially at Disney Springs and in A Galaxy's Edge, to get into stores. You'd wait outside until someone came out and you could go in.
Sanitizer and Hand Washing
One of the things that I personally appreciated most was that Disney only had the typical hand sanitizer stations throughout the park, they also had actual foot push hand washing stations throughout.
We're in team hand wash over sanitize here so being able to wash our hands without going into the bathrooms was great. And I personally appreciated that while they had sanitizer and hand washing stations available, they didn't put it on you every ride like Universal Studios.
Cleaning
Disney cleans each of their rides every two hours – either on the odd or even hours. Typically rides near each other are staggered so Flight of Passage would be on the even hour and Nav'i River would be on the odd hours. This plays a lot into your strategy for the day and I'll address that later.
We also saw them regularly wiping down handrails, dining tables, counters, and pretty much every other surface around. We brought our own disposable disinfecting wipes, but I personally never really felt cause to use them after watching their rigorous cleaning policies.
Masks
Disney World Resort – including all the parks, resorts, and Disney Springs require everyone age two an older to wear masks everywhere other than at the pools. You can see their full mask guidelines here.
Masks can only be removed in their relaxation areas designated specifically to be non-mask areas. And if you are eating and drinking and stationary. No more walking between kiosks to check out all of the best Disney World snacks – if you're eating, you're stopped. Period.
Oh and no removing masks for photos or on rides (even ones you may get slightly wet). If you do remove your mask, you won't get your ride photo, which can be heartbreaking if you don't know ahead of time.
It almost made me regret even spending time putting together matching Disney shirts since I don't love how photos look with masks.
I was really nervous about the masks, I can't lie. Masks get really hot and masks in Florida get even hotter. I'd heard recommendations to wear the paper masks, but those annoy for me for different reasons so we went with cloth masks.
It was hot. It was a lot. And I likely wouldn't do the same week with masks again because the heat (felt like over 100 most days we were there) was just sweltering.
There were days that we ended up leaving parks early just because we were so over the masks and the heat. And when I say we – I mean me and my husband. My 7-year-old did great. We were very ready for bed by the end of the day.
That being said, it is doable. These things can help:
Taking stationary snack breaks throughout the day
Test out different masks before your trip to find the ones that are the most comfortable. My husband and I like the Old Navy ones and my son loves the ones he got from this Etsy shop.
Drinking lots of liquids (stationary of course)
Bringing at least one, if not two, backup masks to switch into
Planning at least one sit down meal for some AC and mask free time
Visiting mask free relaxation zones
Getting into the parks early before the heat is too bad
Bring plenty of masks for your trip unless you're planning to wash and sanitize them back in your hotel room. We packed 15-20 per person for our eight day trip and used almost all of them.
Tip!
Park hours are fairly short right now going into fall and winter. Try to get to parks as early as possible to take advantage of the cooler morning hours since many parks are closing before it cools down at night.
Did people follow precautions?
I'd say for the most part – like 98% most part – people followed precautions. I saw people using hand sanitizer, people were mostly staying physical distanced (other than while eating for Food & Wine), and masks were being worn properly above the nose.
And Disney was enforcing said rules, encouraging people to follow them in the kind way cast members do.
Did I feel safe?
Our family has been fairly conservative when it comes to safety for the past six months, but we have not been on total lockdown.
We have seen my immediately family (siblings), our neighbors, and my son is playing on sports teams. We wear masks when we go public places, but we do go to the grocery store and Target.
That being said, I think the question of if Disney is safe is a loaded one that I won't touch. However, my family personally felt safe – within our parameters of safe. We never felt too close to anyone else, people were wearing their masks, Disney was doing their job and keeping things clean.
No one sneezed on me or coughed on me or made me feel like I was going to come home with the virus. I know there's always the possibility of that happening but yes, we personally felt safe.
Lines and Rides
With Disney requiring reservations and limiting the number of peoples in the park each day, you'd think that the lines would be dead right?
The answer is yes and no and kind of complicated.
The lines for big rides that normally have long lines (Mine Train, Slinky Dog, Flight of Passage to name a few) were WAY shorter than normal. We waited about 20 minutes for Slinky Dog, walked right onto Flight of Passage, and waited 20-30 minutes for Mine Train.
Here's a quick snapshot of the lines at 12:48 PM on a Thursday in Magic Kingdom. The only thing over 15 minutes is Mine Train, and it had just reopened after being closed for an hour.
However, the complicated part is that some of the rides that normally would have shorter wait times have gotten a bit longer depending on how the ride had to be adjusted for physical distancing AND if you hit it on a cleaning cycle.
For example, Pirates of the Caribbean and Jungle Cruise were some of the longest lines we saw all day in Magic Kingdom. We actually ended up skipping them because the lines were between 30-45 minutes all day, which is too long to keep my 15 month old in any line.
You can see in the next snapshot Jungle Cruise and Pirates of the Caribbean (in the bottom left) are easily the longest lines.
Why so long? There's only a limited number of boats and now they have to limit the number of people on the boats for physical distancing. The ride is slow-moving, long, and you're only able to get a fraction of the people through in the same amount of time as you used to.
Plus, they're cleaning all of those boats every two hours, which means a 10-15 minute break at the top of the hour plus a slight delay as that delay peters off after they open.
Compare that with a ride like Peter Pan that really didn't need too many modifications since the flying ships are already spaced far apart, they only hold one party anyway, and they're constantly loading and unloading. Peter Pan took us maybe 10-15 minutes, and it's normally one of the longest lines in the park.
So yes, some lines are shorter, but some lines are longer than you'd think they would be. It's totally dependent on the ride.
Line Strategy
I've mentioned it a few times – Disney cleans every ride every two hours. That means if you're in line at the top of a cleaning hour, you're going to have about 10-15 minutes added to your wait time. Then the next 30-45 minutes or so after a cleaning, the waits still seemed to be a bit higher because they were getting through the line backup from cleaning.
The ideal time, if you can figure it out, is trying to get in a line in that sweet window from like 45 minutes after a cleaning to about 30 minutes before a cleaning so you don't risk running into a cleaning delay.
So for instance, if the Finding Nemo ride cleans on odd hours (1, 3, 5, 7, etc.) then you'd want to ride between 1:45 and 2:30. This gives you the best chance of just waiting for the normal wait time – not any cleaning time or cleaning delay.
Wait times in the app fluctuate more than I've ever seen before and from our experience, it was totally based on the cleaning times. Pirates of the Caribbean and Jungle Cruise, rides that are right next to each other, see sawed back and forth throughout the day as one went through cleaning and the other moved further from its cleaning time.
We waited in a lot of five minute rides. We walked on a lot of rides. And we waited in a lot of 20-30 minute lines that were 30 minutes the rest of the day when we mistimed the cleaning. It's definitely a different strategy than many of us are used to, but it's worth trying out.
Tip!
Ask before you get in line when they clean next. If it's within 15 minutes, try out another ride close that cleans on the opposite hour.
What's different now?
Okay now let's talk about some major changes that Disney has had to make due to current circumstances. These are always changing so make sure to check out Disney's most current updates here before you go.
Hours & Opening
I'm not sure if this is typical of fall hours or if it's pandemic related but the hours of the parks were pretty short when we visited. Animal Kingdom was only open from 8-6, Magic Kingdom was 9-7, Hollywood Studios was 10-8, and Epcot was open from 11-9. I think the hours are even shorter today as of writing the post.
But here's the biggest thing you need to know about the hours. While parks don't officially open until the hours listed on the website or app, every park we went to actually opened about thirty minutes before that.
And when I say opened, I mean let people go get into lines and started running the rides. Hollywood Studios opened at 9:18AM the morning we went (official open time was 10AM) and the line for Mickey and Minnie's Runaway Railroad (super cute by the way) was already crazy long by the time we got in the park around 9:40AM.
Epcot officially opened at 11AM, and we were on and off Frozen before 11AM ever hit.
So my recommendation is to be to the parks at least 30 minutes before official open time. In the past, that was always a recommendation as well to get through security, etc. but now they're letting people in early to minimize the crowds at rope drop.
That being said, Disney transportation is starting up later and they're holding parking later than normal so it may not be possible to get there that early. For instance, we stayed Disney's Riviera and the Skyliner didn't open until an hour before Hollywood Studios did.
Tip!
Most bigger ticket lines (Slinky Dog, Mine Train, Splash Mountain, Frozen) had longer lines in the morning because they were letting people get in line early. If you can't get in line really early, save those lines for later in the day when the initial crowds die down.
Getting in the Parks
The process for getting into the parks is slightly different right now than before. It's not a bad different, but it is something to know.
Parking – Disney is still directing parking, but they're now parking cars every other spot first and then filling in those spots after they've gotten down the line. It was REALLY nice to not be parked right on top of another car.
Trams – Trams were not running at least from what we saw but the parks were empty enough that the walk to the park from the parking lot was short.
Ticket scanning – You still scan your magic band or ticket but now there's no fingerprint required.
Security – They have metal detectors now that you walk through (rather than the typical bag check) and strollers still get checked by hand. It's way faster than the bag check from my experience.
Overall getting into the parks took us no time at all, especially compared to the lines that we've seen in the past. I hope that they figure out a way to keep the entrance process this smooth in the future, although I'm guessing a lot of it is just because of the limited capacity as well.
Rides
Surprisingly most rides are open, even ones that were down for refurbishment when we went in February (Test Track!). There are a few that are closed like People Mover but mostly rides are open and running.
This was just rides. There are a lot of shows and other attractions that are currently closed so make sure to check out your app!
Other than the physical distancing and seating less people to car, they also made some changes to queues and cars to add walls, barriers, etc.
Here are some of the other ride specific changes I noticed to rides during our visit. I've included my opinion on whether I like the changes or not as well.
Flight of Passage – they changed the pre-ride video sequences from two sets of videos to one and got rid of the first room where you wiggle around a bunch. I love this change and hope it sticks around for good because you get into the ride so much faster.
Millennium Falcon – only one party is allowed in each flight for physical distancing. The reason I mention it is because it means that if you're like my family who only had two people, we were both pilots and everything else in the ship was turned on auto-pilot. This one is essential for safety purposes, but I'm hoping (and assuming) this one will go back so you have a full team working together.
Rock N Roller Coaster – you skip the Aerosmith studio video that explains the ride. I don't particularly care much about the video, but for my 7-year-old who was going on this ride for the first time ever, he missed that portion and story.
Ride of Resistance – While the ride is not different, the process for getting a boarding pass is. Instead of just one time at rope drop, you can now try to get a boarding pass both at 10AM and 2PM.
Food
One of the things I missed the most was being able to get all of my favorite Disney snacks. Tons of the best Disney World restaurants – both quick-serve and sit-down were closed – are closed, and I really missed all the food.
That being said, if you don't really care about the food or you bring in your own food and snacks, this may not be a big deal to you at all.
One big thing to note is that there are not any true character dining meals happening right now. There are two (Garden Grill and Toppolino's Terrace) that have characters that do come near your table, but it's definitely not the same hug and greet character experience.
A couple of other things to note about food changes in general:
Ordering – Most restaurants have you scan a QR code to get to a menu rather than having paper menus. You can either use mobile ordering or order like normal, but they are encouraging mobile ordering.
Walk-up Times – There's a new feature in the app that allows you to see walk-up times for previously reservation only restaurants near you. It's pretty awesome because if someone cancels a reservation, now they can fill those with walk-ups. It made getting into some restaurants a lot easier than normal!
Lines – Food lines were the shortest I've ever seen them (other than the Food & Wine ones on Saturday). Park capacity is limited and unlike rides that had to make a lot of changes to how many people can ride, cleaning procedures, etc. food services don't really have to make those changes. So less people means way shorter lines.
Openings – A lot of restaurants are closed. Check the mobile app to see what's actually open before high-tailing across the park to get you favorite treat only to find out it's closed. They are constantly reopening things so make sure to check out the latest on the Disney Parks blog to see what's reopening when!
Parades & Fireworks
There are currently no nighttime firework shows running at Disney World. I'm guessing this is because people tend to gather in huge crowds to watch, and I'm not sure if these will be able to come back anytime soon. Even with limited capacity in the parks, if everyone gathered on Main Street to watch the Happily Ever After fireworks show, you still wouldn't really be able to maintain six feet of distance from everyone else.
Same with parades, but I actually love what Disney has done to make up for no parades. They have random character cavalcades that go through the parks throughout the day. There's no real schedule or plan for these that I've seen so you just have to be in the right place at the right time. But don't worry – they happen often so you'll more than likely see at least one or two during your vist!
They're really fun and a great way to get to see the characters in a different way than normal. Here are just a few examples of ones that we saw during our visit.
There are also random musical appearances throughout the day. We saw a marching band in Magic Kingdom and a floating band in Animal Kingdom.
Characters
Speaking of characters, things are definitely different. No more meet and greets. No more autograph signing. No more character dining.
That doesn't mean characters aren't around. They are – they're just a little bit further away from all the guests. You'll see them in the previously mentioned character cavalcades, you'll see them randomly placed throughout the parks, and you'll see them from a safe distance.
I actually loved having some of the characters just randomly around the park, especially some of the more obscure characters like Cinderella's stepsisters on the back of Cinderella Castle, the Country Bears hanging out on top of the Country Bear show building, and princesses waving from the Main Street train station.
In Hollywood Studios, Star Wars characters like Storm Troopers and Chewy were seen waving from above the droid pods. So they're still around – they're just not quite as accessible as they once were.
Tickets & Reservations
One of the biggest changes that Disney World has made is that they are now requiring you to get park reservations using their Disney Park Pass system before you can enter a park.
Things to note about the reservations:
You can only get a reservation for one park per day. They are not offering park-hopper tickets so you can't do one park in the morning and one park in the evening.
Park reservation availability is different for people staying at Disney resorts (easiest to get reservations), people just buying tickets (harder to get reservations), and annual passholders (hardest to get reservations).
Annual passholders can only make park reservations for up to 3 days at time unless they have a resort reservation as well and then they can make it up to the length of time they're staying in the resort.
Reservations are by park so it's possible Hollywood Studios (with its limited capacity) reservations will be gone for a particular day long before say Animal Kingdom.
You can check park availability before booking anything here.
Another big change is that currently you cannot purchase new annual passes for Disney World. Current annual passholders can renew but new ones cannot be purchased, even if you're like me and your entire family but one person has an annual pass. I would've loved to buy an annual pass but instead had to buy a 4-day ticket instead.
Is it still magic?
Yes and no. You'll probably hate that answer, but I'm going to explain. Richie and I talked about this at length before I wrote this post and I realized that at the end of the day – it depends on what makes Disney magical for you.
If Disney is magical because of the rides and the theming then yes, 100%, Disney World is still magic. This is actually the best time ever to go to Disney World because you can get on all of the rides without dealing with fast passes and long lines.
If Disney is magical because of the food, then I'd say not right now. Disney has done amazing things with their food, especially themed snacks and treats, over the past few years and this was something I felt was really missing during our visit. They just released some new fall treats that I wish had been there when we'd visited.
But overall, I missed the food. And I really missed being able to walk around and enjoy the latest themed ice cream cone as I explored the park. This bugs n grubs cupcake though, so good!
If Disney is magical because of the extras like shows and parades, I'd say not right now. The character cavalcades are a fun little bonus, but they're not the same as Happily Ever After or a full on parade.
If Disney is magical because of the characters, I'd say not right now. Characters are around but seeing characters from a distance is not as hugging characters, interacting characters, and watching your kids eyes light up as they get to truly meet Mickey Mouse for the first time.
And I really missed the character meals. We always do at least one, if not two, every visit, and it was sad to not start our trip with one.
If Disney is magic because of the cast members, then yes, 100%. While you can't see their smiles, cast members are doing their best to make people feel welcome and to help them feel the magic.
We went to Universal Studios the two days prior to our visit to Disney World and the difference between their team members and Disney cast members is a stark difference. I'd take a Disney cast member any day. I felt welcomed, helped, and supported throughout our visit.
Disney is magic for all of those reasons. But the biggest reason that Disney is magic for me personally is because it's an escape. It's somewhere I can go enjoy a fantasy world and leave the cares of the world behind with my family. It's Disney World – not my regular every day world.
And for that particular definition of magic – I personally had a hard time with our visit to Disney World and feeling the magic this time around, not because of anything Disney was doing or not doing but because we're in the middle of a pandemic.
Instead of being able to escape to a world of fantasy and fun, I was constantly on edge making sure that my mask was on, making sure we were standing far enough away from the next party in line, making sure my kids didn't touch everything in site, making sure we were following all the rules, and so on.
Having to add all of those cares and stresses left me exhausted and perhaps just too tired to feel the Disney magic. Even though it tried hard, Disney couldn't erase the anxiety and uncertainty we're all currently facing.
That being said, I'd still do it again because Disney magical moments like this one are better than most of the moments we've had at home.
Should you go?
If you're asking from a safety perspective, that's up to you. I've given you details on precautions Disney has put in place. You're the only one who can determine if that's safe enough for you.
However, if you want to know from just a should I go from a value/cost perspective, here's my take.
In my mind, there are three types of Disney World guests.
Disney fanatics – these are the annual passholders, the people who go multiple times a year, the people who go into the parks and don't care if they ride or do everything because they know they'll be back (or they've visited recently).
Disney fans – these are the people who visit Disney World regularly, like once every year or two. They try to make the most of their time but aren't heartbroken if they can't do everything because again, they'll be back.
Once in a lifetime Disney guests – these are the people who have saved for a year to go to Disney, they've planned every second of their trip to make sure they get in every meal, every ride, and every magical moment. They don't know when or if they'll be back.
If you're a Disney fanatic and you don't care if you miss out on things, I'd say yes, go to Disney and enjoy the light crowds. Especially if you're an annual passholder and aren't paying full price for daily tickets.
If you're a Disney fan and your favorite thing is the rides, then yes again, I'd say go for it! I'm guessing we'll never see lines this short again.
If you're a Disney fan and you like the rides but enjoy Disney for all of its other magic, I'd look to see if you can get a discounted resort rate (we scored Disney's Riviera for about half the normal price per night!) that might make it worth going. If you can save money on that part of your trip, it might make sense to pay for a fraction of the normal magic for full price ticket costs.
If you're planning a once in a lifetime trip or this is your first time, I'd wait. Disney World is such a magical place and totally worth the cost in my opinion when everything is available to you.
But when you take out what makes Disney special compared to other parks (character interactions, food, parades, fireworks, smiles), it is a high price to pay for only a fraction of what you would normally get. Postpone that once in a lifetime or first trip and wait until the magic is all back so you're getting the most out of your hard-earned money.
I'd hate for you to go and leave underwhelmed because Disney World truly can be one of the most magical places in the world. Plus so many of the things to do at Disney World outside the parks are closed right now.
Me? I'll be back, but I fall into the Disney fanatic category and any Disney time is better than no Disney time at all.
Other Tips
Just a few more things that haven't been mentioned elsewhere in this post but might be helpful for your visit!
Weekdays are WAY less busy than weekends now. That's true any time but right now even more so because there just aren't as many people headed to the parks out of state. Try to plan your trip on weekdays if at all possible.
Bring multiple portable chargers – I was on my phone way more than normal checking fluctuating wait times, mobile menus, what was open, etc. My phone died at least once each day if not twice.
Bring bottled water – Since many restaurants are closed, it felt like there were less places to get cups of free ice water than normal. I really appreciated having my own bottled water in the bottom of our stroller when there wasn't a restaurant with ice water open nearby.
Tighten your mask for 3D rides by simply twisting the ear loops once then looping around your ear. This helps keep it tighter just for the ride and will avoid fogging up your glasses!
Disney at Home Fun
Can't make it to Disney World right now? Bring the Disney magic home with these fun ideas!