Disney World is so much more than just parks! These are some of the best things to do at Disney World when you either need a break from the parks, you want a little down time, or you just want to check out even more Disney magic!
I received some of these activities complimentary from Disney and others I paid for myself. All opinions are 100% honest and my own regardless of whether I paid for it myself or receive a comped opportunity.
Everyone always asks me how long they need to plan for a vacation to Disney World.
The only correct answer is as long as possible. Seriously. But really, it all depends on what people are trying to do.
The one thing I always tell them is to make sure to plan some down time (aka not in the parks) so that they can enjoy all of the things outside of the parks. There are so many things to do without even even stepping foot in a park.
And honestly, being in the parks all day can get exhausting, especially if you're doing a late night event like Disney After Hours or Mickey's Not So Scary Halloween Party.
I always recommend at least one down day, or even to just do half days in the parks and spend the other half the time enjoying the rest of what Disney World has to offer!
Best Things to Do at Disney World (outside of the parks)
If you have more than one day at Disney World, I highly recommend adding in one of these enchanting extras into your visit! Disney World isn't just parks – it's so much more and this list is just a few of the things that can add more magic to your trip!
I haven't tried even close to all that Disney World has to offer outside of the parks but these are some of my favorites that I have personally tried.
Just like with my Disney character dining guide, I'll continue to update this post with more fun things to do at Disney World outside of the parks as I try them!
1 – Wanyama Safari
Did you know that Disney World offers safaris outside of Animal Kingdom?
Animal Kingdom Lodge offers a number of different safari options including the Wanyama Safari that we did, which includes a 90-minute tour in the safaris around Animal Kingdom Lodge as well as a multi-course meal after at Jiko – The Cooking Place.
We didn't get the chance to do the full 90-minute Wanyama Safari tour but what we did was incredible. We saw giraffes up close and even had a zebra try to run from his safari to a neighboring one. Just be forewarned while this does seem like a really fun excursion, kids must be ages 10 and up for the safari experience.
Learn more about the Wanyama safari here.
2 – Hoop Dee-Doo Musical Revue
This musical family feast is one for the entire family. It's located at the Campsites at Disney's Fort Wilderness Resort, which is honestly a bit of a haul to get to on Disney's public transportation so if you're going to do this one, I recommend renting a car at Disney. Or you could always just take an Uber, Lyft, or Minnie Van for this one event.
It' a two hour extravaganza full of silly singing and comedy, delicious family-style food, and Disney fun in a western old-fashioned style that you won't see anywhere else at Disney World. Totally worth doing once at least.
If you want to know more about the food, I wrote an entire post about it here!
If you have time, spend a few hours exploring Fort Wilderness Resort while you're there. They offer all sorts of recreational activities from horseback riding to paddle boating and more.
Learn more about Hoop Dee-Doo Musical Revue here.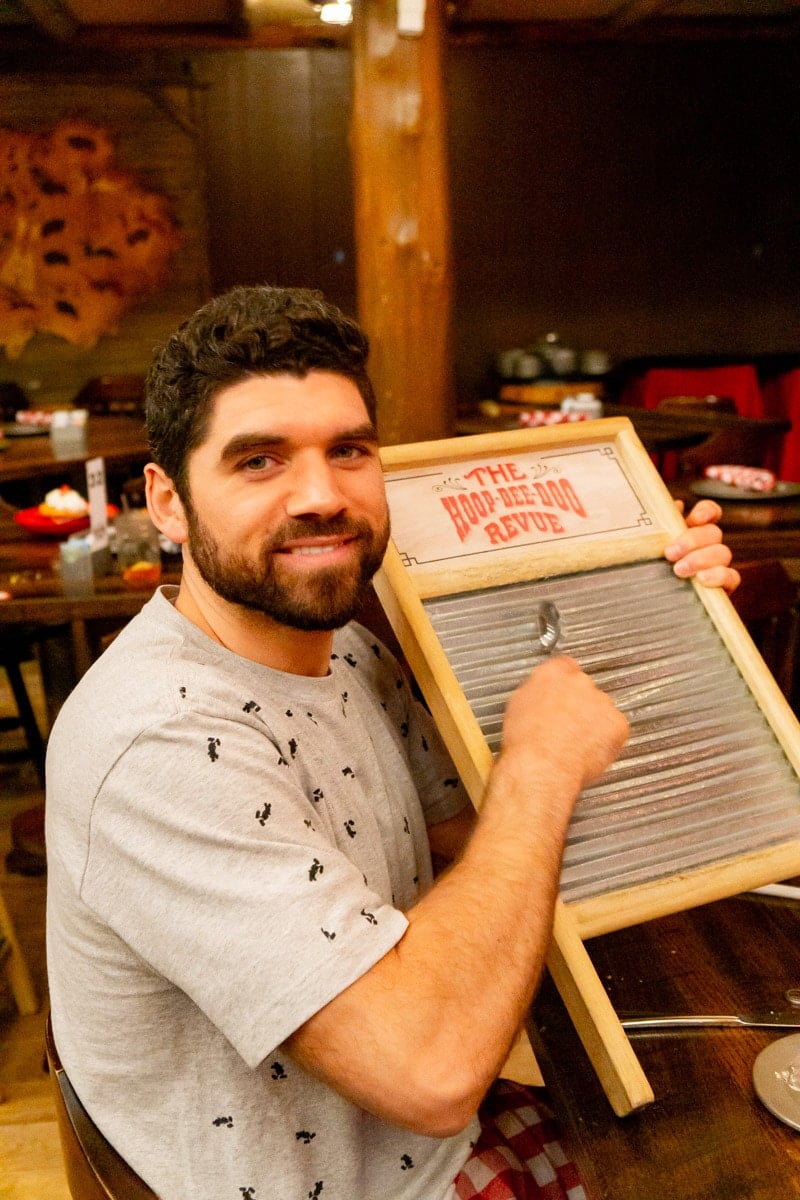 3 – Character Couture
You've probably heard of Bibbidi Bobbidi Boutique where little girls can go and be transformed into their favorite characters. But did you know that adults can do it too with the character couture experience?
When we visited for the Toy Story Land opening a few years ago, I went with two of my girlfriends and played photographer while they were transformed not into princesses but instead into Woody and Buzz Lightyear. The makeup artists really went to infinity and beyond with their looks!
Next time I'm there with girlfriends, you'd better believe I'm getting my own makeover done!
Learn more about Disney's character couture here.
4 – The Void at Disney Springs
There is plenty to do at Disney Springs but one of my current favorites is The Void Virtual Reality Experience. There are typically two different themes to choose from and when we went last year, we did a Ralph Breaks the Internet themed game.
It was honestly one of the most real virtual experiences I've ever done. You get all suited up in your VR gear then enter a totally different experience. It was like walking right into the movie screen and becoming the characters I loved in the movie!
It was even cooler for me because I had the chance to learn all about the making of Ralph Breaks the Internet at Walt Disney Studios last year!
There's also a Star Wars VR experience, that I've been told is a little intense, especially for kids.
Speaking of kids, they must be at least 10 years old and 48″ to participate in The Void.
Learn more about The Void at Disney Springs here.
5 – Winter Summerland Miniature Golf
One of my son's absolute favorite outside of the parks activities is miniature golf, and the Winter Summerland miniature golf course doesn't disappoint!
With creative holes that are not only fun to look at but fun to play, miniature golf is a fantastic way to spend a few hours.
Disney World also has another miniature golf course called Fantasia Gardens and Fairways, and it's on our list to try next time for sure!
Learn more about Disney's miniature golf courses.
6 – Senses Spa
If you can swing it, schedule some spa time during your Disney World trip. Send your husband to the pool with kids and sign yourself up for a massage at one of the spas.
I personally prefer the Senses Spa at Grand Floridian but any of them would work. Last time I was in town I had the chance to get a massage Senses while my husband watched the kids, and it was glorious. Especially after a day of walking 10+ miles in the parks!
7 – Disney's Boardwalk
I'll be the first to admit that I'd never been on Disney's Boardwalk until we stayed there during our last visit. And now it's one of my favorite places to go!
With yummy food, free entertainment, and a vibe that's more boardwalk than Disney, it's just a lot of fun for all ages. And bonus, it's a great place to watch the Epcot fireworks without the crowds.
If you're planning on spending a good amount of time at Epcot (like if the Epcot Food and Wine Festival is going on), I even recommend staying on Disney's Boardwalk or somewhere close since it's walking distance to the park!
Learn more about Disney's Boardwalk.
8 – Unique Swimming Pools
It wouldn't be a complete list without mentioning the incredible pools throughout Disney World. We always try to plan at least a few hours to spend at our hotel's pool, depending on where we're staying.
Art of Animation for instance has the really fun Big Blue Pool, Beach Club has a sand entry pool, and the Boardwalk Inn even has a roller coaster water slide. Definitely make some time to enjoy the pool, especially if you're visiting during the summer when heat exhaustion is a real thing!
Check out all of Disney's pools here.
9 – Disney Character Dining
While technically some of the Disney character breakfasts are in the parks, many of them are not. And honestly, my favorites are outside of the parks!
Plan at least one character dining meal during your visit and use it as a break from the busyness of the parks. Here's a complete guide to Disney character dining if you need help choosing the best fit for your family!
And if you're going with young kids, make sure to read my tips for character dining with young kids first!
10 – Signature Dining
While the parks are full of some of the best Disney World food, you won't find signature or gourmet dining in the parks.
Plan at least one nice meal (if your kids can handle it) – these are some of the best Disney World restaurants to narrow the list! And don't forget the unique dining experiences like Trader Sam's!
Book your dining reservations in advance on Disney's website here.
11 – Pin Trading
Pin trading is one of my absolute favorite things to do at Disney World! Whether you're a beginning pin trader or an expert, there are plenty of places outside of the parks to make great trades.
Be on the lookout for pin trading at Disney Springs, resort lobbies, and even resort pool or recreation areas. And of course if you see a cast member with a pin lanyard, you can always ask them to trade as well!
If you need tips for beginner pin trading, here's a post I wrote with great pin trading tips.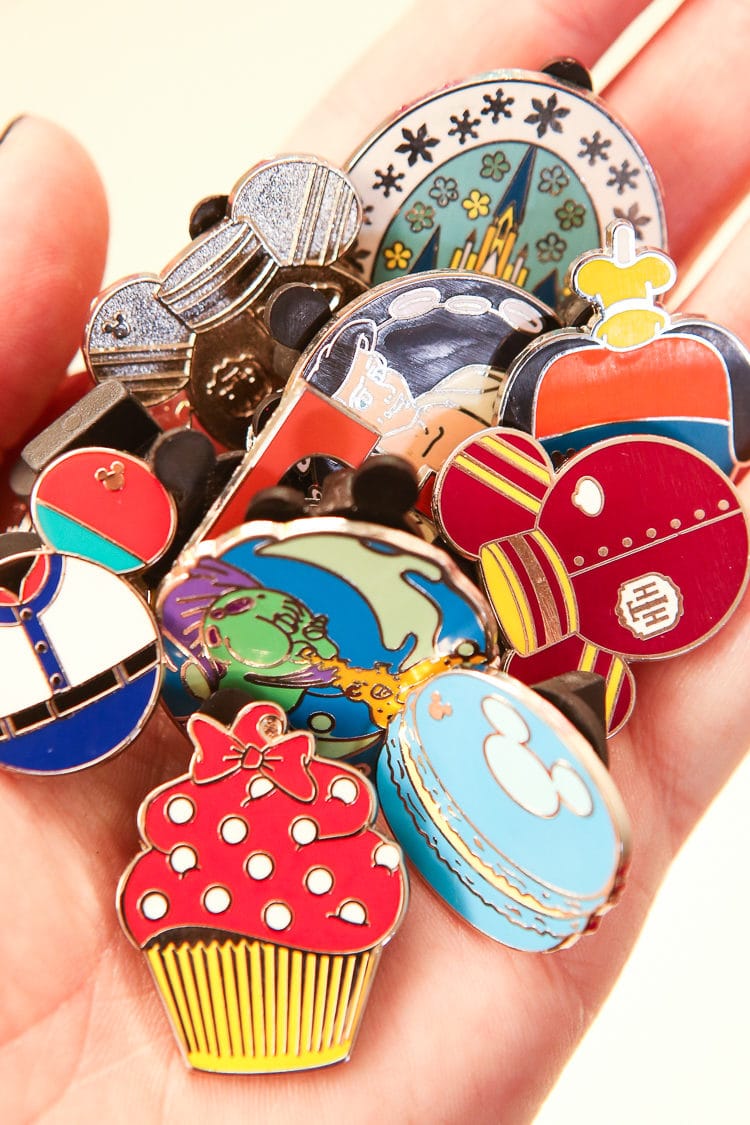 12 – Disney Springs
Honestly Disney Springs deserves an entire post of its own. With so many great restaurants and things to do, you could easily spend an entire day exploring Disney Springs.
Even if you don't have an entire time, plan at least a few hours to taste some of the yummy treats and check out the attractions (both free and paid) throughout the area. And don't leave without picking up a pair of my favorite shoes for walking around Disney – you can thank me later!
Check out everything in Disney Springs here.
More Disney World Planning Tips
Don't forget to pin these things to do at Disney World for later.