Want to see the full Epcot Food and Wine Festival 2023 menu list? Read this guide to see every Epcot food and wine menu item and photos of a lot of the food at Disney's biggest food and wine festival event ever! It's the perfect way to make sure you're eating the best food and wine festival food not just spending money on things that aren't worth it!
I just got back from a trip to check out all of the food at this year's Epcot Food and Wine Festival (plus the Space 220 and Disney After Hours), and I'm so excited to share all of my favorites with you!
I've also included my reviews and photos from previous years for dishes that were on previous menus! There's actually a lot on the menu that I've tried before so there you go!
Unlike the Disneyland Food and Wine Festival at California Adventure that you really can try most things in a day or two, the Epcot version is huge. There are over 25 different global marketplace booths that are offering speciality food and drinks PLUS a bunch of special food and wine menu items at various restaurants throughout the parks.
This guide is just about the food. If you want more information about Epcot Food and Wine Festival 2023 dates, Eat to the Beat concert series, cost of Epcot Festivals, etc. check out this Epcot Food and Wine Festival 2023 guide first!
Then come back here and read this post because really it's all about the food (and drinks).
You can also find all of the food in the Festival Passport – pick it up when you walk in the park and put a passport stamp on any of the countries you try!
Just make sure you add your stretchy pants to your Disney packing list because there's a lot of good stuff this year!
Note!
I don't drink alcohol so the full menus below are just for the food, I did not try any of the beverages listed in the menu. This year there were very few non-alcoholic beverages on the menus, so I just skipped beverages all together. So this post is just about the food – you'll have to find drink reviews elsewhere, sorry!
11 Great Epcot Food and Wine Festival Menu Items
I didn't try everything this year, but if you're going and want some recommendations, these are the ones we enjoyed the most! I'm sure there are others that are also delicious, but these were our personal favorite food items!
But that's my opinion, so I still recommend reading through this entire post to see all of your options in case yours are a little different than mine!
Charcuterie in a cone from Spain
Pao de queijo from Brazil
Wings from Brew-Wing lab
Lemon ricotta cheesecake from Italy
Guava cake from Shimmering Sips
Freshly baked carrot cake from Flavors of America
Creme Brulee from France
Fry flight from The Fry Basket
Warm chocolate pudding from Ireland
Lamington from Australia
Canadian Filet Mignon from Canada
Epcot Food and Wine Festival 2023 Menu
I've broken it down by marketplace booth to make it easier to navigate. I've also included our reviews from previous years if the items are the same! And if you want reviews of food and wine menu items from regular Epcot restaurants, those are all the way at the bottom!
Note!
As with all food, our opinions are subjective. You may have loved something that we thought was a skip item. And we may have loved something that you didn't like at all. This isn't fact, these are our opinions.
It's always worth trying something if you have the money to spend. Our goal is to help you pick out the best of the best if you only want to try a few things and want to get your money's worth!
Flavors from Fire (World Discovery)
Get ready for spice, heat, and grills at Flavors of Fire this year. If you're looking for vegan options, the impossible burger slider is one of a few plant-based options in the menus this year!
The Impossible Burger Slider – with wasabi cream and spicy Asian slaw on a Sesame Seed bun.
Smoked Corned Beef – with house-made potato chips, cheese curds, pickled onions, and beer-cheese fondue.
Chimichurri Marinated Skirt Steak Taco – with crushed avocado, grilled corn salsa, pickled red onions, queso fresco, and cilantro-lime cream.
Spiced Chocolate Tart – with BBQ potato chip crust, salted whisky-caramel, and smoked sea salt
We tried both the chimichurri taco and the spiced chocolate tart here. The taco was better than the dessert but was still just okay.
The spiced chocolate tart on the other hand was not our favorite. It might've been the hot day but there wasn't a lot of texture, and we didn't love the spiced chocolate part. If you like spicy chocolate, this might be your thing.
The Fry Basket (World Discovery)
After all of the hype from last year about the Fry Basket, I was excited to try out everything on this global marketplace menu! This year the new dishes included pickle fries and adobo yuca fries – along with the super popular fry flight!
Adobo Yuca Fries with garlic cilantro aioli
Fry Flight with sea salt and malt vinegar fries, BBQ bacon fries, and sweet potato casserole fries
Pickle Fries with dill ranch
This was easily one of our favorite food booths because everything was delicious. I was a little skeptical about the pickle fries, but they just tasted like a really good fried pickle. And the adobo yuca fries were crisp on the outside and nice and fleshy on the inside. Both new offerings were a hit with our group!
And while I didn't particularly love the sea salt and vinegar fries, it's just because I don't like those flavor combinations. My sister loved these crispy french fries!
Coastal Eats (World Discovery)
This seafood inspired booth has two options to choose from – crab cake and oysters. The crab cake was less than stellar so if you want to try something here, go for the oysters. Or just skip it.
Lump Crab Cake with cajun-spiced vinegar slaw
Oysters Rockefeller
Like I mentioned before, we tried the crab cake and it was not great. Go for fries from The Fry Basket around the corner instead.
Brew-Wing Lab at the Odyssey
If you like wings, Brew Wing should be one your must-try list! They have wings in a variety of delicious flavors along with some new menu items this year like the pickle milkshake (we did not try it).
Peanut buttter and jelly sticky wings
Garlic-parmesan wings
Orange-cardamom wings
Traditional buffalo wings
Impossible buffalo chicken tenders
Unnecessarily spicy, yet extremely tasty scotch bonnet pepper-curry wings
Buffalo brussels sprouts with plant-based blue cheese and plant-based ranch
I've tried a couple of different varieties of wings in the past including the garlic parmesan wings, and Brew Wing knows how to do wings!
I still prefer my homemade parmesan garlic wings but that's a tough thing to recreate in bulk!
The Noodle Exchange (near Disney Traders)
I'm a big fan of noodles whether they're homemade egg noodles in chicken noodle soup or Asian noodles in a teriyaki chicken stir fry, so I was really looking forward to this booth! Then I realized it didn't open until a few days after we went to the festival, so we didn't get to try anything after all!
Ramen with Shaved Beef, shiitake mushrooms, pickled carrots, and daikon radish, shaved peppers, and a soy egg in citrus-sesame broth
Impossible Pork Ramen with shiitake mushrooms, pickled carrots, and daikon radish, shaved peppers, and a soy egg in a savory chicken broth
Thai Shrimp with rice noodles, shiitake mushrooms, and basil in coconut-curry broth
Ramen with Tofu, shiitake mushrooms, pickled carrots, and daikon radish, shaved peppers, and baby bok choy in Sesame broth
Shimmering Sips (Near Port of Entry)
Right before you really get into the World Showcase is Shimmering Sips – the home of all the desserts and mimosas. I didn't try any of the mimosas but the guava cake was calling my name!
Guava Cake with whipped cream and coconut
The guava cake was another one of our favorite desserts from the festival. It was soft, creamy, and delicious. Plus, the flavor of the guava was sweet but not overwhelming!
Also, this is where you'd turn in your passport stamped for Emile's Fromage if you do the cheese scavenger hunt. Once you have five cheese stamps on your passport, they'll give you a cone of strawberry cheesecake soft-serve. It's totally worth it if you are going to get those things anyway.
I mean just look at his strawberry soft-serve from a few years ago!
Hawaii (near Refreshment Port)
If there's one thing I know I like, it's Hawaiian flavors. From these pork and pineapple kebabs to this pineapple monkey bread, I know I like fresh pineapple so I was hoping to love the Hawaii menu. It's slightly different than in past years but I'm sure it'll still be good!
Spoiler – I did!
Kalua Pork Slider with sweet and sour pineapple chutney and spicy mayonnaise
SPAM Sushi with sushi rice, teriyaki glazed SPAM, spicy mayonnaise, eel sauce, and tori
Passion Fruit Cheesecake with toasted macadamia nuts
We didn't get the chance to try the savory dishes but the passion fruit cheesecake made Hawaii proud.
I'm not a huge passion fruit person and even I thought it was delicious. It was light, fresh, fruity and a little tart. The macadamia nuts provided a nice island inspired crunch to balance out the creamy texture.
Refreshment Port (near Canada)
Refreshment Port used to be home to the delicious cronut (one of the items on my best Disney World snacks list) but now it's become the home of the poutine it seems. I wish they'd bring back the cronut.
I've tried various poutine dishes from refreshment port in the past, and they were just so so. We ended up skipping these because they sounded similar to others we'd tried before.
Braised beef poutine – French fries, boursin garlic and fine herbs cheese sauce, cheese curds, and gherkin relish
Traditional poutine – French fries with beef gravy, cheees curds, and crumbled Boursin garlic and fine herbs
Australia (Near Port of Entry)
As someone who went to Australia a few years ago, we were really excited to see the Australia menu. I was so glad to see that they replaced the deconstructed pavlova from a few years ago with a delicious looking cake!
Grilled Sweet and Spicy Bushberry Shrimp with pepper, onion, snap peas, and sweet chili sauce
Roasted Lamb Chop with mint pesto and potato crunchies
Lamington – yellow cake with raspberry filling with chocolate and coconut
We tried the bushberry shrimp and lamb chop in the past – they were slightly different but pretty similar. They were both just okay, but the lamington is the only thing that really wowed us.
The photo below is the lamb from a few years ago – if you're a lamb fan, this year's is a probably a must-try. It was good but the sidekicks to the dish were not great. The mint pesto and potato crunchies sound like a much better addition this year.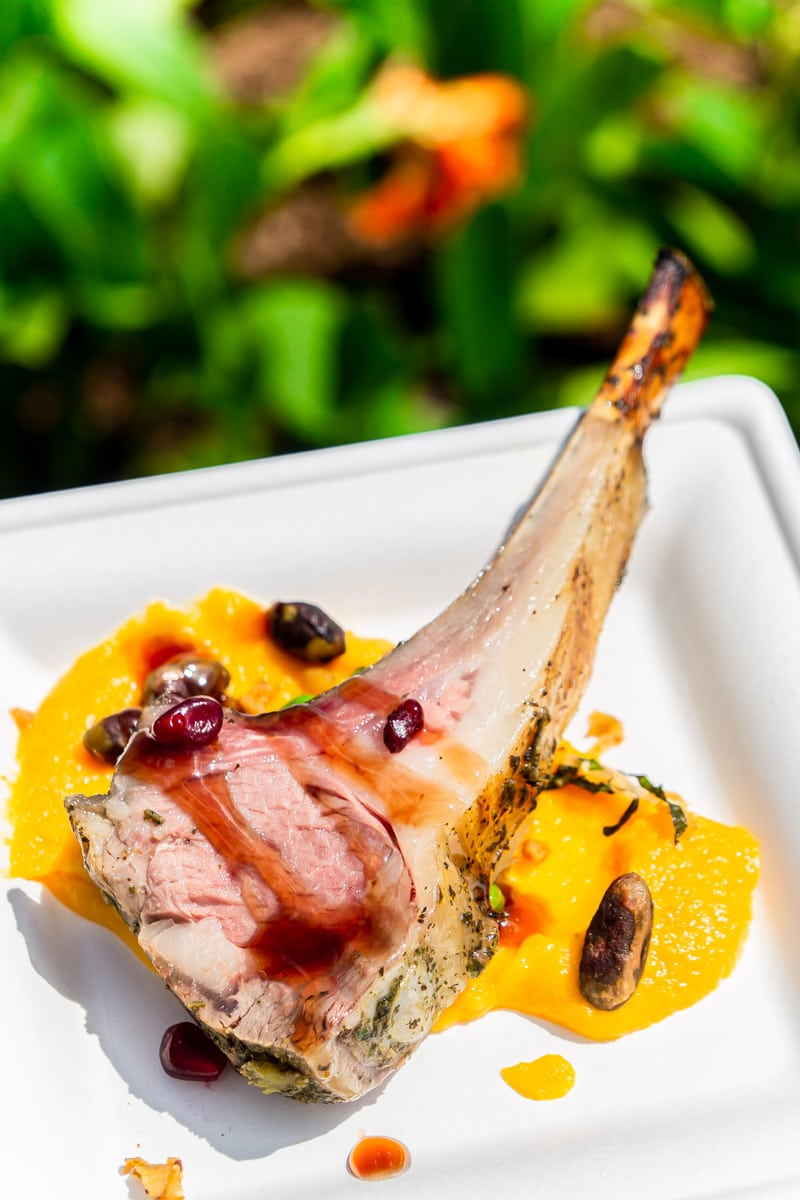 The lamington was one of our favorite desserts of the entire festival and honestly, one of the best surprises. Moist layers of cake, raspberry filling, and coconut combined together for something we finished quickly!
Mexico
If you're eating around the world during the Food and Wine Festival, Mexico makes a great first eating stop on your delicious food stroll!
Tostada de Carnitas – braised pork on a fried corn tortilla with black beans, avocado mousse, queso fresco, and chives Taco de Costilla – slow-braised beef short rib on a corn tortilla with salsa de chile morita, avocado mousse, and spring onions
Pastel Imposible – layers of traditional Mexican flan and tres leches with guava and cajeta
Tacos, tostadas, and cake. Mexico does food right and we were excited to try out this full menu!
The tostada was crisp, flavorful, and a good choice! My only complaint was that there were a few too many chives on top for me!
And the pastel imposible was delicious. It was like a combination of flan and tres leches (like the description says – a guava version of tres leches) in all the best ways. Plus, we had it on a hot day, so I loved how refreshing it was.
I will say that my sister didn't love this because she thought it was too wet, but she didn't realize that's how it's supposed to be. If you know what to expect, I bet you'll enjoy this as well!
The Alps (near Germany)
Switzerland is one of my favorite places in the entire world. We've been twice now and are always looking for a reason to go back. Every time I try the food at The Alps booth, I just want it to be a little better. This year the dark chocolate fondue was promising but it was still lackluster.
Menu
Warm Raclette Swiss Cheese with baby potatoes, cornichons, and baguette
Warm Raclette Swiss Cheese with alpine ham, baby potatoes, cornichons, and baguette
Dark Chocolate Fondue with berries, pound cake, and meringues
One of the reasons that The Alps was a big miss for us was likely because it was ridiculously hot the day we visited. When you're actually in The Alps, it's likely not 100 degrees and 100% (or feels like it) humidity. You're likely up in The Alps and looking for some good comfort food.
Partially melted cheese on a hot Florida day just doesn't go well together. Both dishes were okay flavor wise, but they were just heavy, hot, and nothing we wanted to finish.
The dark chocolate fondue was fine, but just fine. And the dippers that came with it were a little weird. The strawberries were good of course but who wants to dip meringues into chocolate? Also, who likes meringues in the first place.
The highlight of the dark chocolate fondue was drinking it was a sipping chocolate, not use it for dipping.
China
For some reason, we never try food at the China booth. It's like we get so full (or hot) by the time we make it to China, that Chinese food just doesn't sound great. We actually had it on our list to try both days we were at the festival this year but with the 110+ temperatures, our taste buds weren't ready for something else hot.
Pan-fried chicken dumplings with house-made sweet and spicy sauce
Crispy Duck Bao Bun with hoisin sauce
Dandan Noodles – spicy pork with sichuan sauce, peanut butter, and sesame
India (Near China)
We also skipped India this year probably for the same reasons as China – too hot, too far away from where we started, and nothing really sounded that amazing. Maybe next year we'll start in Mexico so that India and China are in the right place for our stomachs!
Curry spiced Crispy Cheese
Potato and Pea Samosa with coriander and lime cream
Chicken Tikka Masala with fennel-spiced yogurt and naan bread
They're also offering a non-alcoholic mango lassi that sounds like it might be a great option on a hot day!
Refreshment Outpost
The refreshment outpost is only offering one item this year and it's plant-based so we skipped it.
Spicy Githeri with White Beans, Pigeon Peas, Ben's Original™ Quinoa & Ancient Grains Medley and Kachumbari Slaw
I will say – I wish they'd bring back the Lion King panna cotta. Look how pretty the panna cotta was – yummy too!
Kenya (Near Outpost)
Kenya is right by the Refreshment Outpost and has had a similar menu for years. Everyone that tries the beef says it's good, but I don't do coffee so haven't tried it.
Kenyan Coffee Barbecue Beef Tenderloin with sweet potato and corn mealie pap and kachumbari slaw
Piri Piri Skewered Shrimp with citrus-scented couscous
Our shrimp skewer sat for a while and ended up being overcooked and dry. The couscous also had good flavor but was dry – not nearly as good as the homemade orange-scented couscous I make all the time! This again may have just been first day execution issues, so I highly recommend trying the shrimp if you're a shrimp fan.
Germany
You're welcome to read this entire thing but after trying two of the three dishes in Germany, I'd say this is one country you can skip altogether unless you're going for the free cheesecake. There's much better food elsewhere.
Schinkennudeln – Pasta gratin with ham, onions, and cheese (KC)
Bratwurst on a pretzel roll (K)
Apple Strudel with vanilla sauce
I mentioned it already but you can probably just skip this entire country. As my friend Leanette put it, the Schinkennudeln just tasted kind of like macaroni and cheese and not the good kind.
We didn't try the roast bratwurst but how amazing can a bratwurst be? I mean it's in a pretzel roll but you could totally get the pretzels and cheese soup in Canada and skip this.
I don't really like hot apples but thought I'd try the apple studel anyway. It was a dessert, and I was trying all of the desserts. Just not good at all – even with the vanilla sauce on top.
My friend Sarah confirmed she was disappointed as well and she likes hot apples – so it's not just me.
Spain (between Germany and Italy)
I'm a bit biased because Spain is one of my favorite countries in the world after spending a summer studying abroad there but the rest of the girls I was with loved the food here as well! And food in a cone is always fun.
The menu hasn't changed for Spain in the past few years, which says a lot about the quality of the food!
Charcuterie in a Cone with Spanish meats, cheeses, and olives with an herb vinaigrette (F)
Spanish-style paella with saffron rice, chorizo, and shrimp
Seafood Salad with shrimp, bay scallops, mussels, olive oil, white balsamic vinaigrette, and smoked paprika
The charcuterie in a cone was probably my favorite savory dish I tried all day and not just because it brought me back to walking around El Mercado in Barcelona. The flavors of everything inside the cone was delicious.
Our cone came with manchego cheese, prosciutto, another type of harder salami type meat, and olives. This was my kind of snack and a great representation of Spanish food markets.
We didn't try the paella or seafood salad but if the execution is as good as the cone, I'd say they're probably worth trying – especially since paella is like the dish of Spain!
Italy
Does it get any better than Italian food? I mean as long as it's done right, Italian food is comfort food at its best. In the past, Italy has one of our favorite booths at the annual event, and this year repeated that feat!
Focaccia Ripiena – freshly baked focaccia, beef meatballs, tomato sauce, and burrata cheese
Cavatelli with sweet sausage ragout and crispy applewood smoked bacon
Lemon Ricotta Cheesecake with vanilla cream and strawberry compote
The cavatelli was good but not top 10 good. I just think that pasta is hard to execute in bulk at a high-level, but it was definitely tasty.
The cheesecake on the other hand was excellent and one of our favorites in this complete guide to the food! It was light, fluffy, and very refreshing on a hot day!
Funnel Cake
During every festival it seems like they offer some special funnel cake at the funnel cake stand. This one looks amazing and if it's anything like the previous ones, yes please!
Candied bacon funnel cake with vanilla ice cream, candied bacon, and maple syrup drizzle
If you like funnel cakes, it's always fun to try the new version on the Epcot Food and Wine Festival menu. We didn't try it this year but I do like candied bacon!
Japan
I feel like the Japan menu changes every year, other than that teriyaki chicken bun that sticks around. I'm sad they got rid of the frothy ramen (but mostly because it made for a great picture!). I'd definitely rather have that than the not great sushi!
Teriyaki Chicken Bun – Steamed bun filled with chicken, vegetables, and a sweet teriyaki sauce (K)
Fire Taiko Roll – sushi roll served with spicy tuna, cucumber, and pickled daikon radish served with spicy sauce
Beef Wa-gyu-don – traditional Japanese rice bowl with American wagyu beef over steamed white rice
I mean, just look at that ramen!
We tried the sushi this year, and it just wasn't great. Kind of like eating grocery story sushi, maybe worse. I'd skip the sushi and try out something else nearby in the world showcase.
Belgium (near Morocco)
I really really wanted to try the smoked gouda mashed potatoes but when I showed up they were totally out of the beer-braised beef and they wouldn't sell me just the smoked gouda mashed potatoes. Next time for sure.
Beer-Braised Beef with smoked gouda mashed potatoes
Belgian Waffle with warm chocolate ganache and whipped cream
Belgian Waffle with berry compote and whipped cream
I'm not sure if they'll do this for just anyone, but I really wanted to try both the chocolate ganache and the berry compote with my waffle so instead of buying both, I asked if it'd be possible to do chocolate on one side and the berry compote on the other. They ended up doing chocolate and whipped cream on the waffle with the berry compote on the side (that's why the picture looks like it does). It doesn't hurt to ask if you want to try both sauces!
I'll be honest – the chocolate ganache was not memorable at all. I was hoping it would be more chocolate, not just like drizzled chocolate sauce. And the berry compote was okay, but the berry sangria topping on the mini funnel cake was better. This was just so-so and there are better places to spend your money.
Brazil (between morocco and France)
So funny story. I was walking around with a bunch of other women checking out all of the Epcot Food and Wine Festival food. Mostly me buying and trying a bunch of the food while the other girls just hung out and took pictures with me.
I stood in line and ordered two orders of the Brazilian cheese bread (to finish off my cheese challenge) and when I got out of line, two of the other girls had already bought their own cheese breads. And each one comes with two little cheese breads. No one really bought much else on our tasting around the world but everyone ended up buying cheese bread.
Needless to say, we ended up with way too much! It was good but not THAT good.
Feijoada – black beans with pork belly, brazil nut pesto, and long grain white rice
Pao de Queijo – Brazilian cheese bread
I was so sad to hear that the feijoada had onions because we make homemade feijoada all the time and it's one of my absolute favorites!
We only tried the Brazilian cheese bread here and it was melt in your mouth good. But filling and it comes with two breads for one order, so you can definitely share with a friend.
One other cool fact – it's gluten free so perfect for anyone who wants something that tastes like bread without having gluten.
Greece (between Japan and Morocco)
Greece is one of my favorite places in the world, but I feel like the actual execution of the food and wine menu items never lives up to my expectations. I've tried it the past few years and just left disappointed, especially with the amazing sounding griddled cheese!
Spanakopita
Griddled Cheese with Pistachios and Honey
Lamb Gyro with shaved lettuce, tomatoes, red onion, and tzatziki on warm flatbread
Plant Based Impossible Moussaka
I was really excited about the griddled cheese because I've had some things that sounded similar on our trips to Greece, but this was the worst thing I tried throughout the festival. Definitely a skip for me unless you can get it fresher than I did. And don't think it's grilled cheese – definitely not that that.
Tangierine Cafe (Morocco)
So this is more of a permanent fixture in Epcot than a global marketplace location, but it's still listed in the festival passport! It will transport you to Morocco with all sorts of Moroccan cuisine and definitely worth checking out!
Grilled Kebabs with carrot-chickpea salad and garlic aioli – choose chicken or lamb
Stone-baked Moroccan bread with hummus, chermoula, and Zhoug Dips
Pistachio Cake with Cinnamon Pastry Cream and Candied Walnuts
Everything sounded great on the menu here but unfortunately the only one that we really enjoyed was the stone-baked Moroccan bread (which is totally worth getting).
The lamb kebab we tried was really dry – maybe try the other one if you really want to get it! I feel like lamb is just hard to do on such a large scale.
The pistachio cake was fine but nothing to write home about. It needed more of the cream and walnuts.
France
French food isn't my favorite, so I didn't try anything other than the creme brulee, but that made my top 10 list so it's definitely wroth trying!
Beignet aux Trois Fromages – warm beignet filled with 3 cheeses
Croissant aux Escargots – Escargot croissant with garlic and parsley
Boeuf Bourguignon, Pommes Dauphone – braised short ribs in cabernet with puffed potatoes
Creme Brulee Vanille – vanilla creme brulee with house-made strawberry jam
The menu has almost completely changed since I visited last but if the creme brulee is anything like the one they had before, I'm all in.
Ireland (between United Kingdom and Canada)
We were running low on time when we got to Ireland so just grabbed the warm chocolate pudding and didn't try any of the savory dishes. After having the pudding totally wished we'd tried the other dishes too!
Fisherman's Seawood Pie
Roasted Irish Sausage with Colcannon Potatoes and Onion Gravy
Warm Chocolate Pudding with Irish Cream Liqueur custard (VF)
Can we talk about how when you read "warm chocolate pudding," you think pudding? Or is that just me.
This isn't warm chocolate pudding in any sense of the imagination. This is a fantastically delicious (that's a term right??) warm chocolate cake topped with a complementary cream. And the inside is ooey gooey and warm like a perfect lava cake. It almost makes me think they forgot to add a word in the description because nothing about that description says cake or heaven. But it's pretty much amazing.
Canada
We finally made it to the Canada booth to try out the ever popular Canadian filet mignon, and it did not disappoint. It was easily one of the top things on my sister's lists of things she tried!
Canadian Cheddar and Bacon Soup served with a pretzel roll
Canadian Filet Mignon with mushrooms, black truffle and sea salt mashed potatoes, and a black truffle and sea salt whipped butter
They keep changing the filet mignon slightly but as long as it's Canadian filet mignon and comes with mushrooms and truffles, I recommend getting it!
New Epcot Food & Wine Festival Kiosks for 2023
Every year Disney adds a few new food and wine festival food booths to try out. Sometimes they stick (like The Fry Basket) and sometimes they get kicked to the curb (like Lobster Landing). It's always fun to see the full list each year!
Flavors of America (The American Adventure)
It feels like Disney has really been trying to enhance the American experience at Epcot with the new Regal Eagle Smokehouse plus now adding an American booth at the Epcot food and wine festival. I'm all for it since there really is so much delicious food in America!
Italian Hot Beef Sandwich with shaved beef, spicy giardiniaera, and au jus on a French roll
Cioppino – seafood stew with saffron-infused tomato-fennel, broth, and crostini
Freshly baked carrot cake with walnuts and cream cheese icing
I didn't get a chance to try anything at the Flavors of America booth this year, but if the carrot cake is similar to the one offered at Hops & Barley a few years ago, it's so good, and I highly recommend it!
Swirled Showcase – opening september 22nd
This is a brand new kiosk this year and is all about drinks and frozen treats. I actually wish I could get back to the festival to try the Mickey-shaped liquid nitro cake! You can find it in the walkway between World Showcase and Imagination.
Mickey-shaped liquid nitro cake
Soft-serve vanilla, apple-cinnamon, or salted caramel ice cream in a waffle cone
Fanta grape float with vanilla soft serve
Cream soda float with vanilla soft serve
They will also be offering the frozen apple pie and cinnamon apple cider that were offered at the Appleseed booth a few years back – both were delightful, so I'd recommend trying out these as well, especially on a hot day!
Char & Chop – opening september 22nd
If you like meat, this may be your new favorite global marketplace! It will be right by Disney traders and offer all sorts of meat inspired eats, plus an impossible option!
Roasted Porchetta with lemon-parsley salsa verde and shaved fennel salad
Grilled Impossible Spicy Sausage with herbed polenta, puttanesca sauce, and ricotta
Meat Assorti – trio of shaved meats with baby arugula, pickled mustard seeds, truffle oil, and grilled ciabatta
Wine & Wedge – opening September 22nd
This brand new kiosk seems to have a farm to table style menu going with fresh cheeses, figs, and pickled veggies! It'll be close to Disney Traders, similar to Char & Chop.
Assorted Artisanal Cheeses and Accompaniments
Boursin Fig and Balsamic Souffle with fig tapenade
Southern Pimento Cheese with bread and butter pickled vegetables and grilled bread
Bubbles & Brine – Opening September 22nd
Cocktails are one of the menu at this new kiosk you'll find in the walkway between world showcase and imagination! Food cocktails that is.
Jumbo shrimp cocktail with prosecco cocktail sauce and grilled lemon
Jonah crab claw cocktail with stone-ground mustard sauce
Bonus Item!
If you really want to try out everything in the Epcot food and wine festival passport, make sure to grab a Remy Liege waffle from Connections Cafe or Connections Eatery in future world to finish off your Epcot food and wine festival menu bucket list!
We tried the regular liege waffle, and it was good (not amazing) so it's definitely something worth trying.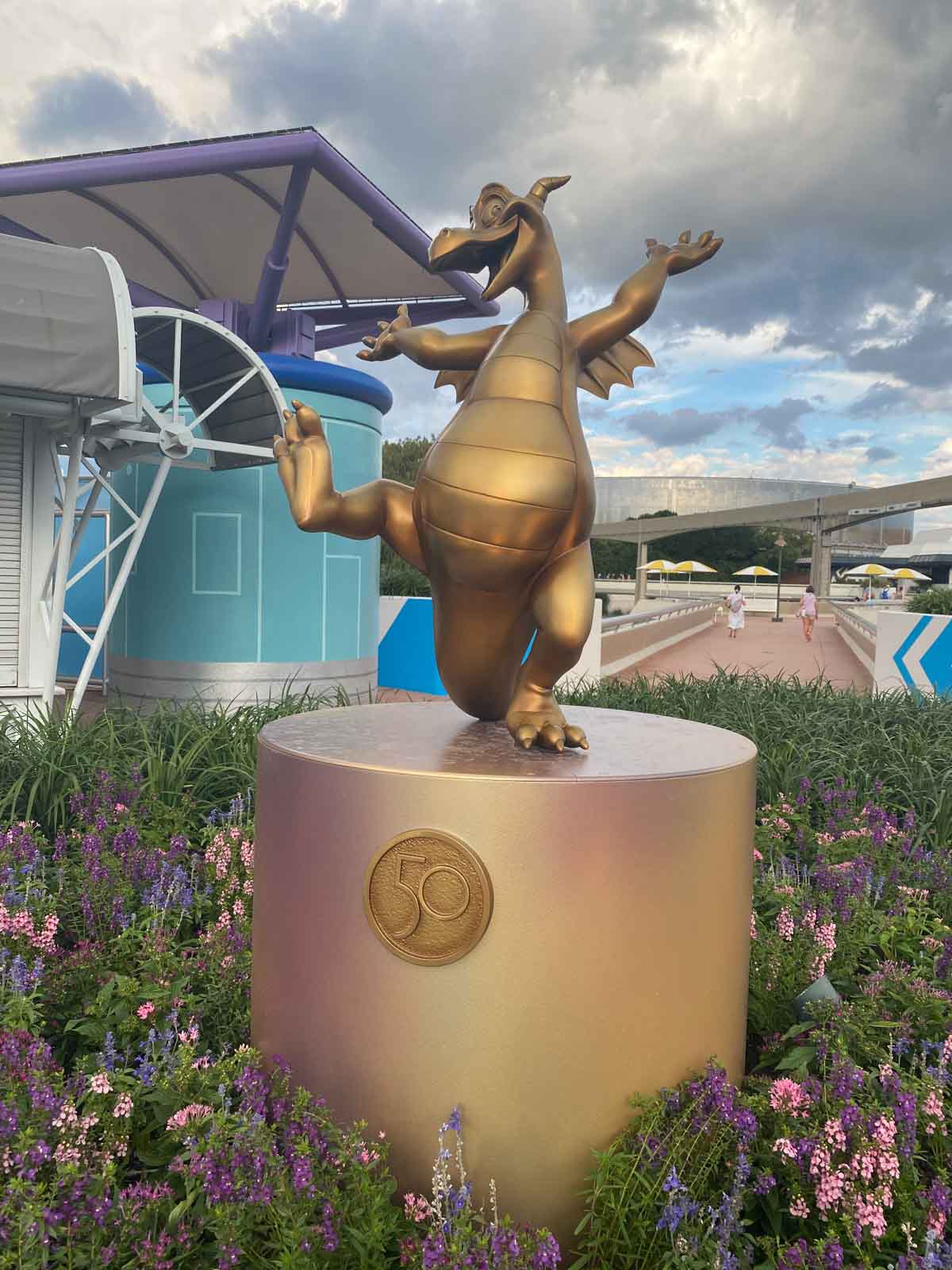 More Disney World Food Recommendations
Don't just stop after checking out the Epcot food and wine festival – these other tips can help you spend your money on the best food possible!