Everything you need to know about the brand new Epcot Space 220 restaurant including the Space 220 menu, which seats are the best, how the food is, and if it's worth the cost! It's the review you need to read before you go!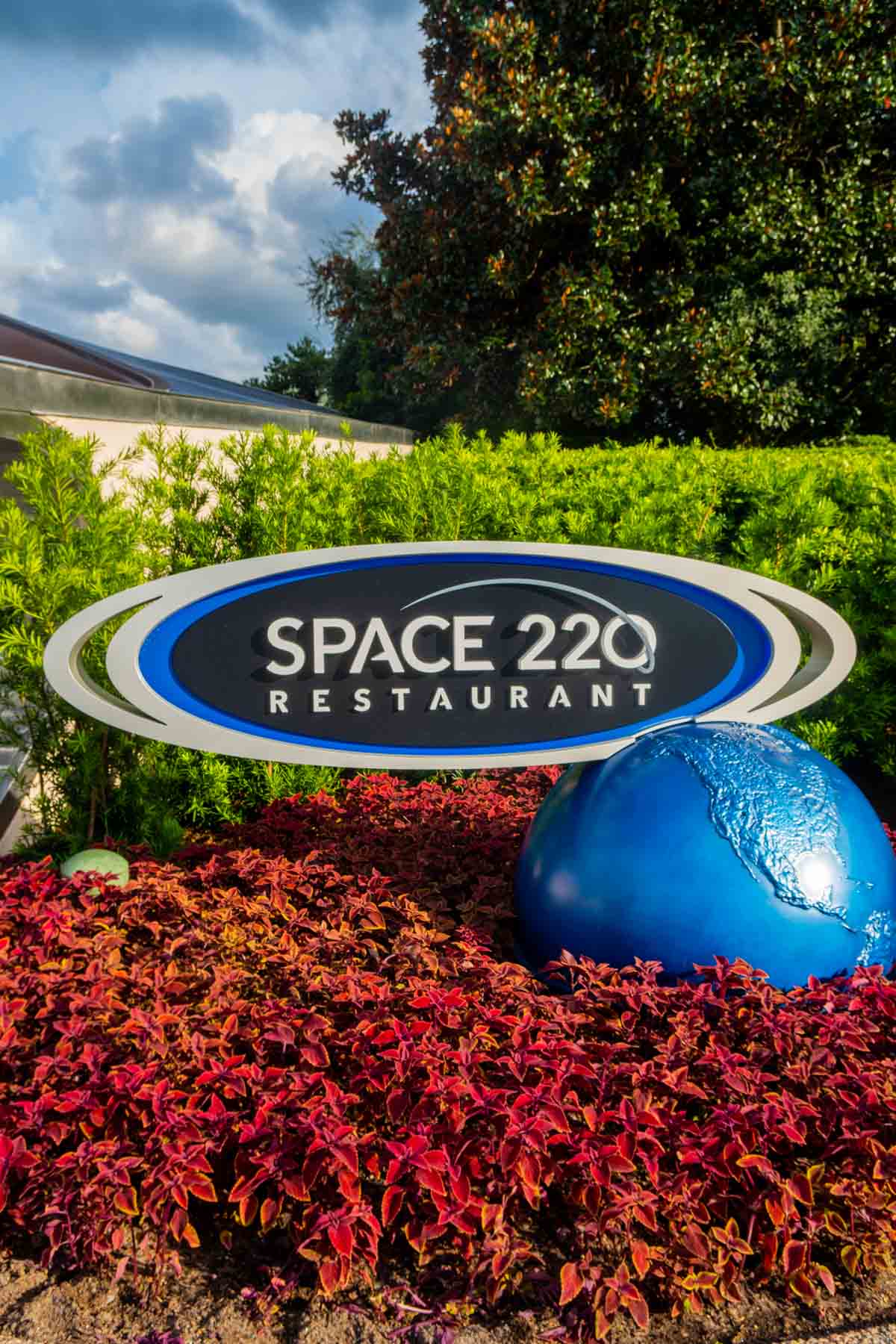 What is Space 220?
Space 220 is the newest restaurant to open at Epcot in Walt Disney World. It's named Space 220 because the inside is supposed to feel like you're dining 220 miles away from earth, so dining in space.
The opening has been delayed over and over again (thanks pandemic) but it finally opened last week, and I had the chance to go on the third day it was open! I went for dinner, sat at the bar, and ate as much as I could to give you the most honest review of the food possible!
Space 220 is located near Mission Space, just on the other side of the space pavilion. They're both in Future World West, right next to Test Track and some of the best Food and Wine Festival food!
The Space 220 Experience
Let's be clear – people are going to eat in Space 220 because of the experience. It's supposed to be like you're eating in space. You aren't going there for the food (although the food is top notch). It's like people that eat in the Coral Reef restaurant, you eat there because it's like eating inside an aquarium.
The question is? Is the experience of "eating in space" worth the high price of the visit.
I'm going to tell you about the experience so you can make that choice for yourself. You can also watch the video in this post to see a few glimpses into what it's actually like!
Your experience starts by checking in with your host. There are a few fun posters, but it's mainly a basic room with elevators in the background.
They'll give you a space station boarding pass and you wait your turn (it wasn't long) to board the elevator that will take you to the space station.
The elevator was one of my favorite parts of the entire experience. There's a screen in the bottom of the elevator that makes it look like you're watching as your elevator goes 220 miles into the air and it's pretty cool to see. Kids will love it.
As you near the space station, you see the space station come into view overhead before the doors open and you're led into a brightly lit hallway that leads to the dining room.
Make sure to check out the revolving garden as you pass by with a label "your food." It's kind of cool to think about how technology allows actual astronauts to eat things other than freeze dried packages of food (what I think of as space food).
Then comes the best part of the entire experience – walking into the dining room with windows that are designed to look like you're in outer space. It really is a neat experience to go from Earth to what feels like space.
The Earth is visible in the distance, spaceships float by randomly, and there are even little astronauts that frequently show up in your view.
You're seated wherever you've been assigned and eat with the view of space all around. It's definitely an experience I would do at least once with my family. I'm not sure I'd do it over and over again because it doesn't really change, but I know my boys would get a kick out of it, especially if we could get a table by the actual windows.
Space 220 Seating Options
Speaking of a table by the window, there are three different options for seating in the Space 220 Restaurant:
Dining room – this is the typical dining room and can include booths right by the windows or tables throughout the room. I'm sure you can request a booth table by the windows but no guarantees they're actually accepting requests right now since it's so new.
Lounge – these are smaller tables on the inner portion of the dining room, closer to the bar and further away from the main windows. When I spoke to the manager, they said that there should be an option to choose either dining room or lounge seating when you make a reservation (I explain why you might choose a lounge table later).
Bar – these seats are right at the bar and facing away from the windows. There's still somewhat of a view at the bar but not the same thing. From what I gathered, these bar seats will be available as walk-up seats throughout the day when available, something that's helpful to know if you can't get an actual reservation.
Lounge and Bar Perks
If you're coming in for the space view, a window seat booth in the dining room is of course going to be your best bet. But there are a couple of things to know about the lounge and bar area that actually make them a good option in my opinion:
The lounge menu (aka Flight Bites) is available ONLY to people sitting in the lounge and at the bar. And the lounge menu has different items on it including a chicken on waffle dish that was absolutely delicious. Other items only available on the lounge menu include astro deviled eggs, short rib sliders, and the New England lobster roll. These range from $12 to $34.
Anyone sitting in the lounge or bar can order things a la carte from the menu, which means two things. First, you can order just an entree (or dessert) and save money without having to order the pre-fixed menu that's required if you're in the dining room. Second, you can order more of something if you want. So for example, I was really excited to try two of the desserts – sitting at the bar allowed me to do that. If you're sitting in the dining room, I was told you are limited to your pre-fixed menu and that's it.
Sides are available to lounge and bar guests and the sides were delicious. This goes along with the whole ordering a la carte items – you can order an entree with a side and get out of there for much cheaper than the pre-fixed price tag.
Bar is first come first serve so it gives people an opportunity to get into the restaurant without having a reservation (currently booked up through November). It's possible they'll also be saving some of the lounge seating for first come first serve as well – definitely doesn't hurt to ask when you're in Epcot!
I sat at the bar and was actually really happy with my choice because I was able to take in the view and try out a number of different foods, not just be limited to the pre-fixed menu.
Space 220 Cost
As I mentioned above, there are three different seating options for Space 220 with different menu choices. Below are the costs for the fixed-price meals. The cost if you do a la carte in the lounge or bar can be very different!
Adult dinner = $79 and includes one appetizer, one entree, and one dessert
Kids lunch or dinner = $29 and includes one entree, one dessert, one drink, and a pack of trading cards. You can add a cool space collectible cup with their drink for an extra $3 (not too bad).
Adult lunch = $55 and includes one appetizer and one entree
Tip!
If you can't afford the full pre-fixed menu, get a seat in the lounge or at the bar for a la carte ordering options. You'll still be able to get delicious food and enjoy the experience without the fixed price!
Space 220 Dinner Review
Okay so now let's talk about the second main reason people are going to eat at Space 220 – the food! I personally didn't try all of the food because that would've been a lot, but I did try three appetizers, one lounge only item, one of their new mocktails, an entree, a side, and all of the desserts (other than the ice cream). You can see the full menu here.
When the menu was released a while ago, I'll admit I was a little disappointed that the food wasn't more space food. But after eating there, I wasn't disappointed at all. The food was definitely worth the high price tag, especially when coupled with the experience of eating in space.
Here's what I tried and my thoughts! If I made any substitutions for my onion dislike, I'll note it below. Oh and p.s., when I mentioned no onions, they had the chef come out and talk to me about what was good to go and what they could make for me. It was Disney at its best!
Appetizers
I had the space greens, bing bang burrata, and blue moon cauliflower. While all three were well seasoned and tasty, the blue moon cauliflower was a real standout.
The cauliflower was fried in a light tempura coating and served with a housemade hot sauce (not too spicy) and sprinkled with blue cheese crumbles. This was definitely a shareable appetizer so if I were you, I'd have one person order this and another order one of the other shareable appetizers (I heard the calamari was good) so you can try a few different things.
The space greens were good, although I felt like the bibb lettuce was almost too big to eat without eating (or looking incredibly awkward). I did enjoy the combo of the lettuce with the fruit, nuts, and slightly sweet apple cider dressing.
And finally the big bang burrata was also tasty if you like burrata. It was seasoned well and paired nicely with the cold artichoke hearts and romesco sauce.
Lounge Menu
The lounge area has its very own menu that features dishes only available in the lounge including the chicken on waffles. I tried it, and it was probably one of the best chicken and waffles dishes I've ever had. The breading on the chicken was flavorful and crispy, the waffle had a nice crunch, and the maple glaze that came with it was the perfect complement to the dish. My only complaint was that there wasn't nearly enough maple glaze with it. I would've loved to have seen a side of the maple glaze or even just some real maple syrup to go with the dish!
I did get it with the coleslaw on the side, so that might've made a difference, but I still think a little maple glaze on the side for dipping would make this one a must-try!
Entrees
I went with the only chicken dish on the menu, a roasted free-range chicken roulade served with mashed potatoes, roasted brussels sprouts, and a garlic thyme jus. Seems like a pretty basic dish but they seasoned and cooked things so well, I wanted to eat every last bite.
Brussels sprouts are hard to do well, especially in bulk, and these were roasted to perfection. The chicken was moist and seasoned well, and the mashed potatoes – more like a potato puree – were lick your plate good. I easily could've eaten an entire bowl of the mashed potatoes.
So this was definitely an I would order again meal for me. The gentleman sitting next to me had the steak and it took a long time to get to him, but he said it was good when he did finally receive it!
Sides
I order a side of the fried potato wedges, and they were a delicious addition to my chicken dinner! They came hot and crispy in a cast iron dish, and I only wish I could've fit more into my belly! Another gentleman sitting near me had the brussels sprouts, and he raved about them as well!
The other sides available include broccolini and roasted fingerling potatoes.
Space 220 Desserts
Okay so desserts are my thing, so I was glad to be sitting at the bar where I could try out every dessert on the menu. Plus, it was my birthday so I was also able to try out the birthday cupcake while I was at it.
I mean it's a tough job but someone has to do it!
After trying out all of the desserts, a number of the cast members asked me which one was my favorite (since I had five plates of desserts in front of them), and I really couldn't give them an answer. They were all good and depending on your tastes, they could likely all be a good choice!
The chocolate cheesecake tasted a bit more like a chocolate mousse than a cheesecake to me, probably just because there wasn't really a crust to it. But it was creamy, chocolately, and tasty if you're a chocolate person. And I really liked it when you got a bite of everything together – the cheesecake, whipped topping, crumbles, and the little balls for added crunch!
The lemon mousse was described to me as being not overly lemon but just like the perfect amount of lemon flavor. I don't personally agree with that, I thought it was pretty lemony, but not so much that you wouldn't like it if you like lemon. This was the only dessert (other than the birthday cupcake) that had any type of space feel to it with a white chocolate planet on top. I like the combo of the lemon, blueberries, and white chocolate rings and if you're a lemon person, this is the dessert I'd go with!
The sticky toffee pudding cake was the one dessert that multiple people recommended to me, and I can definitely see why. A soft toffee pudding cake (similar to the one at Magic Kingdom) topped with a dark chocolate sauce and salted toffee drizzle made this my universal dessert of choice for anyone no matter what type of desserts you like. It was decadent and delicious, but the other desserts were also good enough that I probably wouldn't order this every time if I was only choosing one.
The one thing I could've done without were the bananas on top. I don't feel they added anything, and they weren't my favorite addition. But you could totally still eat this without eating the bananas (or eat them if you like them).
Last but not least was the plant-based, vegan option – a carrot cake that you'd never know was vegan or plant-based. So don't eliminate it right away based on that! The cake was soft, the filling was creamy, and the carrot cream sauce (but not cream) was surprisingly bright and flavorful. It's probably my least favorite of the desserts simply because I'm not a huge carrot cake person, but definitely worth trying.
Oh and the surprise birthday cupcake was just a traditional Disney cupcake with really fun galactic colored frosting. Like many Disney cupcakes are, it was unfilled and a bit dry, but still a fun little bonus anyway. And kids who aren't picky about cupcakes would love it, which is good because I'm pretty sure its the same Cosmic Cupcake that's on the kids menu for desserts!
Drinks
Space 220 has an extensive drink menu full of lots of innovative space themed drinks. I went for the Moon Rocks Mocktail that combined lemonade, blue cotton candy syrup, coconut, and moon dust together in what was actually a really yummy drink. It wasn't nearly as sweet as I was expecting, and I liked the presentation with a package of Pop Rocks to add for some exploding fun!
The mocktail also came with a fun pack of Space 220 trading cards with 5 cards inside. There are currently three different packs to collect (these also come with a kids meal).
Kids who order this drink (instead of the included drink with their kids meal) get it in a collectible rocket cup that's pretty fun!
Space 220 Reservations
Space 220 reservations can be made on the My Disney Experience app or on the Disney World website under dining. Everything available was booked up through middle of November last I heard (reservations booked out in under an hour of opening) but my guess is that people will have to drop reservations like they always do, so it never hurts to keep checking!
If you can't get reservations, check with Space 220 when you get to Epcot and see if they're doing any bar seating, lounge seating, or any other type of walk-in seating. I know a lot of the best Disney World restaurants are and while they haven't released any official policy on it that I know of, my guess is Space 220 will be doing something. Or maybe you'll get lucky like I did and there will be an open space at the bar!
Space 220 FAQs
How much does Space 220 cost?
Prices range from $29 for a kids lunch or dinner to $79 for an adult dinner. A two-course lunch menu for adults is $55. If you eat in the lounge or bar, you can also order a la carte items, which can make your total more or less than the $29-$79 range.
Is Space 220 worth the cost?
I would take my family to Space 220 at least once for the experience and the food is great too. If you're worried about the cost, grab a lounge table and order
What's the best thing to eat at Space 220?
My personal favorites out of everything I tried were the Blue Moon Cauliflower appetizer, the roasted chicken roulade (mashed potatoes were amazing), the sticky toffee pudding, and the chicken on waffles! Any of those would be a safe bet!
How do I get Space 220 reservations?
Space 220 reservations can be made on the My Disney Experience app or on the Disney World website under dining. If nothing is available, keep trying until the day of your visit as people ma drop ones they already have booked. If still nothing, see if the restaurant is offering walk-up dining the day of your visit. Or see if you can get a seat at the bar.
More Disney World tips
If you're headed to Disney World, make sure to check out these other tips and tricks for your trip!