Planning a trip to the 2023 Epcot Food and Wine Festival at Disney World? This guide has everything you need to go about heading to the 2023 Epcot food and wine festival!
2023 Epcot Food and Wine Festival
I've been to the Epcot Food and Wine Festival six out of the last seven years, with a quick stop in 2020 for the modified festival!
I am SO excited to see that it's back to its normal self this year with tons of amazing food, entertainment, and more.
I just got back from a trip to check out the festival (plus Disney World's first Mickey's Not So Scary Halloween Party and new Space 220 restaurant) and this post has everything you need to know before you go to the festival yourself!
Just as a note, many of the pictures in this post are from previous years – if nothing really changed, I just left the photos the same!
2023 Festival Dates & Hours
The International Food and Wine Festival is being held at Epcot from July 27, 2023 to November 18, 2023. I love that it's so long – that means tons of time for people to experience all the fun and delicious food.
Epcot hours are all over the map between August and November, so I highly recommend checking out the Disney World calendar for the dates you're going to double-check the hours for planning purposes.
Generally speaking the food and wine kiosks typically open at 11AM but often times close earlier than the park does so if you want to be safe, I recommend getting in all of your eating between 11AM and 8PM.
Also, Disney World is currently offering Epcot Disney After Hours through August 24th, which shouldn't impact the kiosk hours but just be aware that it may mean higher crowds on those days.
From what I can see on the calendar, food and wine will open at 11AM and close at 9PM every day but double-check the hours before you go!
Tip!
A handful of the food kiosks don't actually open until September 22nd. If you want to have access to all of the food on the menus, you'll want to plan your trip for after September 22nd!
Epcot Food and Wine Festival Costs
First off, you will need a valid Epcot park reservation as well as a valid theme park ticket to participate in the festival. If you book a park hopper ticket and are planning on heading to Epcot as your second (or third) park of the day, you can get into the park at 2PM.
Okay now back to the cost. Listen to this because it's important – while you can wander around Epcot and look at things and participate in quite a few of the activities, the food and drinks are NOT free.
I had a woman in line in front of me at one of the kiosks who walked up to the cast member and was bewildered that she had to pay for things. She thought they were just giving out free samples to everyone at all of the kiosks.
That cast member put it best and said, "When was anything at Disney free?"
So if you're planning to go to the festival – bring your wallet, Magicband, or little fancy Festival gift card because the food and drinks are not free. They range anywhere from $5-10 a piece, which adds up quickly.
Money saving Tip!
If you want to try a lot of things, I recommend getting a group like I did and ordering one of each and each taking a taste. It's a great way to save money while still getting to sample everything.
I still recommend doing rope drop to make the most of one day at Disney World, but I'm guessing if you're doing just one day, you're probably not spending it at the festival unless you are annual passholders. But if you do have a lot of time at Disney World, I highly recommend checking out the festival – it's just gotten better and better in recent years!

Epcot Food and Wine Festival 2023 Entertainment
There are tons of different live entertainment options to enjoy during the festival and you can find the entertainment schedule for your trip on the Disney World website. Some of the highlights of typical Epcot entertainment you can enjoy include The American Adventure, Beauty and the Beast Sing-Along, and entertainment in a variety of the gazebos like in Canada and Germany.
But that's probably not what you're looking for – the highlight of the Epcot food and wine entertainment is the Eat to the Beat Concerts!
Epcot Eat to the Beat Concerts 2023
The Eat to the Beat concert series is back for 2023 and the lineup is amazing! I wish I lived closer and could join in on a lot of these concerts because it's easily the top festival entertainment!
There are concerts throughout the festival season every day of the festival at 5:30PM, 6:45PM, 8:00PM! They are free concerts (well, you have to have a park ticket to get in but not an additional cost) and a lot of fun!
2023 Eat to the Beat Concert Schedule
I've included the entire concert lineup from the date of publication to the end of the festival for planning purposes:
August 18-August 21, 2023 – Joey Fatone & Friends
August 22-24, 2023 – The Female Collective
August 25-26, 2023 – Ayron Jones
August 27-28, 2023 – Phillip Phillips (sad I can't get to this one!)
August 29-31, 2023 Element
September 1-2, 2023 – Baha Men
September 3-4, 2023 – MercyMe
September 5-7, 2023 – Foreigners Journey
September 8-9, 2023 – Ray Parker Jr.
September 10-11, 2023 – TobyMac
September 12-14, 2023 – Hooligans
September 15, 2023 – Monsieur Perine
September 16-17, 2023 – Raul Acosta & Oro Solido
September 18, 2023 – Bacilos
September 19-21, 2023 – Audio Exchange
September 22-24, 2023 – Los Amigos Invisibles
September 25-26, 2023 – 98 degrees
September 27-28, 2023 – Latin Ambition
September 29-Oct 2, 2023 – Boyz II Men
October 3-5, 2023 – Wish Radio
October 6-7, 2023 – Mark Wills
October 8-9, 2023 – Sugar Ray
October 10-12, 2023 – Icon Party Band
October 13-14, 2023 – Hoobastank
October 15-16, 2023 – Air Supply
October 17-19, 2023 – Evolution Motown
October 20-21, 2023 – Taylor Dayne
October 22-23, 2023 – Billy Ocean
October 24-26, 2023 – Sound Up
October 27-30, 2023 – Hanson
October 31 – Nov 2, 2023 – Rexine (hope they have some good Halloween party songs!)
November 3-4, 2023 – We the Kings
November 5-6, 2023 – Sheila E.
November 7-9, 2023 – Epic Live
November 10-11, 2023 – Big Bad Vodoo Daddy
November 12-13, 2023 – 38 Special
We saw Plain White T's while we were there in 2019, and they were fantastic. The set was short, about 30 minutes, but they sang Hey There Delilah and that's really all that matters. There are a lot of people on the lineup of concerts that I don't personally know, so I was excited to see a band I really like!
Eat to the Beat Dining Package
If you're really excited about one of the shows want a guaranteed seat without waiting in line, you can also get a reservation for the Eat to the Beat dining package that includes a meal and reserved seats for the show!
There are a lot of different restaurant options with different menus, pricing, and availability so if you're interested in this option, I recommend checking out the full details here.
One thing to note is that this dining package is only available Friday through Monday, not the rest of the week. So if you had a your heart set on a performer that's only performing during the week, you're out of luck.
Epcot Food and Wine Kid Friendly-Activities
The International Food and Wine Festival isn't just for adults! Disney has made sure to include a couple of kid specific activities to keep the fun family-friendly! There are scavenger hunts, playgroups, and more!
Epcot Scavenger Hunts
This year there are two scavenger hunts instead of just the normal one! Both include getting a scavenger hunt and then finding things throughout the park as you explore. These are great for keeping kids entertained as you wander around and try all of the food items!
Remy's Ratatouille Hide & Squeak
Hide Returning in 2023 will be a Chef Remy themed scavenger hunt for kids called "Remy's Ratatouille Hide & Squeak Scavenger Hunt."
Search the park to find the locations on the map then turn the maps in for a surprise. We did the flower and garden one in the spring with my son, and he absolutely loved it!
Tip!
You don't have to actually find all the locations, you can turn the map in blank and they'll still give you the prize. Just in case you all get hot and tired and want to leave early without finding everything.
Speaking of scavenger hunts, don't forget to be on the lookout for all of the gold character statues that have been installed for the Disney World 50th celebration! They're such a fun addition to the parks!
Pluto's Pumpkin Pursuit
This is something that I first saw at Disneyland Halloween Time that has now been added to the Disney food and wine festival fun! Get a scavenger hunt and search throughout the park for pumpkins throughout the park!
It was really fun in Downtown Disney in California, so I could see the kids really liking this one too! You probably don't need to do both Epcot scavenger hunts, but the kids would probably enjoy at least one of the two!
Emile's Fromage Montage (aka Epcot Cheese Tour)
Emile's back with his delicious cheese tour in 2023!
If you purchase five of specific cheese dishes (and get stamps) at festival marketplace booths, you get a free speciality prize. This year it's a strawberry cheesecake soft serve from Shimmering Sips, which is definitely worth going for!
And if you don't want to try all five, no problem. You just have to try five total, so you could get two of your favorites instead of one you may not be interested in. All you need to get the special prize is a completely stamped festival passport – five stamps for five culinary creations!
You can find details for Emile's fromage in your festival passport as well as on various places throughout the parks.
Here are the cheese options you can get stamps for this year!
Smoked corned beef from Flavors of Fire
Curry-spiced crispy cheese from India
Warm raclette Swiss cheese from The Alps
Schinkennudeln from Germany
Griddled cheese from Greece
Pao de Queijo from Brazil
Canadian cheddar and bacon soup from Canada
Passion fruit cheesecake from Hawaii
Artisanal cheeses from Wine & Wedge
Boursin Fig & Balsamic Souffle from Wine & Wedge
Southern Pimento cheese from Wine & Wedge
Tip!
If you're already planning on trying five of these items, it's definitely worth getting your passport stamped to get the free soft serve. However, if you weren't already planning on it, no need to try these things just for the prize.
Also, I haven't tried all of the items on the list above, but the three I highly recommend are the pao de queijo (cheese bread) from Brazil, cheddar and bacon soup from Canada, and passion fruit cheesecake from Hawaii. I'd skip the griddled cheese and warm Swiss cheese if possible!
Good Time to Visit
If you have flexibility in your schedule for when you're visiting the food and wine festival, I recommend avoiding Saturdays at all costs. Sundays too if possible but definitely Saturdays. We went this year twice – once on Thursday and once on Saturday. The lines on Saturday were easily triple the length compared to Thursday.
Plenty of people, especially annual passholders, come into the park just to drink around the world and enjoy the food and wine festival on Saturday when they don't have the responsibilities of work and school the next day. Skip Saturdays if you can.
If you're going early when things first open, walk toward the back of the park (or come in the International Gateway entrance). All of the booths at the very front had really long lines early because people just stopped at the closest booth they could find. Lines were much shorter further from the entrance to the park.
Dietary Restrictions or Allergies at the Festival
If someone in your group has allergies, check the Food and Wine Festival tasting passport. There are little icons that indicate ones that are good for vegetarian, gluten/wheat-friendly, and even kid-approved.
If you have an allergy to a food, ask the cast member if you're unsure whether you can have something or not. They can ask the chefs inside the kiosk (or all an allergy phone number) if it's a preference and look inside a book with all the ingredients if it's an allergy. If you're unsure, ask. Better safe than sorry.
While some of the food items can be customized for allergies like not putting whipped cream on top of a juice, it seems like most things are at least somewhat pre-assembled, which would make it harder to customize.
I can't eat onions and found that a lot of the items had onions but in some cases, they were able to leave them off for me or my husband just tried that food instead. It's definitely worth asking! You don't want to miss out on all of this goodness!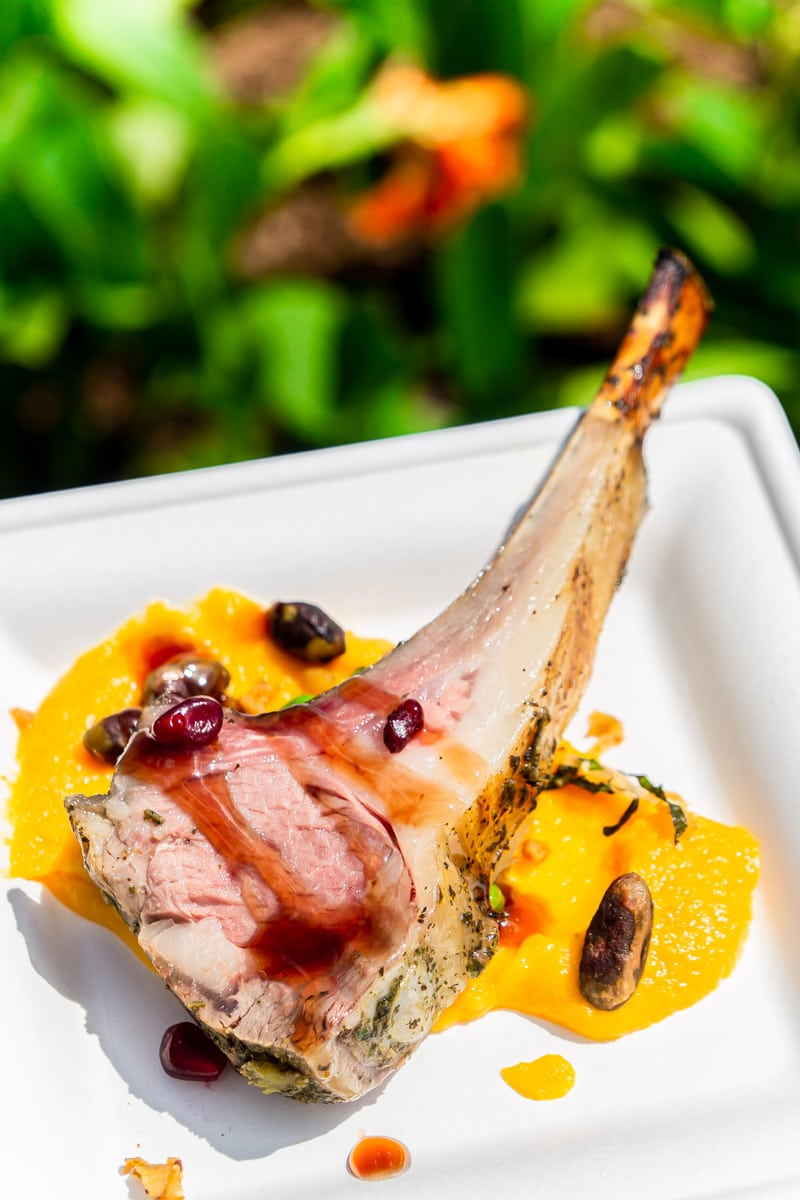 Plant-Based Options at the Epcot Food & Wine Festival
Disney has really put an emphasis on offering plant-based options both in their regular food offerings as well as in their festival menus. And the food and wine festival menu options for this year are no different.
Look through the passport to see what options work for a plant-based diet, they'll be indicated with a little plant next to the item. Here's a quick list if you want to see options before you go!
The Impossible Burger Slider at Flavors from Fire
Adobo Yuca Fries from The Fry Basket
Sea Salt and Malt Vinegar Fries (in the Fry Flight) at the Fry Basket
Impossible Buffalo Chicken Tenders from Brew Wing Lab
Buffalo Brussels Sprouts from Brew Wing Lab
Ramen with Tofu from The Noodle Exchange
Potato and Pea Samosa from India
Spicy Githeri from Refreshment Outpost
Plant-based Impossible Moussaka from Greece
Falafel Pita from Tangierine Cafe
Stone-baked Moroccan Bread from Tangierine cafe
Guava Cake from Shimmering Sips
2023 Festival Food Booths
Okay, now here's what you've all probably been waiting for – the Epcot International Food & Wine food menus for 2023! I tried a handful of them this year, and they were delicious!
I have updated this Epcot Food and Wine Menu Review post with all of the new menus PLUS my reviews if they're food items that were around for previous years.
New Booths for 2023
If you've been to the food and wine festival in past years, this year there are a handful of new global marketplaces to try with menu items that sound amazing!
Here is the full list of new booths for this year! If you want to try out the new marketplaces, I recommend heading to the festival on September 23rd or later. My guess is that they will be pretty busy on opening day, plus I always like to give the cast members a day to work out any kinks before trying the booths!
Flavors of America by The American Adventure
Swirled Showcase in the walkway between World Showcase and Imagination – opens September 22nd
Char & Chop near Disney Traders – opens September 22nd
Wine & Wedge near Disney Traders – opens September 22nd
Bubbles & Brine in the walkway between World Showcase and Imagination in Future World – opens September 22nd
Disney Food and Wine Festival Tips
Make sure to grab a complimentary festival passport when you get into the park. It has all the menus, allergy restrictions, locations, and more! The passports are essential for planning at any of Epcot's festivals!
Look through the menu, or even better this post with my Food and Wine festival food reviews, the day before so you can make a plan. You'll save time having to read the small signs by each of the booths if you know what you really want to try.
If you see a short line at a booth you want to try, take advantage of it. You never know when that line will be long again! There were times that I'd see a line with 1 person and then two minutes later it'd be up to 10 people.
Save the other items from this best Disney World food list for another day. You can get those next time you visit Epcot when the festival isn't going on.
If you're visiting with multiple people and want to try food at multiple booths, split lines. Have one person stand in on line and the other person stand in the other line and order for each other. That way you don't both have to stand in line twice, I mean unless you want to of course!
If you're planning to drink anything, think twice before renting a car at Disney World or at least before bringing your rental car to Epcot. If you're going to drink, plan on taking Disney's free transportation home.
Don't forget to check out the festival exclusive merchandise. It's only around during the festival and each year it's something different. If you collect Disney items like so many of my friends, this is a great time to grab some cute stuff.
Share items so you can try more without having to buy everything yourself. They are small plates but it's still great to share! You can buy another one later if it's that good you want your own!
Know what you want before you get to the cast member to order and have your credit card, gift card, or magic band ready to go. It'll make things easier on everyone and who knows you might just get to go ahead of people in line because you'll get through the line much faster.
Give yourself plenty of time to explore and enjoy this flavorful adventure! We ate everything we could in just one day because we were writing this post, but I wish we'd had time to really savor the food and not just jump from one booth to the next!
Festival FAQs
Is the Food and Wine Festival free?

No. You need a park ticket PLUS a valid Epcot park reservation to get into the park. Plus all of the booths cost money, and most of the special activities have an additional fee (and some require reservations).

When you enter the park make sure to pick up your festival passport so you can keep track of all the countries you've visited. The passport + passport stickers inside are included with admission and a fun addition to the festival!
Do I need a special ticket for the Epcot Food and Wine Festival?
No, unlike Disney After Hours, you don't need a special ticket. A regular park ticket or annual pass plus a park reservation will all work just fine to get you into the park!
How much does the food cost?
The food at the global marketplace booths cost anywhere from $5-10! I'll update this post with detailed prices once I've visited myself. The drinks range anywhere from $4.00 to $32.
Can you use the Disney dining plan for the Epcot Food and Wine Festival?
In past years you could use a snack credit for food items. Currently Disney dining plans are not available but when they return later this fall, they may go back to allowing you to use a snack credit!
How crowded is Epcot during the Food and Wine Festival?
No one knows how crowded the festival will be in 2021. Disney has created a new park reservation system and capacity is still not maxed out. But as far as I've seen, no one knows what that capacity limit currently is.

If this year is like past years at all, weekdays will be less crowded than weekends. You can also check out reservation availability here to get an idea of whether Epcot will be at max capacity that day or not. And know that before the 50th celebration begins on October 1st will likely be less busy than after.
What are the best things to eat at the Food and Wine Festival?
Here's an entire post dedicated to the best food at Epcot's Food and Wine Festival. Some of my personal favorites were the the fry flight from The Fry Basket,

More Disney World Tips
Make the most of your Disney World trip with these other helpful tips!