Planning a trip to the 2021 Epcot Food and Wine Festival at Disney World? This guide has everything you need to go about heading to the festival this year!
This post contains affiliate links. If you purchase via one of my links, I may receive a small commission at no additional cost to you.
Epcot Food and Wine 2021
I've been to the Epcot Food and Wine Festival for the past four years – including a quick stop in for the modified one in 2020.
I am SO excited to see that it's mostly back to its normal self (minus a few notable things like the Eat to the Beat concert series) this year with tons of amazing food, entertainment, and more. I just got back from a trip to check out the festival (plus Disney World's 2021 version of Mickey's Not So Scary Halloween Party and new Space 220 restaurant) and this post has everything you need to know before you go!
Just as a note, many of the pictures in this post are currently from the festival in 2019 – if nothing really changed, I just left the photos the same!
To make it easier to navigate this crazy long post, I've put together a menu here to help you click around. Just click on the topic you're looking for to be taken directly to that topic. And when you're done with the topic, click the "Return to Menu" button at the bottom of the section to hop back up here. Hope it makes it a bit easier than having to scroll up and down!
2021 Festival Dates & Hours
The International Food and Wine Festival is being held at Epcot from July 15, 2021 to November 20, 2021. I love that it's so long – that means tons of time for people to experience all the fun!
TIP! A handful of the food kiosks don't actually open until October 1st. If you want to have access to all of the food on the menus, you'll want to plan your trip for after October 1st!
Epcot hours are always subject to change but from what I could see on the Disney World calendar, here are the hours for the festival. Keep in mind that the festival hours are not typically the same as park hours – the kiosks often times close earlier than the park.
11AM to 10PM all of July and weekends only in August
11AM to 9PM weekdays in August and all of September
Hours have not been released yet for October and November. My guess is that the festival will still open up at 11AM but closing hours may be earlier. You can always check the hours for a particular day here.
Festival Costs
First off, you will need a valid Epcot park reservation as well as a valid theme park ticket to participate in the festival.
Okay now back to the cost. Listen to this because it's important – while you can wander around Epcot and look at things the food and drinks are NOT free.
I had a woman in line in front of me at one of the kiosks who walked up to the cast member and was bewildered that she had to pay for things. She thought they were just giving out free samples to everyone at all of the kiosks.
That cast member put it best and said, "When was anything at Disney free?"
So if you're planning to go to the festival – bring your wallet, Magicband, or little fancy Festival gift card because the food and drinks are not free. They range anywhere from $5-10 a piece, which adds up quickly.
Tip: If you want to try a lot of things, I recommend getting a group like I did and ordering one of each and each taking a taste. It's a great way to save money while still getting to sample everything.
I still recommend doing rope drop to make the most of one day at Disney World, but I'm guessing if you're doing just one day, you're probably not spending it at the festival unless you're an annual passholder.

Food and Wine Festival Annual Passholder Perks
Annual passholders will be able to purchase an assortment of Figment (the cute little dragon if you're unaware) keepsakes just for passholders!
In 2019, they offered two different magnets – a Chef Minnie one for visiting between August 29 to October 14 and a Chef Remy magnet for visiting between October 15 to November 23rd.
I haven't seen anything about passholder perks for 2021, probably because they weren't selling new annual passes until just a few weeks ago. I'm hoping these come back in 2022!
I wish they would offer a Sip and Savor pass that provides discounted food and drinks from the festival like they do at the Disneyland Food and Wine Festival. That was one of my favorite parts!

Epcot Food and Wine Festival 2021 Entertainment
As of right now, we know that the following live music concerts are happening:
The entertainment that has been announced so far includes:
Mariachi Cobre at America Gardens Theater
JAMMin' Chefs at the Canada Mill Stage
Voices of Liberty at the America Gardens Theater
In addition to those ongoing concerts, they've also announced concerts from local Central Florida bands on the weekends (Friday through Monday evenings) at the America Garden Theater. You can find the full schedule for these concerts here.
Epcot Eat to the Beat Concerts 2021
Unfortunately the Eat to the Beat Concerns have been cancelled for the year or at least are still unavailable and at this point, I doubt they're coming back. Fingers crossed for next year!
We saw Plain White T's while we were there in 2019, and they were fantastic. The set was short, about 30 minutes, but they sang Hey There Delilah and that's really all that matters. There are a lot of people on the lineup of concerts that I don't personally know, so I was excited to see a band I really like!
The entertainment portion of the Disney World website also mentions that there will be princesses riding around in a carriage throughout the festival. My guess is this is similar to the Disney World character sightings that have been all the rage at Disney World in 2021.
Epcot Food and Wine Kid Friendly-Activities
The International Food and Wine Festival isn't just for adults! Disney has made sure to include a couple of kid specific activities to keep the fun family-friendly!
Returning in 2021 will be a Chef Remy themed scavenger hunt for kids called "Remy's Ratatouille Hide & Squeak Scavenger Hunt."
Search the park to find the locations on the map then turn the maps in for a surprise. We did the flower and garden one in the spring with my son, and he absolutely loved it!
Tip: You don't have to actually find all the locations, you can turn the map in blank and they'll still give you the prize. Just in case you all get hot and tired and want to leave early without finding everything.
The maps cost $9.99 (before discount or tax) and come with a map and stickers to put on the map as you find the scavenger hunt. It's a fun way to keep kids entertained as you're eating the not as kid-friendly food.
And the prize for this year is a Remy themed bowl, which is actually pretty cute! Not as cute as the prize you get for Pluto's Pumpkin Pursuit (one of my favorite things to do at Disneyland for Halloween), but still cute!
Speaking of scavenger hunts, don't forget to be on the lookout for all of the gold character statues that have been installed for the Disney World 50th celebration! They're such a fun addition to the parks!
Emile's Fromage Montage (aka Epcot Cheese Tour)
Emile's back with his delicious cheese tour in 2021!
If you purchase five of specific cheese items (and get stamps) at festival marketplace booths, you get a free speciality prize. In 2019, it was a little cheesecake and actually pretty yummy!
And if you don't want to try all five, no problem. You just have to try five total, so you could get two of your favorites instead of one you may not be interested in.
Here are the five cheese options you can get stamps for.
Crispy Barbecue Pork Rinds with Pimento Cheese – The Swanky Sauce Swine
Passion Fruit Cheesecake with Toasted Macadamia Nuts – Hawaii
Schinkennudeln: Pasta Gratin with Ham, Onions, and Cheese – Germany
Griddled Cheese with Pistachios and Honey – Greece
The Corned Beef Corner Route – Flavors from Fire
Tip: It's a fun idea and if you're going to try all of these cheese items anyway, I say go for it because it's a free prize. But if you're not planning to try all of these items, I say skip the challenge unless the prize is just amazingly delicious!

Tips for Your Visit
I also recommend reading these tips for visiting theme parks in 2020 post as most of these tips will apply! And also my guide to visiting Disney World in 2021 – super important to read before you go!
If you're going early when things first open, walk toward the back of the park (or come in the International Gateway entrance). All of the booths at the very front had really long lines early because people just stopped at the closest booth they could find. Lines were much shorter further from the entrance to the park.
Look through the menu, or even better this post with my Food and Wine festival food reviews, the day before so you can make a plan. You'll save time having to read the small signs by each of the booths if you know what you really want to try.
If you see a short line at a booth you want to try, take advantage of it. You never know when that line will be long again! There were times that I'd see a line with 1 person and then two minutes later it'd be up to 10 people.
Save the other items from this best Disney World food list for another day. You can get those next time you visit Epcot when the festival isn't going on.
If you're visiting with multiple people and want to try food at multiple booths, split lines. Have one person stand in on line and the other person stand in the other line and order for each other. That way you don't both have to stand in line twice, I mean unless you want to of course!
If you're planning to drink anything, think twice before renting a car at Disney World or at least before bringing your rental car to Epcot. If you're going to drink, plan on taking Disney's free transportation home.
Don't forget to check out the festival exclusive merchandise. It's only around during the festival and each year it's something different. If you collect Disney items like so many of my friends, this is a great time to grab some cute stuff.
This year Disney has a whole new collection of merchandise presented by CORKCICLE and I can't wait to get my hands on it!
They also have a brand new Belle Be Our Guest Collection, Remy Shake Things Up Collection (perfect for the new opening of Remy's Ratatouille Adventure in the fall), an Apple Orchard Collection, and Figment Passholder Collection!
Share items so you can try more without having to buy everything yourself. You can buy another one later if it's that good you want your own!
Know what you want before you get to the cast member to order and have your credit card, gift card, or magic band ready to go. It'll make things easier on everyone and who knows you might just get to go ahead of people in line because you'll get through the line much faster.
Dietary Restrictions or Allergies at the Festival
If someone in your group has allergies, check the Food and Wine Festival tasting passport. There are little icons that indicate ones that are good for vegetarian, gluten/wheat-friendly, and even kid-approved.
If you have an allergy to a food, ask the cast member if you're unsure whether you can have something or not. They can ask the chefs inside the kiosk if it's a preference and look inside a book with all the ingredients if it's an allergy. If you're unsure, ask. Better safe than sorry.
While some of the food items can be customized for allergies like not putting whipped cream on top of a juice, it seems like most things are at least somewhat pre-assembled, which would make it harder to customize.
I can't eat onions and found that a lot of the items had onions but in some cases, they were able to leave them off for me or my husband just tried that food instead. It's definitely worth asking! You don't want to miss out on all of this goodness!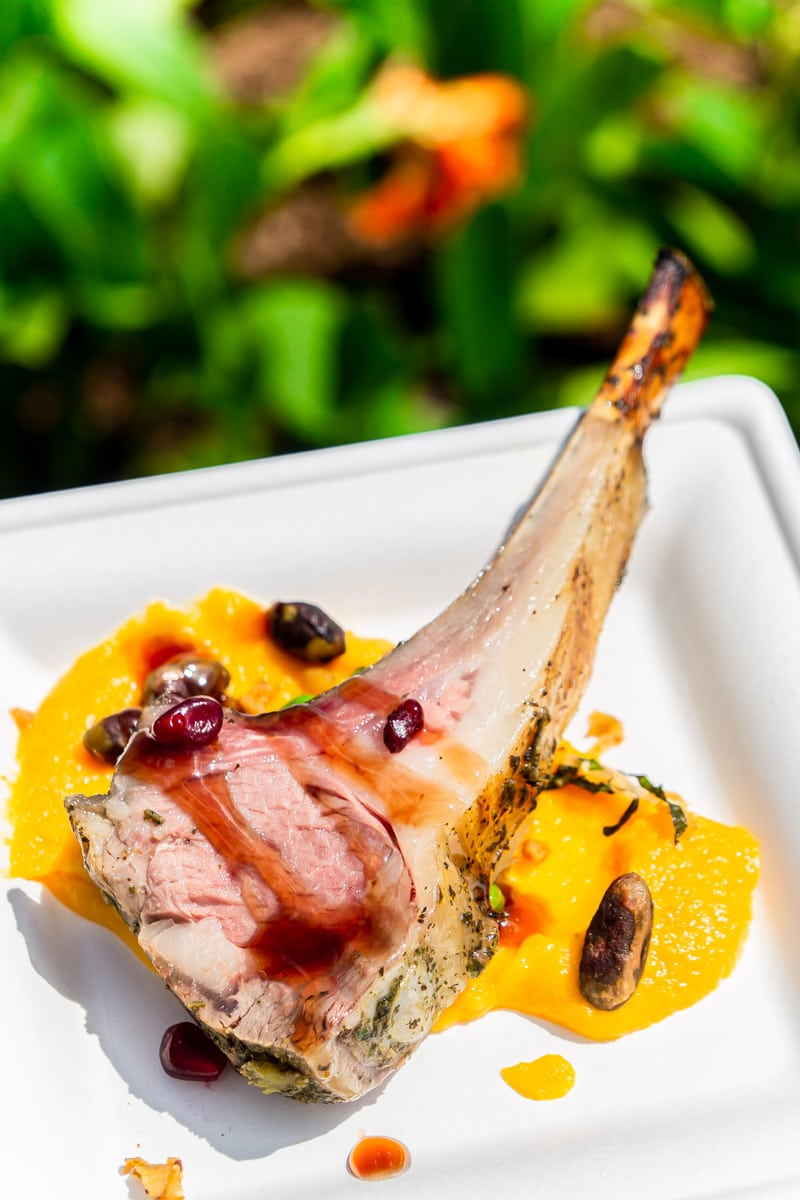 2021 Festival Menu Guide
Okay, now here's what you've all probably been waiting for – what to eat and drink at the 2021 festival! The menu has been announced, and it looks AMAZING!
I haven't been to the festival yet this year, but I have updated this Epcot Food and Wine Menu Review post with all of the new menus PLUS my reviews if they're food items that were around for previous years.
Once I visit this year, I'll update it with all of my reviews.
There's also a handy little checklist you can print out and take with you so you know what to get and what to skip!
Festival FAQs
Is the Food and Wine Festival free?

No. You need a park ticket PLUS a valid Epcot park reservation to get into the park. Plus all of the booths cost money, and most of the special activities have an additional fee (and some require reservations).

When you enter the park make sure to pick up your festival passport so you can keep track of all the countries you've visited. The passport + passport stickers inside are included with admission and a fun addition to the festival!
Do I need a special ticket for the Epcot Food and Wine Festival?
No, unlike Disney After Hours, you don't need a special ticket. A regular park ticket or annual pass plus a park reservation will all work just fine to get you into the park!
How much does the food cost?
The food at the global marketplace booths cost anywhere from $5-10! I'll update this post with detailed prices once I've visited myself. The drinks range anywhere from $4.00 to $32.
Can you use the Disney dining plan for the Epcot Food and Wine Festival?
In past years you could use a snack credit for food items. Currently Disney dining plans are not available but when they return later this fall, they may go back to allowing you to use a snack credit!
How crowded is Epcot during the Food and Wine Festival?
No one knows how crowded the festival will be in 2021. Disney has created a new park reservation system and capacity is still not maxed out. But as far as I've seen, no one knows what that capacity limit currently is.

If this year is like past years at all, weekdays will be less crowded than weekends. You can also check out reservation availability here to get an idea of whether Epcot will be at max capacity that day or not. And know that before the 50th celebration begins on October 1st will likely be less busy than after.
More Disney World Tips