This free printable Easter scavenger hunt comes with unique Easter scavenger hunt clues and is so fun for kids! It's the perfect way to lead kids to Easter baskets, Easter eggs, or any other Easter surprise! Simply print out the Easter scavenger hunt riddles and hide them around the house, then let the hunt begin!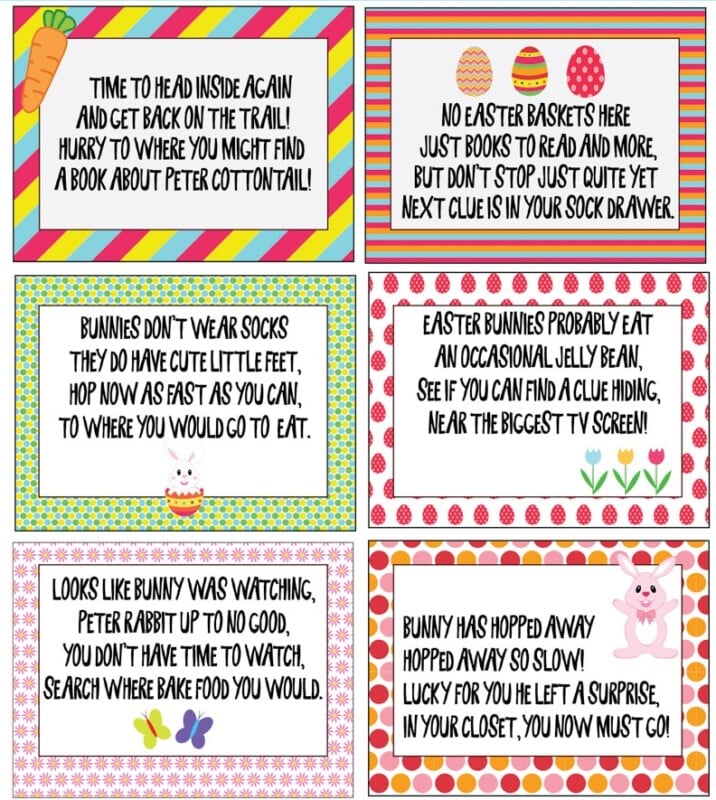 Easter Scavenger Hunt
I'm planning to use this Easter basket scavenger hunt Easter morning to lead my boys to their Easter basket hidden somewhere in the house! Right before we try out one of these creative Easter egg hunt ideas!
This Easter scavenger hunt is one of the treasure hunt type scavenger hunts where kids follow a list of clues to find a surprise at the end!
If you're looking for something where kids have to find certain type of Easter eggs, you'll want to check out this Easter egg scavenger hunt instead!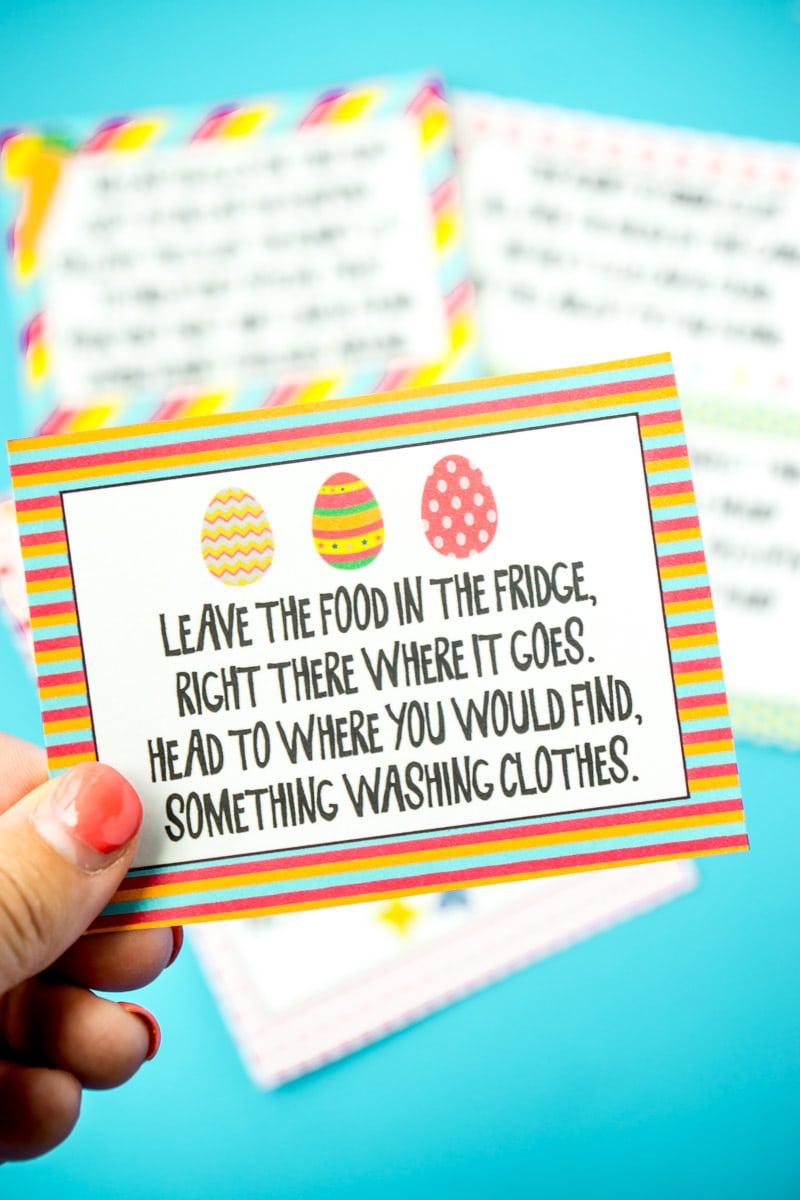 You could totally use it for anything else too – maybe hide eggs at each of the locations or little surprises along the way like I did.
If you're new to scavenger hunts, they're pretty much like treasure hunts with clues leading to a treasure at the end. Kind of like X marks the spot with a pirate treasure hunt, which reminds me I need to make a pirate treasure hunt one of these days!
Maybe next time we go on a Disney cruise I'll do it for pirate night!
This Easter scavenger hunt is made up of 12 different clues including the starting clue and then clues leading to 12 different locations.
There isn't a note at the final location, just whatever surprise you've hidden there! If you need Easter surprise ideas, here are some of my favorites!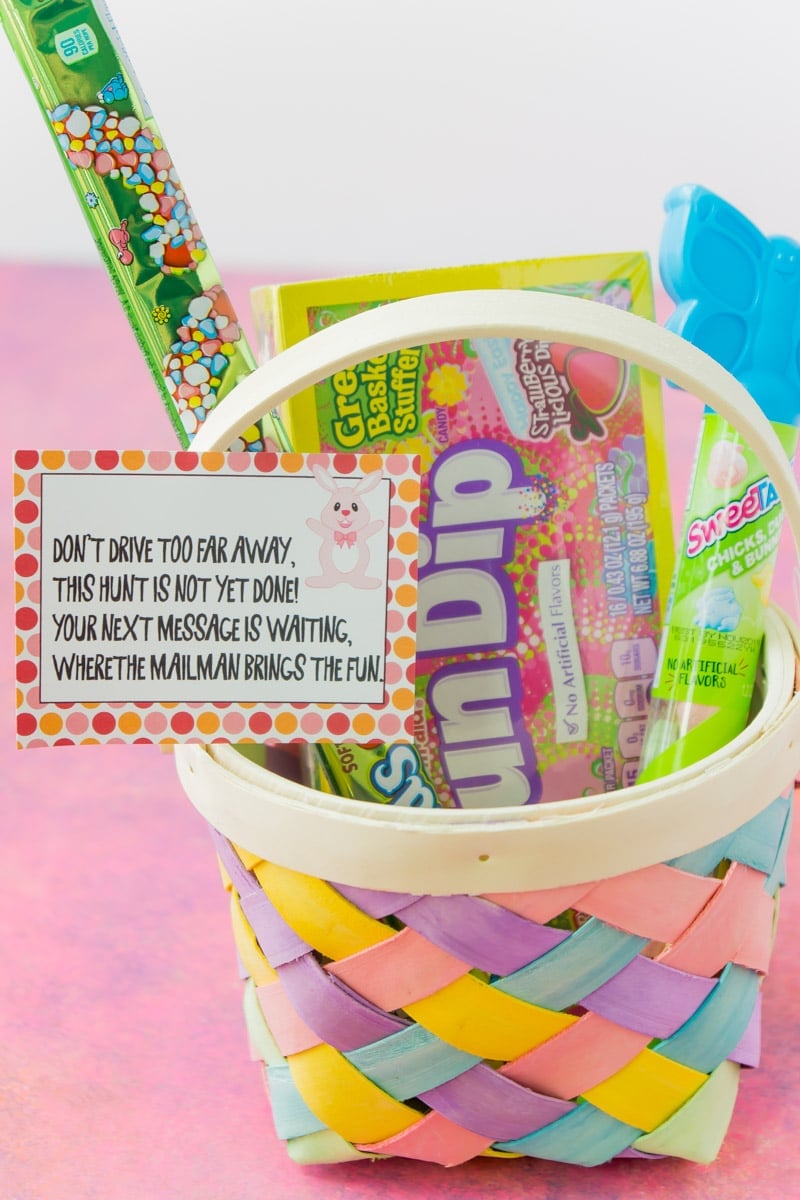 Easter Scavenger Hunt Clues
Whether you call these clues or Easter scavenger hunt riddles, they're pretty much the same thing. Twelve cards with clues that rhyme and lead to different locations around the house.
I'm typically creating clues for younger kids like my almost six-year-old so the clues pretty much give away the location. We've tried a few times where he has to figure out some sort of riddling clue, and it's never as fun because he tends to get stuck and need help.
As he gets older, I may start creating more complicated clues but for now – simpler clues have worked great for all of the holidays over the years!
As I mentioned before, there are 12 clue cards – each leading to a different location.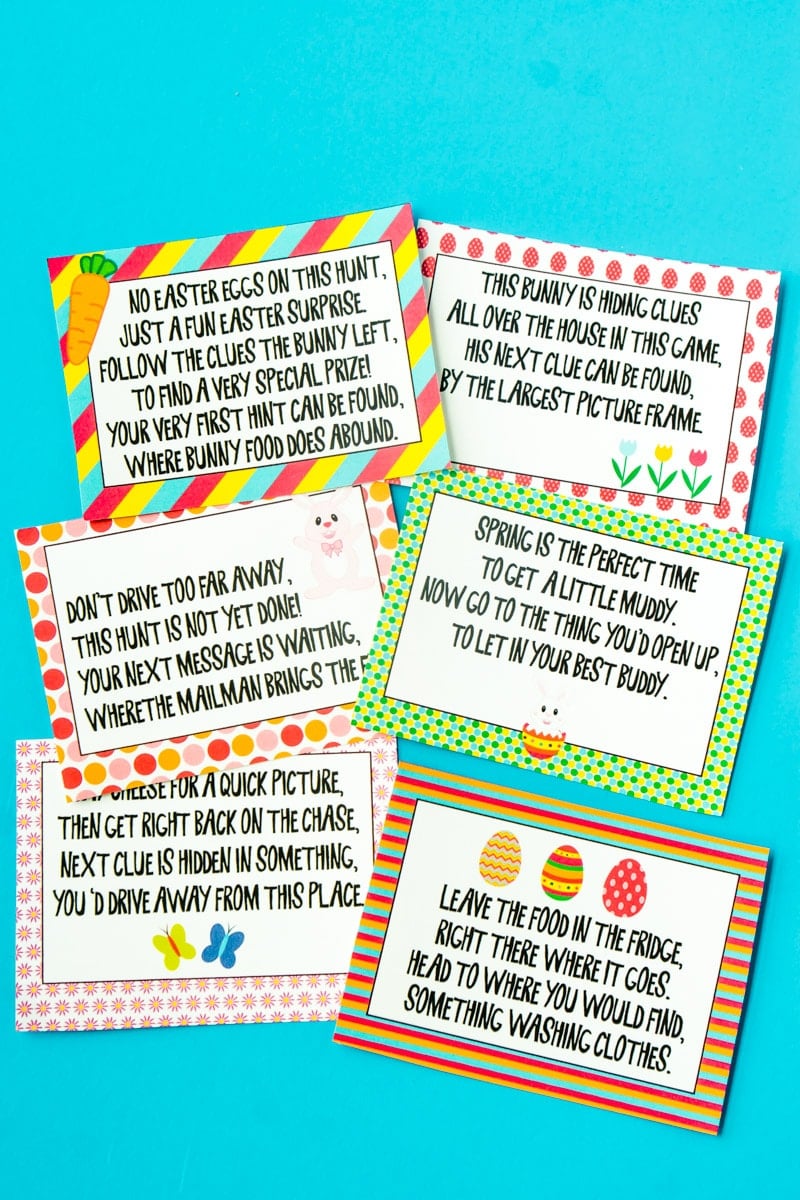 In all of my printable scavenger hunts (and I have a lot of them), I use locations that most everyone should have in a regular home. If you're staying in a hotel room or want to do this outside, unfortunately you're out of luck. This hunt is designed to be played indoor/outdoor at a regular home with a kitchen, bedrooms, bathrooms, etc.
That being said – there aren't any specific locations on the cards (i.e., I don't say go to K's bedroom or to the upstairs guest room). They are all generic enough that anyone could really use them!
Scavenger Hunt Setup
Simply print out the scavenger hunt cards and cut them out, keeping them in order. The order doesn't really matter but the clues do tell a story and tie together so if you mix them up, they'll still get to all of the locations but the clues won't make as much sense.
Keep out the first card – this will be the card you hand the kids to get the Easter scavenger hunt started.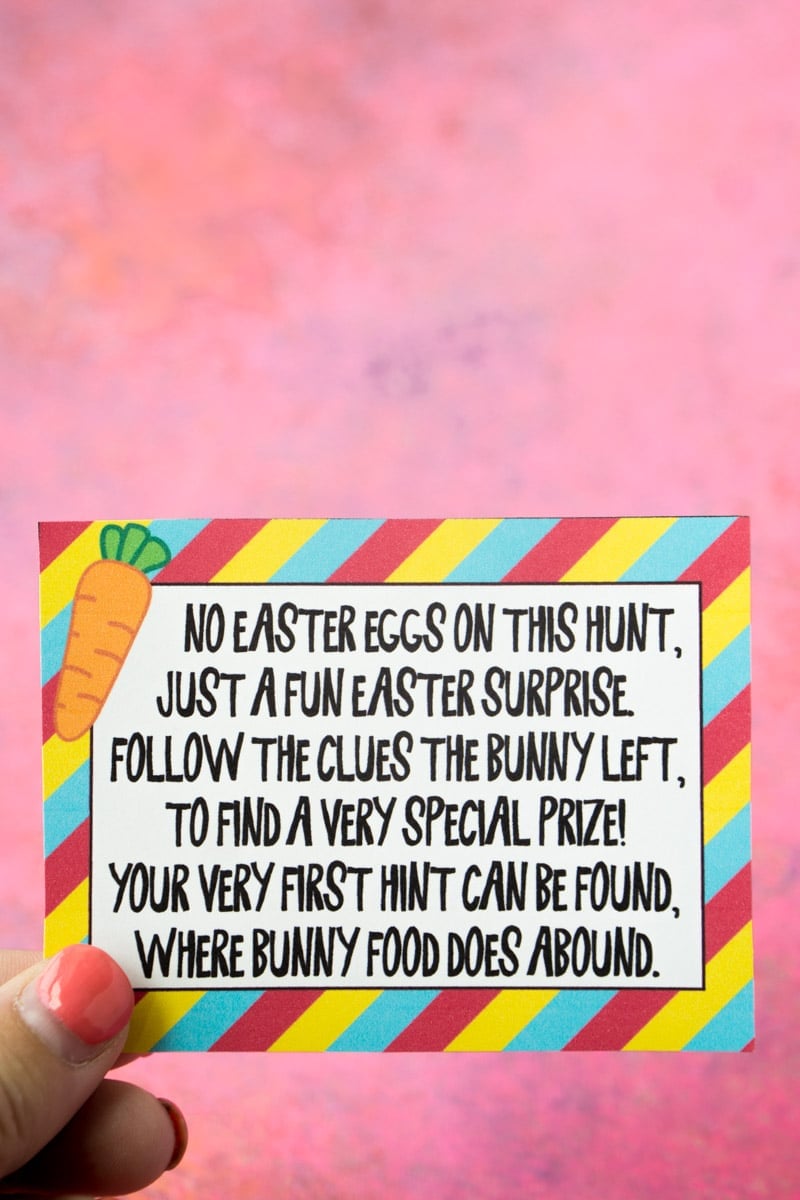 Place the second card in the location mentioned on the first clue card. Place the third card in the location mentioned on the second clue card. And so on until you get to the final card – then place your surprise (Easter basket, etc.) in the location mentioned on the very last clue!
The locations should be pretty easy to figure out and are universal (everyone should have them) like a front door, washing machine, and bathtub. Oh and all of the clues are for an indoor treasure hunt rather than outdoor, so you can still do this Easter basket scavenger hunt whether it's raining or shining on Easter Sunday!
Tip!
If you're doing this with older kids, don't put the clues in plain sight. Make them work for it a little bit – it makes this Easter basket scavenger hunt even more fun!
To make it even more fun, you could add little Easter eggs filled with Easter treats, other Easter surprises, or really anything along the way at different stops like I did. You could even give them an empty Easter basket and have them fill the basket with their surprises along the way.
Whatever works best for you.
The only real key is to have a surprise at the end. Scavenger hunts aren't any fun without treasure to find! Kids of all ages enjoy some good treasure!
And I've put together a list of my favorite Easter surprises and gifts for kids below.
Once you're done with the scavenger hunt, keep your kids active with these fun Easter games!
How to do an easter scavenger hunt
Once everything is all setup, it's time to actually do the hunt!
Start by giving kids the first clue (you can just hand it to them or give them a plastic Easter egg with the clue inside).
They have to figure out where the clue leads, run to that location, and find the next clue. They then keep reading reading the clues, finding the next location, and finding clues until they get to the end of the hunt!
Each of the treasure hunt clues will lead them to a new location and kids typically move fast so make sure to have your camera ready to go before you hand over the first clue!
Easter Scavenger Hunt for Older Kids
If you want more clues for older kids, I just posted this set of free printable Easter egg hunt clues that are a little more difficult than these ones but still easy enough older kids can figure them out.
There are also some really fun Easter scavenger hunt ideas using the clues over there and the order of the clues doesn't matter for this one, so it might be a little easier to wrap your brain around!
If you are looking more for teens or adults, I also have this really fun non traditional Easter egg hunt idea for teens! There are also a bunch of scavenger hunt type clues there that would work alongside these ones!
We did the teen version with my nieces and nephews, and they a blast!
Scavenger Hunt FAQs
How do you make an Easter scavenger hunt?
Simply print out the scavenger hunt clues included in this post, hide them around the house in their designated location, and hide a prize at the end! Give the finders the first clue and let them take off trying to find the prize using just the clues!
What ages is this hunt best for?
This Easter scavenger hunt is best for elementary-age kids but also works for teens. If you want something a little more challenging, I recommend trying out this Easter egg scavenger hunt instead! It's fun for the whole family!
Prize Ideas
Some of these are things you can buy, some are things you can DIY, and others are things you probably already have around the house.
If this list isn't a good fit for the perfect Easter gift, any of the ideas on this Easter basket filler list would make fun prizes for this Easter scavenger hunt too!
More Easter Activities
If you need more fun Easter activities to do either on Easter Sunday or during the Easter season, pick a fun activity from this list! They're great for any age group from young kids to teens!
Download the Free Printable Scavenger Hunt Clues
Enter your first name and email address in the form below to get the printable PDF. You will receive a link to download the PDF to your email within minutes.
I recommend using either white printer paper or white card stock for printing once you download the free printable scavenger hunt clue cards in pdf format.
If you'd prefer not to provide your email, you can get a copy in my shop here.
If you do not see the form, click here to get to it.
If you do not see the email immediately after you fill out the form, make sure to check your promotions, spam, and junk folders!
The file will include:
12 Easter scavenger hunt clues
Use policy – everything is for personal use only, no commercial (for profit) use of my printables