Use these free elf on the shelf printable notes and elf on the shelf ideas to make moving your elf easy throughout the holiday season! With over 30 printable elf notes, there are ideas to use from the day the elf comes back for the season through when he says goodbye!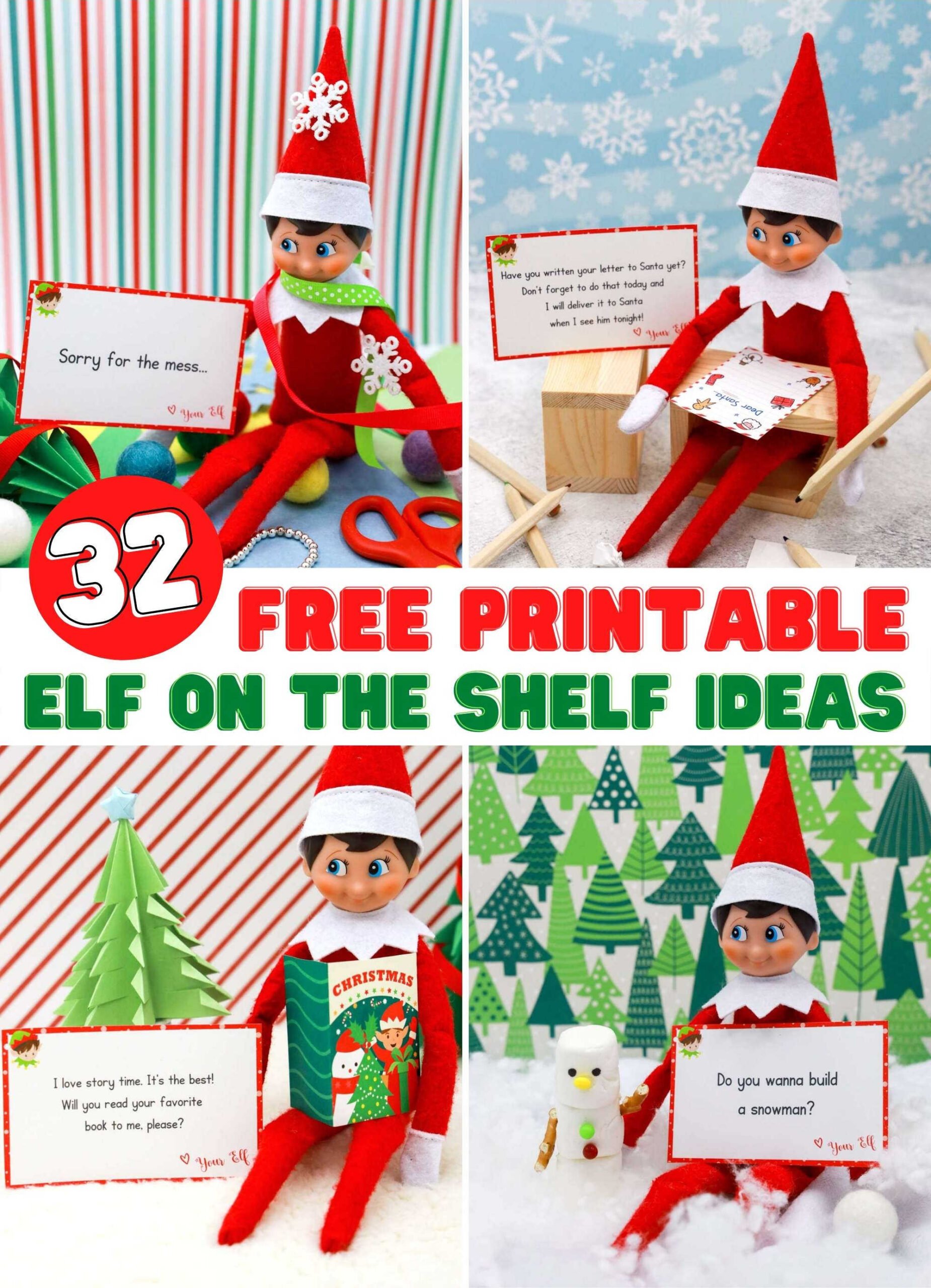 I tried to do elf on the shelf with my boys once. I forgot to move him on day three. And day six. And kind of just gave up after day 12.
It was at the time when I only had one son, and he wasn't that into it. He was more excited about punching a prize in this DIY advent calendar and listening to our Christmas playlist. And I didn't love the whole elf watching you so stick make sure to be on your best behavior thing.
I did throw him a goodbye party where the elf left him this cute free printable elf on the shelf goodbye letter along with a fun Christmas party setup. That was easily the best part of elf on the shelf for my family.
But I know a lot of people absolutely love it. And I've seen some ridiculously fun activities that people do during elf season, so I thought I could at least provide some different elf notes that people can use with their own elf antics throughout the Christmas season!
So here you go – 32 different printable card and ideas to use for some holiday fun. While the elf may not be part of my family's Christmas magic, it doesn't mean he can't be part of yours! So grab your scout elf (or whatever your elf's name is), print out the printable PDF at the bottom of this post, and move that cute elf of yours from now until Christmas Eve!
Tip!
If this is your first year doing the elf game, start with easy ideas so you don't burn out. It can be hard work to come up with new creative ideas every single day in December. You can do a couple of super creative ideas but kids will still enjoy this magical time of year whether their elf is very mischievous or just a fun little elf.
Printable Elf on the Shelf Notes
If you need ideas for your returning elf or a new elf this year, these elf on the shelf printables are perfect! There are 32 different cards, and I've included ideas below to go along with each of the cards!
Hopefully there are some new ideas on the printable cards you can use this year, next year, and every year you continue the elf on the shelf tradition!
Here are a few pictures of ways you could use these little notes with our elf on the shelf fun! Make sure to keep reading for even more easy ideas!
Elf on the Shelf Ideas
I've included creative ideas below that would work with these free printable! Kids will have so much fun finding the elf each day and seeing what they've been up to! And these printable letters are a fun way to to tell the kids what their adorable elf did without having to create anything new!
I've included images of the free printable elf notes below, but I highly recommend downloading the actual PDF file at the bottom of this post for the best quality printing rather than printing out these images.
Tip!
Even if you don't want to use all of these printable note cards, I recommend printing them out to have just in case you forget and need a last-minute idea! Or if you wake up the next day and realize that you forgot to move the elf, at least you will have these little notes to add to wherever you put it!
Santa letter writing – I have a free letter to Santa template you can use with the kids! If you want to use it with the elf, just screenshot it and print it out in a tiny size!
Candy hunt – hide candies or candy canes (kind of like a candy cane game) so the kids can find them the next morning!
Mess – setup your elf in something messy whether it be this Christmas slime, a pile of Christmas crafts, or even if you want to get real messy, some baking supplies like the elf was making sugar cookie fudge.
Snowflakes for breakfast – put your elf with a bowl of paper snowflakes or you could do frosted flakes with snow sprinkles on top!
Aurora Borealis – this is a fun research activity for the kids!
Build a snowman – put out a little marshmallow snowman with your elf and print out this roll a snowman game for your kids to play!
Helpful card – this is just a special note that would be great if you noticed your kids doing something really helpful the day before. You could put it with a small gift, a special treat, or something else.
Story time – this one would be really fun to put out with a new Christmas book as well if you want or just have them read the elf their favorite story!
The next set of cards have some fun good deeds the kids can do on them along with a few reminders not to end up on the naughty list! I'm always a fan of encouraging kids to help others however they can!
Extra chore – this little elf is on the nice list with this card that encourages kids to do an extra chore! You could put it somewhere that's a mess or needs a little TLC.
Christmas cookies – this one is great to use closer to Christmas when you want to do some Christmas baking. If you need some suggestions, these Christmas pinwheel cookies, these peppermint sugar cookies, and these Christmas tree cookies are always a hit with Santa Clause.
Marshmallow fight – setup a little mess with mini marshmallows that looks like your elf got into a snowball fight.
Hot cocoa encouragement – if the day before wasn't the best, use the elf to give a little encouragement and cocoa for a smoother day. This homemade hot chocolate is a family favorite!
Carried away – this is another fun just make a little bit of mess card. You could toilet paper a room, spill some sprinkles, or really any of the other fun elf on the shelf ideas out there!
Hugs – put the elf with some chocolate hugs!
Toy room – hide your elf in the toy box or a bunch of toys then let kids help pick out toys to donate!
Lights – tangle your elf up in a strand of Christmas lights! Then go for a drive and do this Christmas lights scavenger hunt.
These next cards are similar to the ones above where they have some ideas for good deeds, ideas for Christmas activities for the entire family, and some cards just to put with an elf on the shelf when you move it to a new location.
Elf on strike – elf doesn't come back but the card does so kids don't think you just forgot (even if you did). I know parents who used this one a couple of times last year.
Hanging around – hang your elf up somehow whether it be from a ceiling fan, a TV, or somewhere hidden like under the table.
Christmas movie – put your elf with the smallest bowl of popcorn you can find then watch a Christmas movie as a family. Even better if you play a little Christmas movie bingo with it!
Cold in here – put the elf somewhere cold like the fridge, freezer, or even outside.
Random act of kindness – good deeds are always a great addition to the elf!
Naughty elf – setup your elf doing something that would get him on the naughty list!
Special treat – put your elf next to play full of special treats whether store-bought or homemade ones like these reindeer brownie balls, a bowl full of these hot chocolate muddy buddies, or even these santa hat cupcakes.
Naughty warning – this can go with whatever you want. If you're trying to focus more on good behavior and less on negative behavior, skip this one altogether.
This last set of cards are mostly countdown cards along with a few others that can be used in the days leading up to the elf's return to the North Pole!
Wonderful things – this one is fun to setup your elf in some warm and cozy way like under a blanket or snuggled up somewhere so kids can tell them good things!
Thank you note – put your elf with crayons, markers, or other art supplies and paper along with some sort of silly elf doodle. Then let kids write thank you notes using the supplies!
Only 5, 4, 3, 2, 1 more days – these are just great countdown cards you can use leading up to actual Christmas Day!
Draw me a picture – same idea as the thank you note above but instead of having kids write a thank you note, they should draw a Christmas picture!
Expert Tips
Print these cards on whitecard stock at the beginning of the elf season then use them anytime you need an idea or if you have other ideas to use, you can use those and just keep these for last minute moments!
Laminate the cards so that you can use them again next year! I don't recommend using them all over again but you could definitely use some of them without the kids caring, especially if it's the ones bringing them a special treat!
Set a reminder on your phone before going to bed to help you remember to move the elf. Or in the morning if you get up before the kids and do it then.
Don't make a huge mess that you have to clean up. You have enough to do during the Christmas season without having to clean up messes from a mischievous elf.
FAQs
How do I get the printable cards?
You can either download a printable PDF at the bottom of this post or you can purchase a copy of the cards in my shop here.
What are some easy elf on the shelf ideas?
The elf on the shelf doesn't have to be mischievous. Setup the elf with a Christmas book to read with the kids, hang him from the fan, or even put him with a marshmallow snowman. There are tons of easy elf on the shelf ideas you can do in minutes, made even easier with these printable cards!
Do you have blank cards?
I unfortunately do not offer blank elf on the shelf printable cards and these cards are not editable. The PDF document is only available as seen in this post.
More Christmas Printables
If you're looking for fun kids activities for the holidays, these Christmas games will be perfect!
Download the Printable Elf Notes
Enter your first name and email address in the form below to get the printable PDF. You will receive a link to download the PDF to your email within minutes.
If you would rather not provide your email, you can purchase a copy in my shop here.
The PDF will include:
Four sheets of elf on the shelf printable notes (8 to a page)
Use policy statement – everything is personal use only
If you do not immediately receive the email, make sure to check your promotions, spam, and junk folders!
If you do not see the form below, click here to get to it.