This creative gift exchange game isn't really a game at all! It's a fun and unique twist to make a traditional gift exchange game way more fun! Making it the most fun gift exchange game ever!
I love gift exchange games. So much that I've actually created over ten original gift exchange games you can find here.
This year I created two new gift exchange games that I'm super excited about. Scrooge Your Neighbor is a gift exchange game with fun A Christmas Carol inspired cards that add twists and turns throughout the game.
And this Santa's Helper gift exchange game? This is, as my dad would say, a gift exchange flipped on its head.
It's one of my favorite Christmas party games ever and that's saying a lot. So turn on some of the best Christmas songs and get playing!
What is a Santa's Helper Gift Exchange?
This gift exchange is just like any other gift exchange you might play. Honestly you could do it with any of these creative gift exchange ideas or you could do it with a standard white elephant gift exchange.
The one change is that instead of getting a gift for yourself – you're playing the role of an elf, or Santa's helper, and getting a gift for someone else during the exchange.
It's amazing how different the game is when you're trying to get the best gift for someone else and not yourself. I mean there's a reason we love giving out treats with these holiday treat tags.
We played this Santa's Helper gift exchange game this year and it may be my favorite thing ever. It totally changes the tune of the game, and it's seriously a blast.
And as an added bonus, you get to know other people a little bit better during the game. That makes it great for an office Christmas party, church holiday party, a family party with extended family, or even just a regular Christmas party that has people you may not know well.
Santa's Helper Gift Exchange Video
You can watch the video below to see how this works! But make sure to read all of the instructions in this post because they're important – even if you watch the video!
Santa's Helper Gift Exchange Supplies
The supply list for this game is really going to be dependent on what version of the gift exchange game you're playing. Start with that supply list then make sure you also have:
How to Do A Santa's Helper Gift Exchange
The beauty of this idea is that it's a big switch from what you've probably normally did without being complicated or making people learn rules to a new game.
Like I mentioned before, the base of the gift exchange game is the exact same as you'd normally play. Here's how it works.
1 – Pick your gift exchange.
I recommend picking one of the gift exchange games below or you can always go with a standard white elephant gift exchange and plan it out. Just make sure whatever you choose actually has people choosing and stealing gifts rather than something random like this left right gift exchange.
2 – Have everyone bring a wrapped gift.
Just like with any other gift exchange, ask everyone to bring a wrapped gift within a certain price range and when they arrive have them put the gifts on a table.
If you need gift ideas, these are some of the best gender neutral gift exchange gifts! You can either go with a particular theme of gifts, a price range, or really whatever you want.
I always recommend you bringing at least 2-3 extra wrapped gifts in case someone forgets and still wants to participate. You'd hate for someone to have to sit out because they missed the gift exchange memo or forgot it at home.
3 – Print out the tell your elf cards.
Before the party, print and cut out the free printable tell your elf cards at the bottom of this post. There are four to a sheet, and you'll need one per person.
I recommend printing more than you think you'll need just in case more people show up than you were expecting.
4- Have people fill out tell the elf cards.
Okay, here's where things get fun. When people arrive, give them one of the printable "Tell the Elf About Yourself" cards. You can get the free printable at the bottom of this post.
Have everyone fill it out with five things they like, three things they don't like, and one thing on their Christmas list this year.
If you want to tell them what it's for go ahead. If not, just tell them to fill it out, fold it up, and put it in a bowl for when you're playing the game.
Make sure everyone who is playing fills one out and fills it out with honest and accurate information.
Note – you could also do this right before the game but it takes some people a little bit of time to do, so it may delay playing a bit. It took our group of 12 people probably 10-15 minutes to fill out.
I've included some photos to give you an example of the kind of things people wrote down on our elf cards. I think my favorite might be disliking the Thor belly one.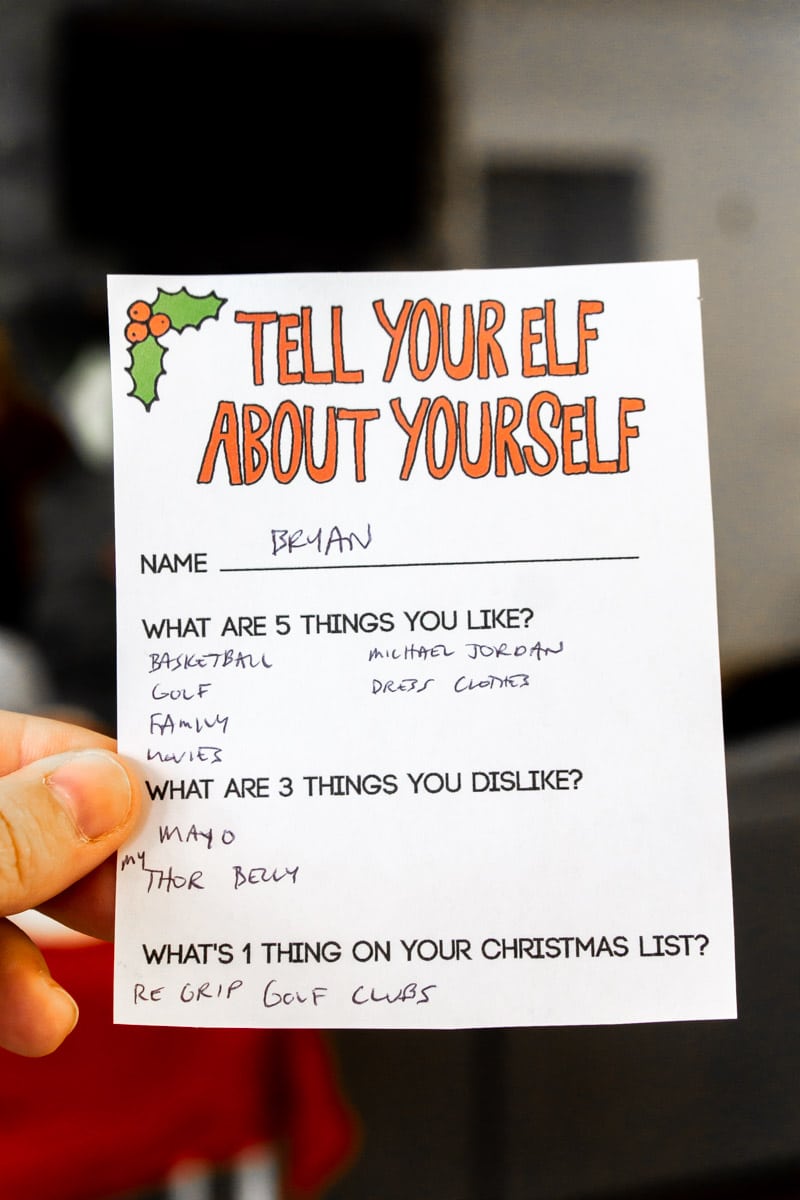 5 – Have people pick the person they're playing for.
Okay, now it's game time. Right before you play the game have everyone pick a folded elf sheet out of the bowl. Explain that instead of trying to get a gift for themselves, they're now trying to get a gift for that person.
DO NOT TELL PEOPLE WHO YOU ARE PLAYING FOR! That's what makes this so fun – so don't ruin it and share who you're shopping for.
They are Santa's helper picking out the perfect gift for the person on their sheet.
6 – Play your game just like normal.
Play whatever gift exchange game you decided on but instead of people playing for themselves, they're trying to get the perfect gift for the person on their sheet.
You may not know anything about the person other than what's on their sheet, but that's why it's fun.
So throughout the game people will be unwrapping gifts, stealing gifts, and trying to get the best gift of all.
For the person on their sheet!
7 – Reveal who you have.
Once the game is finished, go around the group and reveal who you were playing for and what you ended up with for them. Hand over the gifts and use this as an opportunity to laugh and get to know each other.
It's the perfect icebreaker gift exchange game or if you already know each other like my family did, it's still hilarious and fun to try and guess who was getting gifts for who!
Download the Free Printable Tell The Elf Cards
Enter your first name and email address in the form below. You will receive a PDF copy of the tell your elf about yourself cards to your email inbox.
I recommend printing these on regular white printer paper since you want people to be able to fold them easily.
If you do not see the form below, click here to get to it.
Other Gift Exchange Games
Other Christmas Party Games
Don't forget to pin this Santa's Helper gift exchange game for later!