This fun printable roll a snowman game is a fun winter activity for kids! It's easy to setup and even easier to play! Plus, there are two versions whether you want to build a paper snowman or a marshmallow one!
Roll a Snowman Game
If you've been reading my blog for more than a minute, you'll know I love me some good dice games.
From this dice gift exchange to this printable math dice game, I love using dice for games! I've already made a Christmas themed roll a Christmas tree game but thought it would be fun to make one that was a little more generic winter.
And after making this fun Christmas train and marshmallow snowman for TikTok, I knew I wanted to now only do a printable roll a snowman game but also an edible one!
Stick with me, I promise it's going to be fun!
And sweet. Plus, the kids will love it!
Paper Roll a Snowman Game
Okay so let's start with the more simple version of the two – the paper snowman game.
For this game, all you need is the printable roll a snowman file you can download at the bottom of this post. It has both the game card and the little cutouts you'll need to play.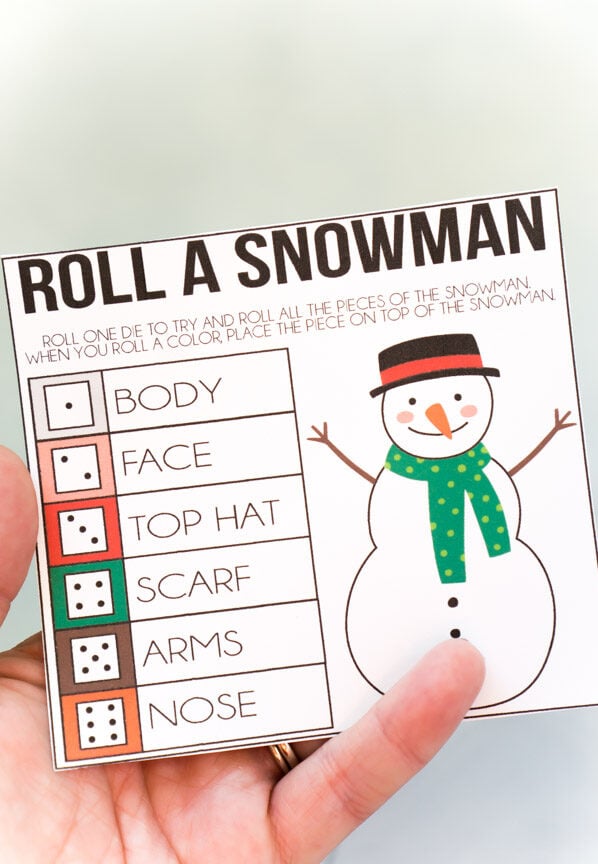 Simply print out one card (there are four to a sheet) for anyone playing, plus enough cut-outs so everyone has each piece.
Cut out the cutouts (one set per person playing). You can be either pretty careful with this or you can leave some edges on the pieces.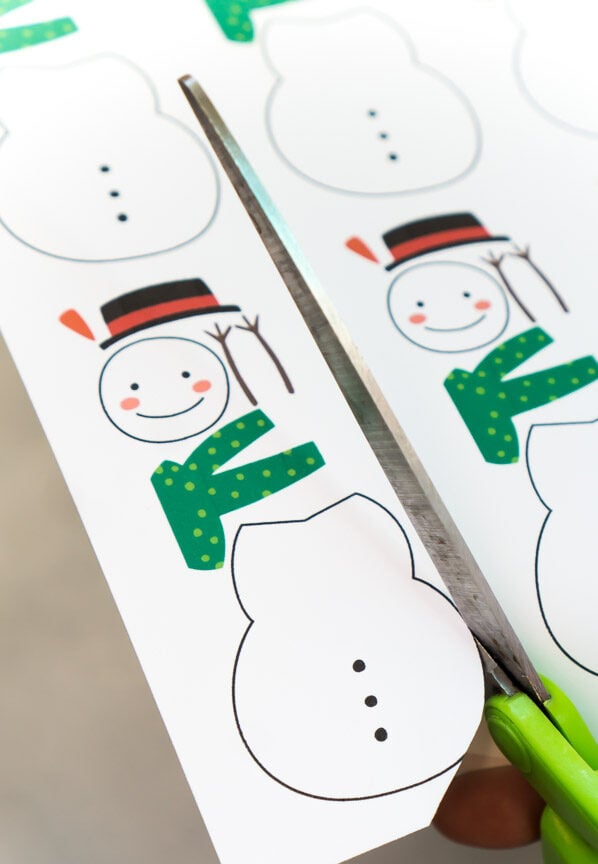 Or if you're playing with older kids, you could even just let them do this themselves if they're comfortable with scissors. Make it part of the activity!
Once everything is cut out, you're ready to play. If you want to be a little more organized (like if you're doing this in a classroom for instance), you can put a card, dice, and all of their cutout pieces into a Ziploc bag so each player has everything they need.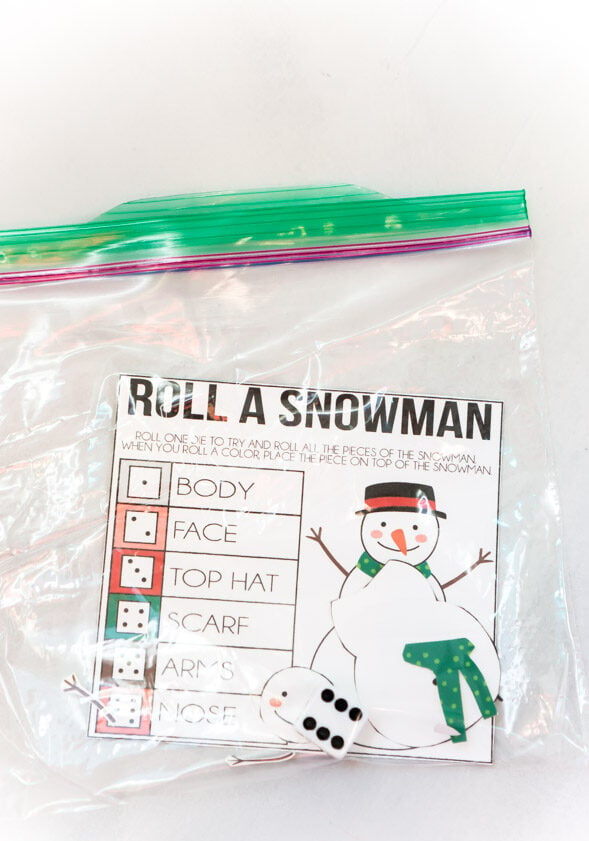 Then you're ready to play!
How to Play
When you say go, everyone rolls the die. In this version, you have to roll a 1 to place your body before you can do anything else.
It's kind of like in Sorry (one of my favorite board games for kids) where you have to get a 1 or a 2 before you can get your player out of home.
Anyway, once they roll a 1 they can place their snowman body on their card.
The rest of the rolling doesn't matter what order it happens in. Just roll and place the corresponding piece on top of the snowman body.
If you roll something that you've already rolled, just roll again until you roll something you haven't roll yet.
That's the simple version.
If you want to turn it into more of a game/race versus just an activity, you can do one of three things:
Have everyone roll as quickly as they can to try and build their snowman. The first person to complete their snowman wins!
Have everyone roll at the same time then stop rolling. Everyone places their pieces and then everyone rolls again together at the same time. Whoever builds their snowman first wins, this is just a bit more controlled.
Divide into teams and each team tries to build a snowman. Give each team one snowman set and then when you say go, teams race to roll their snowman, each taking a turn rolling the dice then passing it to the next person. First team to finish wins. We did this with this roll a rainbow game (there's a video in that post if you want to watch it), and it was a blast!
Edible Roll a Snowman Game
Okay so that's the version of this game that I've had and played many times over the years.
But this year I thought it would be fun to make it a little more interactive, a little more edible that is.
So I put recreated the printable cards just slightly and came up with a fun way for kids to build a marshmallow snowman along with the game!
You'll still print out the printable cards and cut those out. But that's all the cutting! Instead of cutting, you'll fill individual bags with the following:
Mini chocolate chips (just do like a tsp or you can count out like 10 if you want)
Three regular size marshmallows
Two stick pretzels
One red or orange colored M&M
Mini Reese's peanut butter cup
Oreo (or you could replace this with a full size Reese's Peanut Butter cup)
Twizzlers Pull N Peel
Make sure you also have some toothpicks on hand. I recommend just having a bowl of those on the tables wherever you're playing so people can use them as they see fit!
Then give everyone a bag full of their snowman ingredients, a playing card (download and print those below), and a die.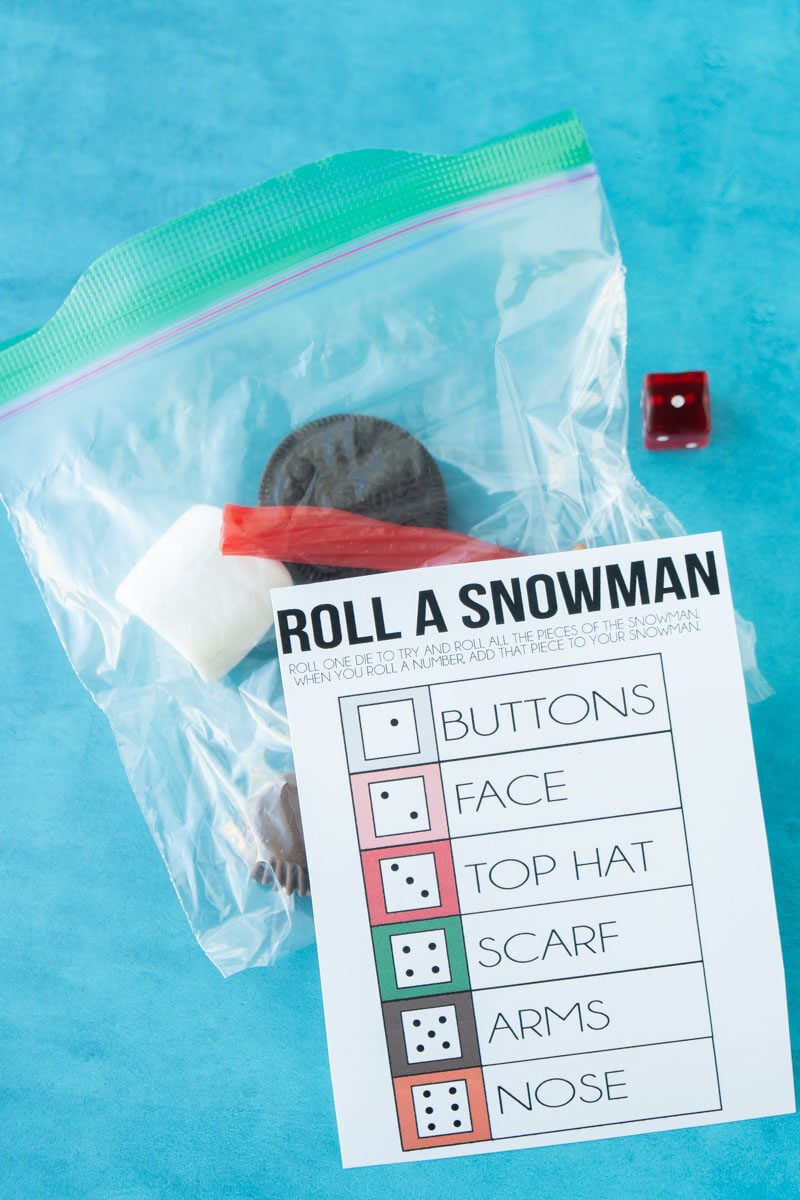 How to Play
Start by letting everyone pull out their three marshmallows and putting together the base of their snowman with toothpicks and the three marshmallows.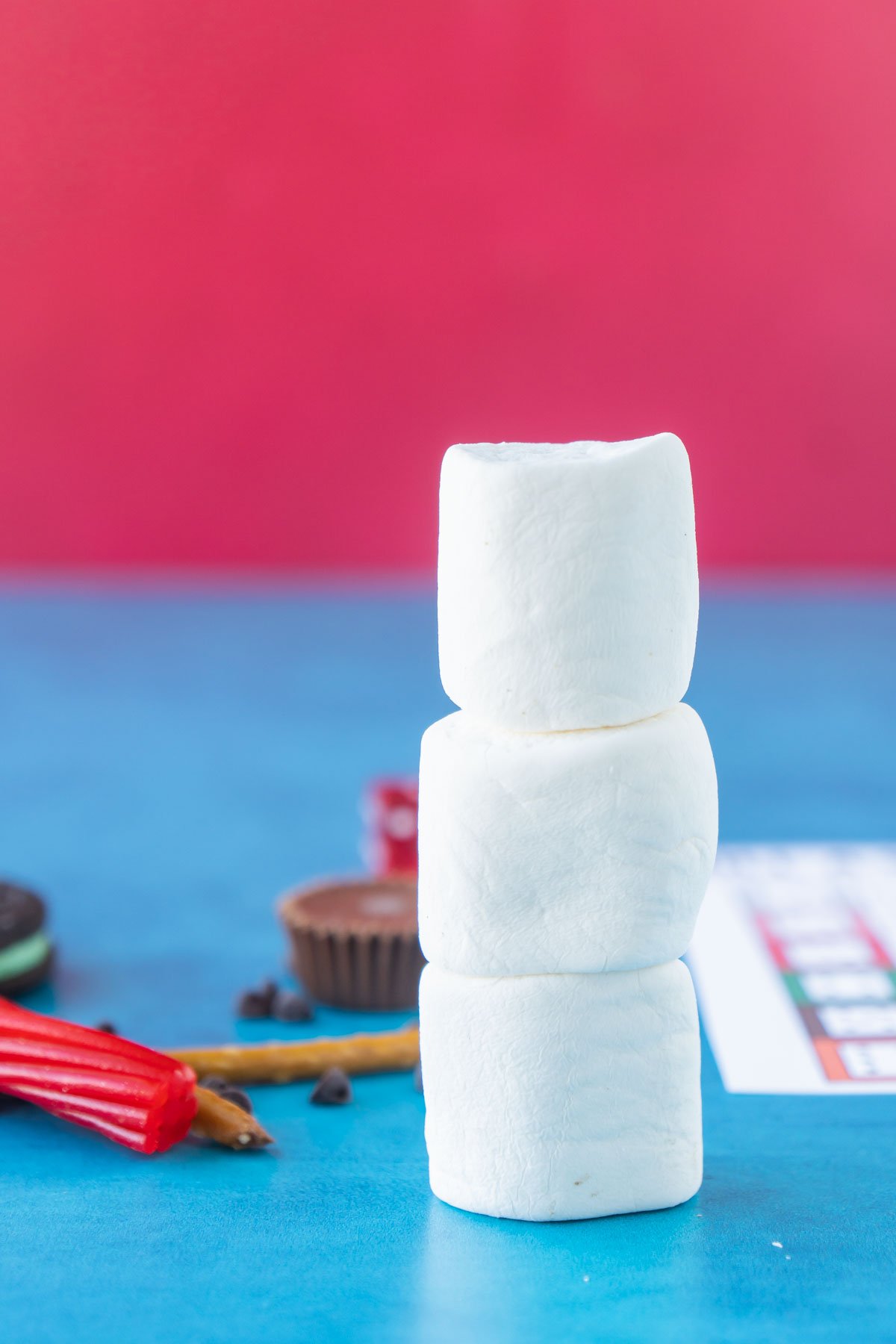 Then it's time to play. Since putting a marshmallow snowman together takes more finesse than just putting paper pieces on a snowman, I recommend just letting people play at their own pace for this one instead of racing.
Or if you want to race, do option #2 above where everyone rolls together at one time, puts on their piece, and so on. I wouldn't do the go as fast as you can option because it can be a mess.
The basic idea is the exact same as the game above except instead of rolling the body first, you already have the body, so you roll the other items in any order you want then put them on your snowman.
Keep the toothpicks handy in case people want to use them to connect ingredients to their snowman. It's not necessary but might be helpful to keep things like the top hat on.
Here's how to build the snowman (or let people get creative with the supplies they have):
Buttons – mini chocolate chips poked into the marshmallow
Face – mini chocolate chips for eyes and mouth
Top hat – Oreo topped with a Reese's peanut butter cup
Scarf – Twizzlers Pull N' Peel wrapped around the marshmallows
Arms – pretzel sticks
Nose – half of a M&M stuck into the marshmallow
Tip!
Put together a sample snowman that people can see so they know what they're going for. They don't necessarily have to make theirs look exactly the same but sometimes it's nice to have an idea of what you're trying to do.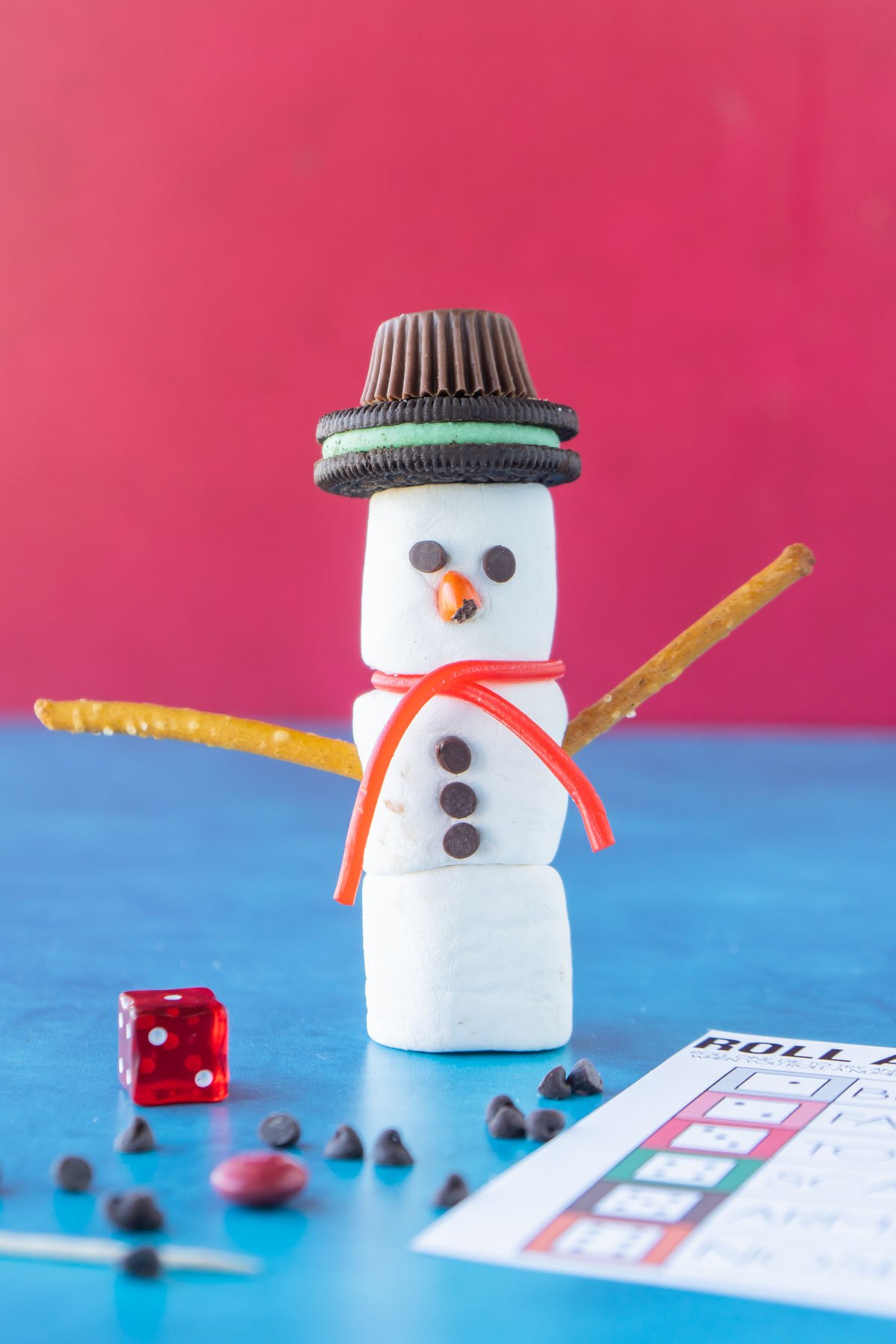 Once the snowmen are created, you get to the most fun part – eating your snowy creations! This is why kids will love this version even more than the original paper version!
Expert Tips
Laminate the roll a snowman cards and bring them out again year after year!
Keep some extra ingredients on hand just in case someone eats part of their snowman a little too early!
Game FAQs
Can I use other ingredients instead?
These are just examples of how I created my snowman for the game but you can totally change things up and use different ingredients for the edible roll a snowman game instead. Just make sure you have things to use for the face, nose, scarf, top hat, arms, and buttons! Whatever you want to use works!
More Christmas Activities
If you liked this roll a snowman game, you'll love these fun Christmas activities for kids!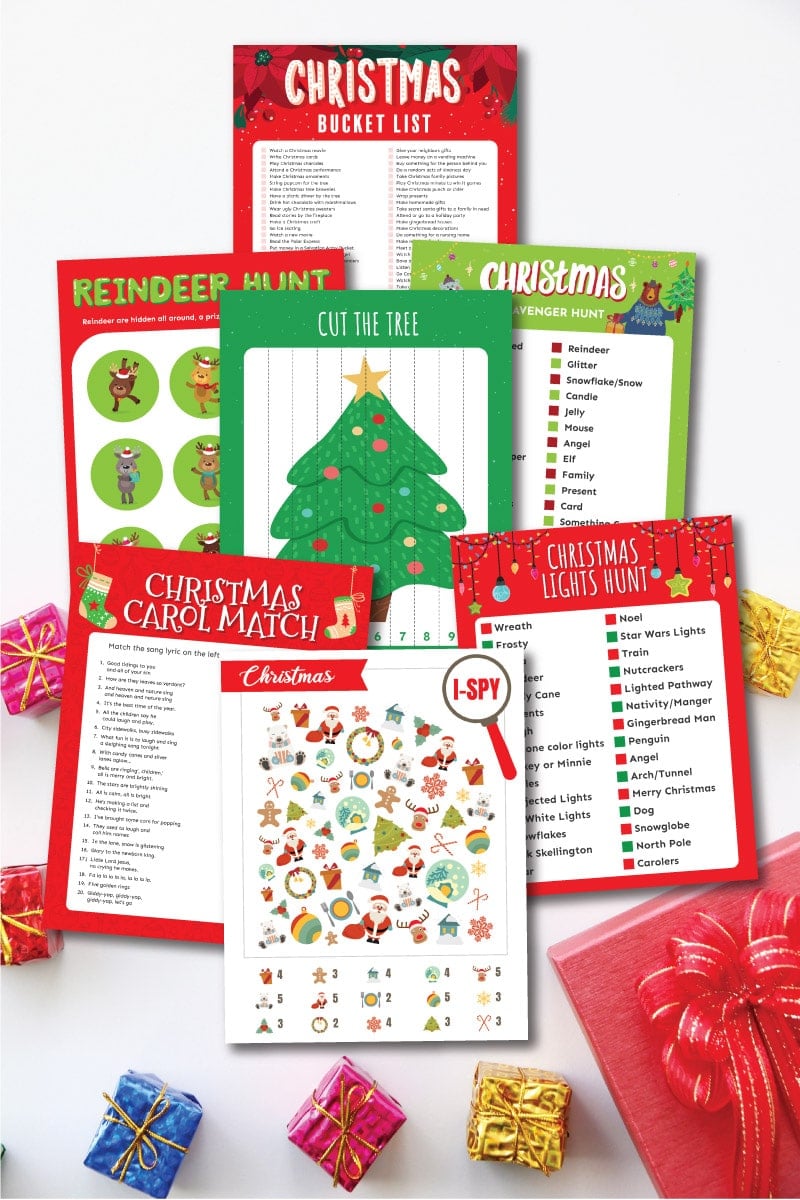 want more fun kids activities?
Download the Roll a Snowman Games
Enter your first name and email address in the form below to get the printable PDF.
You will receive a link to download the PDF to your email within minutes.
If you do not see a form below, click here to get to it.
If you do not immediately receive the email, make sure to check your promotions, spam, and junk folders!
The PDF will include:
Edible roll a snowman cards
Paper roll a snowman cards
Pieces for the paper roll a snowman game