This fun free printable Harry Potter scavenger hunt will have Harry Potter fans following wizard inspired clues all over the house to find a surprise at the end of the hunt! It's fun for all ages and for all level of Harry Potter fans!
My family is a bit Harry Potter obsessed these days. I started reading the first book with my oldest son a couple of weeks before our trip to Universal Studios last year so he'd know what was going on.
And now nine months later we just finished Harry Potter and the Goblet of Fire and moving right along. P.s., I'm a little bitter that they haven't finished the illustrated versions of the last couple of books yet.
We've LOVED reading the illustrated versions of the book together! And coloring these Harry Potter coloring pages!
With Harry Potter's birthday coming up later this month (and my mind on Harry Potter all the time), I thought it'd be fun to share a Harry Potter scavenger hunt for any other fans out there like us!
This would be super fun for a Harry Potter birthday party (with any of these other Harry Potter games), celebrating his birthday, or really just any time if you need something to do! I've already printed it out and am planning to do it with my kiddo at the end of the book we just started.
This would also be an EPIC way to tell your kids that you're going on a trip to visit Harry Potter Land at Universal Studios! You could make some of this butterbeer recipe and have it with tickets at the end of the hunt!
Supplies
The best thing about doing a scavenger hunt is that you really don't need much! All you need for this Harry Potter scavenger hunt is:
Printable clues – download them at the bottom of this post
Printer and paper – I recommend printing on white card stock so the clues aren't flimsy BUT you could totally print them on white printer paper as well.
Tape – this is optional and only if you want to tape the clues in locations. I use tape a lot but you could also just set it places.
Prize – this scavenger hunt alludes to a surprise at the end of the hunt (since that's typically how scavenger hunts work). So you'll need a surprise or prize of some sort.
How to Set Up the Scavenger Hunt
This is so easy to set up and super easy to do. If you've set up one scavenger hunt, you've set them all up.
Here's how easy it is!
Print out the clues.
Write the location the clue will be hidden in on the back (this is optional, but recommended so you don't forget where the clues go).
Hide the clues in their designated locations, making sure to hang onto the very first clue.
Hide a surprise at the end!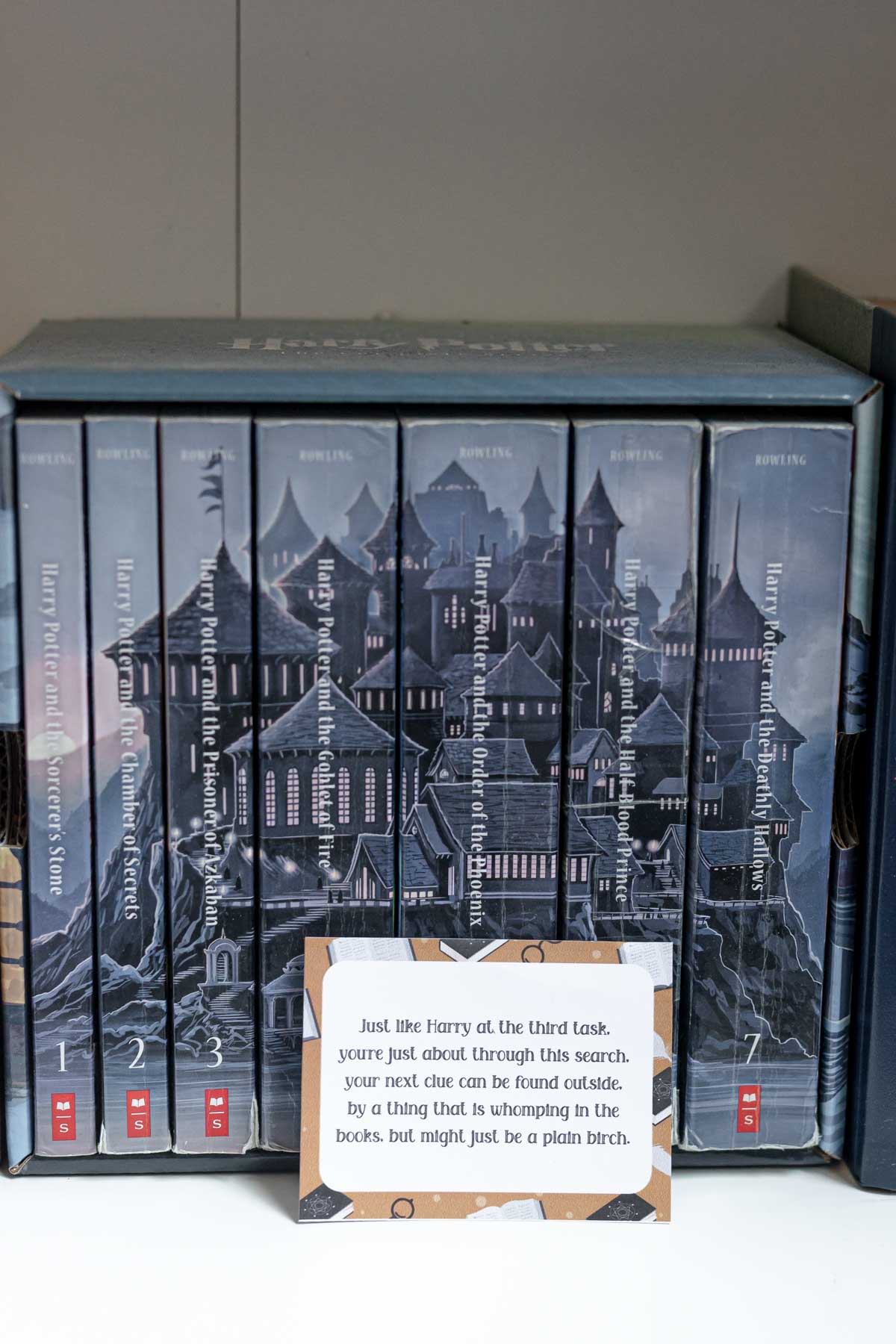 It's really that simple! If you want to see a scavenger hunt setup in action, you can check out my Valentine's Day scavenger hunt!
The difficulty level of this scavenger hunt can really be dependent on how difficult you hide the clues in their designated locations. I like to hide them a little more tricky for my older son and in plain sight for my younger.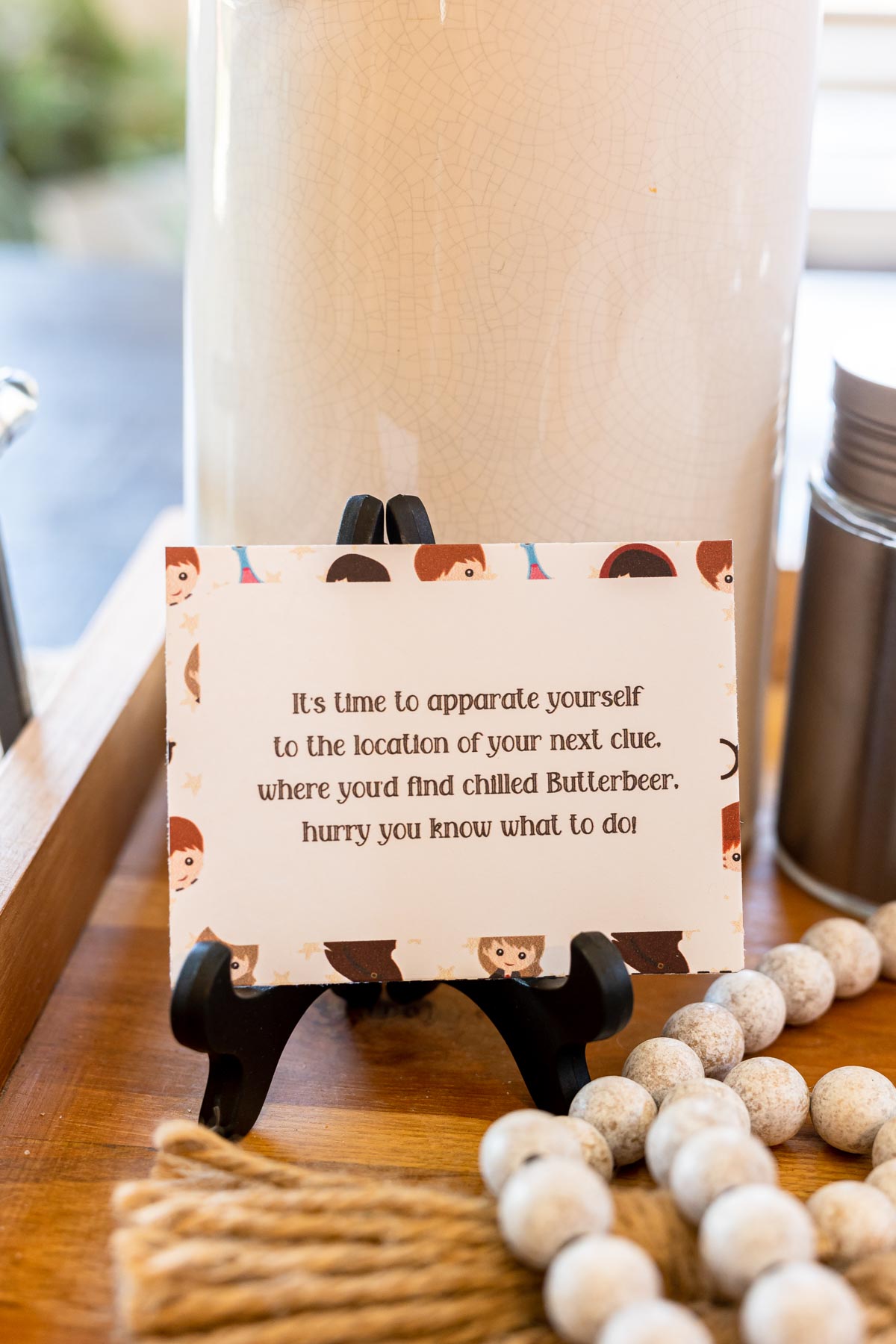 How to Do a Harry Potter Scavenger Hunt
Once everything is hidden, it's time to do the actual hunt!
Give the hunters the first clue and let them at it! If they're older, let them try and figure out the clues on their own. If they're younger, they may need a tiny bit of help!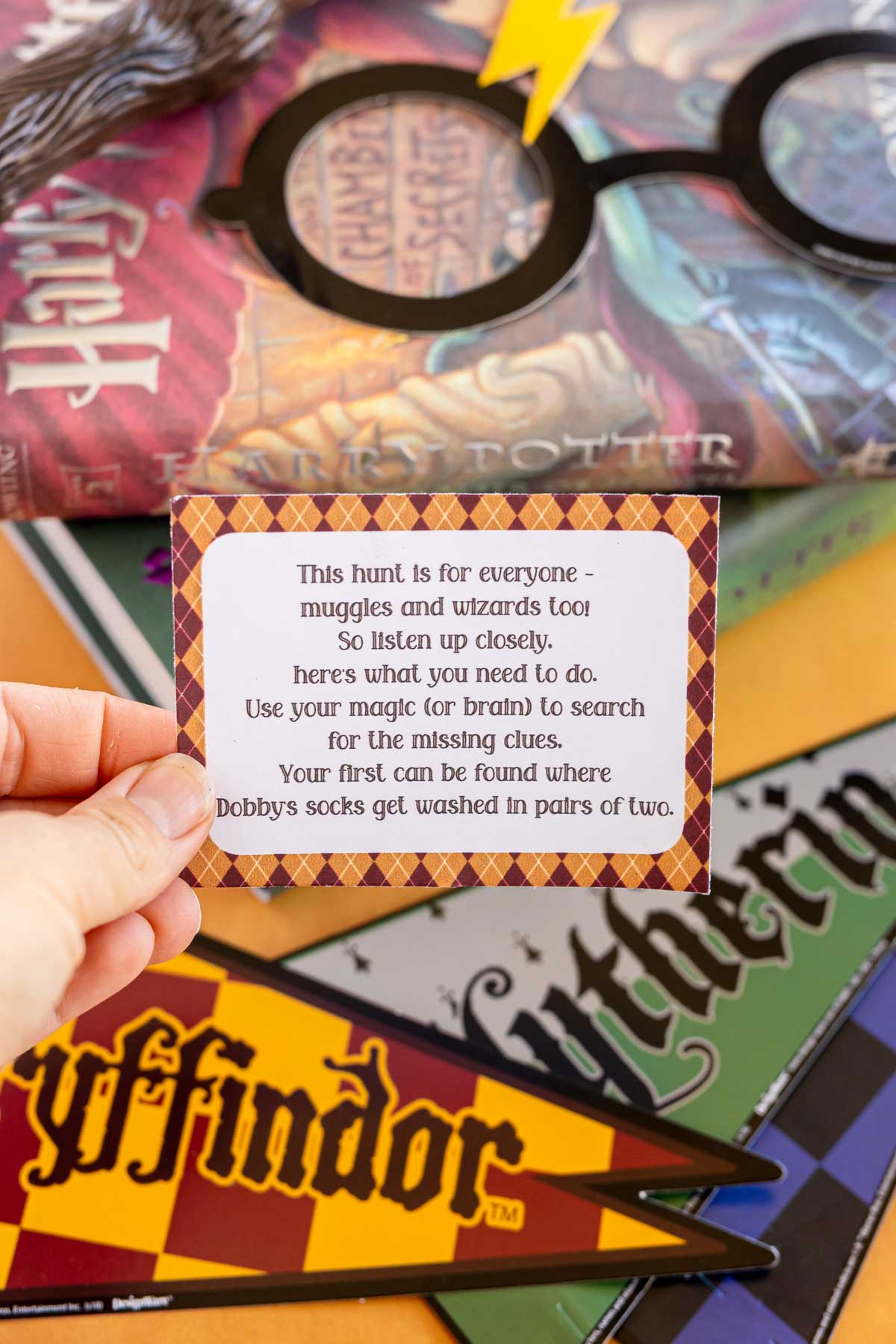 This one is easier than say my Star Wars scavenger hunt that was written full of actual Star Wars movie quotes – that one is fun but a bit tricky!
Follow the clues from place to place until they reach the end and find the final surprise!
Harry Potter Prize Ideas
If you need fun ideas for what to put at the end of the scavenger hunt, here are some of our favorite Harry Potter items! I've included some larger items for if you're doing this for your own kids as well as smaller items that would work if you were doing this at a party with a large group!
Expert Tips
Write out where each of the clues go on the back of the clue so if you get them out of order, you know where to hide it. Make sure you're hiding the clues in the place that they last clue directed, not where the clue itself is directing.
Have kids take turns reading and finding the clues if you're doing this with a large group at a party. Everyone can go together and can help each other find the location but rotate through who finds/reads the actual clue.
Scavenger Hunt FAQs
What are the rules for a scavenger hunt?
A scavenger hunt has only one rule – follow the clues to a location at the end with a surprise! The only other rule would be if you're doing this with multiple people, then I recommend that there be a rule that the clue cannot be read until everyone is at the location.
Do you have any more scavenger hunts?
I have all sorts of scavenger hunts – like 50! You can find more clue-based scavenger hunts and seek and find style scavengers hunts here!
More Harry Potter Games
If you're a Harry Potter fan, you'll love these other Harry Potter games! Grab some butterbeer popcorn and a few pumpkin pasties to enjoy with the games and have a magical night!
And if that's not enough, click the button below to check out our entire Harry Potter game bundle!
Download the Harry Potter Scavenger Hunt
Enter your first name and email address in the form below to get the printable PDF. You will receive a link to download the PDF to your email within minutes.
The PDF will include:
A two-page PDF with Harry Potter scavenger hunt clues
Instructions
Locations for where the clues should be hidden
If you do not immediately receive the email, make sure to check your promotions, spam, and junk folders!
If you do not see the form below, click here to get to it.