Harry Potter charades is a great game for a movie night, Harry Potter birthday party, or just a fun activity for a family who loves the movies!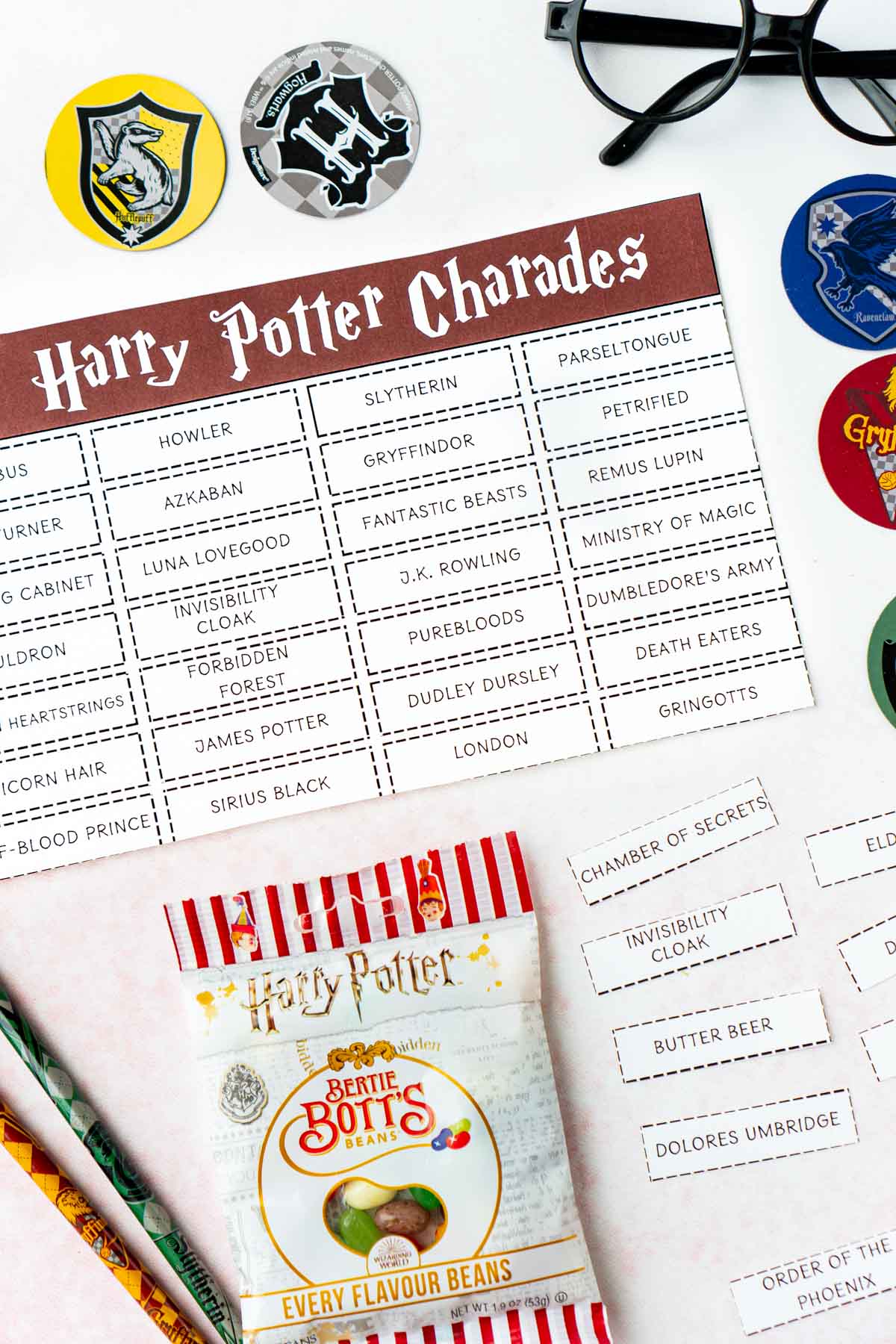 Harry Potter Activities
My son is finally at the age where I'm about ready to introduce him to Harry Potter. I've read all the books and watched all the movies, and he think he'll enjoy them!
To say I'm excited it a bit of an understatement. I thought it would be fun to put together some Harry Potter games to do as we start reading the books. This Harry Potter charades game is just one of them.
I also created some Harry Potter would you rather questions, Harry Potter trivia questions, and even a Harry Potter danger word game (kind of like a twist on Taboo).
I might've gone a little overboard but hopefully other families and Harry Potter fans will love using these for their own Harry Potter birthday parties, movie nights, and more!
Play while you're enjoying a little homemade butterbeer made with our butterbeer recipe!
Supplies
One of the best things about charades is that you really don't need much to play. Just get together the items below and you're golden!
Harry Potter charade words – printable PDF at the bottom of this post
Scissors – to cut out the words
Bag/bowl – I recommend doing something like these Harry Potter goodie bags to keep it in theme
Prizes – these are optional, but I always like to give out prizes! And I've included some super simple Harry Potter prizes for you in this post!
I've created a downloadable printable at the bottom of this post that includes instructions and over 80 printable Harry Potter charades words to use for the game!
How to Play
There are a couple of different ways you can use these Harry Potter charades word!
Before you start any of them, you'll need to print out the words and cut along the dotted line. Put the words into a bag, bowl, or bucket of some sort.
1 – Traditional Charades
This is the most typical charades game. It's super simple and the version of charades that most people know.
Split your group into two teams. Pick one team to start and one player from that team to start.
The player goes up to the front and when you say go, flip over the timer and they pick a card from the bag. They have to act the word or phrase out and try to get their team to guess it before the time is up.
Only acting, no words or sound effects.
If their team guesses, they earn a point for the team. Keep track of points by holding onto the words you guess correctly.
Once the minute is up, switch teams and have someone on the other team try to act.
Keep switching back and forth through teams until you've gone through all the words, a certain number of rounds, or a pre-determined time limit.
The team that guesses the most correct wins.
2 – Reverse Harry Potter Charades
In this version, everything mentioned above is the exact same except instead of having one person act and everyone else guess – reverse it. One person guesses while the rest of the team acts.
You can see this game in action in my favorite party games for adults!
3 – One Minute Act
So you could do this for either of the above options – the basic idea is that instead of giving an entire minute (or longer if you want) to get the team to guess the word – you'll give the team a minute to get their team to guess as many words as possible.
Set the timer for a minute and start acting. If the team guesses correctly, pull another word and keep going. Get as many as possible in a minute.
If you're doing traditional charades with one person acting, it's also fun to have the actor switch during the minute. Choose one person to act and then whoever guesses correct runs up and becomes the actor while the first actor sits back down to become a guesser.
4 – Pictionary
Okay so I know this isn't a version of charades but the Harry Potter charades words included in this post are also perfect for playing Pictionary or Catch Phrase (one of our favorite board games for adults).
Need Pictionary rules? Check out our Thanksgiving pictionary game for details!
Prizes
If you're like me and like to give out prizes, you could do something simple like Bertie Bott's jelly beans for the winning team! Or any of these would work too – they're all fun to receive but not too expensive!
Expert Tips
Add extra time if you're playing with younger kids who might need more than a minute to get their team to guess. I also recommended extending to 2 or 3 minutes if you're playing with kids and doing the one minute act game.
Walk through charade motions before you start so everyone is aware what things mean. Here is a really good explanation of charade signals to start from – things like how to show "sounds like," "how many syllables," etc.
Divide teams to be boys vs girls, parents vs kids, or some other fun division that may not work in other games. It typically works great in charades (as long as kids are old enough to read) since age isn't really a factor in how good someone is at acting things out.
Make a skipping rule at the beginning of the game. If someone has absolutely no clue what the thing is on their card (e.g., Dolores Umbridge) and have no idea how to act it out, they can put it back in and pull out another.
However, if they know the words on the card – just not what it is in Harry Potter context (e.g., Exploding Snap), they should still try. And for younger kids, feel free to allow them to skip until they come to one they want to try.
Game FAQs
Can I play this with a large group?
I recommend playing charades with no more than 12 people – six to a team. Although you can play with more, I find it gets a little hectic with too many.
Can I play if I've never read the books?
Yes! All of the Harry Potter charades words also appear in the movies, there's nothing book specific.
Can I play if I know nothing about Harry Potter?
Many of the words are very Harry Potter specific. While you might be able to get some of the words like charades, you're likely not going to get phrases like Severus Snape (since you won't know who it is).
Can you skip if you don't know?
Yes, if it's something you have no clue on – put it back in the bag and pull out another one. This does waste time but totally worth it if you can't get your team to guess it anyway.
Which Hogwarts house would you be in?
As much as I'd like to think I'd be in Gryffindor, according to Buzzfeed I'm actually more Hufflepuff because of loyalty to friends. So I guess we'll go with that!
How many words are there?
There are three sheets with 28 words each, or 84 total words.
More Charades Games
Download the Printable
Enter your first name and email address in the form below to get the printable PDF. You will receive a link to download the PDF to your email within minutes.
The PDF will include:
A set of instructions
3 pages of Harry Potter charades words – 84 total words
If you do not immediately receive the email, make sure to check your promotions, spam, and junk folders!
If you do not see the form below, click here to get to it.