These Harry Potter trivia questions are great for Harry Potter fans to test their knowledge of their favorite characters, fight scenes, and potions! If you think you know all of the Harry Potter facts to come out of the books, then these trivia questions are for you!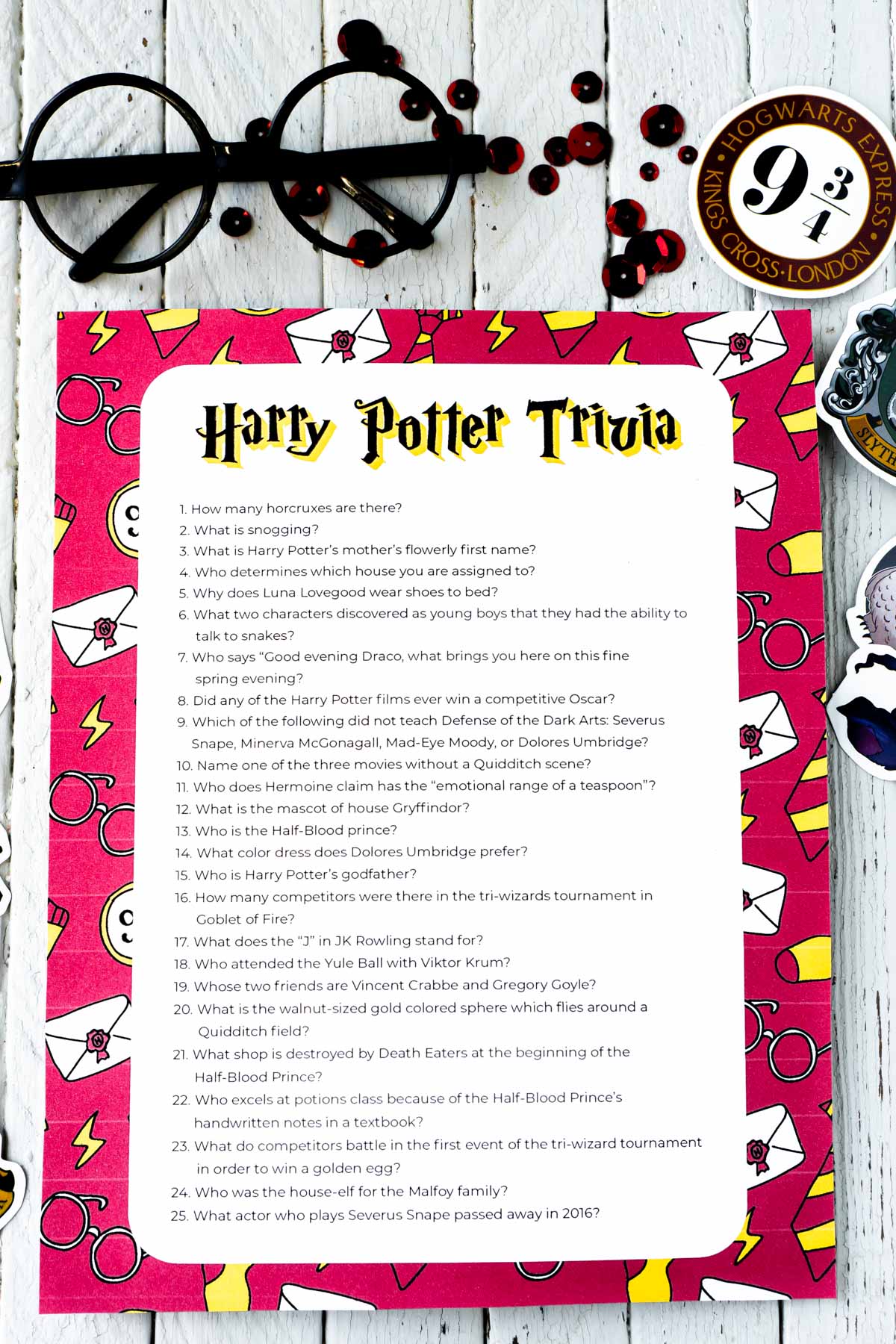 My son is getting to the age where we're about to start reading Harry Potter together as a family. And next week we'll be playing some of these Harry Potter games to celebrate Harry Potter's birthday as a family!
Since I have lots of best friends and readers who are huge Harry Potter fans, I thought it would be fun to create some Harry Potter trivia questions to test both the basic fans and the true fans.
Unlike this Harry Potter danger word game, you actually need to know the trivia question answers. There's no hiding behind an invisibility cloak on this one!
If trivia isn't your thing, you might want to try these Harry Potter would you rather questions or maybe a little Harry Potter charades instead! And if you need something for the little ones, these Harry Potter coloring pages or this Harry Potter scavenger hunt are great for entertaining them while you play!
These would also be great to ask while standing in line at the Wizarding World of Harry Potter in Universal Studios Florida whether you're getting some butterbeer or waiting to ride one of the best roller coasters at Universal Studios in Diagon Alley. Or really at any theme park!
Easy Harry Potter Trivia Questions
I've created two different sets of questions – one with questions that are great for kids (with simple things like knowing that J.K. Rowling wrote the series) or a Harry Potter party and one that are more challenging, even for huge Harry Potter fans!
If you've read the Harry Potter series but maybe aren't a huge obsessed fan like some of us, these fun trivia questions are good for the basic fans. If you're true Harry Potter fans, then you can probably just skip these and move to the more challenging ones below these.
How many horcruxes are there?
What is snogging?
What is Harry Potter's mother's flowerly first name?
Who determines which house you are assigned to?
Why does Luna Lovegood wear shoes to bed?
What two characters discovered as young boys that they had the ability to talk to snakes?
Who says "Good evening Draco, what brings you here on this fine spring evening?
Did any of the Harry Potter films ever win a competitive Oscar?
Which of the following did not teach Defense of the Dark Arts: Severus Snape, Minerva McGonagall, Mad-Eye Moody, or Dolores Umbridge?
Name one of the three movies without a Quidditch scene?
Who does Hermoine claim has the "emotional range of a teaspoon"?
What is the mascot of house Gryffindor?
Who is the Half-Blood prince?
What color dress does Dolores Umbridge prefer?
Who is Harry Potter's godfather? (Hint, it's not Professor Dumbledore.)
How many competitors were there in the triwizard tournament in Goblet of Fire?
What does the "J" in JK Rowling stand for?
Who attended the Yule Ball with Viktor Krum?
Whose two friends are Vincent Crabbe and Gregory Goyle?
What is the walnut-sized gold colored sphere which flies around a Quidditch field?
What shop is destroyed by Death Eaters at the beginning of the Half-Blood Prince?
Who excels at potions class because of the Half-Blood Prince's handwritten notes in a textbook?
What do competitors battle in the first event of the tri-wizard tournament in order to win a golden egg?
Who was the house-elf for the Malfoy family?
What actor who plays Severus Snape passed away in 2016?
What is the imperius curse also known as?
Easy Trivia Question Answers
7
Kissing
Lily
The Sorting Hat
Because she sleepwalks
Tom Riddle/Voldemort and Harry Potter
Albus Dumbledore
No, but the Fantastic Beasts won for costume design.
Minerva McGonagall
Order of the Phoenix, Deathly Hallows Part 1, and Deathly Hallows Part 2
Ron Weasley
Lion
Severus Snape (aka Professor Snape)
Pink
Sirius Black
Four
Joanne
Hermione Granger
Draco Malfoy
Golden Snitch
Ollivanders
Harry Potter
Dragons
Dobby
Alan Rickman
The killing curse
Hard Harry Potter Trivia Questions
If those aren't hard enough for you because you're an expert in the Harry Potter series or die-hard Harry Potter fans, then try out these more challenging ones instead! The come from the Harry Potter book series but are tougher Harry Potter questions for the true potterheads.
What is the mascot for the house Hufflepuff?
What is the potion Felix Felicis also know as?
What was the first horcrux destroyed?
What flavor of Bertie Bott Bean did Dumbledore come across in his youth and subsequently lose his taste for them?
Which of the Harry Potter movies has the shortest run time?
What two promises does Snape make when he makes an unbreakable vow?
Other than John Williams, name one of the other three composers who completed at least one Harry Potter movie score?
What is the name of the magical creature hippogriff that Harry bonds with?
Who is the first person killed by Tom Riddle/Lord Voldemort?
Whose patronus is a horse?
Name one of the two people who nicknamed Snape "Snivellus."
Heromine's parents are in what profession?
Who played Albus Dumbledore in the first two Harry Potter films?
Where does Dumbledore's Army meet to train?
What movie begins with several attacks by Death Eaters?
What is Ron Weasley's first girlfriend's full name?
In detention with Dolores Umbridge, Harry is forced to write what over and over again?.
Who does Harry take to the Slug Club Christmas party?
What happened to Neville Longbottom's parents?
Who was expelled from Hogwarts the first time the Chamber of Secrets was opened?
Which movie's soundtrack includes tracks "Apparition on the Train," "A Window to the Past," "Hagrid the Professor," and "The Dementor's Converge?"
In what movie does the house elf Dobby become a free elf?
When we first meet Horace Slughorn, he is disguised as what?
According to the final epilogue, which student returns to Hogwarts as an Herbology Professor?
Who says, "Oh, to be young and to feel love's keen sting?"
Difficult Question Answers
Badger
Liquid Luck
Tom Riddle's Diary
Vomit
Harry Potter and the Deathly Hallows Part 2
To protect Draco Malfoy and to kill Dumbledore if Draco fails
Patrick Noyle, Nicholas Hopper, or Alexandre Desplat
Buckbeak
Myrtle Warren or Moaning Myrtle
Ginny Weasley
James Potter or Sirius Black
Dentists
Richard Harris
The Room of Requirement
Half-Blood Prince
Lavender Brown
I must not tell lies
Luna Lovegood
They were tortured into insanity
Hagrid
The Prisoner of Azkaban
Chamber of Secrets
An armchair
Neville Longbottom
Albus Dumbledore
Harry Potter Trivia game
If you want to use these for a Harry Potter birthday party or even just to celebrate Harry Potter's birthday in July, you can also use these as a printable trivia game! I've created both cards and a full-sheet trivia at the bottom of this post that you can download and print to play!
If you're planning to play the trivia game, there are three different ways you can play!
Game #1 – Individual Trivia
Okay so this is the most basic way to do this and perfect for something like a Harry Potter party.
Print out a trivia sheet for everyone playing and give them a sheet and a pen. Set a timer and let people answer as many questions as they can in the allotted time.
Go over the answers together and whoever gets the most questions correct wins a prize.
Game #2 – Team Trivia
Now let's talk about doing something like a Harry Potter trivia night (or along with any of these movie night ideas) where players play in teams.
Split into teams and give everyone a blank piece of paper and a pen and make sure teams are far enough away from each other that teams can freely discuss answers without being overheard.
Pick one of the trivia question cards and read the question to the group. Give everyone a set amount of time to answer on their sheet of paper then announce the correct answer.
Teams earn one point for each correct answer. Keep going through as many questions as you'd like (I recommend 20-25 total) and the team with the most total points wins.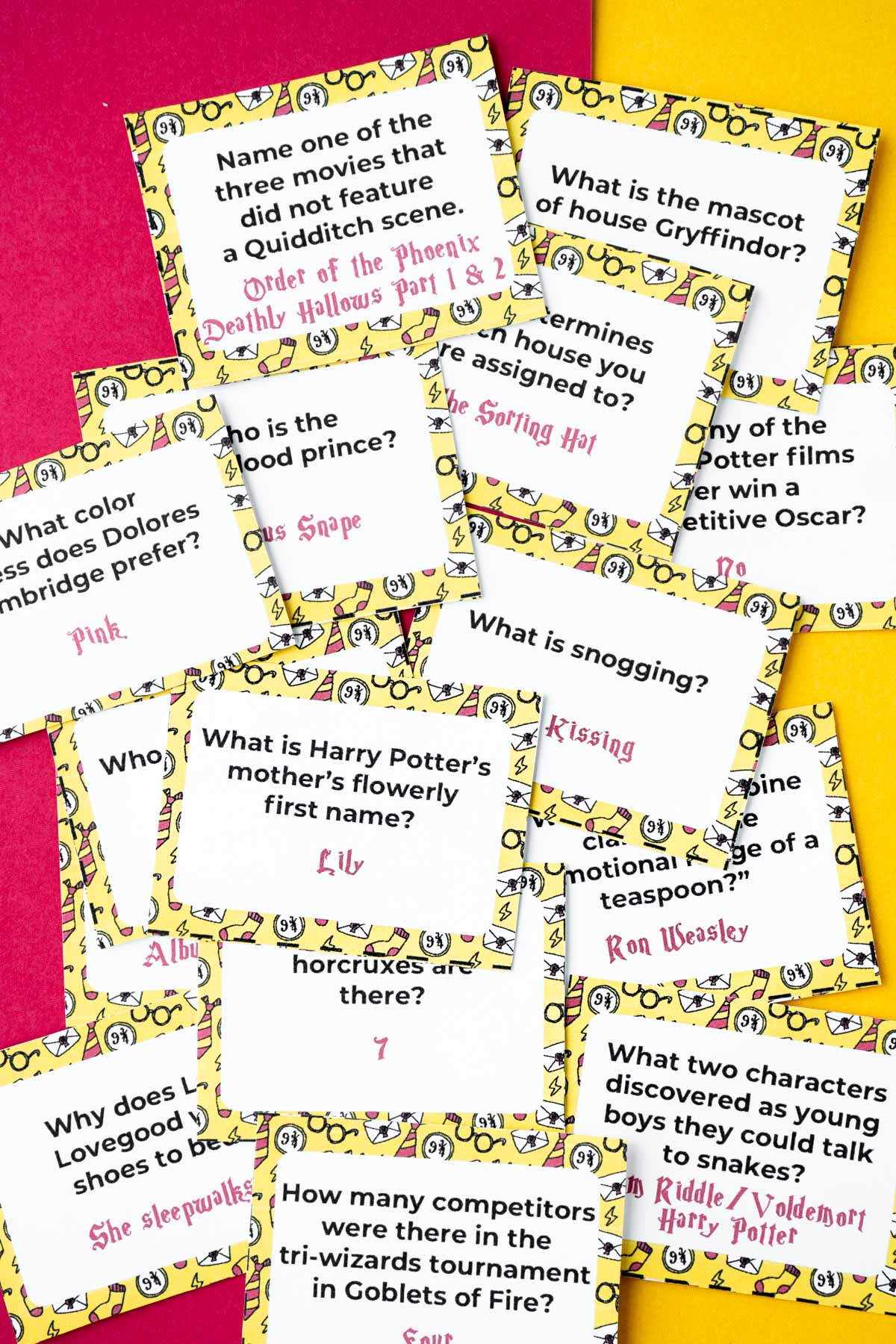 Game #3: Race to Be Right
This type of Harry Potter trivia might be best at a party or when you don't necessarily want people to be tied down to trivia questions for a set amount of time.
Instead simply announce that you'll be asking trivia questions throughout the night and the first person to run up to you with the correct answer will win a small prize!
Or give out points for correct answers and whoever has the most points at the end of the night wins a prize!
Prizes
If you're playing the race up to you trivia game, you could give out Bertie Bott's jelly beans to individuals who answer. Or even make up a batch of this homemade butterbeer recipe to hand out to the winning team!
If you're giving out one prize to the winning individual, one of these would make a great gift! You could also do a combination of these for a Harry Potter themed gift basket the team could divide!
Expert Tips
Make some rules at the beginning of the game and make sure everyone knows what they are. Things like what the time limit will be per question, no cell phones/ask a friend allowed, and how lenient you will or will not be on answers.
Laminate the trivia cards if you think you'll use the cards again. I laminate most of my party games and keep them in a box so I can pull them out again and again.
Intermix the difficulty (aka use some easy and some challenging questions) if you're doing a team style trivia game so that even if someone on the team isn't a huge Harry Potter fan, they can still participate.
Set a limit to how many questions an individual can answer if you're doing the race to be right game. I typically do like 10 questions and say that people can only answer one question and win one prize to give others a shot.
Harry Potter Snacks for Trivia Night
Everyone likes to enjoy snacks during trivia night so make up some of these delicious snacks and treats for eating while you're talking about Cedric Diggory, which Hogwarts houses you belong to, and all of those random facts you probably know about J.K. Rowling!
Game FAQs
Can I play this with a large group?
Yes – the beauty of these Harry Potter trivia questions is that you can use them to play with as small or as large of a group as you'd like!
Can I play if I've never read the books?
Yes! I included simple questions as well as more challenging ones, and all of the questions are based on the movies.
Can I play if I know nothing about Harry Potter?
I mean yes you can still play but you may have a hard time answering the questions since they're all Harry Potter based.
Which Hogwarts house would you be in?
As much as I'd like to think I'd be in Gryffindor, according to Buzzfeed I'm actually more Hufflepuff because of loyalty to friends. So I guess we'll go with that!
Do you have a version that takes less ink?
Yes! There is a white background version included with the PDF download at the bottom of this post. Same questions, just white background compared to the yellow if you want to save ink.
More Movie Night Ideas
If you like movies, you'll love these movie inspired games!
Download the Printable
Enter your first name and email address in the form below to get the printable PDF. You will receive a link to download the PDF to your email within minutes.
The PDF will include:
A set of instructions
Two full-sheet PDFs with all of the easy questions – one yellow and one white background
One full-sheet PDF with all of the easy question answers
Two full-sheet PDFs with all of the hard questions – one yellow and one white background
One full-sheet PDF with all of the hard question answers
3 full-sheet pages of trivia cards that combine the easy and hard
If you do not immediately receive the email, make sure to check your promotions, spam, and junk folders!
If you do not see the form below, click here to get to it.