I still can't believe November is just a few days away. With November comes the beginning of gratitude season where you'll see all sorts of Thanksgiving crafts, gratitude activities, and lists of things people are thankful for. I love gratitude season because everyone tends to be just a little nicer and honestly more grateful for the blessings they have.
Now that I have a baby, I've started trying to think of ways to teach him what gratitude is and how he can show gratitude. And while thinking through this, I've come up with three keys to teach children gratitude based on what my parents taught me.
Set an example. Make sure your children see you showing gratitude to others.
Find ways to show gratitude together. Encourage gratitude through family activities.
Make it fun.
Keeping those three keys in mind, I've created The Gratitude Game, a game for families to use throughout the month of November to turn gratitude into a fun family activity. This post contains affiliate links to product for your convenience.
I've seen these Price is Right inspired punch boxes all over Pinterest and have always wanted to create one myself. Each circle is a piece of tissue paper that you can punch through to get your prize, or in the case of The Gratitude Game, a fun activity you can do as a family to show gratitude. The idea is that you can use this as an advent calendar through all of November. Each day someone gets to punch through a random hole and pull out a gratitude themed activity to do as a family that day. Who wouldn't love punching through the tissue paper to pull out that day's activity? I created mine with 24 holes because we'll only be in town through November 24th but you could easily do one with more or less holes, the process is the exact same.
Create Your Own Gratitude Game
Supplies
Cardboard box

that is large enough for the number of holes you want
Tissue paper in whatever colors you want
Cups (I used Styrofoam because it's what I had but you could use plastic as well), same number as the number of holes
Pieces of paper with gratitude activities (free downloadable list below to get you started)
Scissors
Exacto knife (recommended) or something else to use for cutting cardboard
Pencil
Hot glue gun (or another way of fastening the cups to the box)
Embellishments of any kind such as scrapbook letters, Washi tape, spray paint, etc. (optional)
Instructions:
Step 1 – Decide how many holes you want. This will determine how many holes, cups, and tissue paper squares you will need.
Step 2 – Line up your cups on the back of your box to figure out exactly how you want them spaced. If you want to have a title on your game like mine make sure to leave a small space at the top.
Step 3 – Trace around each of your cups with a pencil so you know where to cut.
Step 4 – Cut out each of the individual circles. I highly recommend an exact knife if you have one. I used scissors and it worked okay but my circles are pretty rough.
Step 5 – Cut off all of the extra flaps from the box (or you can do this earlier, I just forgot). You want to leave the two sides, top, bottom, and bottom where you cut the holes. This will allow your box to stand on its own.
Step 6 – If you're going to spray paint like I did, do it now. I only sprayed the front because that's the part you'll see but if you feel like it, you can spray all the other sides as well.
Step 7 – While the spray paint is drying, cut out squares of tissue paper large enough to cover your holes. You can make this REALLY fast by cutting multiple pieces of tissue paper at once.
Step 8 – After the spray paint dries, glue one square of tissue paper on the inside of each hole in your box, making sure to cover the entire hole. Do this for all of the holes.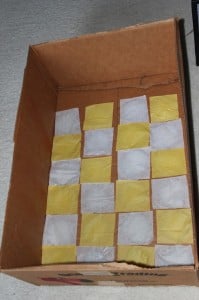 Step 9 – Write gratitude activities on slips of paper (or print and cut them out).
Get the Printable Activity List
Enter your first name and email address in the form below to get the printable list of activities. If the form isn't showing up below, click here to get to the form to download the printable files. You'll need one slip of paper for each cup.
Step 10 – Put one slip of paper in each cup then glue one cup to the back of each piece of tissue paper.
Step 11 – Embellish however you want. I used my Silhouette Cameo to cut out letters with contact paper but you could easily use scrapbook letters or stickers. Or just leave the name off. And you're done and ready to play!
The best part is that you could use this same punchboard over and over again for an advent calendar
or birthday party game since the toughest part of cutting the circles is already done
You may also like these other fun Thanksgiving activities for kids:
Thanksgiving Books for Kids
Make A Turkey Stickers
Wreath of Thanks Craft Kit
Color On Thanksgiving Tablecloth for Kids
Foam Handprint Turkey Craft
Thanksgiving Activity Placemats for Kids