Use these fun ideas, tips, and Thanksgiving gift tags to make it the most memorable Thanksgiving Day ever! Nine different Thanksgiving gift tags designs that perfect for giving food to friends, giving out Thanksgiving hostess gifts, or even just sending home leftovers!
Sponsored by: Hy-Vee. All opinions are honest and my own.
If there was ever a day for a big family gathering and celebration, it's Thanksgiving. In fact, we polled a bunch of people for our Thanksgiving Family Feud game and the top word that people mentioned relating to Thanksgiving was family.
Our typical Thanksgiving traditions include getting together with family, eating a lot of food (hello sausage stuffing and homemade apple pie), a little football watching and playing. And of course – some Thanksgiving games played around people's naps.
Whether you're doing a huge feast with your family or just cozying up with a couple of friends, these are some great tips for making it the best year ever!
Plus, I've put together an entire set of darling Thanksgiving gift tags you can use to show gratitude to the ones around you!
1 – Make Less Food
If there's one thing I've learned in the past two years, it's that it's okay to slow down and take a break from our busy schedules and routines. And it's okay to let other people help.
Take a break from cooking a huge feast and order a holiday meal pack from Hy-Vee instead. This is the year to do it. You could even do a Hy-Vee breakfast and a Hy-Vee dinner!
They offer meal packs for 2, 4, 6, or even more people. You just pre-order, pick it up, and reheat. Plus, they have a ton of a la carte options like sides, rolls, and additional desserts you can add. You can still have that full Thanksgiving feast without all the time in the kitchen.
Plus, they're super reasonably priced! We got a turkey dinner pack for 2 (since my boys barely eat anything) and it came with like ten slices of turkey breast, a side of mashed potatoes and gravy, two additional sides, and six big dinner rolls.
Or if you want to make all of it homemade, you can also just ask other people to chip in and bring side dishes or desserts so you don't have to do it all!
All that was only $29.99, which is way less than I'd pay if I'd purchased all of those things separately.
I added just a few more a la carte sides for a full Thanksgiving feast.
And guess what – all I did was uncover the baking dishes, put them in the oven, and serve. You can order your own holiday meal pack here.
If you have favorite dishes you want to make yourself like easy mashed potatoes or your favorite no bake pumpkin pie, by all means make those yourself and just order the things you don't want to make.
2 – Make It easy
If you still want to cook because it's Thanksgiving and some people really like to cook on Thanksgiving, Hy-Vee also offers super easy online ordering with Aisles Online. Download the Aisles Online App for digital coupons and to shop right from the app.
Plus you can see the current sales. Like, right now if you buy a Hormel Cure 31 whole boneless ham, you get a FREE 10 to 14 lb frozen turkey! Christmas and Thanksgiving shopping done all in one purchase!
Then just drive up, get your groceries put in your car, and drive away.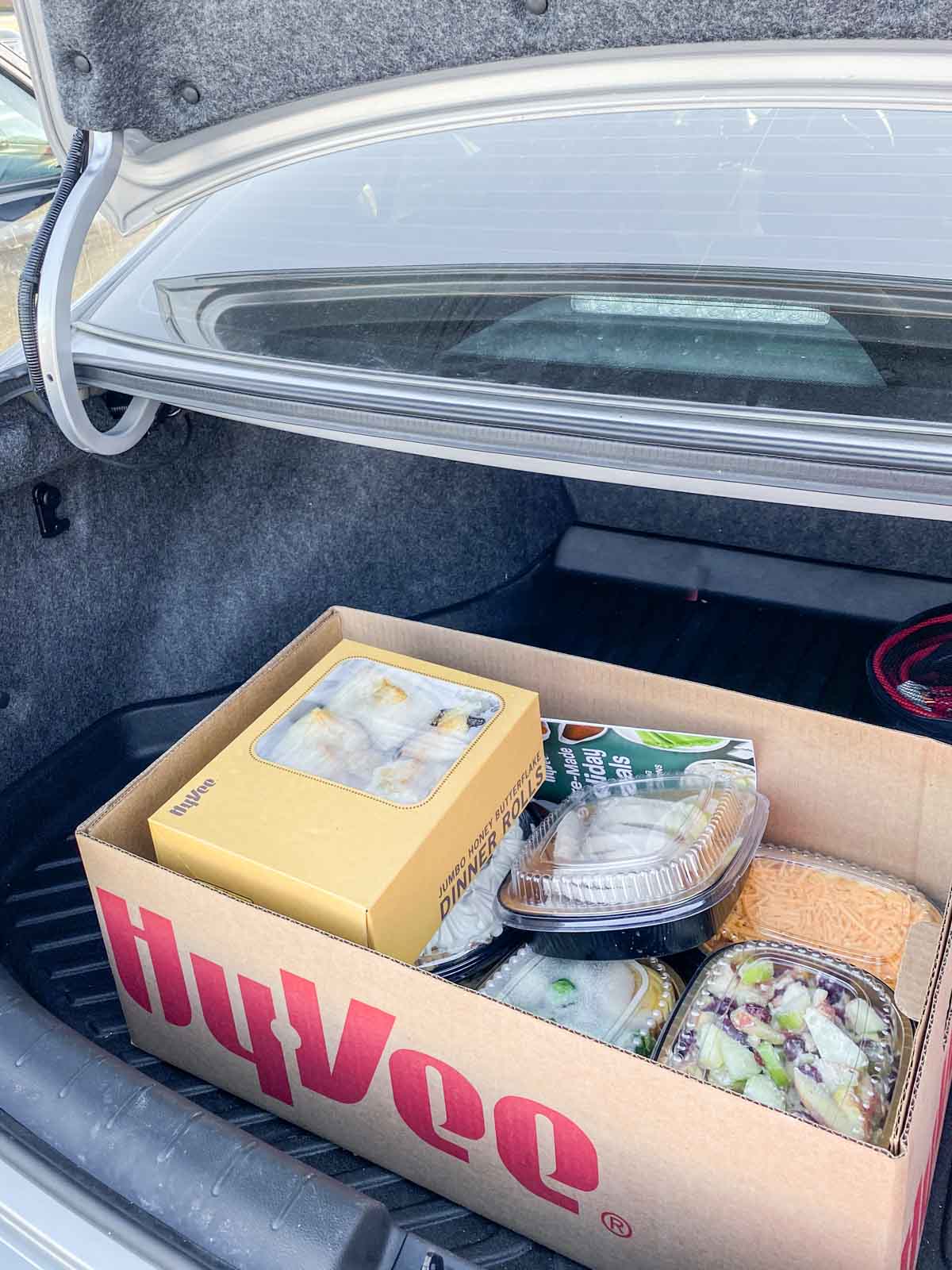 Not only is it quicker and easier, you also don't have to deal with the crowds at the stores. And in 2020, avoiding crowds is even more of a blessing than any other year.
3 – Make It Special
Just because many families are celebrating with only their own household this year doesn't mean it needs to be any less special. In fact, it's a great year to make it even more special because you have less people to worry about.
Break out the nice dishes. Make a fancy caramel apple drink. Add colorful napkins.
Set the kids table with printable Thanksgiving placemats they can color. Create actual Thanksgiving place settings for everyone with name cards included.
Go all out and no one will ever remember that it's been a weird couple of years.
4 – Make Leftover Boxes
If you are having company, buy disposable food containers before and add cute tags to encourage people to take home leftovers. They'll feel much better about taking leftovers home if they know you were planning on it happening.
I have eight different designs of gift tags you can download at the bottom of this post that would be perfect for sending guests home with goodies!
Or if you know first responders or essential workers who are able to accept food donations, pack up extras you order with your meal, add a little tag, and make someone's day who may otherwise not get to enjoy a Thanksgiving meal.
5 – Make Memories
Most of the time people remember eating on Thanksgiving and maybe a Turkey bowl football game here or there. This year make Thanksgiving all about making Thanksgiving memories with people in your home.
Play this Thanksgiving dice game for a fun way to share the things you love about one another. Learn how to make the perfect flaky pie crust together.
Try a rousing round of Thanksgiving charades or Thanksgiving Outburst to get the entire family laughing.
I know some of my favorite family memories are dotted with laughs and hilarious moments. If you need more Thanksgiving activities, I've got 40 different Thanksgiving family games here!
6 – Make New Traditions
Often times when we're with larger groups or our entire extended family, we just do what has always been done. This year is the best opportunity for picking out some new things to try and creating your own traditions.
Start a tradition of having a Christmas movie marathon, a kids vs parents Thanksgiving danger words competition, or maybe playing a little Thanksgiving bingo after and as you get bingo, you get dessert.
Or gift cards make great prizes. Hy-Vee is having an in-store only Black Friday gift card special where if you buy $150 in select gift cards, you get a free $20 one! Give bingo winners a voucher for a gift card then take advantage of the promotion!
7 – Make it Meaningful
It's been a tough year for everyone. Make this Thanksgiving meaningful by doing things for others.
I created a bunch of different Thanksgiving gift tags (download at the bottom of this post) that would be perfect for a little Thanksgiving surprise for your neighbors, essential workers, or anyone who could use a little Thanksgiving cheer.
Hy-Vee has an awesome selection of pies, dessert trays, charcuterie boards, and more that you can use to show your gratitude.
If you'd prefer non-prepared foods, gift baskets and gift cards also make great gifts.
Don't tell my neighbors but they may all be getting a pie with a thankful for you tag next week!
8 – Make Time For Your Loved Ones
Since many of us won't be celebrating with our entire family, make sure to plan in some virtual time together. Don't just hope it'll happen – set a time that works for everyone and spend it together.
If you need ideas of things to do on a virtual call, this virtual scavenger hunt is always fun, ask Thanksgiving trivia questions, or just have everyone to tell a story about something they're thankful for this year.
Or plan on doing it during dessert and have everyone eat their pie while chatting to make things feel a bit more normal.
9 – Make a List
Change things up this year. Instead of going around the table and saying the things that you're thankful for, make a list of blessings you've seen this year, focusing on the things that may not have ever been possible if this year wasn't the way it is.
Keep that list or cut it up and put it in a gratitude jar and any time you're feeling like this year is just too much, pull out one of these papers. Counting your blessings always has a way of making things seem just a little better.
10 – Make It Fun
If all else fails, make it a day of fun. Here are just a few additional ideas to make Thanksgiving this year a day full of fun, food, and family time!
want 17 Thanksgiving games in one place?
Download the Thanksgiving Gift Tags
You can download the Thanksgiving gift tags by clicking here.
The file will include eight different Thanksgiving gift tag designs – just print, cut, and gift away!