This easy feijoada recipe is the perfect combination of comfort and flavor all in one dish! With a combination of black beans and meat over rice, it's a dish to be enjoyed over and over again.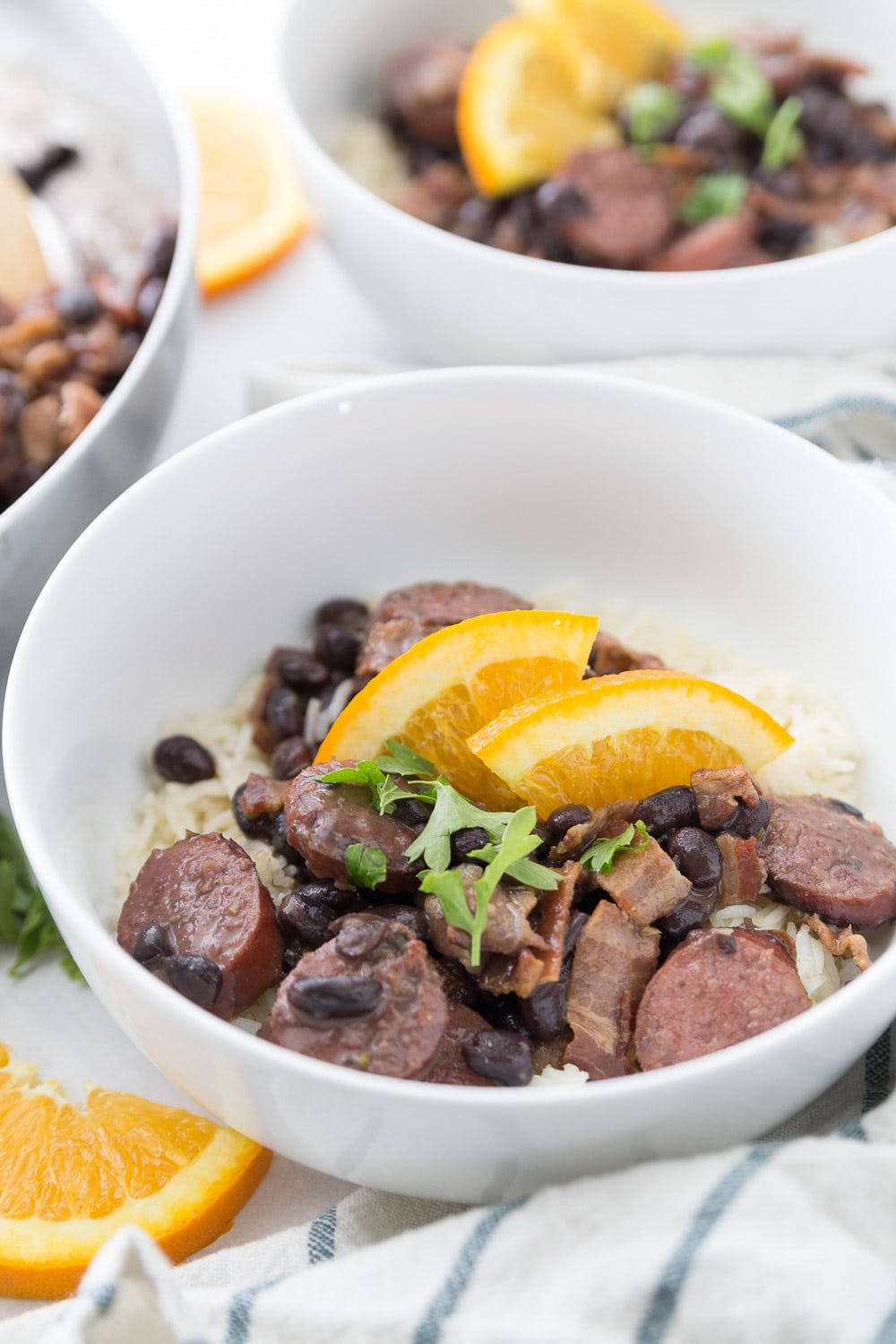 When we first moved to Northern Virginia years ago, we were asked to be in charge of the young married couples group for our church. Leading basically meant putting together monthly activities and figuring out ways to help the younger couples in our area get to know one another.
One of the first things we did was to set up monthly dinner groups with the couples, giving them the opportunity to have dinner with other couples once a month. We did that for about two years before we moved out of the area and had to give up our beloved dinner groups.
In that two years, I remember a lot of the friends that we made but only two of the meals that we ate.
One of them was this delicious black bean and sausage stew that some of our friends from Brazil made called feijoada.
A couple of days after we had dinner with them, my husband decided we needed to have it again and came up with his own easy feijoada recipe that uses bacon, sausage, black beans, and rice.
What is Feijoada?
Before I get into the recipe, Feijoada brasileira is a traditional Brazilian stew made with beans and pork.
It's seriously the perfect comfort food and pretty much delicious. And the leftovers are almost as good as the original dish cooked so you can make it on the weekend and enjoy all week long!
What is Feijoada Made Of?
Here are all of the ingredients you'll need for this simple feijoada recipe! One of the best parts of this is that except maybe the meat, you probably have all of these things right under your roof already. It's the perfect pantry meal!
2 cups basmati rice – you can use another type of rice as well but we prefer basmati for this
1 TBS olive oil – you could also use avocado oil but try to stay away from any other oils that might flavor your dish
6 pieces of bacon – cut these into 1/2 inch pieces
1/2 pound smoked sausage – we typically use smoked pork but you can use beef as well, cut this into 1/4 inch rounds
15 oz canned black beans – don't drain, you'll use everything from the can in the dish
1 cup chicken broth – chicken broth or chicken bone broth works, we typically use one with reduced sodium
2 tsp garlic powder
3 bay leaves
1 tsp dried oregano
salt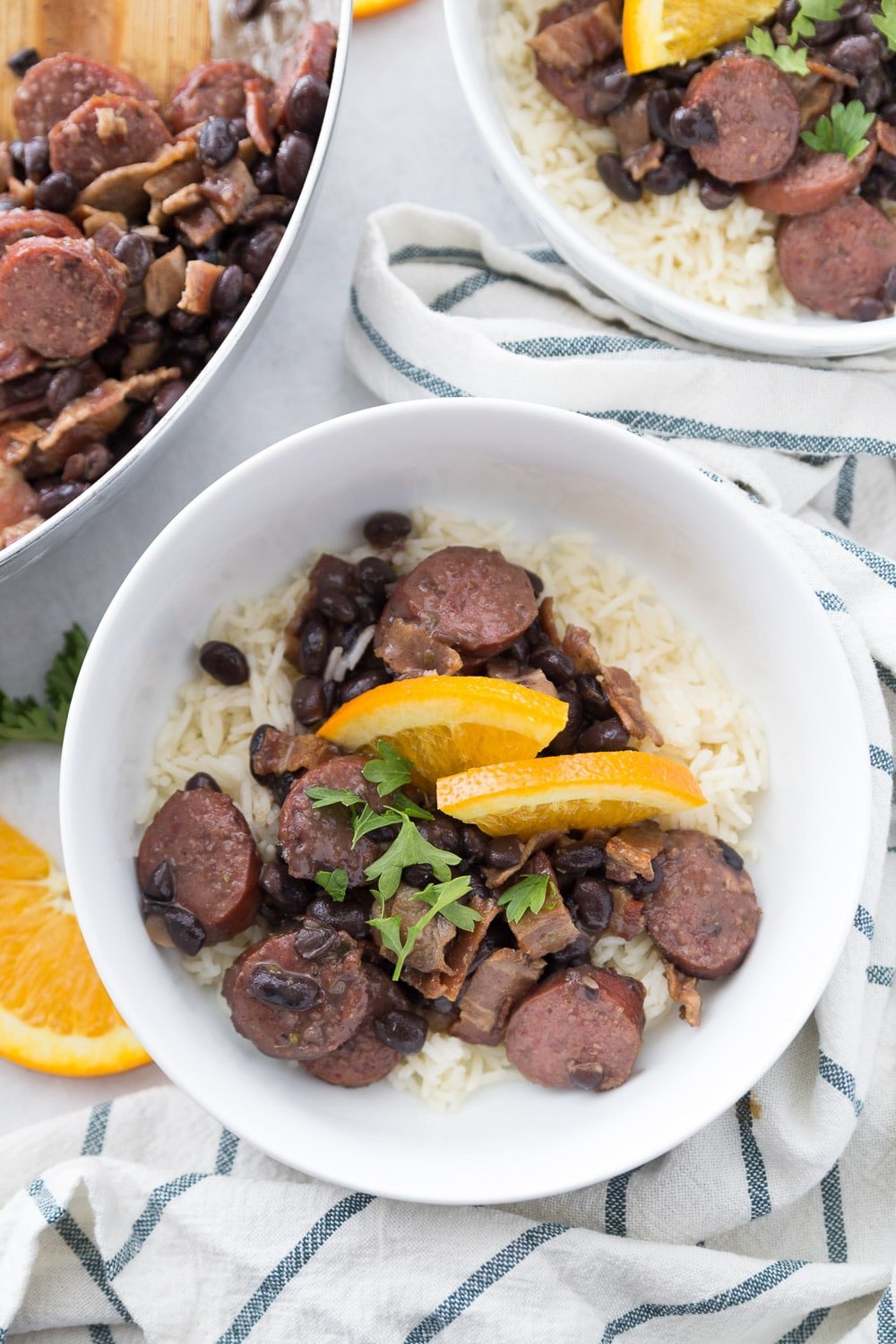 How is Feijoada Made?
This isn't called an easy feijoada recipe for nothing! The traditional stew is more time-consuming than this, but we've condensed it down into a few steps and a much shorter timeline.
Same great flavors, less time in the kitchen! Watch the video in this post to see how easy it is to make!
1 – Cook your rice
Feijoada is traditionally serve with rice and that's how we eat it too – over rice. How you make your rice doesn't matter, but this is the best Instant Pot basmati rice ever if you choose to make it in the Instant Pot!
You're going to want a full serving of rice for every person to help soak up the flavors of this Brazilian dish.
2 – Cut and cook your meats
Cook up your bacon and sausage in one pot with olive oil until crispy.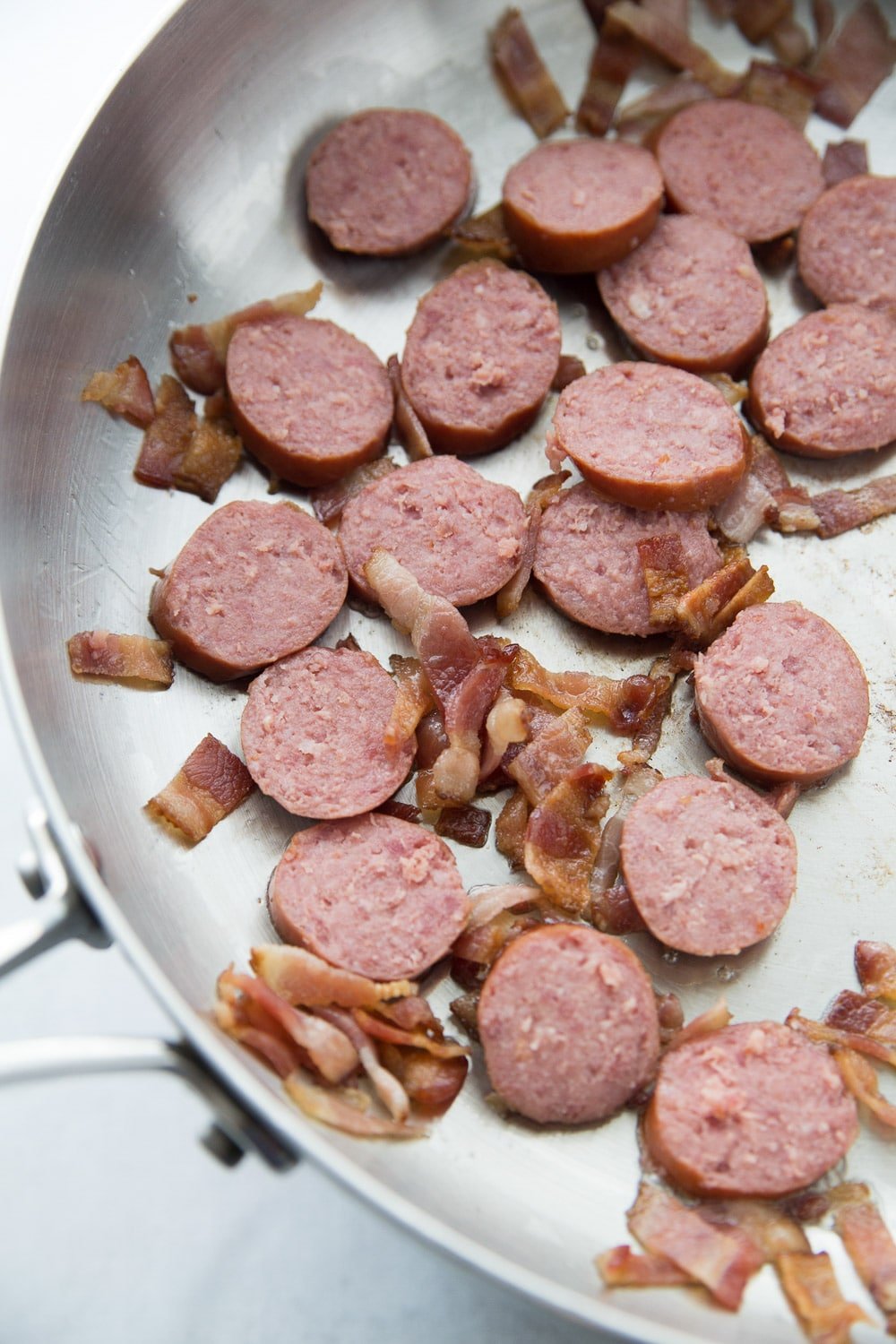 3 – Add the beans
Once your meat is cooked, add the black beans into the same pot with the meat. Cook for a minute or two to let the flavor from the meat drippings to really get into the black beans.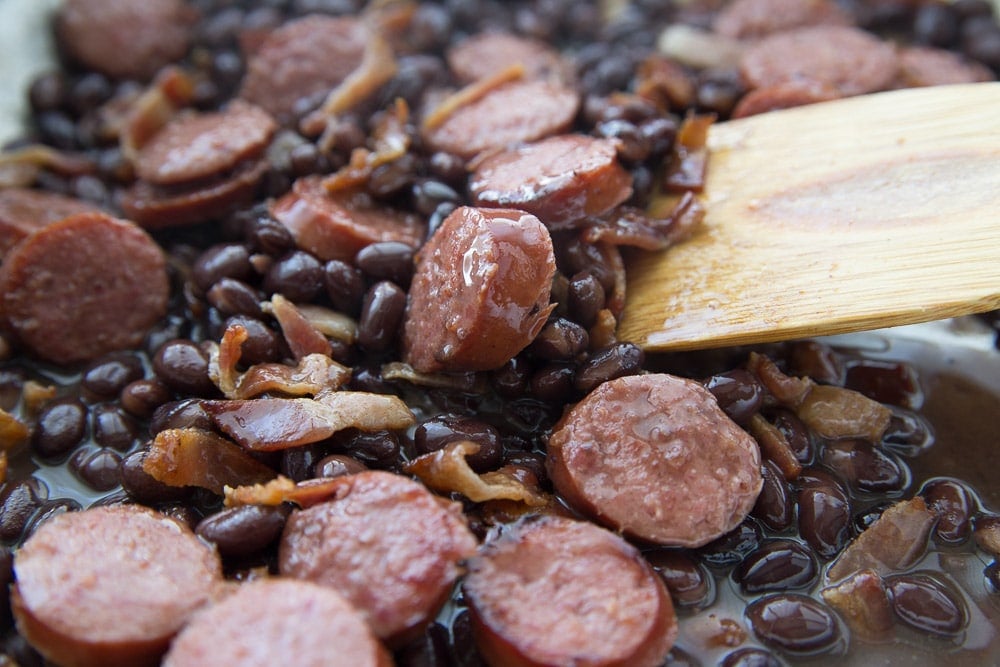 4 – Add the broth and seasonings.
Add the chicken broth and seasonings into your black bean stew mixture. Bring to a boil then simmer until it reaches your desired thickness.
We typically like to eat it a little on the thicker side so most of the moisture from the black beans has soaked up.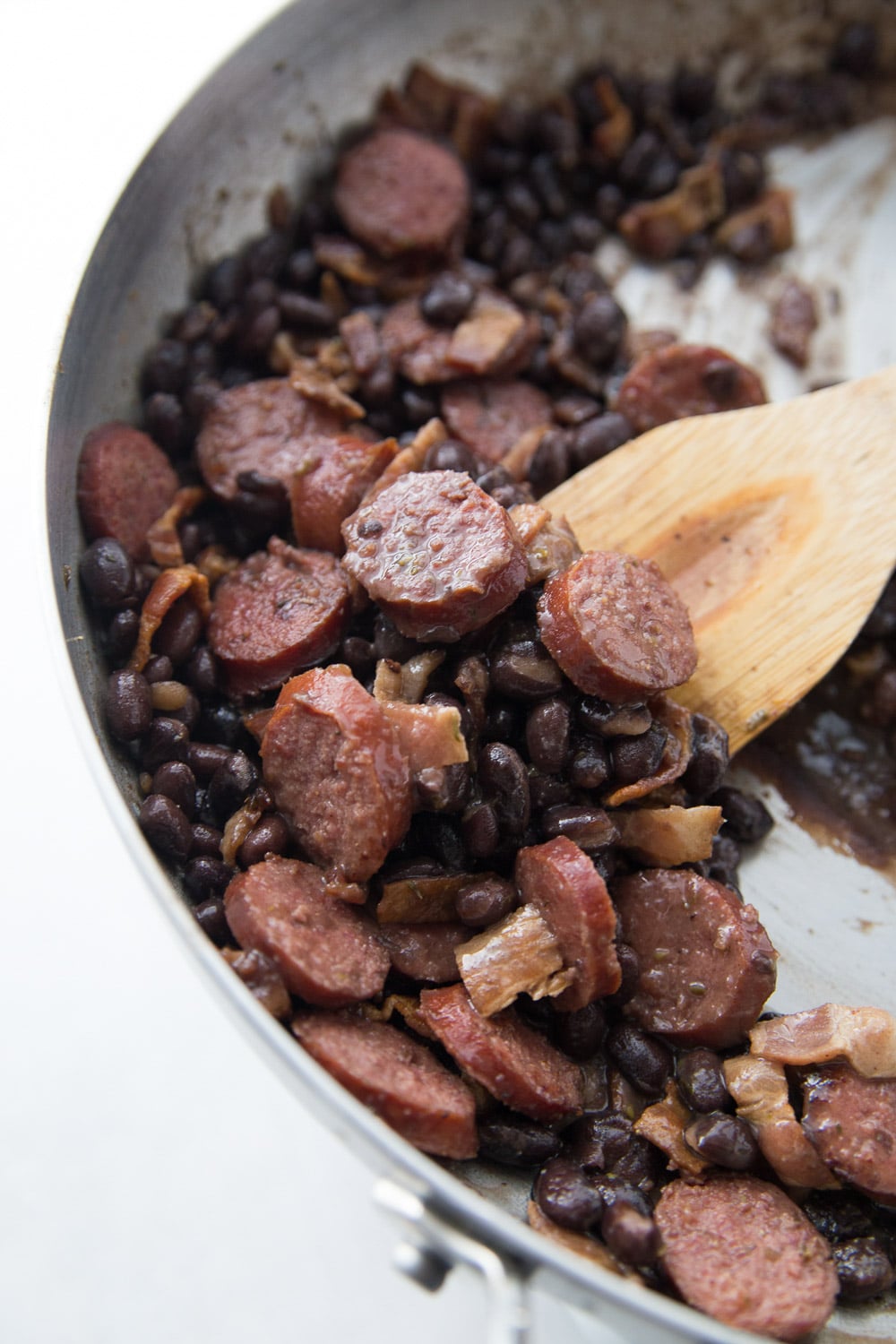 5 – Serve hot over rice
Once the feijoada is complete, serve over that nice fluffy rice you cooked up earlier. And if you have any leftover rice, this ham fried rice recipe is amazing!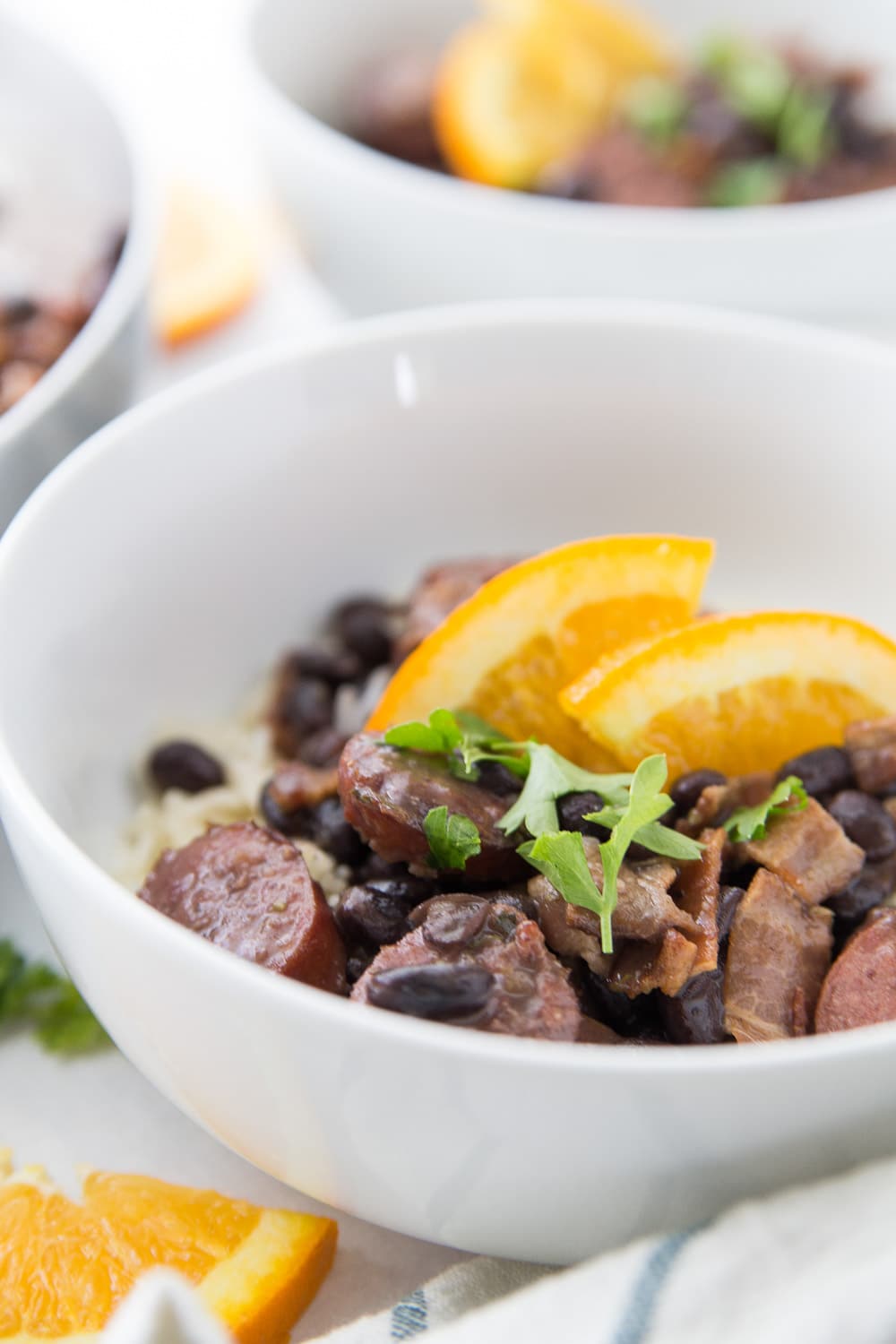 Can you freeze feijoada?
I don't recommend freezing this easy feijoada because the beans and meat just won't be the same when you defrost them. And it's so simple to make, it really doesn't save that much time freezing and defrosting, especially since you need to make the rice with it as well.
Just refrigerate any leftovers you have in an airtight container and eat within five days. Ours has never actually lasted that long, I always eat it within a day or two!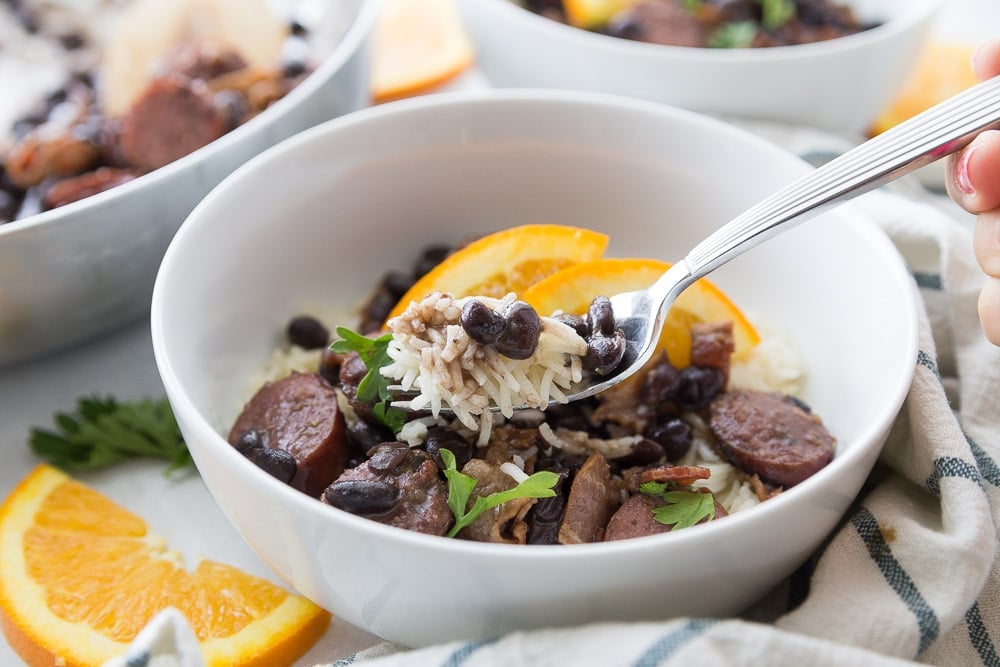 Easy Feijoada Recipe
This easy feijoada recipe is the perfect combination of comfort and flavor all in one dish! With a combination of black beans and meat over rice, it's a dish to be enjoyed over and over again.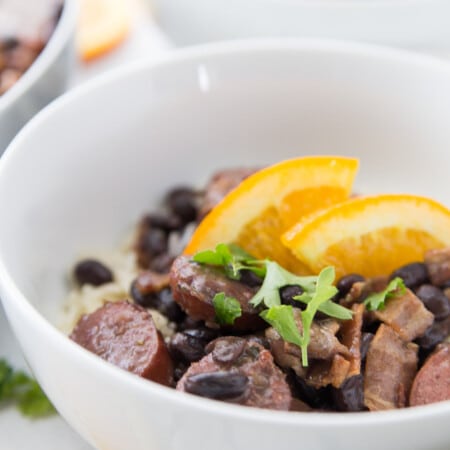 Ingredients
2 cups basmati rice cooked
1 tablespoon olive oil
6 strips of bacon cut into 1/2 inch pieces
½ pound smoked pork or beef sausage sliced into 1/4 inch rounds
1 15 oz black beans do not drain
1 cup chicken broth
2 teaspoons garlic powder
3 bay leaves
1 teaspoon dried oregano
salt to taste
Instructions
Cook the rice however desired.

Heat a large pot over medium heat. Add olive oil and heat.

Add the bacon and sausage and sauté until brown and crispy, about 4 minutes.

Add the can of black beans and cook for 1 more minute.

Add the chicken broth, garlic powder, bay leaves, oregano, and salt. Bring to a boil and then reduce heat to low.

Simmer for 15 minutes or until desired thickness.

Serve hot over rice.
Nutrition Info
Calories: 558kcal, Carbohydrates: 69g, Protein: 20g, Fat: 22g, Saturated Fat: 7g, Cholesterol: 42mg, Sodium: 534mg, Potassium: 520mg, Fiber: 8g, Sugar: 1g, Vitamin A: 28IU, Vitamin C: 3mg, Calcium: 49mg, Iron: 3mg
More Easy Dinner Recipes
Don't forget to pin this easy feijoada recipe for later!