Set up this sweet land of liberty dessert table for your next 4th of July party with just a few sweets and the free printable sweet land of liberty backdrop! It takes only minutes and is the perfect way to celebrate a sweet 4th of July!
I haven't really done a ton for 4th of July in past years. I mean I did a nautical 4th of July like ten years ago and of course this 4th of July party back in Texas was a hit.
But 4th of July just isn't really my thing.
This year was different and it felt like 4th of July needed to be really celebrated after the year we've had.
So when Hy-Vee asked me to come up with fun ideas to celebrate 4th of July using things available in their stores or on Hy-Vee.com, I was all for it.
If there's ever a year we need to celebrate, it's this year.
SWEET Land of Liberty Decorations
I honestly racked my brain trying to figure out what theme or idea I wanted to use to set up my celebration. I thought of everything from an American Pie (Hy-Vee has some amazing pies) to Party in the U.S.A. Anyone else a Miley fan?
But none of those seemed to fit just right. Then I started talking to my husband about other songs and 4th of July idioms and as soon as he said sweet land of liberty, I knew we had a winner.
I'm always looking for an excuse to create a dessert table and try new sweets and this was a great one.
For my sweet land of liberty table, I shopped at our local Hy-Vee and picked up a couple of home decor items, balloons, and some fresh 4th of July flowers.
I added those to the sweet land of liberty backdrop sign and a few 4th of July decorations I already had at home for the perfect start to my table.
I mean could those balloons be any more perfect?
Tip!
You can typically buy balloons on display at Hy-Vee, even the big ones like this set up! This huge star balloon was much cheaper than buying a bunch of helium balloons and made even more of a statement!
Sweet Land of Liberty Sweets
And then of course, I filled in the table with all sorts of sweets. I personally wanted to make this as simple as possible, so I perused my local Hy-Vee and picked up candies, cakes, and cookies from their huge 4th of July selections.
One of the things I was the most excited about was all of their red, white, and blue candy options. Swedish Fish, Sour Patch Kids, M&Ms, Skittles, and even my son's favorite – Hy-Vee exclusive gummy military heroes. He's been eating those things daily since they came home.
Tip!
Use candy underneath baked goods to add color and texture to just basic white plates. Get more tips for 4th of July treats on Hy-Vee.com.
I also ordered a round edible image cake and an All-American cheesecake – a Hy-Vee + Cheesecake Factory exclusive offering. It was like a half cheesecake, half cake and so good.
Tip!
If you don't want to pay for a custom order cake, you can grab a regular cake from the bakery and just add sprinkles and decorations on your own! The firework picks I put in the edible image cake would turn a plain white cake into a 4th of July cake in seconds!
For anyone who didn't want to eat open sweets, I also grabbed a couple of bags of All-American cotton candy plus some red, white, and blue Hershey chocolate bars!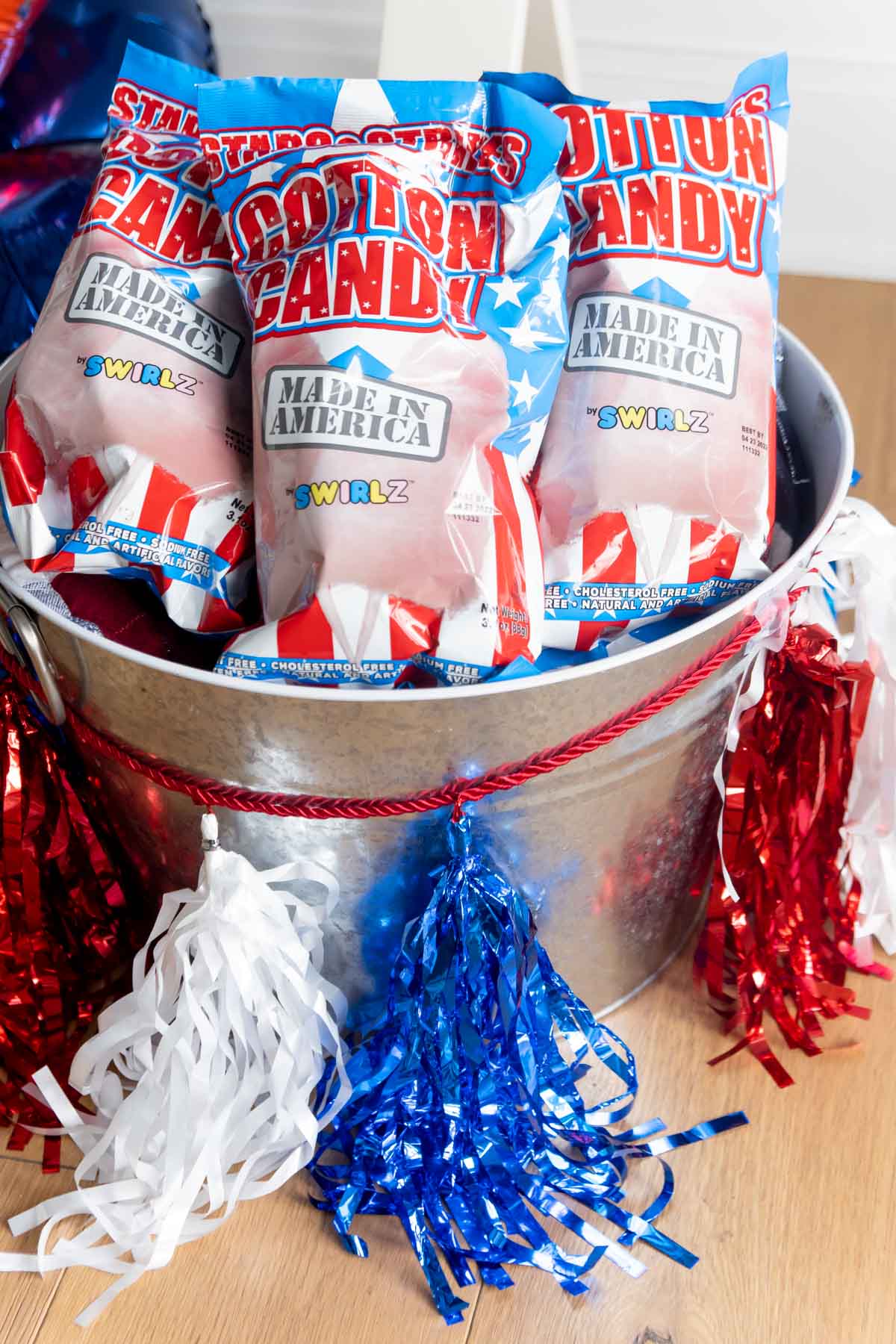 Last but definitely not least, I made a little fruit flag using fresh strawberries, blueberries, and a cream cheese fruit dip from Hy-Vee. You could also just make this fruit dip but again, I was going for easy!
Tip!
Make shopping even easier by ordering everything online with Hy-Vee's Aisles Online program. Choose your pickup time, shop, then have your groceries put in your car without ever having to step foot in the store!
Homemade 4th of July Sweets
If you don't want to buy everything, you could of course also make any of these red, white, and blue desserts! My recommendations would be:
Who else is ready to celebrate and eat sweets?
Free Printable Sweet Land of Liberty Sign
Want to create your own backdrop? Click the button below to download your very own PDF sign!
I printed it on a 24×36 inch poster at my local office supply store (they did it same day) but you could always go bigger or smaller depending on your needs!
It would also just make a great little 8×10 sign to put on a table or as a 4th of July decoration for your home!
Download The Free Printable
If you're ready to download the free printable to use this idea, simply click the button below or click here.
More 4th of July Ideas
In addition to a dessert table, it would be fun to do any of these 4th of July activities with it!