Spring is a great reason to throw a party and these spring party ideas are made easy with the use of fresh flowers, bright colors, and lots of Jelly Belly beans! Thanks to Jelly Belly for sponsoring this post and providing me with all of the candy for the post.
I mentioned it earlier this week but things have finally warmed up enough that I feel like it's finally spring. So this past week I invited some of my favorite girlfriends who all have kids my son's age over for an "It's a spring thing party." Or basically an excuse to play outside, put together gorgeous flower arrangements, and eat yummy spring treats.
The beauty of the generic spring party theme is that you can have one at the beginning of the season to welcome spring, have one in the middle of May when all of the blossoms are in full bloom, or even in June as a goodbye, we'll miss you spring party! Since it's still the beginning of spring, I went with more of a welcome spring, we're so happy you're here party.
One of the first things I always do when planning parties is come up with a color scheme and some main things to focus on within the overall theme; it just helps you narrow things down when you're shopping and putting together details. I knew I wanted to incorporate bold/bright colors, Jelly Belly jelly beans, and flowers – all three things that remind me of spring. I incorporated all three of those things in my choices of fabric, flowers, and even desserts on the dessert table.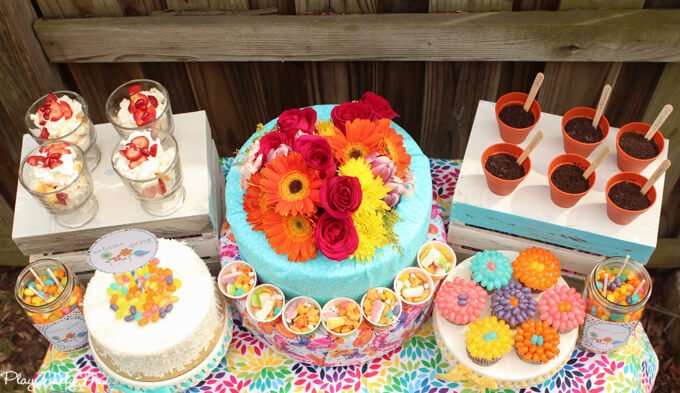 And in the case of the backdrop, I actually incorporated all three elements into my party backdrop by using bright colored Jelly Belly beans (berry blue, tangerine, cotton candy, island punch, lemon, and very cherry), to spell out spring surrounded by small flowers all hot glued onto a white canvas.
I asked Jessica from Every Day Party Magazine to design some party printables for me incorporating those elements, and she absolutely nailed it with the darling bird and flower designs I used throughout the party setup.
Party printables are a simple way to tie everything together, and I love using them for things like cake and cupcake toppers, jar labels, and even on plates and dishes. Looking for more creative cake ideas?
Last but not least, I specifically used the Jelly Belly jelly bean spring mix and colors from the spring mix to add a cohesive look between the dessert table, tablescape, and even in my party games. Using the spring mix to fill vases, to top cakes, and to use for the games really just tied it all together into one very springy celebration! Jelly Belly jelly beans are my absolute favorite because of the variety of colors and flavors; they have something that everyone loves!
Alright enough about the planning, let's get to the actual party!
Spring Tablescape Ideas
For the actual table setup, I started off the entire thing with a table runner made of this amazing butterfly fabric with pops of color that matched the Jelly Belly bean spring mix perfectly. I used coordinating turquoise flower fabric to make individual placemats for the table and finished off my fabrics with napkins that I made using a light yellow fabric with small white petals.
Then, I added a couple of vases full of fresh flowers because what says spring more than fresh flowers? I created a long horizontal mound arrangement in the middle using some of the tips that I learned during my Southern Living visit a few weeks ago and then just wrapped the glass with some bright colored ribbon. On the sides, I added equally as gorgeous vases filled with Jelly Belly beans and a small arrangement of tulips inside each. I love how the Jelly Belly beans add a pop of color to the table that a normal vase full of water wouldn't normally.
For place settings, I used silver chargers topped with ceramic plates that reminded me of the color of the cotton candy Jelly Belly beans in the spring mix and then topped those with white ceramic plates with small dots around the sides. I topped each place setting off with yellow napkins held together with Jelly Belly bean napkin rings (tutorial coming soon). Instead of using regular glasses, I used mason jars with daisy cut lids and spring colored straws from Celebration Lane. And last but not least, as place cards, I used small boxes with floral designs filled with Jelly Belly beans. I'm all about dessert first.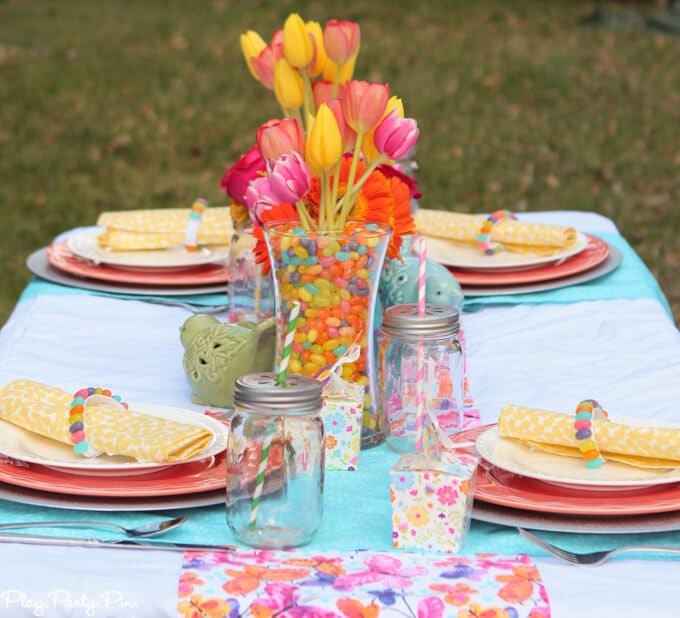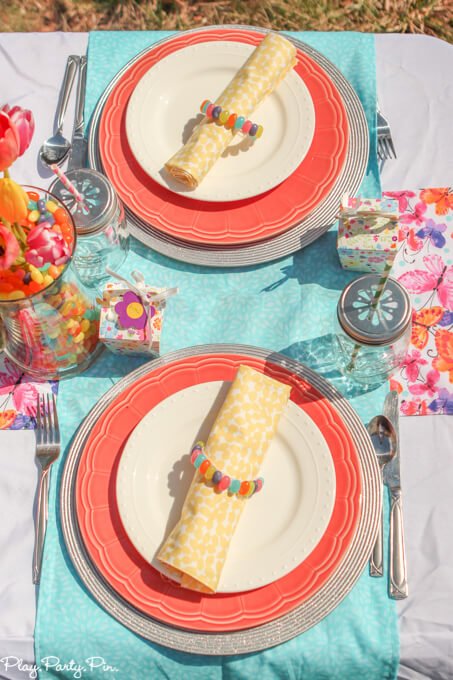 Spring Dessert Table Ideas
For the dessert table, I started with a brightly colored floral tablecloth and the spring backdrop I mentioned earlier. Then I added some height and fresh flowers in my foam wreath spring centerpiece. I used the extra space on the centerpiece to hold spring colored polka dot cups from Celebration Lane full of a spring treat mix made with cheddar chicks, Jelly Belly sour bunnies, Jelly Belly beans, and mini white marshmallow clouds.
On either side of the centerpiece I setup wood boxes to add additional height on the sides. On top of the boxes, I setup a potted plant dessert garden on one side made with Oreo crumbs and cream cheese (topped with more Oreos crumbd) mixed together and inside the mixture, Jelly Belly peas and carrots. On the other side, I added my favorite spring dessert – strawberry shortcakes made with strawberries, homemade whipped cream, angel food cake, and Strawberry Jam Jelly Belly beans.
For the next layer, I topped two coordinating cake stands with chocolate velvet cupcakes and a coconut cake that I bought from the grocery store. I love buying pre-made bakery items and just adding your own decorations, or in this case Jelly Belly beans, to make them match your theme.
I made these flower cupcakes (but these flower cookies would also work).
And last but not least, I added mason jars full of the Jelly Belly bean spring mix with Jelly Belly bean lollipops inside for the kids.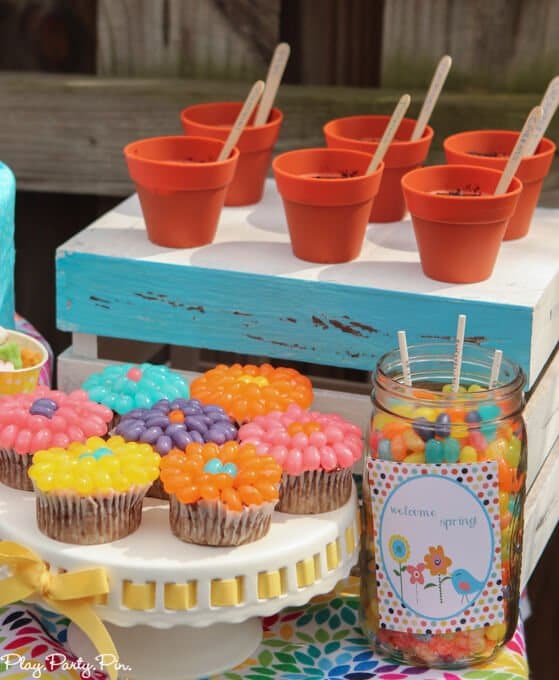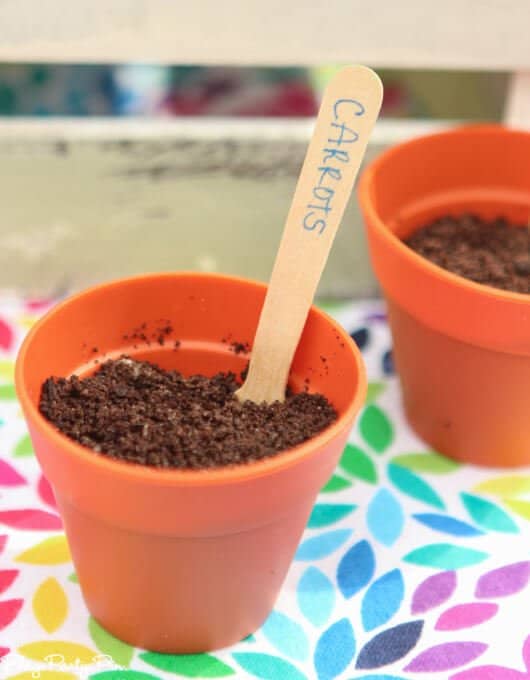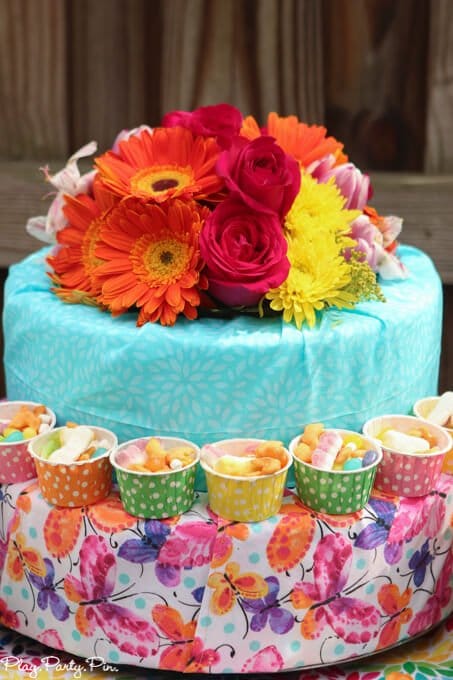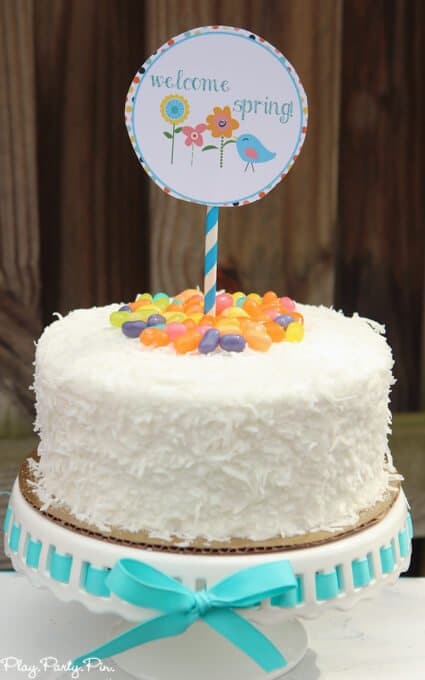 Spring Party Games and Activities
For our activities, I setup a small Easter egg hunt for the kids and to stick with the spring theme, I gave the kids bright pink and green strawberry baskets instead of regular Easter baskets. All of the eggs were filled with some of my favorite spring Jelly Belly treats like chocolate malted eggs, sour bunnies, Jelly Belly beans, and bunny corn. And the rest of the time the kids just played with the pinwheels I setup, with spring colored balloons from Celebration Lane, and honestly, they just ran around and enjoyed being outdoors after a long winter.
For the adults, I put together a bunch of fun spring inspired minute to win it style games, and I shared the details from all of those games in my 12 fun spring party games post a few days ago. All of the games are spring inspired and guaranteed to be pretty hilarious.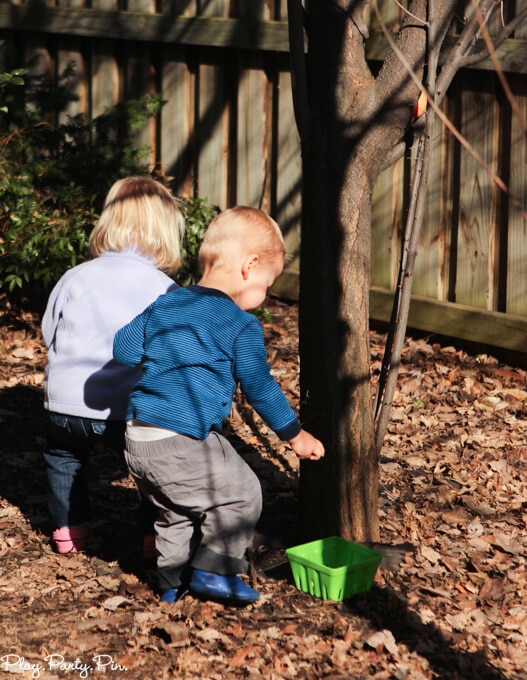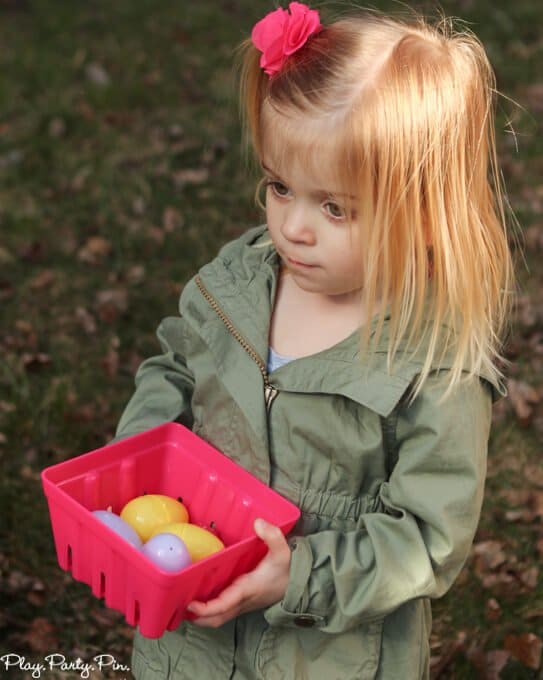 We had a pretty fantastic time, and who knows, maybe I'll throw another spring party in a month or two to say goodbye to spring and hello to summer. You can find more great ways to celebrate spring with Jelly Belly on their spring and Easter ideas page, and make sure to look for my 12 spring party games while you're there!