Use these free printable Super Bowl commercial bingo cards for fun during the biggest game of the year! Print a card, find the items during the commercials, and win – a fun Super Bowl bingo game for everyone!
2023 Super Bowl Commercial Bingo
One of my all-time favorite Super Bowl party games to play during the year is Super Bowl commercial bingo. That and Super Bowl Squares. We started doing this six years ago, and it's been a tradition ever since!
It's bingo with things just from the commercials!
And I know it's been a big hit with readers at Super Bowl parties, so I keep making new printable cards every year.
This year I also made this fun Super Bowl guessing game you can play with this bingo! And Super Bowl trivia cards!
What's On The Bingo Cards
These printable bingo cards have the names of brands and celebrities that are scheduled to appear in the 2023 Super Bowl commercials as of February 5th! All cards have been updated with as many commercials as have been announced!
There will of course be last minute surprises and additions to the commercials that are not on these cards, but there are a total of 34 different commercials mixed into these cards!
2023 Update!
The bingo cards have been updated for 2023! In future years, they will be updated the weekend before the Super Bowl so that as many commercials as possibles can be included on the cards! Also, please note that the pictures in this post are from an old set of cards. The cards have since been updated to use less ink (white background instead of green) and will look like the card below.
If you want more generic cards that might work better for kids, these football bingo cards fit the bill (perfect for playing after this football scavenger hunt).
Or if you still want commercial bingo but generic commercial (e.g., car, drink commercial, snack commercial) then try these ones instead.
Super Bowl Bingo Setup
You'd think that Super Bowl bingo would be pretty self-explanatory, but I still get a lot of questions, so here are some clarifying rules for playing!
If you have more questions, feel free to leave comments, and I'll do my best to answer. And honestly, it's just a game so if you want to change things or make up your own rules, feel free!
Give everyone one of the Super Bowl bingo cards along with some markers. We love using things that are actually part of the commercials but this year is tough because there's nothing small enough for markers. So if you need some ideas – Cheerios, M&Ms, and beans all work great!
Or buy these bingo markers you can reuse year after year!
Determine a couple of things before the game and make sure the entire group knows you've decided:
How many times can one person bingo? With large groups, I recommend once. With smaller groups, you could easily do 2-3 with small prizes.
How many bingos will you play total or will you play until everyone bingos once?
Once someone bingos, are they done playing or can they go for something like a blackout prize?
Once everyone has a card, the game is on.
How to Play Commercial Bingo
If you see or hear something on your card during one of the commercials, cover it up!
The key word is during the commercials – not during the game, halftime show, or the announcements – this is commercial bingo after all!
Whoever covers five squares in a row (free football space can be included) and is the first to call out bingo wins a prize! If two people bingo at once, they both win prizes (make sure you have at least two prizes).
Five in a row can be horizontal, vertical, or diagonal.
Or like I said – if you want to mix it up and say they have to get four corners or a specific shape, be my guest! It's your party after all.
Super Bowl Bingo Fine Print
Just a few more clarifying notes for things I've gotten questions on in the past about these Super Bowl bingo cards.
A brand name can only be covered when that brand is shown or said.
A celebrity can only be covered when that celebrity is shown or said.
important!
If you've played this in year's past, there is one slight change to the game this year. Instead of having items from the same commercial on the card multiple times (e.g., Kevin Hart and Sam's Club in a Sam's Club commercial featuring Kevin Hart), I only included either or on any given card. So there shouldn't (forgive me if there is) be a reason to cover two spaces on a card for any commercial unless there are some surprise duplicate celebrity appearances (like Brie Larson being in the Kia commercial and also in the Hellmans commercial).
If you don't know who someone is on your card, I recommend looking it up beforehand. Or as the host, you could always print out pictures of the people on the cards and have them hanging up or around for people to look at to help them out.
The other thing that's helpful is for people to yell out celebrities and/or brands when they're seen in commercials to help people out, especially the littlest players.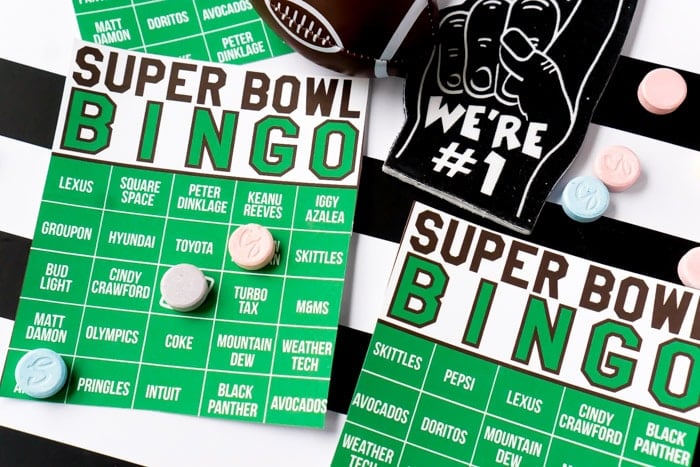 Super Bowl Bingo Prize Ideas
Since it's bingo and not a big group thing like these Super Bowl minute to win it games, you can go a little more expensive on the prize. So instead of a bag of candy for instance, a gift card.
I've put down a handful of ideas that would be great bingo prizes, ranging from more expensive to not so expensive.
FAQs
How many cards are there?
There are 12 unique cards available to download in this post. If you need more, I sell bigger sets in my shop here up to 100 unique cards. If you need even more than are available in my shop, email me at britni@playpartyplan.com and I may be able to help you out.
Will you be making cards for this year's game?
Never fear, I will always make a new set of cards for each game, I just like to wait until the last minute so that I can get as many commercials on them as possible. The cards are typically available about a week before the game so I can include as many commercials on them as possible. If you purchase this item in my shop, you'll immediately be sent a link to the newest cards as soon as they are available.
Do you have any larger cards for older eyes?
Yes! If you need larger sets of the cards, I sell full-page bingo cards in my shop here. There are sets of 12 to 100 available.
How do you play commercial bingo?
Give everyone a bingo card with items that will be shown in the commercials. When something is shown or said during a commercial, cover it up on your card. The first person to cover five in a row wins!
More Football Party Ideas
want more Super BOwl Games?
Download the Bingo cards
Enter your first name and email address in the form below to get the printable PDF. You will receive a link to download the PDF to your email within minutes.
Before the party, all you need to do is print out the PDF document below, cut them into four bingo cards, and pass out a the party.
Or if you'd rather not provide your email address, you can purchase the cards in my shop here.
If you do not see the form, click here to get to it.
If you do not see the email immediately after you fill out the form, make sure to check your promotions, spam, and junk folders!
The file will include:
Instructions
Unique Cards – There are 12 unique bingo cards customized for this year's game (if you need more, I have bigger sets in my shop up to 100 cards) but please note that if you download the set of 12 here, the set of 12 listed in my shop is the same as the free set of 12 cards here. You'll need to purchase bigger sets to get additional unique cards.
Key – this has all of the commercials on the card as well as shows which celebrities go with which commercials, this can help double-check bingos