Looking for the best Super Bowl party games? I can guarantee these ones are Super Bowl games you've never played before! Play before the game, during halftime, or even for a lot of laughs and entertainment!
One of my favorite things to do is to have a couple of fun games to play during halftime or for the people who aren't watching the game quite as closely as others.
Or you could totally play these before the game as well!
In the past we've tried this awesome Super Bowl game, Super Bowl Commercial bingo, and this Super Bowl question game. I've even done these game day games for kids with the adults.
These are some of my favorite games that are fun for kids and adults!
How to Play These Super Bowl Games
You can play these games either minute to win it style or just pick one or two or five of the games and play them individually!
If you're not familiar with minute to win it games, check out my minute to win it games page for details on how to set them up! There are typically three different ways to play:
Man vs clock – a person plays and tries to complete the game in under a minute.
Head to head – two people play against each other and the first person to complete the game wins!
Team competition – split into teams and one person from each team competes in each of the games head to head.
Super Bowl Party Games List
1 – Face Goal
For this game, you'll need two players and these mini stuffed footballs.
Have one player stand about 10 yards away from the other player and give them a bucket of small footballs. The second player will stand with their hands upright in field goal/touchdown position.
To play, the first player must hike footballs (like hiking a football) underneath their legs into the the field goal of the other person, without hitting them in the face.
The footballs only count if they go through the player's arms, not above or around them. First team to hike 7 footballs through the field goal wins.
2 – Linemen
Have players stand at one end of the table and slide Oreo cookies on a football tablecloth, trying to get them to land touching the line.
Players have to land one linemen (Oreo) on each of the lines the fastest (or within a minute) to win.
3 – Go Long
Before the game, tape index cards that say 5 yards, 10 yards, and 20 yards onto a table securely.
To play, players must stand on one side of the table and slide plastic football players across the table, trying to get them to land on the index cards.
To win, they must get their players to land on a total of 100 yards (touchdown!). You can either allow them to go over 100 yards or if they go over, they must start over and try again.
First player to get to 100 yards wins.
4 – Kick Off
This is another two-player team game. Give one player on teach team a bag full of 10 stuffed mini footballs and the other player a plastic sand bucket or other bucket of some kind.
To play, one player must drop punt a football off of their foot to their teammate who must then catch it in the bucket.
First team to catch all (or set a number) of their footballs wins. If they drop any of the footballs, they must retrieve them and continue going until they've all been caught.
5 – Tale Gate
Give each player a wrapped Cow Tale candy.
To play, players must race to be the first to eat an entire Cow Tales candy including unwrapping the candy and swallowing.
First player to completely eat the Cow Tales candy wins.
6 – Pick Six
You can either cover a table with a football field tablecloth or not and just play on a regular table. Blindfold whoever is playing.
Cover the table with $1 and $5 bills. I like to do six $5 bills ($30) and 20 $1 bills ($20) for a total of $50. Or you can do less if you'd rather do less.
Give the person playing a spatula and a plate. Have them hold the plate in one hand and the spatula in the other. When you say go, they have 20 seconds to try and scoop as much money onto their plate as they can.
At the end of the 20 seconds, they keep the money on their plate. If they end up with a total of $6 on their plate, they win everything on the entire table (or you can say they win a bonus $20 or something).
If you want to see how this game is played, check out this TikTok video to see it in action! Or there's also a video in this post you can watch!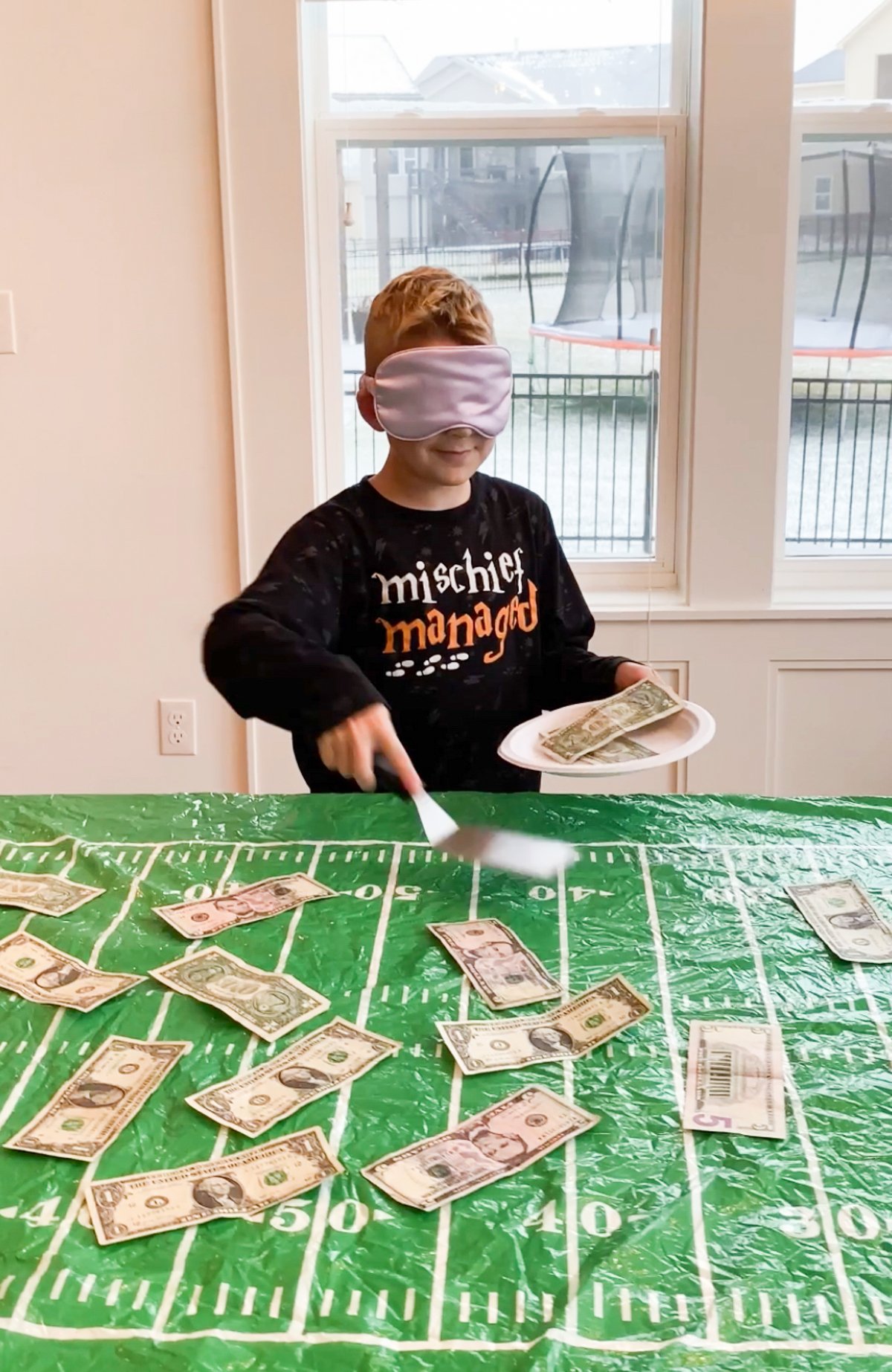 7 – Touchdown
Cover a table with a football tablecloth and give someone four stuffed mini footballs. Have them stand six feet away (or a little closer for younger kids).
When you say go, they toss their four footballs onto the table. If they land one on the table, they win either points or cash equal to the line they land on, moving a decimal. So if they land in the 10 yard line area, they would win $1.
After they toss all four balls, they win whatever they landed on the table. If they can get all of their four downs to equal up to 100 yards, they win a bonus prize of something like $20.
If you want to see how this game works, check out my TikTok video to see how it's played.
Super Bowl Party Game Prizes
I've put together a list of fun prize ideas that would be great for if you're doing these as individuals trying to win. If you're going with a group, try something smaller like a bag of candy or nerf footballs or something a little cheaper!
Other Super Bowl Party Ideas
If you like these Super Bowl party games, check out these other great Super Bowl ideas!