Looking for fun Thanksgiving activities for kids? This printable Thanksgiving matching game will have them trying to match popular Thanksgiving foods with the ingredients in them!
We are always looking for fun Thanksgiving games and Thanksgiving activities for kids in our house! We've already done a Thanksgiving word search, Thanksgiving i spy, and even created some Thanksgiving coloring pages.
So when I started trying to come up with some new games for this year, my mind immediately went to matching. And food.
I mean food has to be part of any Thanksgiving activity right?
So this Thanksgiving matching game is centered around food – popular Thanksgiving food like stuffing, brussels sprouts, and even cornbread.
It's a Thanksgiving food matching game!
How to Play
One of my favorite things about printable games is that typically all you need is the game printed out and a writing utensil for each player.
This Thanksgiving matching game is no different. The PDF you can download at the bottom of this post has a full-sheet version of the game if you're just playing with one person or a half-sheet if you're going to be printing out a bunch for an entire classroom or kids table!
Once everyone has a copy, you can start. The goal is to match the ingredient in the left column to whichever of the Thanksgiving recipes that it would most likely be used in on the right.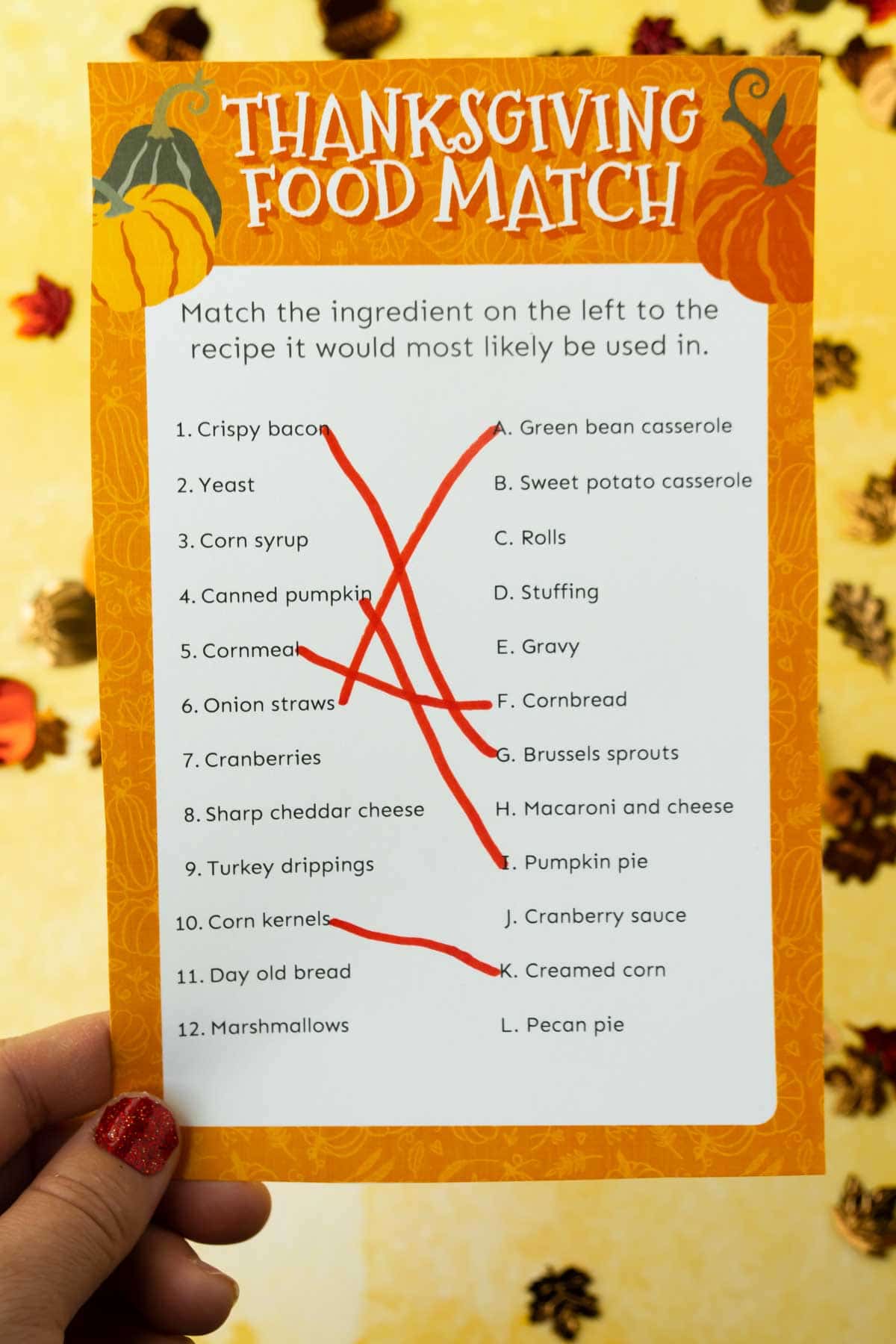 I specifically say most likely be used in because I know that people make no-yeast rolls, sweet potato casserole with pecans and brown sugar instead of marshmallows, etc. The idea is that it would typically be used in those things.
And I made it a matching game so people saw the options for recipes instead of having to come up with them on their own (like in this Christmas emoji game). They can be a bit tricky but hopefully with having the options to just match to, kids can do it!
Answers
If you can't come up with the answers, I've included an answer sheet with the downloadable PDF at the bottom of this post. You can also find the answers below if you are just curious but don't want to download the PDF.
Crispy bacon – brussels sprouts
Yeast – rolls
Corn syrup – pecan pie
Canned pumpkin – pumpkin pie
Cornmeal – cornbread
Onion straws – green bean casserole
Cranberries – cranberry sauce
Sharp cheddar cheese – macaroni and cheese
Turkey drippings – gravy
Corn kernels – creamed corn
Day old bread – stuffing
Marshmallows – sweet potatoes
More Printable Thanksgiving Games
Want more fun games to play with the kids? They'll love these Thanksgiving ones!
Download the Printable
Enter your first name and email address in the form below to get the printable PDF. You will receive a link to download the PDF to your email within minutes.
If you would prefer to not fill out the form, you can get a copy in my shop here.
The PDF will include:
Full-sheet copy of the game
Half-sheet (two to a page) copy of the page
Answer sheets
If you do not immediately receive the email, make sure to check your promotions, spam, and junk folders!
If you do not see the form below, click here to get to it.