This fun Valentine's Day Outburst game is great for all ages! Simply guess to see if you can name the items for each of the Valentine's Day topics! It's easy to play, hilarious to watch, and fun to play both in person or virtually!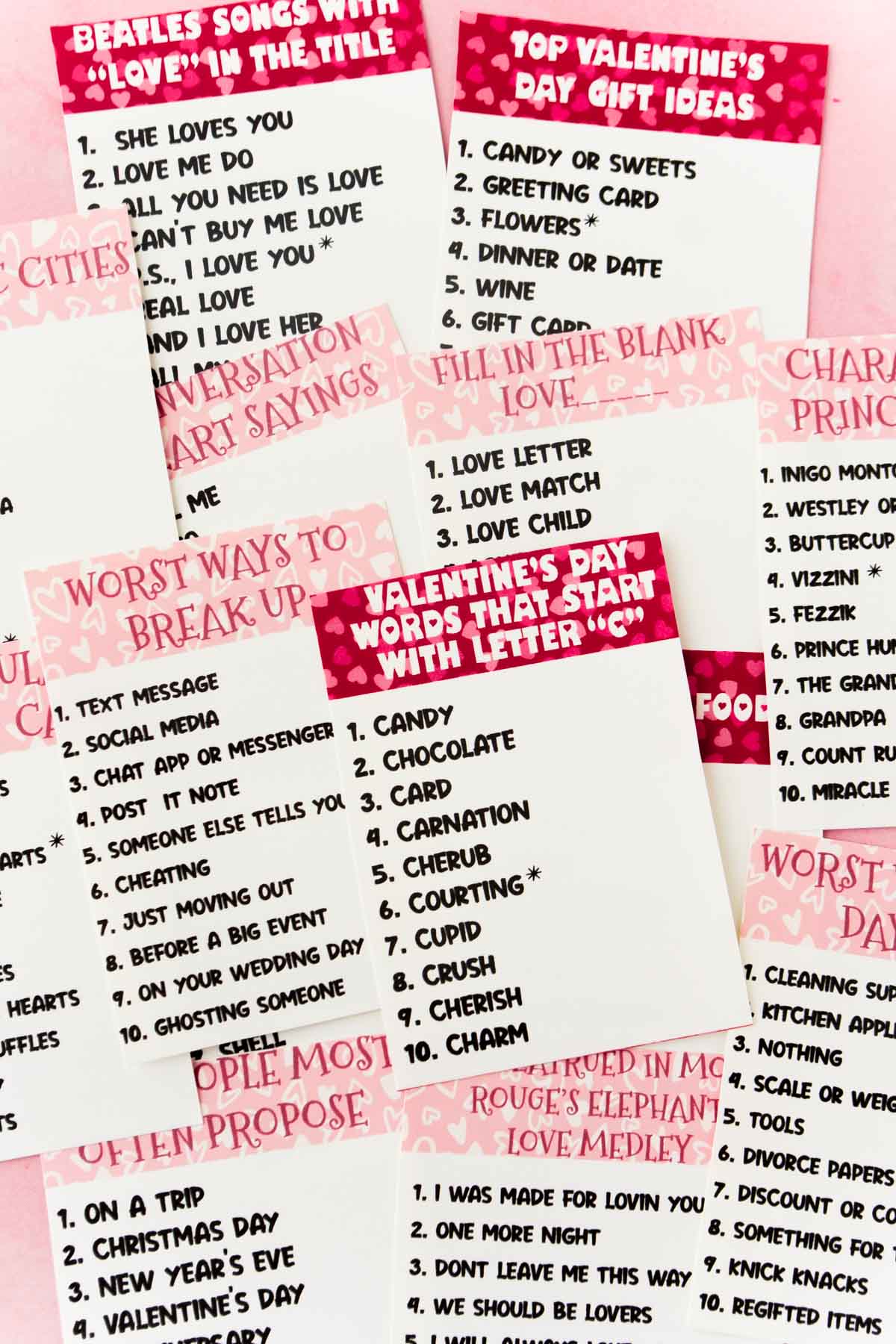 A few months ago we went on a road trip, just a few hours from here, nothing crazy. I was in a car with a few other adults and then some kiddos. And we needed something other than typical road trip games to keep the group entertained.
I pulled up my website and started up a game of Christmas Outburst.
And I've never seen a group of guys as engaged in my life. I forgot how easy it is to play and how fun it is for all ages – adults, kids, and even the grandparents!
So I thought it'd be fun to add a Valentine's Day Outburst game to the collection. Like with these Valentine's Day trivia questions, the topics in this game are all over the place. If it's related to love, Valentine's Day, or relationships, it's fair game.
Supplies Needed
You really don't need much to play Valentines Day Outburst. I mean, when we played in the car, I literally just pulled up the PDF on my phone and asked the questions. I kept score on my phone while I was at it, but you can go a little fancier than that with a piece of paper and pen.
So really all you need is:
Printed out topic cards – download them at the bottom of this post or get a copy in my shop here.
Markers – these are best for marking off answers as teams guess them.
1-minute timer – you'll want a timer that everyone can see. I recommend a sand timer but a digital one works fine as well, as long it's somewhere people can see it.
Pen and paper for keeping score
Prize (optional) – a prize the team can share is probably your best bet for this game!
If you want to use these again and again, I recommend printing on white card stock then laminating. I have this laminator and these laminating pouches that I use all the time. They're super easy to use and work great!
How do you play outburst
One of the reasons this game is so much fun is because it's just guessing things. Anyone, no matter their age, can do that. You may not get all the answers, but you may get some and that counts a lot in this game!
Setup
The first thing you need to do is print and cut out the category cards. There are 18 different category cards, each either ten items on them.
You can either use all 18 cards or pick and choose the ones that make the most sense for your group. If you are picking and choosing, try to not look at all of the answers if you're planning to personally play.
There are some that will be a bit tougher (e.g., 90s romantic comedies) depending on your age group but sometimes that's fun. Or at least it adds a bit to the challenge!
And then there are easier ones that even kids can get like Valentine's Day gift ideas!
Once your cards are ready, it's time to divide your teams. Split your group ideally into two teams of like 4-8 people. Have teams sit on opposite sides of the room or area. Or if you're doing this virtually, you don't need to physically split up.
Tip!
If you have more than 16 people playing, split into more than two teams. Have the other teams do something like ask these Valentine's Day would you rather questions while they wait for their turn to play.
Play
Now it's time to play. Have one team take a category card off the top of the card deck. Read the topic to the other team then flip the timer.
As soon as the timer is flipped, the other team should start shouting off any answers related to that topic.
If they shout something out that's on the card, the team holding the category card should confirm that it's on the card to give the guessing team an idea of the direction of the answers on the card.
The team holding the card should mark off answers as they're yelled out so they don't forget anything that was shouted out in the mayhem.
Keep going until the minute is up. The team gets one point for any correct answer they guessed on the card in the minute.
important!
There are ten answers on the cards but that doesn't mean there aren't necessarily other answers that could have made it on the card. Make sure everyone understands before the game that these are not finite lists but rather lists with various possibilities. No arguing if your favorite answer wasn't on the card.
Bonus Points
If you'd like to use bonus points, each of the cards has an item on the card with an * next to it. If a team gets that answer, they get one extra bonus point.
Or if you want to make it even more interesting, have the team roll a six-sided die and whatever they roll, they get those bonus points if they got the * answer.
How to Win
Switch teams and have the other team guess. Keep playing and switching teams until you've either gone through all the cards or gone through a designated number of cards (making sure each team gets to play the same amount of cards).
Or play until you hit a certain number of points like 50. So the first team to hit 50 points wins.
Expert Tips
Go virtual. This game is great for playing on Zoom using the chatbox. Check out my tips in the FAQs section for playing on a virtual call!
Laminate the cards and save them for next year.
Split different ages up amongst teams. If you're playing with multi-generations, split the youngest kids up, split teens up, etc. Teams will be more fair if the age groups are split.
Make it a full Outburst night. Don't just use Valentine's Day cards. Add in some Thanksgiving outburst cards, Christmas outburst cards, and maybe even some New Year's Eve outburst cards. It may make it more fun to have various topics!
Game FAQs
How do you play outburst on zoom?
There are two ways you can play. I still recommend splitting your group into two teams and having just one team answering per card or it can get too crazy. As the host, pick a category card and give the team the category. Have anyone not on that team turn off their video feed to make it easier to focus on the people actually playing that card.

Then set a timer and have people on that team either yell out their answers OR type their answers into the chatbox. If you're using the chatbox, just make sure to have someone type in start and stop (when the timer goes off) so you can see what actually was guessed in the time limit.
What ages is Outburst best for?
Honestly if you can yell out a guess, you can play. I wouldn't necessarily recommend only kids play by themselves but kid + teens + adults make a great combination! Perfect for the entire family.
More Valentine's Day Ideas
Download the Printable
Enter your first name and email address in the form below to get the printable PDF. You will receive a link to download the PDF to your email within minutes.
If you'd rather not provide your email, you can get a copy in my shop here.
If you do not see the form, click here to get to it.
The PDF will include:
Instructions
18 different Valentine's Day outburst category cards (with 10 answers each)
If you do not immediately receive the email, make sure to check your promotions, spam, and junk folders!