Looking for a cute Valentine's Day idea for kids or even for a boyfriend or significant other? Set up this printable Valentine's Day scavenger hunt a around your house for a fun surprise for anyone you love! Perfect for doing along with this Valentine bingo game for one amazing day of love!
I'm a huge fan of scavenger hunts if you couldn't tell from my Christmas scavenger hunt, my birthday scavenger hunt, and my Halloween scavenger hunt. Or any of the other ones I've created for all the holidays so far.
So it's funny. I actually created this scavenger hunt for my oldest son, but you could easily use it for a boyfriend, husband, or significant other as well. There's nothing really that makes it kid specific so feel free to use it for whoever for Valentine's Day!
I think it's fun to do little surprises for my kids for all the holidays but now that I think about it, I really should do them for my husband as well – a Valentine's Day scavenger hunt for him!
Setup
This Valentine's Day scavenger hunt is super simple to setup.
Simply print out the Valentine's Day scavenger hunt riddles I made for you, hide them in the designated locations around your house, and give the hunter their first clue to start.
Tip!
When you're cutting them out, write WHERE the clue is supposed to be hidden on the back so you can remember as you're hiding them. It'll make it much easier to hide!
This particular scavenger hunt is also written to include little surprises along the way. If you want a more generic Valentine's Day scavenger hunt, I'd got a great one in my shop here.
Valentine's Day Scavenger Hunt Riddles
Like with all of my scavenger hunts, I tried to make the riddles themed (Valentine's Day!) and generic enough that anyone could use them in their house, not just in my house. I tried to make all of the locations generic like an oven or a bedroom or a bathroom. And if you don't have a bedroom or bathroom in your house, my apologies!
Each riddle leads the hunters to the next riddle in a specific location described on the card. Most of them are pretty easy, like where you would bake a pie (oven) but some are a little more complicated, like where you would put flowers. Those ones are up to you to determine where it goes!
And it's okay if the kids don't get it right away, the running around the house is good for them!
The printable PDF has 12 different clue cards. They kind of go in order or are sort of tied together (e.g., I talk about taking a rest after the bed card) but you can totally skip one or five or whatever number of cards and they'll still all work.
I just like to make a longer scavenger hunt because my son loves them so much!
Scavenger Hunt Surprises
There are two ways you can set this up. The first would be just to have some sort of surprise for everyone at the end, like I did with my football scavenger hunt for kids. They all got a football game to take home.
For this particular scavenger hunt, a themed Valentines Day basket would be a great prize!
Or you can do surprises along the way, like I did with my son's dinosaur hunt. If I do surprises along the way, I like to do a mixture of small things – treats and gifts – and then a bigger surprise at the end.
I put together a list of some of my favorite things to include on these type of hunts for both kids and for him if you're planning to do it for an adult!
Scavenger Hunt Prize Ideas for Kids
Scavenger Hunt Prize Ideas for Adults
Scavenger Hunt FAQs
How do you do a scavenger hunt on Valentine's Day?
Print and cut out scavenger hunt riddles, hide the riddles around the house and a surprise at the end. When you're ready for the scavenger hunt, give out the first clue and let them race around finding clues and the final surprise!
What are some good scavenger hunt clues?
Good scavenger hunt clues are fun to read and take a little thinking to figure out. All twelve of the clues in this scavenger hunt take a little (very little) thinking!
Do you have any more clues?
If we these clues don't work for you, I have another set of 12 different clues in my shop here.
What should I put at the end?
I like to put either a Valentine's Day basket full of little surprises, a small gift of some sort, or a special Valentine's Day treat. These brownie balls or these double chocolate chip pudding cookies would be great!
More Fun Valentine's Day Ideas
If you like this scavenger hunt, you'll love these Valentine's Day ideas!
Download the Printable
Enter your first name and email address in the form below to get the printable PDF. You will receive a link to download the PDF to your email within minutes.
If you'd rather not provide your email address OR if you are looking for more generic Valentine's Day scavenger hunt clues, you can also get one in my shop here.
If you do not see the form, click here to get to it.
If you do not see the email immediately after you fill out the form, make sure to check your promotions, spam, and junk folders!
The file will include 12 Valentine's Day scavenger hunt clues.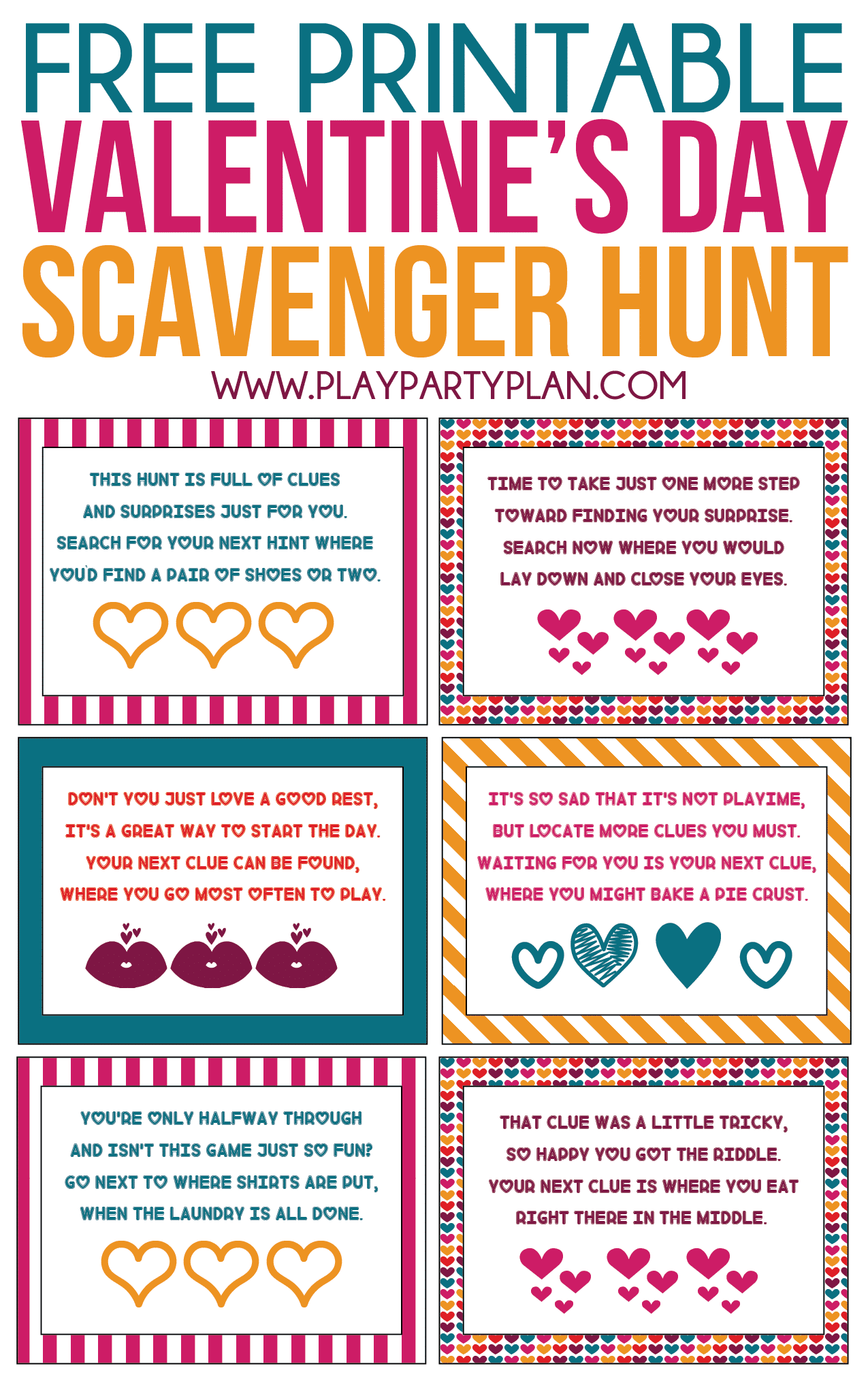 This post was originally posted in 2018 and has since been updated to include more helpful tips and information.