These fall color palette ideas are perfect for when you want to showcase the colors of autumn for family photos, fall parties, fall clothing, and more! With plenty of fall color schemes to choose from, there are collections of autumn colors that'll work for everyone!
With fall just around the corner and people already asking for me for fall party themes, I thought I'd write a post about one of the most asked questions for fall – what's a beautiful fall color palette for a fall party?
However, choosing the perfect color palette for a party (or family photos or whatever you're ready this post for) is often subjective.
So instead of telling you the perfect colors, I am going to give you a variety of fall color palette ideas that you can choose from!
I've included a variety of autumn palettes below along with the hex codes you can use for inspiration for fall weddings, celebrations, and more!
Palettes Using the Colors of Fall Foliage
Let's start with going for the most classic colors for the fall season – the golden yellows, rusty reds, and rich oranges of fall leaves. Fall is my favorite season because of the beautiful colors so why not use them in your fall palette?
I say embrace mother nature to pick your perfect palette! These are definitely the most iconic fall colors and a great option if you want iconic fall color ideas.
These colors actually work really well if you're looking for analogous color schemes since the reds, yellows, and oranges all fall next to each other on the color wheel.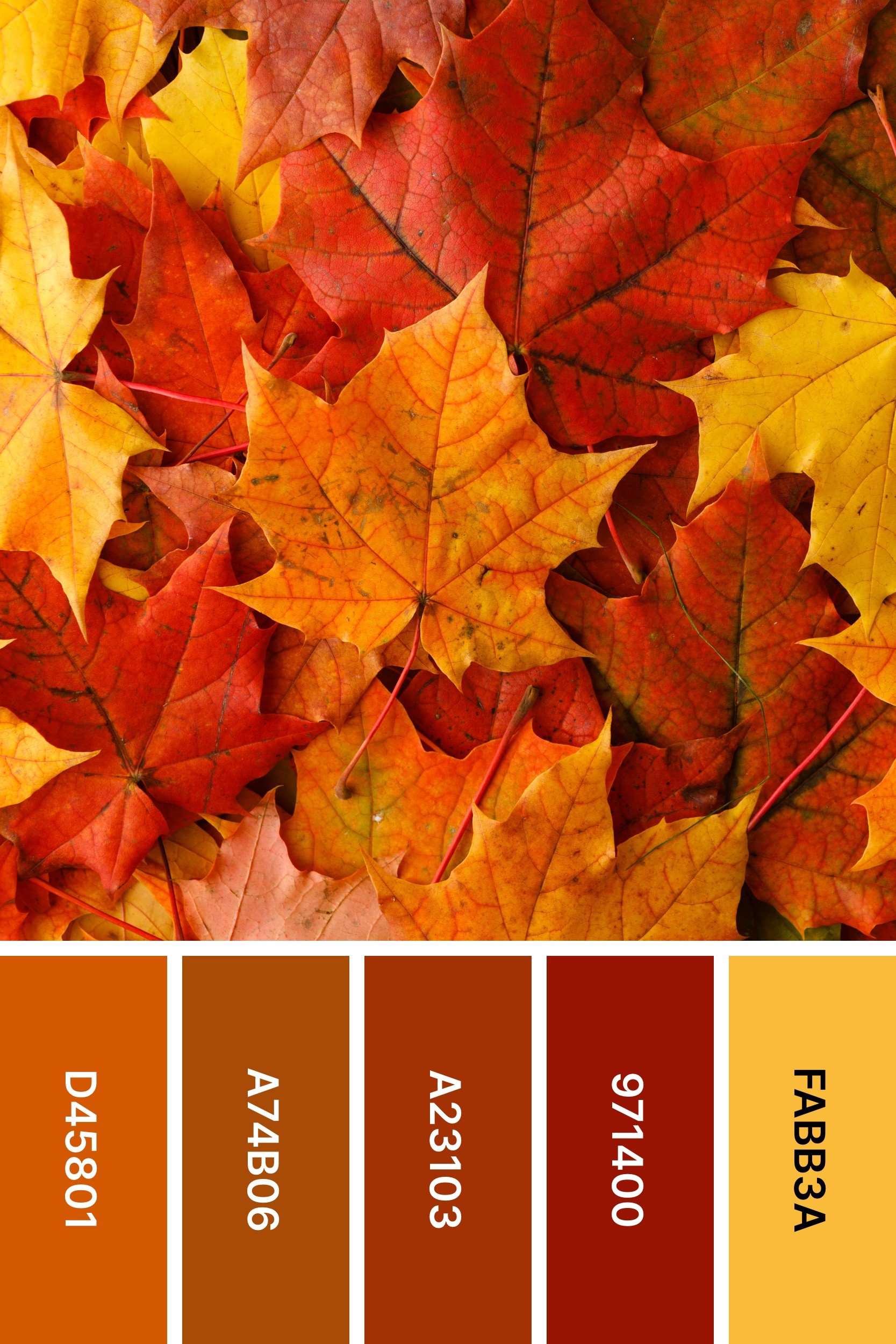 If you want to add in some warm greens with your fall leaves colors, you could also try this one that has some different colors but still using the same seasonal type options.
Or if you want to combine fall with sunset color palettes, this would be a great combination for the autumn season.
Bright Colors for Fall
If you want to skip the typical warm colors and go bright this fall season, these are some of my favorite colors for this time of year! Think brightly colored mums, painted pumpkins, and more!
Or if you want to go with mostly bright colors but tone it down a bit, something like the color palette above mixed with warm browns or dark green would be perfect.
If you want to use bright colors for your front porch, this fall color palette might be perfect. It incorporates bright oranges, yellows, greens with a grounded neutral blue and gray.
This next color palette is perfect for tablescapes, fall interior decorating, and really just anything you want classic fall colors for. It embraces the yellows and oranges of fall combined with some various shades of browns.
Lighter Shades for Fall
If vibrant colors aren't your thing and you want to go with lighter shades, try out one of these color schemes with lighter tones, inspired by all of the various colors of fall pumpkins you might see at pumpkin patches!
Or go with pastels of popular fall colors. Peaches, mints, and creams are a great option if you want something lighter while still embracing the iconic fall color palettes.
Fall Palette Ideas with Earthy Tones
If you don't want to go with the fall foliage color schemes above, you can also go with just very earthy tones. Think neutral fall colors like warm browns, forest green, olive green, and maybe even a little golden brown. Skip the red-orange-yellow family color and stick with a neutral fall color combination.
If you want to go still somewhat earthy but really lean into the rich neutrals, you could add in some deep reds or rich hues of bright orange to take the earthy feel to the next level.
Fall Food Inspired Palette
Take inspiration from food that's in season during the fall and use the colors of squashes, gourds, and root vegetables.
Or skip the vegetables and do a palette inspired by fall apple season. It's perfect for an apple party or any fall get together.
Another fun inspiration is always a pumpkin spice palette. It's such a popular flavor that doing a party color scheme inspired by it is a perfect choice. This is more of a deeper pumpkin color than the typical pumpkin orange, and that's why I love it.
And can you tell that I love food?
I have one more perfect food inspired fall color palette for you – a brown sugar inspired color palette. This one should remind you of warm chocolate (it reminds me of hot chocolate!), cinnamon rolls, and brown sugar swirled coffee cake.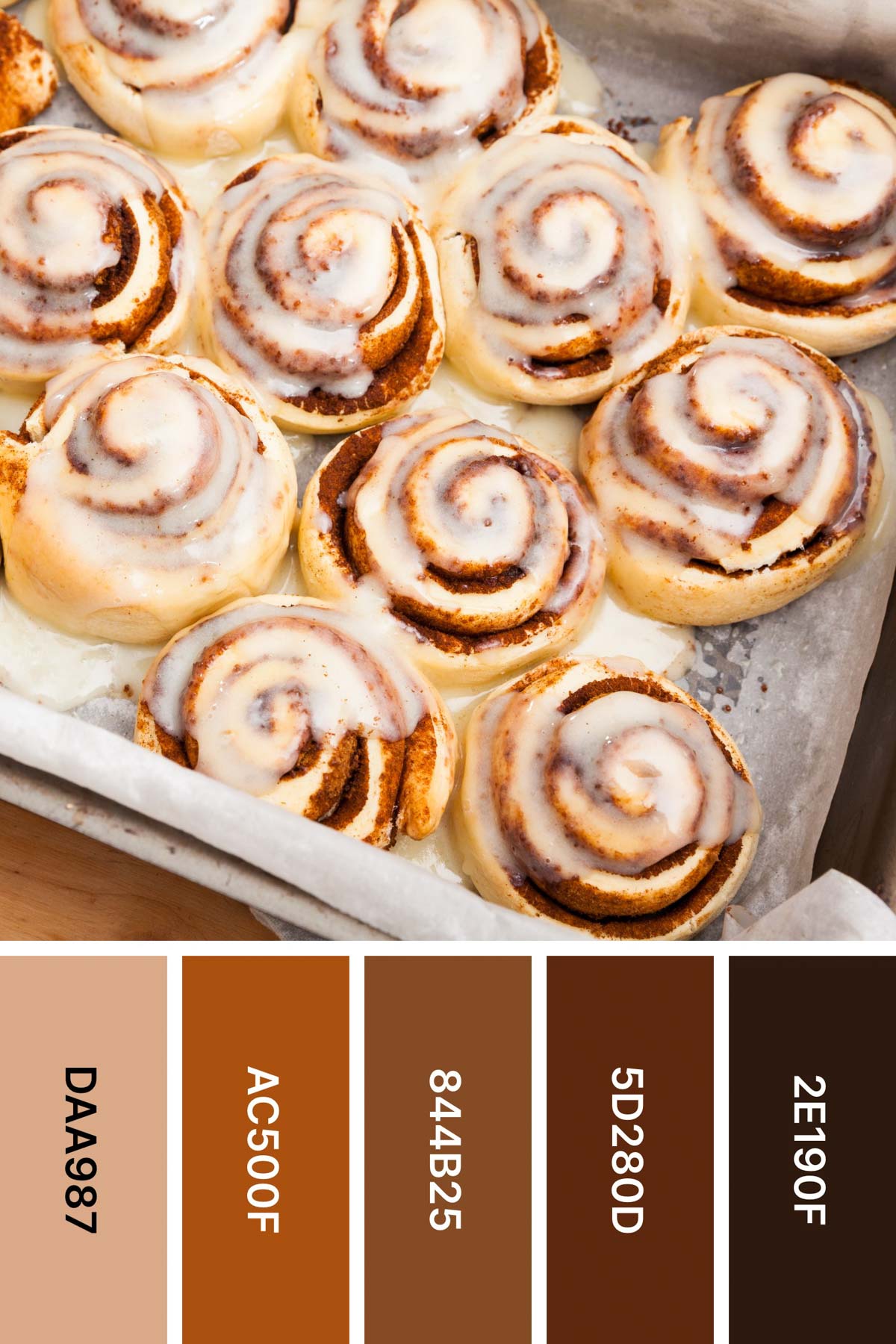 Cool Colors for Fall
If you want something a little different than the typical warm tones you find during the fall, how about a color palette inspired by a cool crisp fall day? Use a bright orange with a cool blue on the other side of the color wheel to balance it out.
This is perfect if you still want to incorporate fall colors but don't necessarily want a super warm color palette.
Or if you just want to go with cooler versions of the typical fall colors, this color palette is a good option as well.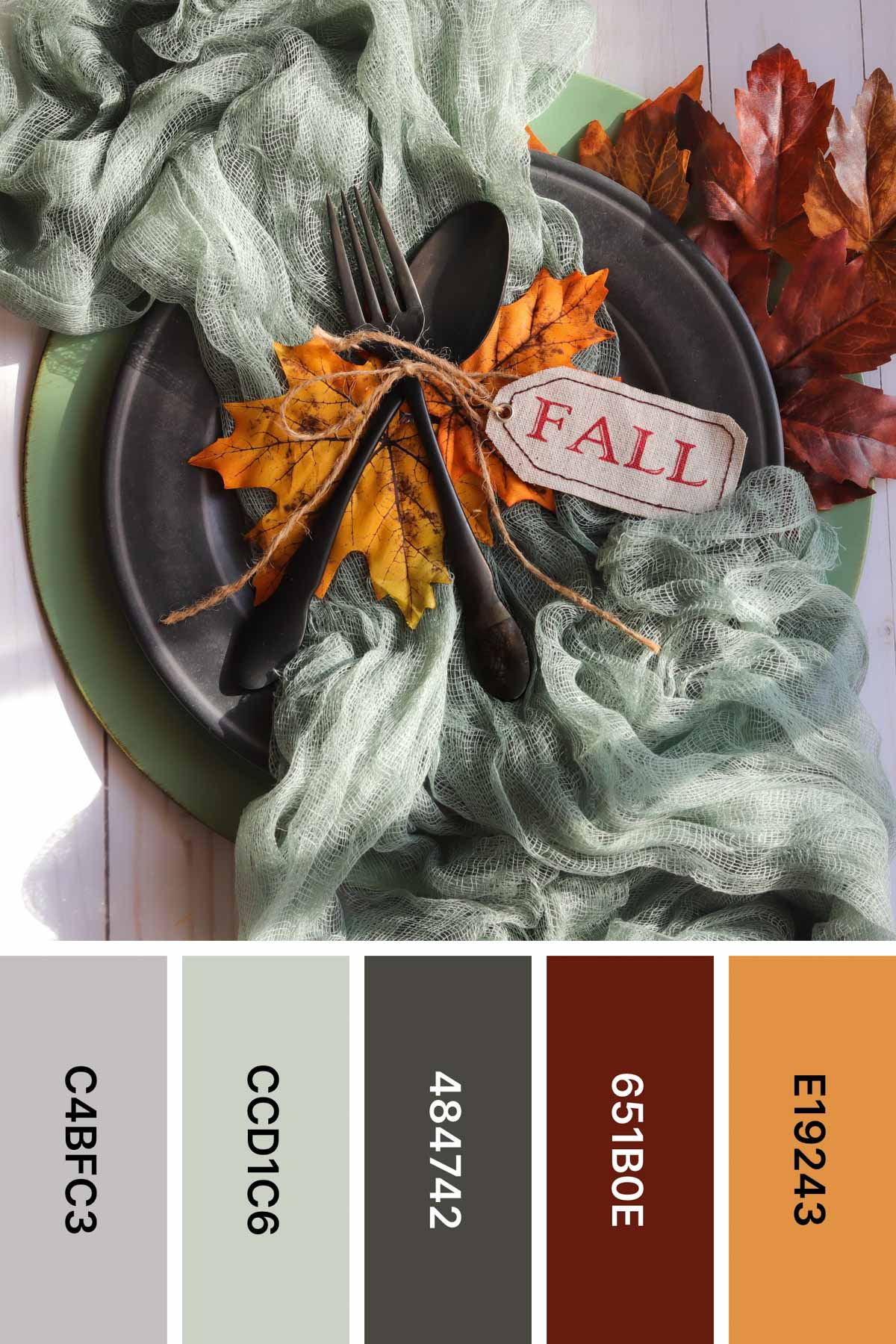 Cozy Fall Color Palettes
And last but not, if you just want a color combination that gives off ultra cozy vibes, then these color schemes would be a perfect choice.
I have four different options for this one because let's face it – fall is all about being cozy.
The first is inspired by one of my favorite ways to cozy up – with a big mug of homemade hot chocolate. This would be the perfect fall color palette for a hot chocolate bar!
The next is inspired by a day out enjoying the beautiful fall weather with thermos of spiced apple cider, blankets, and light jackets.
Next is a cozy day inside with candles, sweaters, and a great book. If you need book recommendations to go with your fall color palettes, these are the best books to read right now!
And finally – cooking s'mores over a fall bonfire. If you're doing a s'mores board, a camping birthday party, or anything that's outdoors, this is a great option.
Fashion Inspired Fall Color Palettes
If you follow along with Pantone, these are the fall colors from the 2023-2024 fashion show this year. You can get full details and see all the fashion inspiration on the Pantone website.
Tips for Picking the Perfect Fall Color Palette
You don't need to use the exact colors I've provided in this post. They're meant to give you inspiration to choose a color scheme for your party, wedding, or other event. There's no better way to pick a color palette then to look through a variety of inspiration and pick what feels right to you! So pick similar shades or pick the same colors I did, totally up to you!
Look at the palettes in this post and see what speaks to you. What says ooh I want to come to that party. This is a great way to eliminate some right off the bat. If the color combo doesn't speak to you, those aren't going to be the best colours for your event.
More Fun Fall Ideas
As you're planning your event for the fall, here are some great resources to help along the way!
Fall bucket list – the ultimate guide to things to do in the fall including fall traditions, fall games, and more!
Fall scavenger hunt – this activity is great for any party from one with kids to a girls night!
Fall snack mix – the ultimate snack for any fall get together, delicious and fall colored!
Fall art projects – if you need a craft or activity for your party, one of these would work great!
Pumpkin patch craft – grab the apples and stamp away with this fun fall craft idea!