Turn a s'mores night into something amazing by offering tons of different s'more options with this fun s'mores charcuterie board! All you have to do is add a variety of crackers, chocolates, marshmallows, and toppings for a night of s'more fun than you've ever had before! It's the most fun way to serve s'mores these days!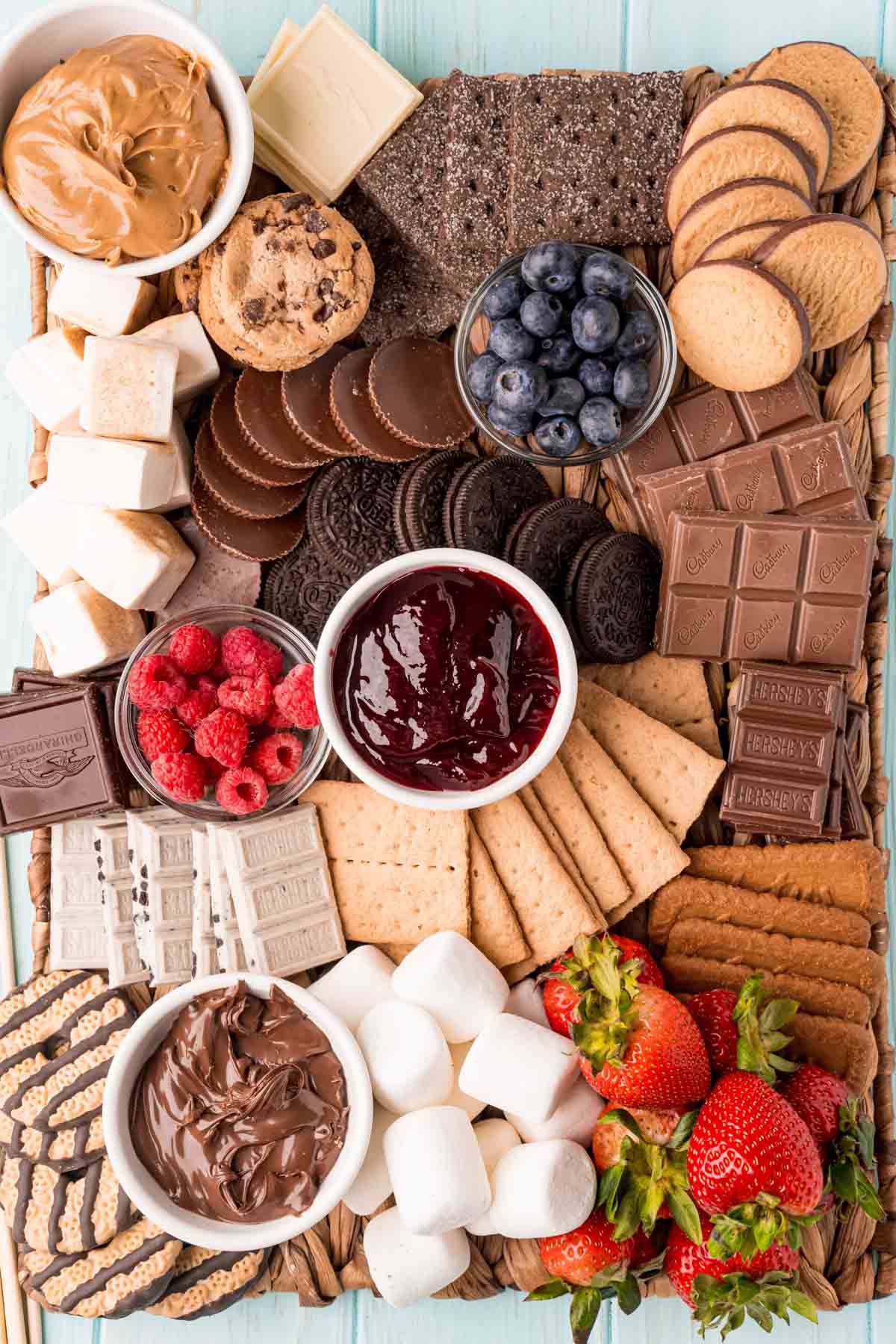 As a picky eater myself, I love being given options so that I can choose what I like the most. That's one of the reasons I absolutely love making a snack board for eating, plus they're just fun!
I also am just kind of a big fan of any fun dessert board and anything s'more related, so it's no surprise that I put together this delicious s'mores board for your next s'mores night at home! It'd be the perfect addition to a little outdoor entertaining this fall, a summer party, or your next backyard bbq!
If you've never had a s'more that isn't just graham cracker, chocolate, and marshmallow, you're in for a real treat with this idea. Not only have I included tips for setting up your own s'mores board but also lots of different s'more ideas and combinations to try!
So next time you're considering s'mores, create your own s'mores board, add some printable DIY s'mores bar signs, and let people go gourmet with their treats! It's a fun idea for summer or any time of year!
Why You'll Love This Idea
Beautiful – just like with these breakfast board ideas, this s'mores board is just pretty to look at. There's a reason charcuterie boards of all kinds are trending on social media these days, they're both pretty and functional! Whether you do a classic s'mores board or a regular one, it'll still be beautiful!
Easy to make – while they may look intimidating, this s'mores treat board is actually way easier to put together than you'd think! I'd included my tips and tricks toward the bottom of this post! It being so easy to create is the best part!
Diet Friendly – okay, don't get me wrong – this is not healthy or diet friendly, but it is friendly to all sorts of eating types. Have people who can't eat gluten? Include gluten free graham crackers or cookies. No dairy? No problem, do marshmallows with fruit instead. With so many options, everyone can find something they like!
What to Put on a S'mores Charcuterie Board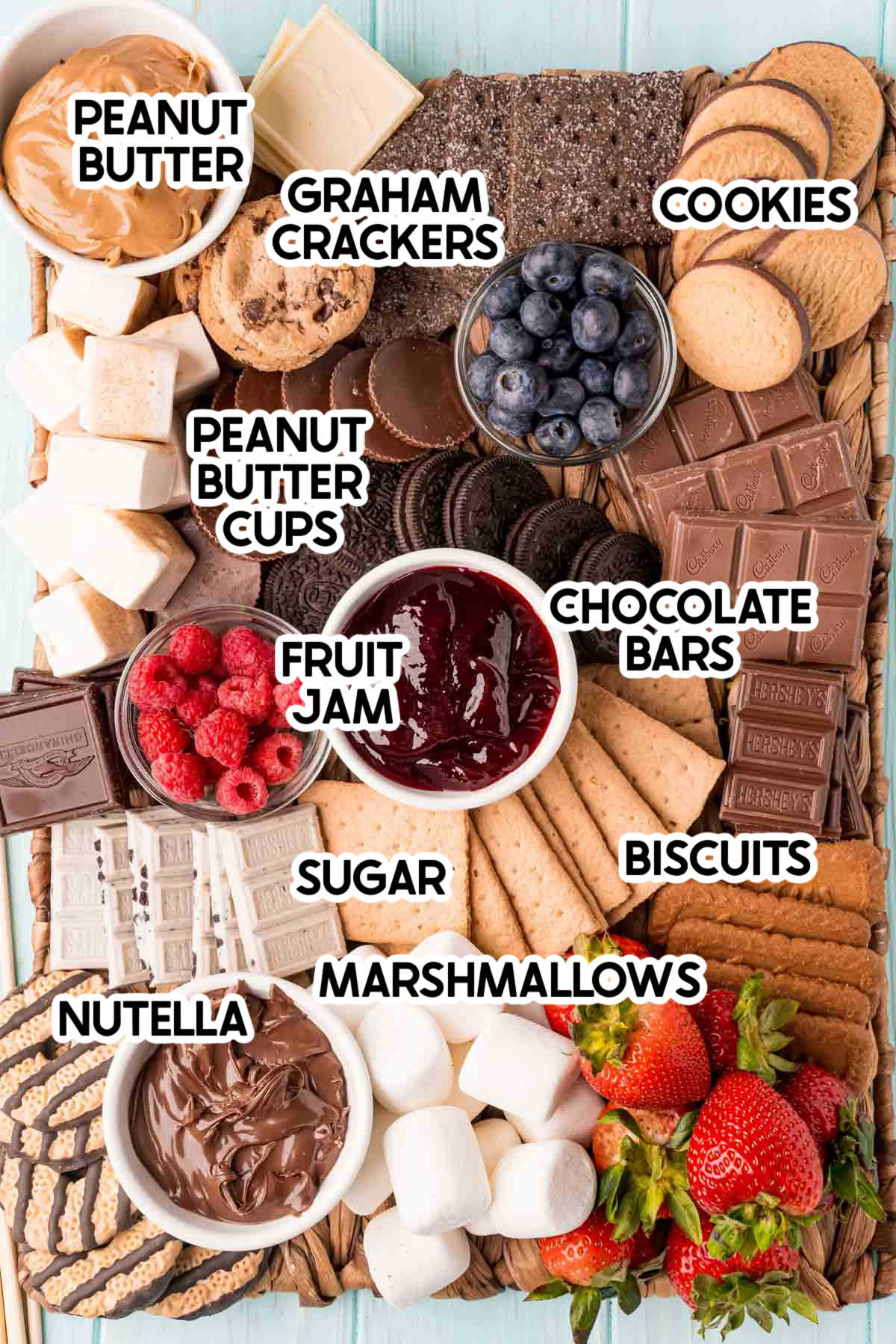 One of the nice things about a s'mores board is that it really could include any ingredients you want it to include. I've included some of my own recommendations below but feel free to get creative with your own board!
Graham Crackers
Don't just do regular graham crackers, this is your chance to get creative. Graham crackers, honey grahams, chocolate grahams. The possibilities are endless.
I recommend breaking them into squares so that they're all ready to go for s'mores!
Cookies
Did you know that cookies make a great base for s'mores? Ever since I made these cookie s'mores, I've been obsessed with making s'mores with cookies as the sandwich pieces instead of graham crackers.
You could really use any cookies as long as they aren't too soft, but I like fudge stripe cookies (likes I used for my witch hat cookies), Chips Ahoy chocolate chip cookies, Oreos, shortbread cookies, and biscotti style cookies.
You could even use rice krispie treats if you want – just eat them fast, they tend to get gooey quickly!
Chocolate
One of the best ways to turn regular s'mores into gourmet s'mores is with different types of chocolate for melting. Try anything that'll melt easily from Reese's peanut butter cups to Cookies & Cream Hershey bars to fancier chocolate like Ghirardelli chocolate squares, or even candy bars!
White, milk, dark, and even mixed chocolates like chocolate and caramel all make great choices. Just make sure it's something that will melt easily and then choose your favorite toppings!
Marshmallows
You can't have s'mores without marshmallows, and I recommend offering a number of different types of marshmallows for people to try.
Regular marshmallows, flavored marshmallows, gourmet marshmallows, and even homemade marshmallows would all be a good fit to take s'mores to the next level!
If you do flavored ones, I do recommend using these DIY charcuterie board labels to make sure people know what they're trying!
Spreads
You didn't think we were done there did you? Upgrade you're s'mores with the addition of a variety of spreads like peanut butter, Nutella, jams, chocolate, caramel, and more.
You could even just do some melted chocolate chips, marshmallow fluff, or marshmallow dip if people don't want roasted marshmallow (also toasting the marshmallows is the fun part!).
Just make sure to keep little spoons or knives handy for spreading the spread on the graham cracker or cookie base.
Fruit
Fresh fruit makes a great addition to any s'mores board! Some of my recommendations are fresh strawberries, apples (apple rings make a great base for s'mores!), and even bananas if you can cut them and serve them fresh before they brown.
How to Make a s'mores Board
Find a good platter or board and arrange your choice of ingredients similar to a charcuterie board. My typical process for creating any dessert board is:
Start with some small bowls placed throughout the board. These are great for spreads, fruits, and other small items that may not do well loose on the board.
Add big items spaced out evenly throughout the board, trying your best to break up colors and types of foods (so not all cookies together).
Fill in with medium size items, again trying to break up colors and textures. Fruit is a great way to bring in some extra color.
Fill in any remaining spaces with smaller items like little pieces of chocolate and berries. This is a great way to add any remaining ingredients that didn't make it on the curated board yet.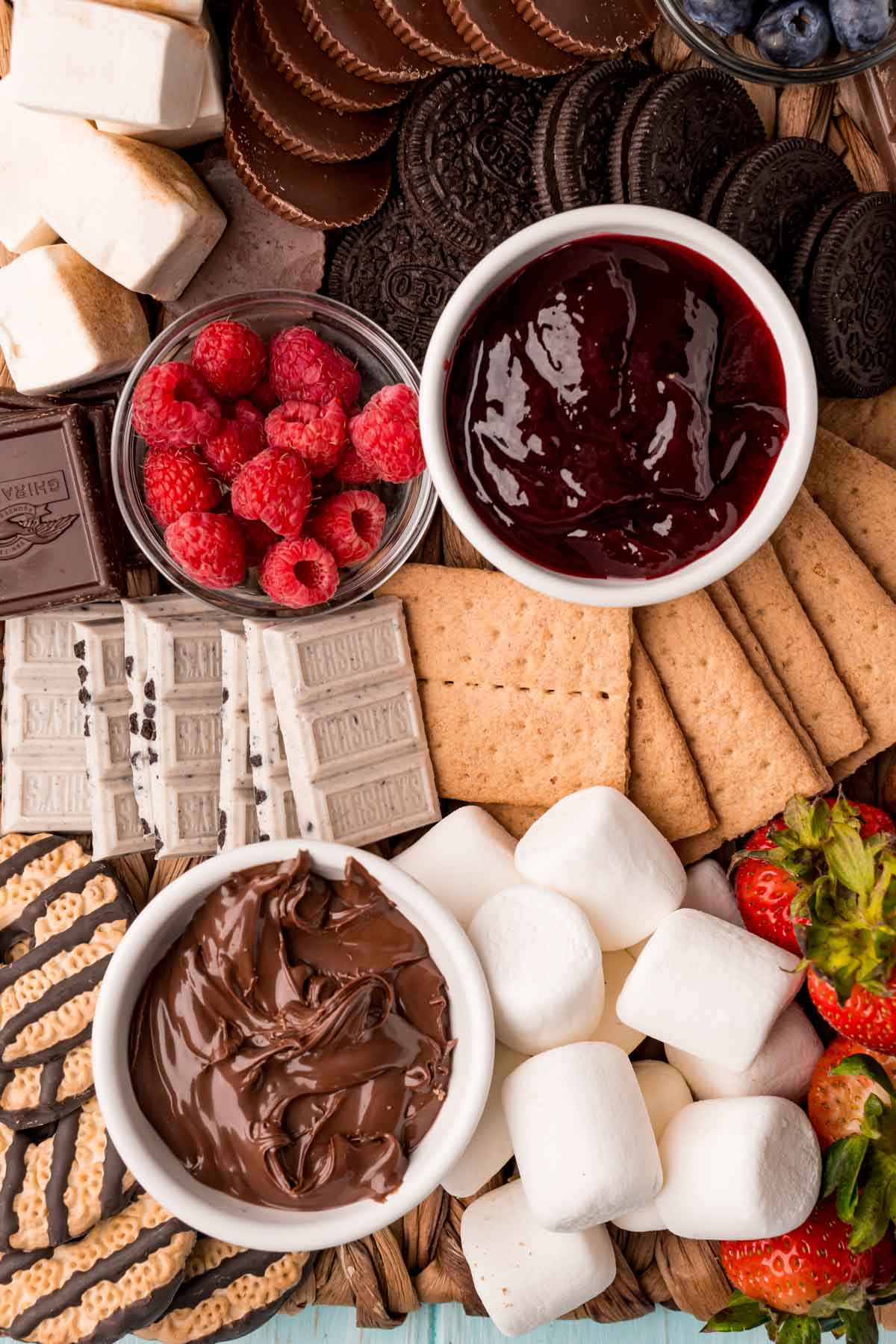 Just like with any dessert board, I recommend doing a little bit of a lot of different things so people have choices and can try out different combinations. You can always refill later!
You can use bamboo skewers for indoor s'mores or traditional roasting sticks if you're using outdoor fires or a fire pit to make a toasted marshmallow, then let everyone choose what they want to use to put their s'mores together!
You could technically do this for a camping trip as well but it may be a little tougher to bring the various types of chocolate and other ingredients camping. But it would be super fun for a 4th of July celebration or summer get together!
Gourmet S'more Ideas
Ready to change things up and move away from traditional s'mores? Try any of these fun varieties for a gourmet treat!
Peanut butter and chocolate lovers – combine a chocolate graham cracker, Reese's peanut butter cup, and a regular marshmallow for this fun peanut butter and chocolate combo!
Elvis Presley S'more – grab a regular graham cracker, layer it with peanut butter and bananas, and top it with a ooey gooey s'more for this Elvis special!
Strawberry Shortcake – Shortbread cookies, strawberry jam, white chocolate, strawberry marshmallow, and a slice of strawberry
Cookies and Cream – Oreos, cookies and cream chocolate, regular marshmallow
Salted Caramel – Biscotti cookies with a smooth layer of caramel, caramel chocolate, regular marshmallow, and a little pinch of sea salt
PB&J – regular graham cracker, berry jam of some sort, Reese's peanut butter cup, regular marshmallow, and fresh berries
Death by chocolate – Chocolate chip cookies, chocolate spread, any type of chocolate, and chocolate marshmallows
Expert Tips
Keep the board away from an open fire so the chocolate doesn't melt. I like to put it on a table close enough that it's accessible but far enough that you won't have to deal with the heat.
Add s'mores treats to the board for people who don't want to actually make s'mores. These s'mores bars, these s'mores cookies, and this s'mores dip would all be a great addition!
Have a way to cover the s'mores board when people are done using it or have somewhere you can take it inside. Bugs love s'mores almost as much as people!
Have plenty of roasting sticks or skewers for people to use. And don't forget something to clean them off when they inevitably get sticky!
Recipe FAQs
How many ingredients do you need?
I typically like to include enough supplies for people to make 2-3 s'mores depending on who I am serving. Error on the side of having more of the regular supplies like marshmallows and graham crackers and a little less of the gourmet items because people still tend to go with what they know. A good idea for your board is to do 2-3 types of marshmallows, 4-6 types of chocolate, 4-6 types of bases, and then a couple of extras like spreads and fruit.
What is the best charcuterie board?
The best charcuterie board is going to be whatever fits your space best. I personally love this one that I have from Target because it's not too big but still big enough to include lots of options. You could also do something long and a bit more narrow like this grazing board that I used for my caramel apple board. Just find something that's large, flat (ideally with some sort of lip on the edge), and start filling it up! You could even use a large cutting board if you have one of those!
More Easy Chocolate Desserts
If you like this s'mores board, you'll love these other simple chocolate desserts!
S'mores Charcuterie Board
Turn a s'mores night into something amazing by offering tons of different s'more options with this fun s'mores charcuterie board!
Ingredients
Marshmallows
Peanut butter
Nutella
Strawberries
Raspberries
Blueberries
Graham crackers
Chocolate graham crackers
Shortbread cookies
Fudge stripe cookies
Chocolate chip cookies
Biscoff cookies
Oreos
Chocolate bars
White chocolate bars
Cookies n Cream bars
Caramel chocolate bars
Instructions
On a large platter or board, arrange your choice of ingredients similar to a charcuterie board.

Use bamboo skewers for indoor s'mores or traditional roasting sticks for outdoor fires to toast the marshmallows, then let everyone choose what they want to use to put their s'mores together!
Nutrition Info
Calories: 205kcal, Carbohydrates: 33g, Protein: 3g, Fat: 7g, Saturated Fat: 2g, Polyunsaturated Fat: 1g, Monounsaturated Fat: 3g, Trans Fat: 1g, Cholesterol: 2mg, Sodium: 211mg, Potassium: 94mg, Fiber: 2g, Sugar: 15g, Vitamin A: 12IU, Vitamin C: 8mg, Calcium: 21mg, Iron: 2mg