The ultimate list of fall party ideas including everything from fall party themes to fall party games and more! Whether you're looking for fall party ideas for kids, fall party ideas for adults, or something in between – this collection of fall party themes has something for everyone!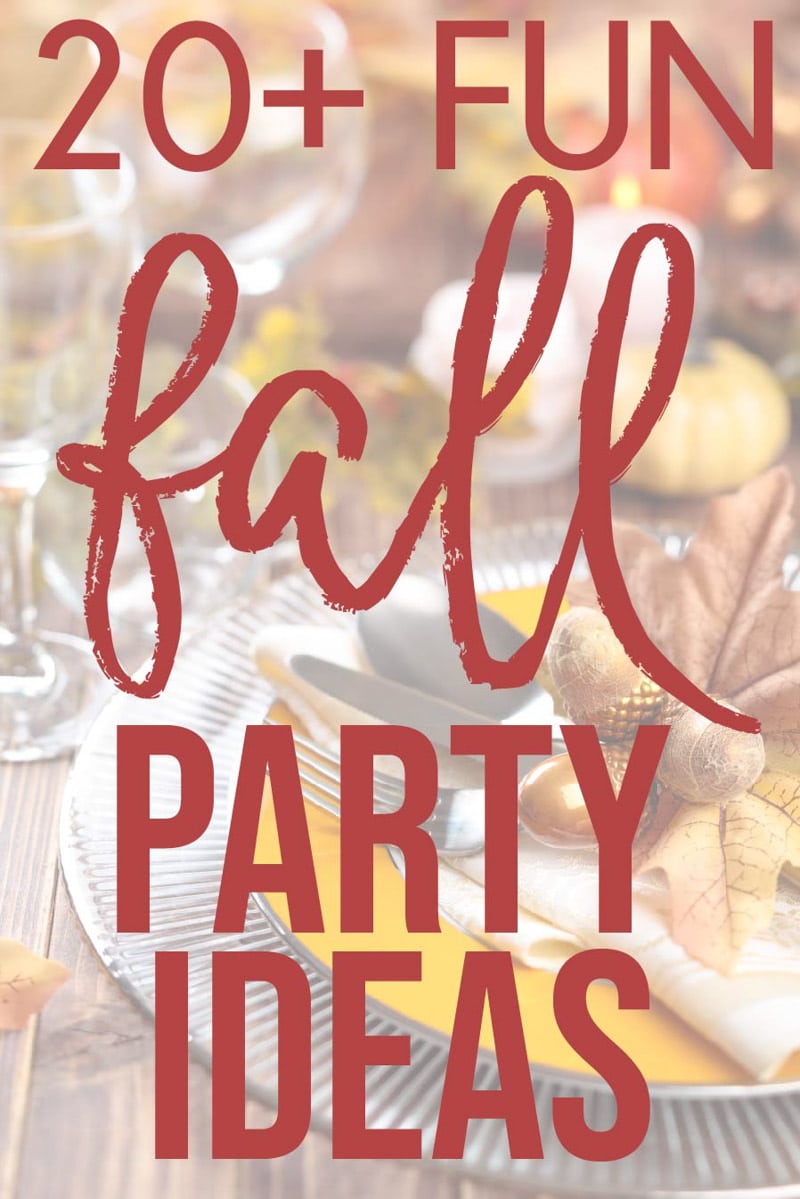 The fall season is really the perfect time of year for a party. The weather is typically ideal for having people indoors or out, there's plenty of football on TV to keep people entertained, and who doesn't love any food made with pumpkin.
With so many reasons to throw a party, now all you need to do is throw one. And I have some great ideas to share!
To help you out, I put together some of my favorite fall party themes and with each included a couple of games, food ideas, and even decorations other than just hay bales and mini pumpkins!
So I hope you have a good time celebrating this perfect season! And p.s., I expect an invite to your next fall dinner party!
Fall Party Ideas for Kids
Okay disclaimer, these fall party ideas aren't just for kids but these are the most kid-friendly out of the bunch! There are also a number of ideas under other fall party ideas that would totally work with the right theme.
Caramel Apple Party
Kind of like an ice cream sundae party, have friends come over to make and top their own caramel apples to enjoy during a caramel apple party. You can provide the toppings or have friends bring their favorite to share. Get more ideas for caramel apple toppings here!
And since people don't typically like to eat their caramel apples right away, set up a caramel apple nacho bar for people to enjoy their favorite caramel apple toppings during the party!
Another fun idea is to do a caramel apple walk where people win gourmet caramel apples (or other apple themed prizes like these caramel apple soaps! You could even add these fun apple gift tags to put with the prizes!
Pumpkin Carving/Decorating Party
Send your friends and family pumpkin carving party invitations, setup a pumpkin photo booth, and have everyone bring their own pumpkin to decorate/carve together. Make sure to put down plastic or newspaper because this one can get really messy.
For even more fun, have a time limit and offer a prize to the pumpkin that's voted the best by the group. Maybe something like this pumpkin carver extraordinaire mug for adults or a pumpkin themed book for kids!
And don't forget the food – anything pumpkin or in a pumpkin goes! We love making these mini pumpkin pizzas, this pumpkin crunch cake, and serving this spinach artichoke dip or this cream cheese pumpkin dip in a pumpkin!
Oh and of course, don't forget this no bake pumpkin pie, it's always a hit at fall parties!
Bounti-Fall Harvest Party
Use your party as an excuse to show your gratitude and give back. Invite friends over to complete a service project (make bag lunches, tie quilts, etc.) together. It doesn't need to be hard work, just something for other people!
Some fun service ideas include making treats for friends and handing them out with these you've been treated tags or playing Supermarket Sweep then delivering the groceries to people in need! Any of those would be so much fun to do together!
If you want to serve food, try having a potluck where everyone brings their favorite side dish or dessert and you provide the main course. This homemade chicken noodle soup is always a big hit! Put napkins and silverware in a harvest themed cornucopia.
Even though you may be leaving the house, it's still fun to decorate for a harvest party. Here are some great fall printables you could use with any fall colored decorations!
Fall Minute to Win It Night
Invite your friends over for a night full of fun fall party games! There are over 15 party games in this list that don't take anything more than a couple of simple things around your house!
Never played minute to win it games? I've got you covered with full details on how to play minute to win it games.
Make a full night of it by serving quick fall recipes (that might take you just a little bit longer than a minute) like chocolate acorns, these mini pumpkin cinnamon rolls, and the best pumpkin bars with streusel topping!
Oh and don't forget prizes for the game winners! If you're doing a team winner, fill one of these apple baskets with fall themed items like fall socks, fall candles, or fall stickers for kids!
Fall Party Ideas for Adults
Just like the fall party ideas for kids above – these fall party ideas would work for kids as well, but they're geared more toward adults and having fun with your adult friends on a night off!
Iron Chef Party with Secret Ingredient: Pumpkin
There are two ways you can do this. One is have everyone make their best pumpkin dish at home and bring it to share. Judge based on taste, creativity, and presentation (people can get super creative with this!). Choose three unbiased judges to pick the best dish.
I made these pumpkin cheesecake bars last time, and they were a huge hit! These pumpkin cupcakes are also always a crowd pleaser!
Or do this more Chopped style where everyone comes and has to make something in a certain amount of time out of a basket of food that includes pumpkin.
This version is way more fun but you won't be able to do too many people since they'll likely all be sharing one kitchen to cook! If you want to invite more people, have some people come to participate, others to judge, and others to watch and enjoy the final products!
Once the judges have crowned a winner, award them with some sort of fall cooking prize like these wooden spoons with pumpkin designs or a fall themed cookbook!
Since people will either be bringing food or cooking it for you, no need to make anything else to eat. But don't forget the drinks to wash down all that pumpkin goodness. This spiced apple cider will hit the spot!
Fun and Loud Laughter (F.A.L.L) Game Night
Invite friends over for a night of games and laughing. Stick with the fall theme by doing any of these adult party games using only words that have to do with "fall."
Or you can skip the fall theme and go with any of these board games for adults too!
Since people will likely be touching cards or each other, choose finger foods that won't leave sticky or greasy hands. These apple pie cups are a family favorite, and I've been meaning to try this pumpkin hummus too!
Fall into Friends Party
Invite over either friends who you want to get to know better or friends from different circles that don't know each other well. Play getting to know you games or these group games and increase your circle of friends.
Since the theme of the night is breaking the ice and making new friends, serve food you'll need to keep on ice or chilled like this million dollar dip, chilled shrimp cocktail, or this autumn leaf cheese plate. This pumpkin delight dessert is also a great chilled fall dessert!
Falling in Love Party
I've seen this theme for weddings before, but I think it could be a really fun couples date night party idea as well! Simply invite a number of your couples friends over for a fun night filled with couples games (these fall party games would work great), or any of these fall group date ideas!
Decorations are easy if you use fall themed food and a heart shaped cookie cutter!
And don't forget to send everyone home with these cute thanks for making our day sweet favors! Here's a beautiful fall dessert table setup if you need ideas!
And if you need some ideas of things to add to that fall dessert table, these are some of our favorite handheld fall desserts!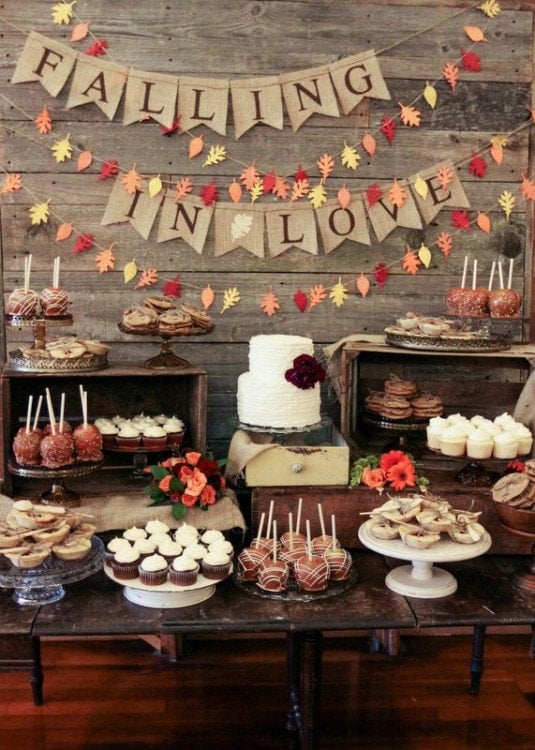 Fall Party Ideas for Women
Kids are back in school, and it's time for the women to party! Just kidding but not really – these fall party themes are specifically for women who wants a girls night (or day) out. Any of the other fall party themes in this list could work for women only too but these are designed for women specifically!
Fall Craft Night
For some reason fall just means all things crafty. Maybe it goes back to that whole kids are in school thing. Invite friends over to make everything from painted wood slice pumpkins to fall luminaries.
Just make sure whatever craft you're doing, you provide all the supplies or else people will likely forget something. In the past when we've done this, I buy the supplies and either just eat the cost (if it's cheap) or my friends pay me when they come!
Not sure where to get wood slices? There are plenty of options here!
Food on a craft night needs to be similar to game night – delicious but not going to disrupt the crafts. I recommend these Reese's Pieces cookies (the colors are so fall), mini fruit tarts, and cookie Oreo brownie bars!
Fall Favorite Things About Fall Night
One of my favorite things to do is have all of the girls over to share their favorite things with each other for a favorite things party. Add a twist and have friends bring their favorite fall item like scarves, caramel apples, fall crafts, etc.
I've written up full instructions on hosting a favorite things party here but the basic idea is that everyone brings three of their favorite item (so like I would bring three of these) wrapped to add some fun. Then at the party, each person picks three numbers and those people go home with their gift. It's seriously one of my favorite parties ever!
For a fall favorite things night, you could decorate either in fall themed things or you could go traditional like these invites with brown paper wrapping and string (from the Sound of Music song). Or go totally untraditional with any color you want like this black and white version!
And for food – either serve your favorite things or have everyone bring their favorite thing to share. Even better if they give you the recipe so you can share all of the recipes with your guests! If it was my party, we'd be having striped delight, pizza loaf, and this caramel apple dip!
Friends and Light Lunch (F.A.L.L)
This could be whatever you want it to be, just invite friends over for lunch and enjoy time together. No other activities or planning necessary! Just decorate with some pumpkins or apples and maybe serve things on this DIY pumpkin serving tray and you're golden!
My top picks for a light lunch would be sliced balsamic chicken with a kale salad, this strawberry salad recipe, or a make your own bahn mi bar!
Pumpkin Spice and Everything Nice
Okay so this isn't just a party for the women, but I hear them talk about how much they love pumpkin spice the most, so I'm listing it here!
Throw a party dedicated to all things pumpkin spice! Put out pumpkin spice candles, pumpkins of all shapes, serve pumpkin spice lattes and pumpkin juice to drink. Make pumpkin crisp with pumpkin ice cream for dessert.
If you can add pumpkin spice to something, it's fair game! And for entertainment, watch the Fall episode of Gilmore Girls where pumpkin spice lives forever.
You could even give out these darling mini pumpkin soaps as favors!
Food Based Fall Party Ideas
One of my favorite things about the fall is the food. Pumpkin crunch cake, butternut squash soup, you name it – I love all the fall flavors! These fall party ideas are designed specifically around some sort of fall food!
Chili Cook-Off
Have friends bring their best chili to share and have judges pick a winner to give out a fun prize like this chili cookoff cutting board! And don't forget a prize for last place – this chili cook-off toilet bowl trophy is hilarious! This is always fun when paired with a Halloween carnival as well!
Since the chili will be the main thing people are eating, just supply the fixings to go with – chips, cornbread (I love this honey cornbread), and possibly hot dogs and buns if you want to do cheese coneys. Or do Fritos and give people the chance to just enjoy walking chili like at this fun party!
Need great chili recipes? This white chicken chili and this Cincinnati chili have won many chili cook-off awards in the past!
Football Party
In our house fall means that there is football on all weekend. Why not make your football watching into a party? Invite friends over to watch a big game, serve tailgate style appetizers like these buffalo chicken stuffed potato skins, pepperoni rolls, or bacon wrapped smokies!
If not everyone is into the big game, print out these football bingo cards to make it a bit more interesting! And use these fun football party printables to add a bit of color to an otherwise full color scheme!
Apple Cider and Donuts Party
One of my all-time favorite thing about the fall is apple cider donuts. I still haven't figured out a great place to get them in Kansas but once I do, I'll be eating them all fall long!
Invite your friends over to make any donuts – these rainbow donuts, these apple cider donuts, or these glazed donuts then top them with fall colored sprinkles and treats.
And if you're not over donuts, setup a fall themed donut dessert table like this one! This rustic wood slice cake stand would be perfect topped with donuts!
For drinks, serve this fun caramel apple drink that's made with fresh apple cider! Or setup an apple cider bar.
Need more ideas? Here are over 50 donut party ideas!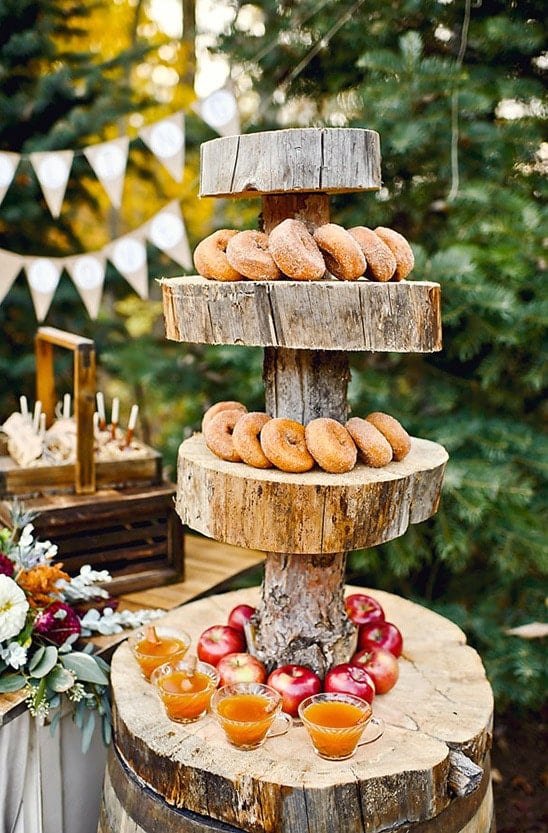 Soup and Stews Party
Have a party themed around one of the favorite fall meals – soups and stews.
Whether it's this easy beef stew, this beef and barley soup, this homemade zuppa toscana or another favorite – serve them in crockpots to keep them warm!
Have guests bring salad, bread, or drinks to go with the soup so they're not having to drive with soup in their car. We all know how tricky that can be! Or if you want to provide it all, these easy garlic breadsticks go with pretty much anything!
As a fun favor idea, send everyone home with the soup recipes and these cute customized spoons!
Or switch it up and host a soup swap instead where everyone brings their favorite soup and swaps with people so everyone goes home with soups for the week!
S'mores Fall Fun
The final food idea is all about one of my favorite sweet treats – s'mores! Invite people over to hang out around the fire and enjoy all sorts of s'mores themed foods! Or setup a DIY s'mores bar or a s'mores board and let people make their own!
The autumn season is my favorite time for s'mores because it actually feels like you're supposed to be around a fire to stay warm during the cooler weather! And the best part, you're outside so there's very little decorating needed!
Or if you want to stay inside, you could do the same thing but try out some of these indoor camping ideas instead!
If you need some s'mores recipes to try, these are good for adults, teens, and kids of all ages!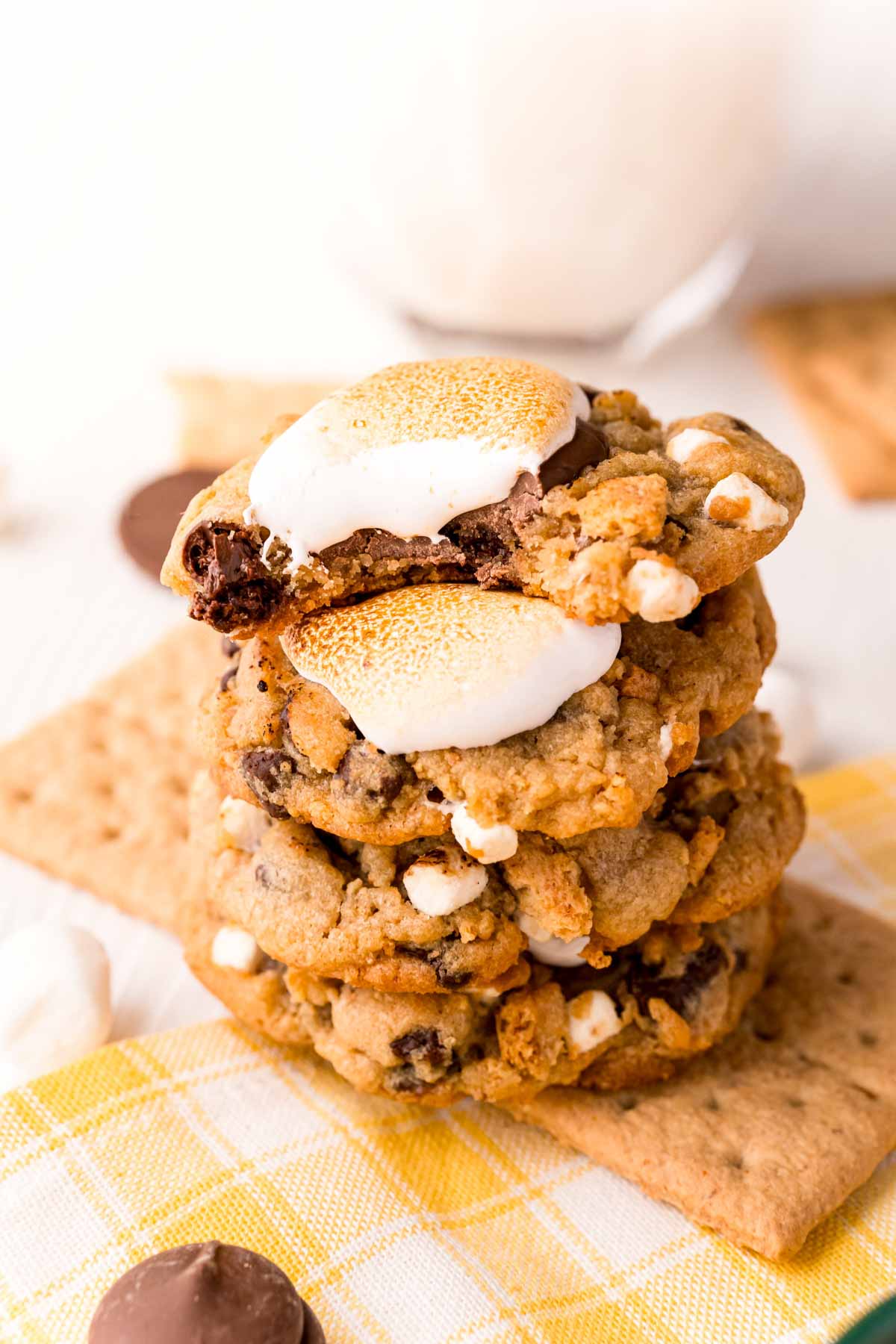 Other Fall Party Ideas
And last but not least – the other category. These fall party themes are ones that didn't really fit in any of the spots above. Tons of fun fall party ideas here, some that even include a little creativity or imagination on your part!
Halloween Party
This one is pretty self-explanatory but Halloween is a great excuse to throw a party. Try throwing your Halloween party not on Halloween so people don't have to try and figure out the one thing they want to do that night.
Need games? I've got plenty! These are some of our favorite Halloween games we've used over the years! And if you need Halloween party ideas, here's everything you need for planning!
I Love Fall Party
This could be a combination of any of these ideas, just a party centered around fall. Decorate with leaves, pumpkins, and fall colors. Serve pumpkin pull apart bread, soups, caramel apples, and any other fall seasonal items.
Have a "how many candy corn guessing contest," play touch football outside, and just celebrate the beautiful weather and gorgeous colors.
Or even better – split into teams and see who can finish this fall photo scavenger hunt first with these fun "oh, snap" camera t-shirts or these gorgeous fall photos for the winners!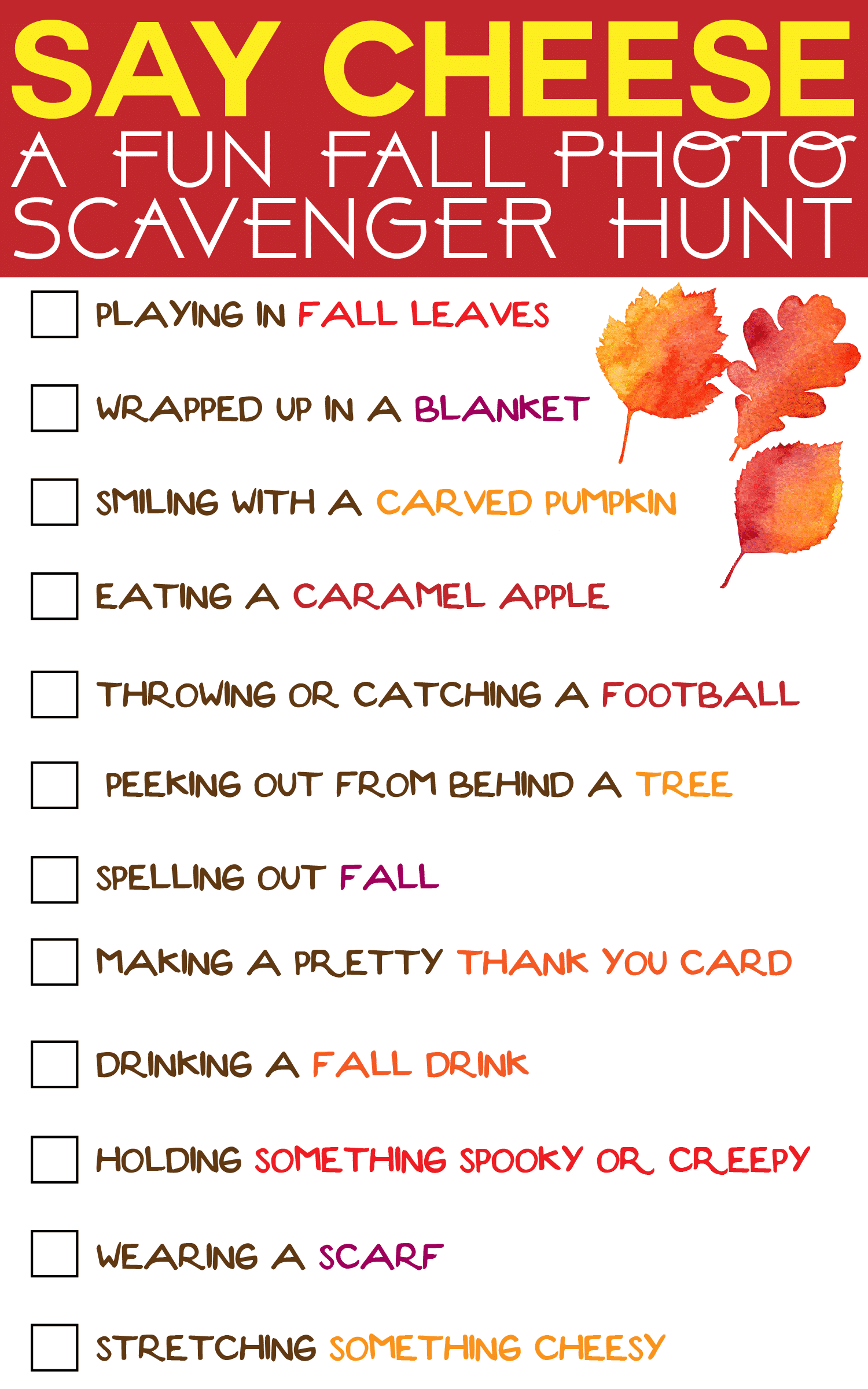 National Day Party – Other Fall Party Themes
Check out this website and throw a party themed around one of the national days. Some of my favorite fall themes that would work great for a party are: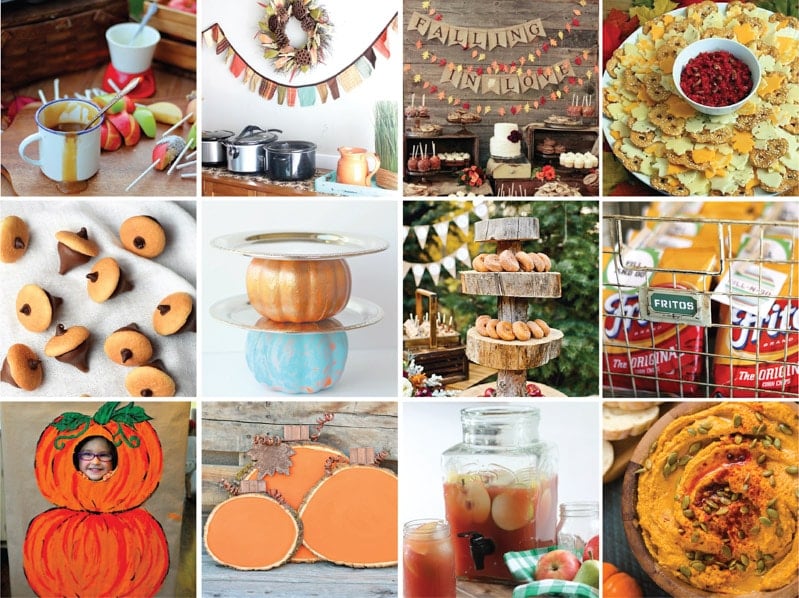 "Fall" in Love With ____ Party
Fill in the blank with your favorite thing and throw a party based on it. An example would be fall in love with pizza party and throw a pizza party. Or maybe something more obscure like fall in love with sushi and throw a sushi making party.
This one has so many possibilities, I won't even try to name them all, but I am thinking I might need a fall in love with pizza party just to have an excuse to use our outdoor pizza oven!
Leaf Party
Have people come over and play in the leaves and help rake leaves (or just play in them). Decorate with leaves like this happy fall banner and serve all sorts of things that are leaf shaped or the color of leaves!
Cross some items off everyone's fall bucket list by looking at leaves changing colors or making gratitude jars with pieces of paper shaped like leaves! Or do leaf crafts – there are tons of fall crafts out that that use leaves in fun ways!
And the best part? You can pick any of these fall color palette ideas for the perfect fall color scheme!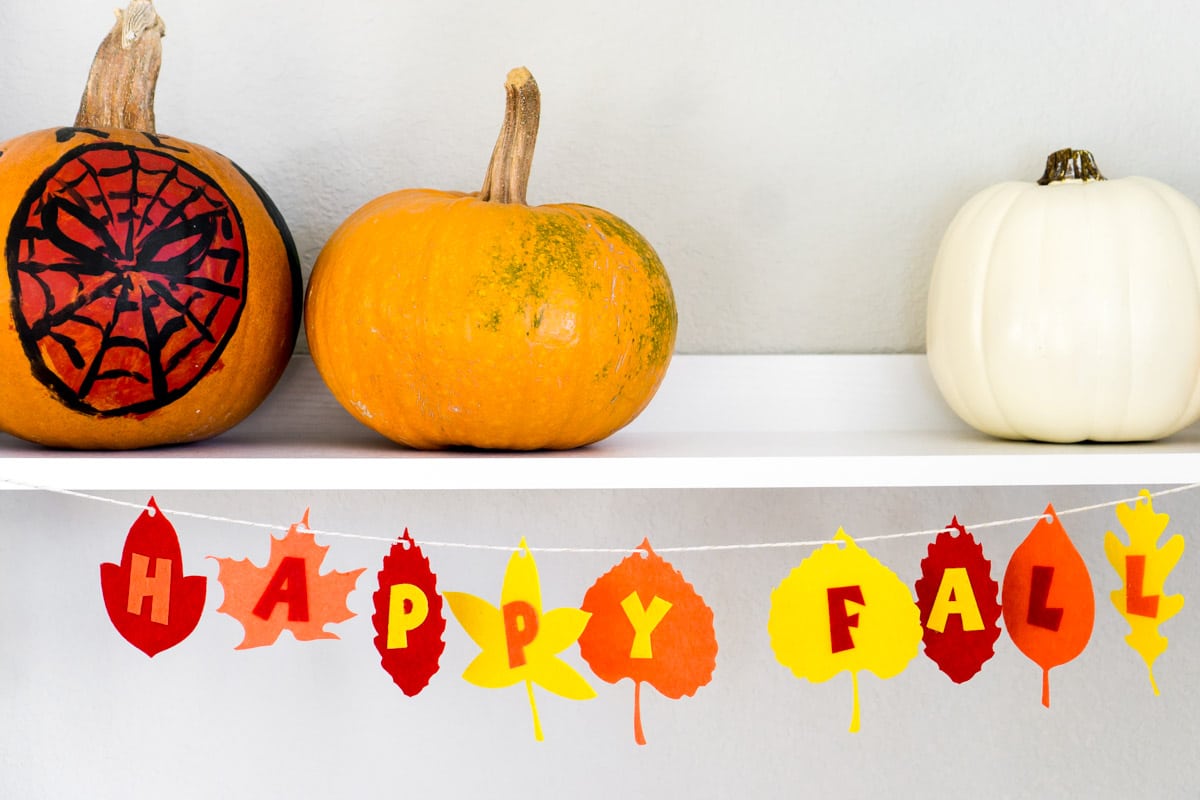 Sweater Weather Party
Enjoy the fall weather with a party where you do a little outdoor entertaining! Have everyone put on their coziest sweaters and enjoy the great outdoors. Or just your backyard but same thing.
Serve up all sorts of comfort food like this caramel apple dump cake and baked mac and cheese.
You can even use the outdoors to decorate like I did with this fall party! The leaves added such a beautiful touch to the tablescape!
If it's not too cold, you could even finish it off with an outdoor movie night using a big inflatable screen like this one! if it is chilly weather, you could always still do the movie and just have a hot chocolate bar to help people keep warm!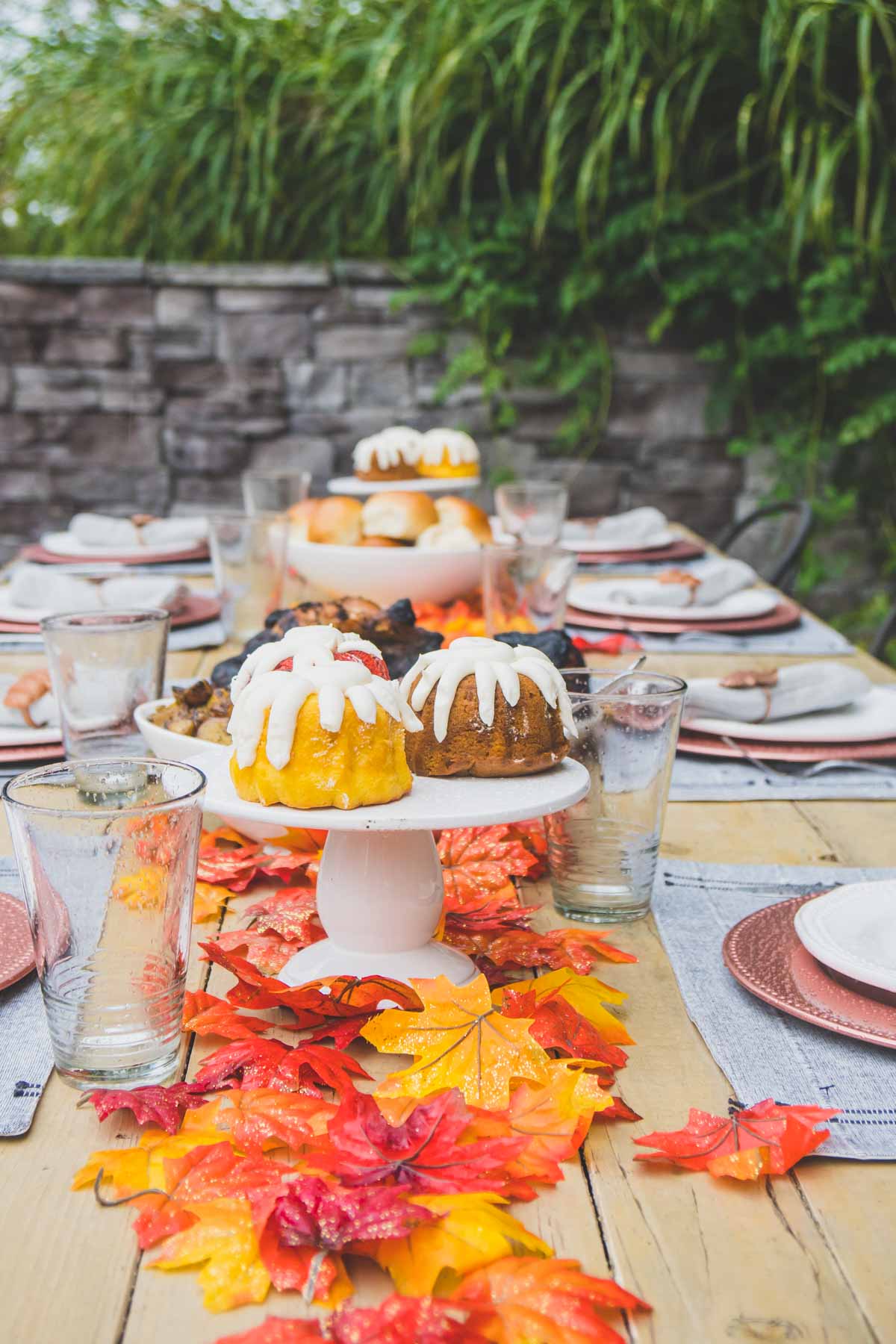 Anti-Fall Party
For those of you who are mourning summer and not excited about fall, throw an anti-fall party with a beach, luau, or any other theme you do like. If it's warm enough, play water games or outdoor games.
You could even make this fun beach cake idea I made this summer – a great reminder of how long it is until we have beach weather again!
"Leave" Me Alone Party
Send your family away for the night and spend a night by yourself reading, relaxing, going to bed early, or whatever else you find restful. Highly recommended after throwing any of the parties above and my absolute favorite kind of party!
Even more recommended? Going to bed early after taking a nice long bath with one of these soothing bath bombs or spending some time using one of these self care gifts!